Are you a 20-something trying to navigate through life's ups and downs? If yes, then here in this post I share some of the most important things I believe each of us who are in our 20s must learn or at least try to cultivate.
The timeline of our life here on Earth as human beings is long, but finite.
If we were a beautiful flower, our 20s would be the time where our buds are slowly opening up and we are getting ready to bloom. 
In our 20s (whether early 20s or late 20s) we are only just starting out on our life's journey. So let nobody tell you your life is done and you're too old to change.
But to fully bloom and thrive, what matters is how we water ourselves and nurture ourselves in our 20s.
The things we learn in our 20s will be the stem of our life that will help us stand tall and beautiful. 
What we cultivate in our 20s is what will stay with us throughout and will determine the kind of fruits we shall give to the world. 
Make sure you water yourself with good things. Become your own sun so that you can bloom into the unique flower that you are and offer your beautiful presence to the world. 
I'm in the last year of my 20s, and here are 20 things I believe you must learn in order to thrive in your 20s, 30s, 40s and in all the years to come.
P.S some of these links are affiliate links. If you purchase from my link, I'll earn a small commission at no extra cost to you.
20 important things to learn in your 20s
1. Learn to dream big
You are in your 20s. You can do absolutely anything in life. Let nobody tell you you're too old or your path is done or already taken. 
You can change your life in one night if you want. You can take any road you want and make it come true.
Dare to dream. Dare to dream big.
Read autobiographies of people who have achieved what you want to achieve in life. Listen to success stories and write down your big goals.
Learn to fill yourself up with the inspiration to go after your big dreams.
If you start in your early 20s, you will reach them by your late 20s. If you start in your late 20s, you will definitely reach them by mid 30s.
So dream big, and start now.
P.S here are some best autobiographies to read:
2. Learn to see your self worth
The 20s will be the time when you will meet all kinds of people.
Some you will love, some you won't. And some who will love you and some who just won't.
There will be times when you will feel deep hurt and lose yourself in trying to love someone or make someone love you.
And even then, they won't see who you are or how you are. 
In times such as these, you must remember to not see yourself through the eyes of those who hurt you. 
Don't let the perception of others become your perception of you.
Raise your self-worth high and let nobody bring you down.
Let their hands ache, but let them not tear you apart.
Be like a mountain firm in your self-worth. See yourself kindly, and beautifully for who you are. 
The worth you give yourself is the worth others will give to you.
As Rumi Kaur also says, 'How you love yourself is how you teach others to love you'
3. Learn to build a reading habit
Cultivating a reading habit in my 20s has been the single best thing I did for myself.
I am thankful for all the books that have and continue to shape me and my thoughts. They led me to become who I am and live well.
Building reading habit in your 20s is what you will thank yourself for later. Trust me.
Read good books and read every day. A simple way to cultivate reading habits is to read first thing in the morning instead of checking your phone, and read the last thing at night.
Here is in detail how I make time to read every day
Also, 18 best books to read for beginners
10 best books to read in the morning 
4. Learn to have a positive money mindset
This is one of the most important things to learn in your 20s.
Most of us go about our entire life thinking poorly about money and not giving any thought to improving our money mindset, and so money becomes scarce for the majority of us.
We never learn how to build wealth. Let this not happen for you. 
The 20s are the perfect time to learn to have a positive money mindset and learn the skills to build wealth. 
Your money mindset is what will decide what kind of relationship you have with money. 
Do you see money being an abundant or scarce resource? 
Do you think having money and working to improve your wealth as greedy or do you take it as a way to establish more freedom and impact in your world? 
Here are some of the best books that have helped me develop a positive money mindset
5. Learn how to manage your reactions
"It's not about managing your reactions, it's about managing your reactions to your emotions"

Yung Pueblo
In our 20s we are all so new to the world like little birds who are just learning how to fly and coming out of their nest.
So we live unaware of our thoughts and feelings. 
But in our 20s we also are young.
The rest of our lives is much longer than the amount of time we have already lived, so the earlier we bring more awareness into our responses, the easier our life will be and the longer we will be living a much fulfilled life.
First, learn to see and notice your reactions to things that happen in your daily life and also your reactions to some of your feelings (mostly unpleasant ones)
How do you respond to certain things? How do you act when things don't go your way?
Do you complain a lot? Do you blame other people for things going wrong? How do you respond and act when in anger? 
Even after you bring awareness to your reactions, you may still continue the same habit patterns and have the same reactions, but don't let it discourage you.
Simply awareness is also a big thing. You must not forget to be kind to yourself.
Quoting Yung Pueblo again,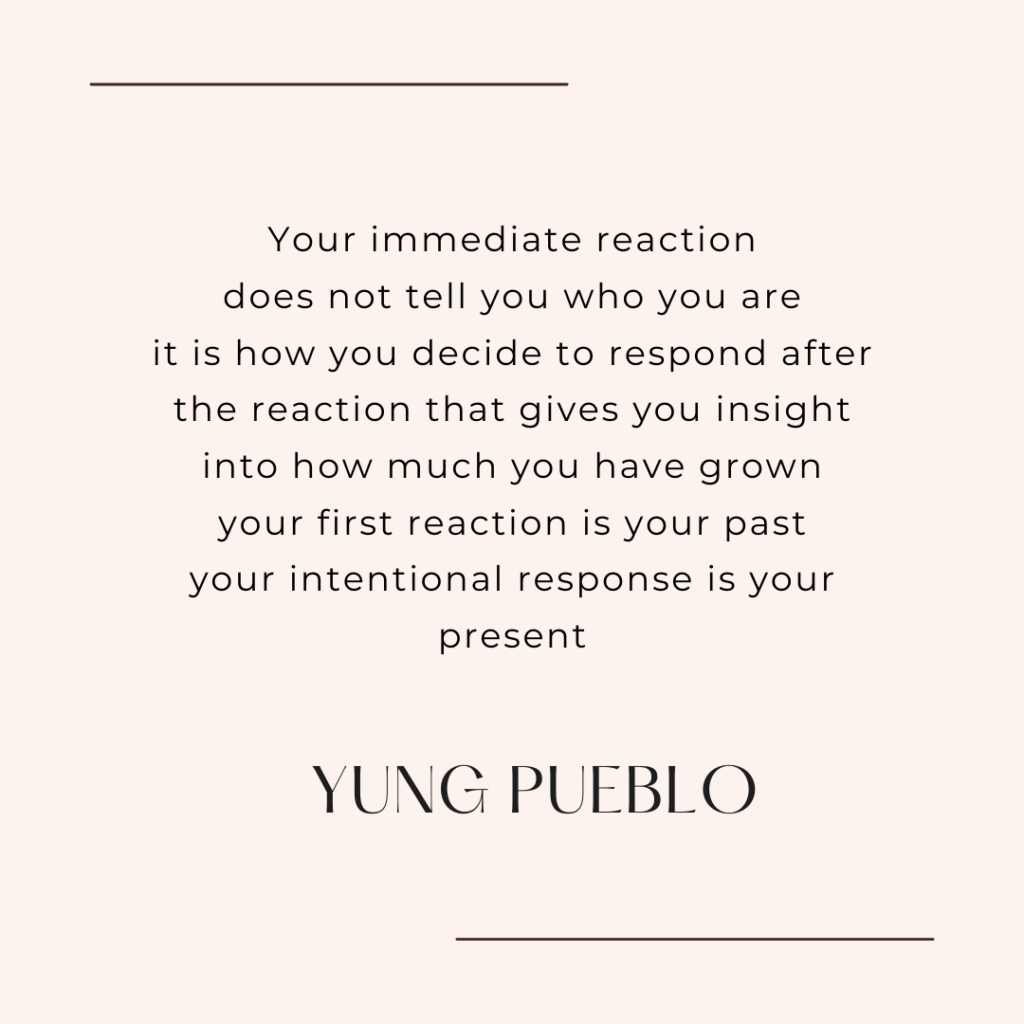 6. Learn to become a morning person
All through my teenage years, I was that indisciplined kid who slowly picked up bad habits that led me to have a very unhealthy lifestyle.
I was 20 years old when I decided to change and start my journey towards self-improvement.
I say again and again that the first change I decided to make in myself was by becoming a morning person.
Here I've written all the wonderful benefits I've gained from becoming a morning person.
And it truly shifted my life for the better. I now wake up every day before 6 am and follow my morning routine.
It sets the tone of my day right and I feel happy and satisfied.
If your life right now is full of unhealthy habits causing you stress and anxiety, start by becoming a morning person slowly and build a morning routine.
I won't say much, but you will notice the difference yourself.
7. Learn to establish a daily routine
20s can be full of feelings of chaos, haphazardness and feelings of being directionless.
But more than anything, I have come to know that the main culprit of such feelings is our unmanaged time.
When our time goes unmanaged, our entire life feels and goes unmanaged.
This is because what if life is other than the moments of time that we have?
Start managing your time by establishing a simple daily routine and you will feel moved from chaos to order.
Have a small order of things you'd like to do in the morning, afternoon and evening. 
Here are my simple tips on how to create a simple daily routine and how to make time for everything you want to do without stress. 
And here are some posts to help you decide
8. Learn to stay in a good environment 
Your environment is everything that is outside of you.
It includes your room, your house, your friends, your place of stay and everything that you are connected with outside of yourself.
Choose to stay in a healthy environment. It has an invariable effect on who you are and what you become.
Declutter and tidy your room. Stay in a neat and clean surroundings. It helps make your mind feel much lighter and clean too. 
Choose your friends wisely and connect with people who truly bring out the best in you and who wish the best for you. 
Also, create a good environment for your mind by choosing to consume good things for the mind by reading good books, listening to good podcasts and watching good content on YouTube.
The environment you choose to build and stay in in your 20s will most probably be your permanent home if you don't make a change.
P.S Only 3 things to boost personal growth
9. Learn to build self-discipline
You don't need a hell lot of self-discipline to shift your life. Just a little bit will also do.
If you feel that you lack self-discipline severely and you just can't see yourself having it as the rest of the disciplined people out there, then I must tell you that discipline is not something that you are born with. 
Everybody who has it didn't have it in the first place but built it over time.
You don't need the motivation to have self-discipline. You just need to make it a habit.
And there are actually easy ways to build self-discipline. 
From my own experience, here are my only 3 tips to build self-discipline and it will change your life if you apply them.
Also, How I made myself love working out
10. Learn to practice mindfulness
The 20s is the perfect time to start to learn about mindfulness and bring it into our day-to-day life. 
Mindfulness is simply bringing more awareness into our day-to-day actions, thoughts and feelings.
It is a simple thing to do, yet so hard. Hence you need to be kind and patient with yourself. 
I first came in touch with mindfulness after going for a 10-day Vipassana Meditation retreat. There we have to follow noble silence and for the first three days, we only need to focus on mindful breathing.
It was one of the most profound experiences of my life.
Then coming to read books on Buddhism, particularly by the Zen master Thich Nhat Hanh really helps me come back to my mindfulness practice. 
Currently the Podcast 'The way out in is' has been a wonderful thing that helps me stay in touch with mindfulness.
Each and every mindful breath counts in bringing peace into your life.
Each activity, no matter how small, will fill your heart with joy and love. 
Try to at least have snippets of mindfulness in your day.
Here is how to practice mindfulness. 
And here are some books to help you bring mindfulness to your daily life
11. Learn to let go 
Learn how to let go in your 20s.
Starting from your 20s when your actual life has begun, you will inevitably face life's tribulations.
There won't always be things you can control. There will be many situations in your life that will test you and try to knock you down.
Without learning how to let go, your life will end up being tough.
But learning to let go will make things so much easier. You won't face any issues with anxiety and will learn how to come back to the present moment. 
When you let go, there won't be any complaints, any regret about the past or any fear about the future.
Learning to let go means learning to surrender. 
Here, to surrender does not mean to give up, but instead, to surrender means to accept everything as it is and give it to God. 
The earlier you learn how to let go, the easier your life will become.
12. Learn to have the courage to be disliked
In your 20s and all throughout life strive to be your most authentic self. 
Don't force connections.
Stop pleasing people or acting according to the norms of how people think how you should be or believe other people's notions about you.
There will be many people who will love you, but there will also be people who will try to dim your light and who won't see your true self. 
Learn to let go and have the courage to be disliked.
It doesn't matter if everybody doesn't like you. What only matters is if You like You.
If you know yourself, the things that other people say about you won't even move a pebble.
Not everybody needs to know who you truly are. Some people no matter how long they stay in your life won't get it. 
And you must know that it's not their fault even. We simply are not meant for everyone, that's why the ones who do becomes so special.
13. Learn to practice self-care 
Another thing they don't teach you in school.
We are never taught how to take care of ourselves. We are never taught what must be done when we are suffering or feeling how.
How do we uplift ourselves after a hard time? What do we do to love ourselves?
We must all learn this ourselves.
Start by recognizing what habits and actions make you feel happy and joyful. Continue to experiment with yourself and learn new things in your 20s. Then do more of them.
For me it is journaling, going for a walk, resting, gardening (my recent hobby I discovered) and many other things. I try to always add at least some of them if not all to my day. 
Similarly, start to recognise what habits and actions make your energy low and make you feel disconnected from yourself.
Your energy doesn't lie, so notice it. 
Learn to consciously practice self-care and deliberately give time to it. It will go a long way. Let learning to take care of yourself become second nature.
Here are some posts to help you to start practicing self-care
14. Learn to build a journaling habit 
Daily journaling can be a great habit to start in your 20s if you haven't already.
Journaling becomes an act of self-discovery where you come to know so many parts of yourself through your own writing which you didn't know existed.
For me, my own writing and my own experiences as I write uplift me when I read them again.
I come to see all the things I have survived, how I have grown and how far I have come. 
It's a written testimony of my personal growth. 
If you don't know how to start journaling, simply start by writing a daily gratitude journal at the start or at the end of the day.
I have my diary, but I have also made another small separate notebook to note down good things I saw or felt in my day.
This small notebook I have kept in my bed tucked inside my pillow along with a pen so that I don't forget to write little beautiful things I noticed in my day. 
If you want to start daily journaling, here are 21 journal prompts for 21 days to get started. 
And here is the self-discovery journal prompts by Yung Pueblo you can write every day.
P.S for more ideas here are 50 empty notebook ideas you will love.
15. Learn to get organized
Organization skills are something you must have.
It might take some time to clean up the mess you've built around your life, but once you turn it into a habit, it becomes easy and less time-consuming.
To be organized two things are essential 
to declutter what you don't want &
to arrange what you do want
Here is my step-by-step guide on how to organize your life
Also, 12 must-have lists to get organized
12 things to do at the start of the month to get organized 
16. Learn how to cook 
Whether you're a girl or a boy navigating your 20s, learn how to cook.
Learning to cook is genderless. It is a skill we all must learn.
Watch YouTube videos, or buy some cookbooks to help you cook.
Cook your own meals and order less. It will help you eat healthily plus save so much money.
17. Learn to budget and save 
In your early 20s, you might still be studying or you might be working half-time.
Whatever your situation- whether working or not working, start learning in your 20s to budget and save. 
This is difficult and will require a lot of practice, so start early and have a budget set.
Instead of spending first and saving from what is left, save first and spend later from what is left.
Check your urge for instant gratification.
Create a healthy money environment for yourself so you don't drown yourself in debt later on in life.
Have the habit to buy only those things which you can afford in cash.
Be cautious about how you're spending your money, and don't take credit money as your own.
Master your money. Don't let it master you.
P.S Bad money habits to drop and good money habits to build
18. Learn to set boundaries
As a 20-something, have principles in life. Associate with people who bring out the best in you.
Listen to your intuition if something doesn't feel right. Set those boundaries and don't feel guilty about it.
You have the right to take your space for what feels right to you for your peace and mental health.
The ones who you truly love and who care for you will understand, or you won't need to set your boundaries with them.
Know that it's not always about saying yes, but also learning to say 'No'.
Sometimes a No means yes to our truth.
What I gained and lost by learning to say No
19. Learning how to suffer
This might sound confusing, but isn't suffering a universal human experience that none of us can escape?
Learn how to deal with your suffering when you suffer.
Thay (Thich Nhat Hanh) says, "If we know how to suffer, we suffer much less".
Don't always look for happiness. Instead, strive to look for wholesome experiences no matter what it is.
It might be sadness; it might be fear; it might be confusion; it might be rage. Take them as full experiences of life and smile at them.
Here is a quote I really love,
"Suffer what there is to suffer and enjoy what there is to enjoy and accept both suffering and joy as facts of life."
20. Learn to always learn and improve
Lastly, always have the will to learn and improve.
Continue to experiment with your passion. What do you truly love to do? What kind of future excites you and scares you at the same time?
Find out new hobbies in your 20s and try to improve your skill whatever it may be.
It was in my 20s that I started blogging with no previous experience and learned to grow my blog into what it is now.
There are still so many things to learn. Going slow but always moving forward is the way to go.
Recently I have also come to know that I also love gardening and taking care of plants.
Before ending I'd just like to tell you to take courses, take internships, go to retreats, travel to many places, learn new things, try new hobbies, and don't forget to have fun with life.
Final thoughts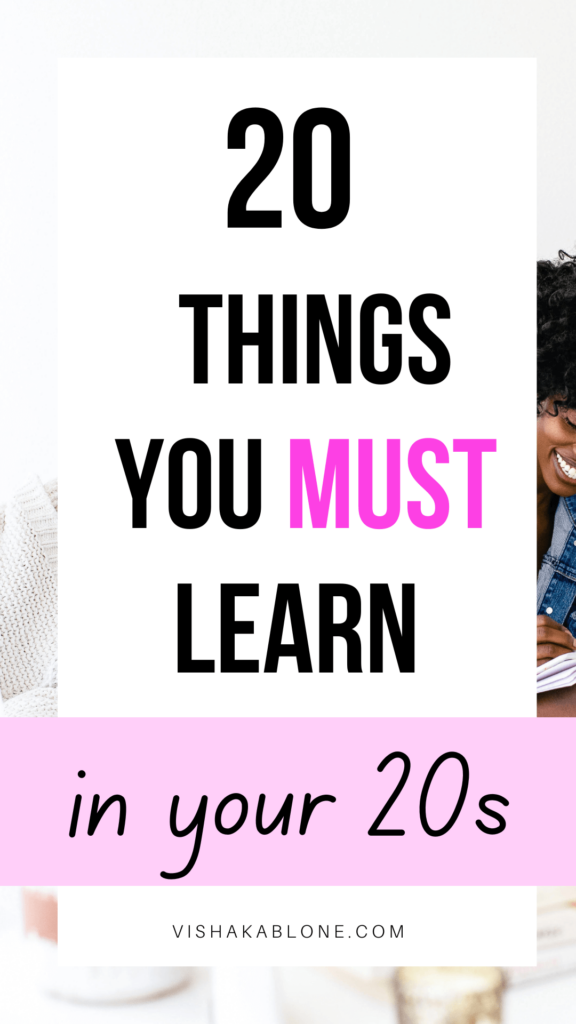 Being a 20-something can be fun, exciting and full of hope, but also equally uncertain, challenging and filled with doubts.
We are neither too young to act as kids and ask for our parent's help all the time, nor too old to know how to handle everything well.
By applying these life skills I mentioned above, you will be well armoured to thrive on your journey ahead.
Be enthusiastic about life, and get curious about how to live life well. Don't just seek to cut time and live. Seek to make an impact and thrive.
And remember always, 'What you seek is seeking you'
Believe in the magic of being 20-something and make all your dreams come true starting from your 20s.
Let us sow good seeds and water ourselves daily!
Have fun being 20!