How to get your life together organized?
Is your life all together or is it pretty messed up? If you're reading this post, then chances are that you want to get yourself together and get organized. If it's so, but you don't know how to begin organizing your life, then you're in the right place.
In this post, I share exactly how you can start to organize your life even if you're a total beginner to all things organizing.
In this increasingly distracting age, if we're not intentional with our time, life can soon feel pretty messy and all over the place.
Days are spent with no structure, no goals, endless procrastination, and no focus which leaves us feeling aimless, directionless, anxious, and lazy.
This was all me a few years ago. But when I reached the height of it, I finally felt I couldn't go on like this anymore and I needed to have my life together. And I did and still continue to do so.
*I've written about this in my first blog post: 27 years of my life so far*
I know that organizing life can seem a big hard thing at first when everything seems messy and out of place.
But what I have come to know over the years is that there are actually action steps you need to intentionally and deliberately take and this is what I have shared in this post.
Once you start taking these steps slowly and start getting organized, you will find yourself to be more motivated and more productive.
You will also see for yourself that you have more enthusiasm, more energy, and more driven to actually go after your dreams and focus on your goals than you could ever do!
In short, success and simplicity in life become possible only when our life is organized.
So with this, let's now get to the action steps you need to take to begin to organize your life and have your life together.
I have divided this into three parts:
How to begin with organizing your life
The actual physical act of organizing and
How to stay organized
How to begin to organize your life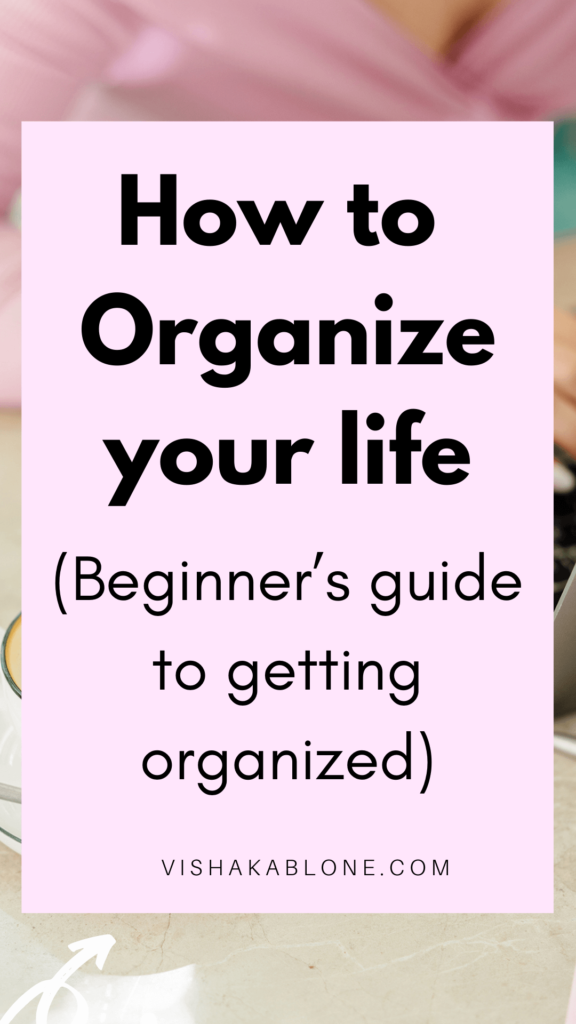 1. Write down what you want to begin organizing
Exactly what areas of your life do you feel are messy and unorganized? What feels like it's not how it should be which you know could be better?
List it all down or draw them down, but have it seen in front of your eyes. A small diary or even just noting it down on paper will do.
Before you actually start organizing, you need to see in paper what is going on in your head and what needs to get organized. (I tell you why in the next point)
This can be simple, 'I need to organize my……'
Room
files
Inbox
Phone
Workspace
Wardrobe
Purse
Finances
2. Set a schedule to organize your life
We get overwhelmed and are reluctant to even start getting our life back together because we have this false notion of the enormity of the task in our mental image.
Organizing our life feels like a big hard thing in our head, but when you write it down and see it on paper, you realize that it's actually not.
Once you have put your mind on paper, this false notion of it being enormous immediately vanishes and feels doable and achievable.
Now the other thing is that you don't have to organize your life in one go. But you need to set up a schedule for it.
For example, like this: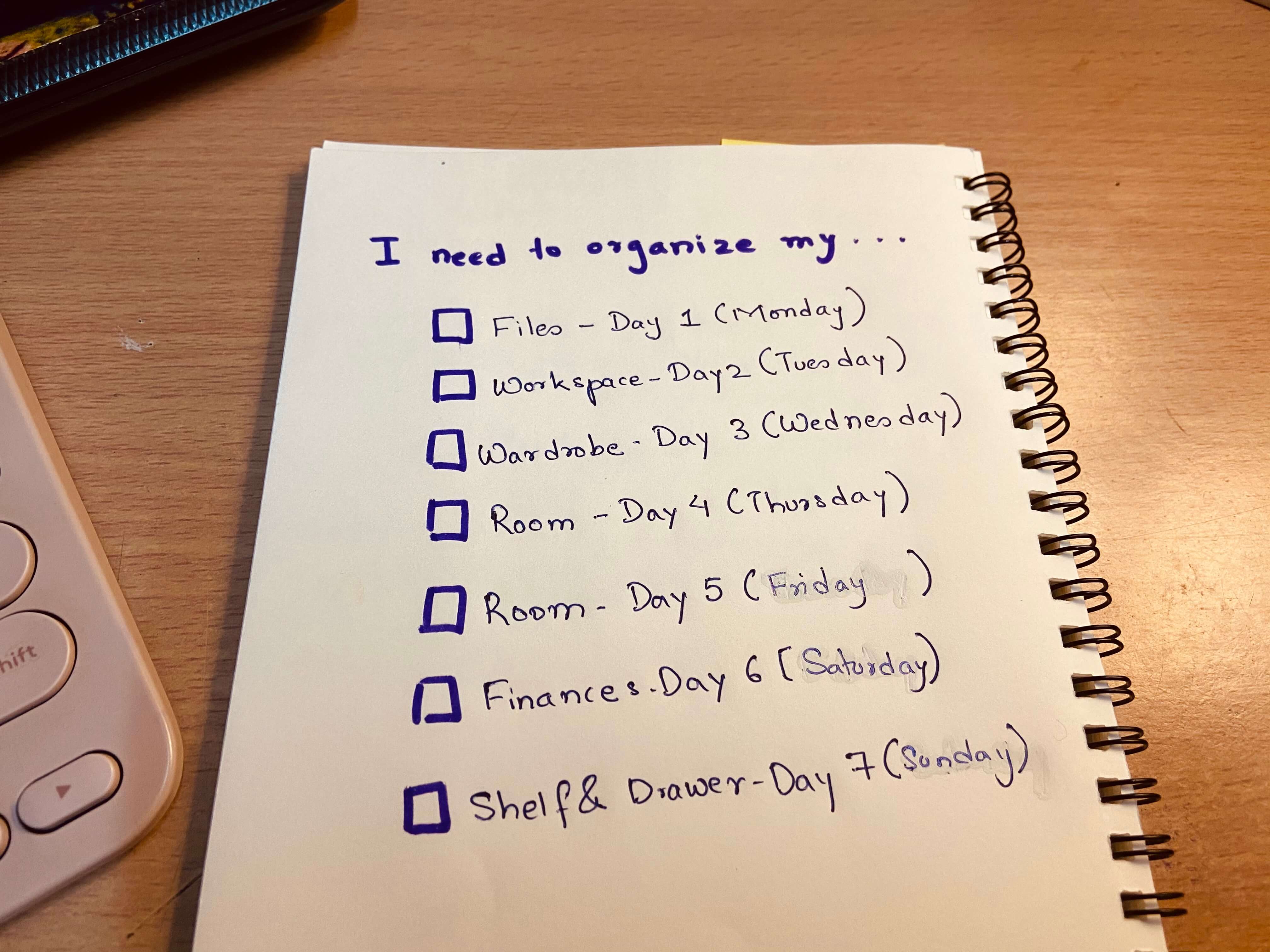 Set your own schedule.
Estimate how much time it might take for you to get the area organized. You can give it a day, a two or even a week if that's the amount of time you need.
Then as you start and finish one, tick those boxes off one by one.
The Physical act of organizing your life
3. Declutter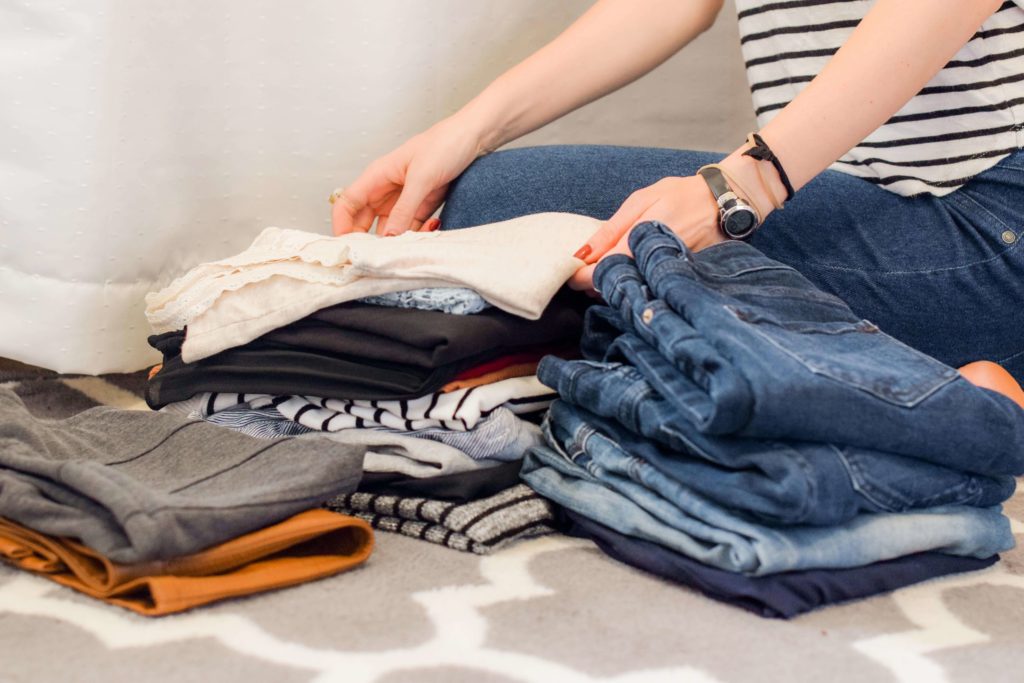 Next comes the actual physical act of organizing. Once you go according to your schedule and pick the area to organize, you need to start with decluttering.
Organizing cannot happen without decluttering.
Indeed one could say that the actual organizing consists of only two things:
Decluttering what you don't need
Having a home for the all things you do need.
If it's your room you've picked up to organize and you think the room is too big and too messy to start with, then pick one corner of the room. It can be the corner where your workspace is and you can start with your workspace.
Declutter all the unessential and keep what's not in place in its right place.
I always keep my workspace clean and tidy. It motivates me to work better and have focus.
Anyway, as you're decluttering, chances are that you won't know whether to throw or to keep. We tend to attach to too many things.
So if you get stuck with that, simply ask, 'Did you use it in the past week or past month?'. If no, then you most probably won't ever use it.
After you're done, tick it off from your list and pat yourself for the work you did.
P.S 15 things to get rid of to simplify and organize your life
4. Have a home for everything
There was a time when if someone asked me where the stapler is, or where the scissor is or where a book is, I would go on and on searching and still wouldn't find it.
It still happens for some of the things, and I'm trying to get better at it too. But for the most of the things that I actually use, I now have a home for everything.
For this, three things are essential:
decluttering
Keeping the things in its right home right after using it. We tend to say 'Not now', but it actually takes just 2 minutes or less if we do it right away.
Having less stuff
I had my diary and other stationery all over my table and because my table is already full with my other diary and books, so I keep my stationery and my journal in this box.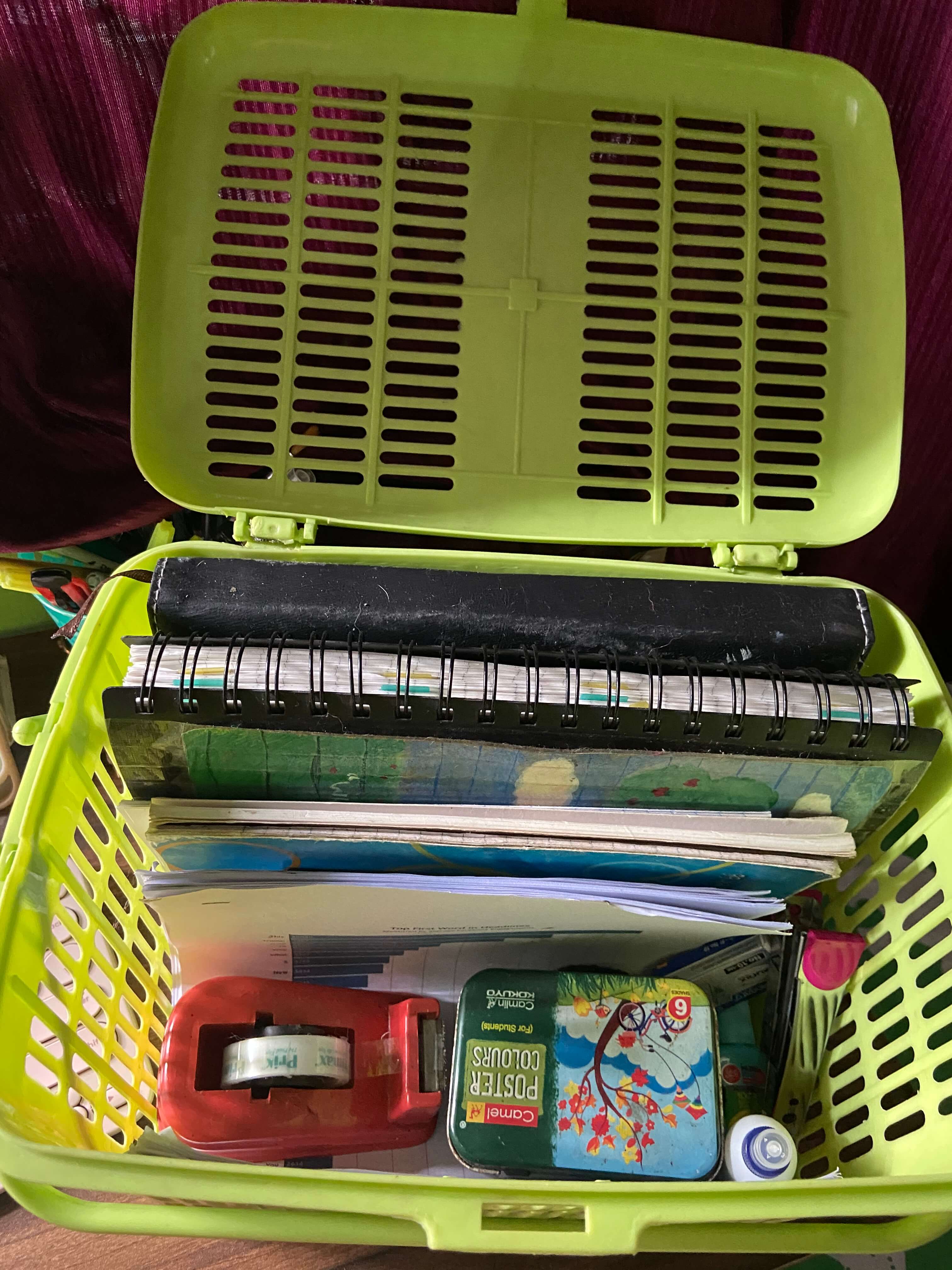 For my blog, I have kept its home in the app called Notion which I use to organize and plan all of my blog post topics.
For all the passwords that I have, I have kept a list for it in my diary and also on my phone.
For my college work as a teacher, I use 'GoodNotes' to keep everything organized and have a file for important documents. Now my phone, my iPad, my google drive.. everything is organized.
Having a home for everything makes things so much easier.
How to stay organized
5. Have a daily routine to organize your life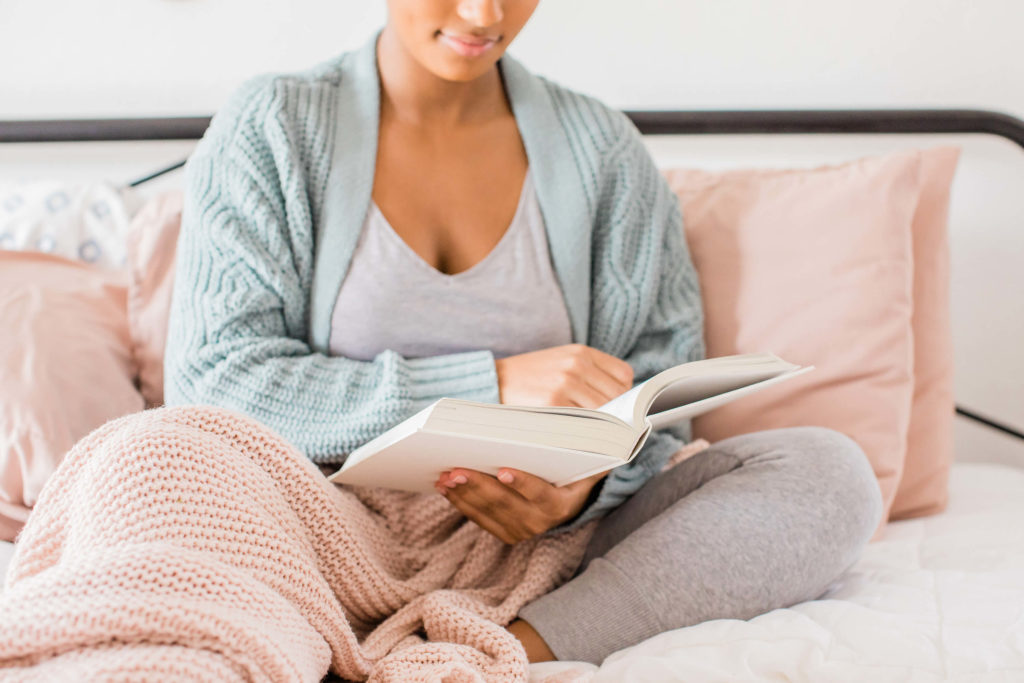 If you want to be an organized person, then having a daily routine is a must, and more so, a morning routine.
Having a morning routine is the beginning of organized life. When I first decided to organize my life and get my life together, I first decluttered my messy room and then slowly worked on creating my morning routine.
Having a morning routine brought back things in order and focus. It helped me eventually form my daily routine.
Intentionally creating a daily routine adds structure and focus. It is a must if you want to organize your life.
6. Make lists to get yourself organized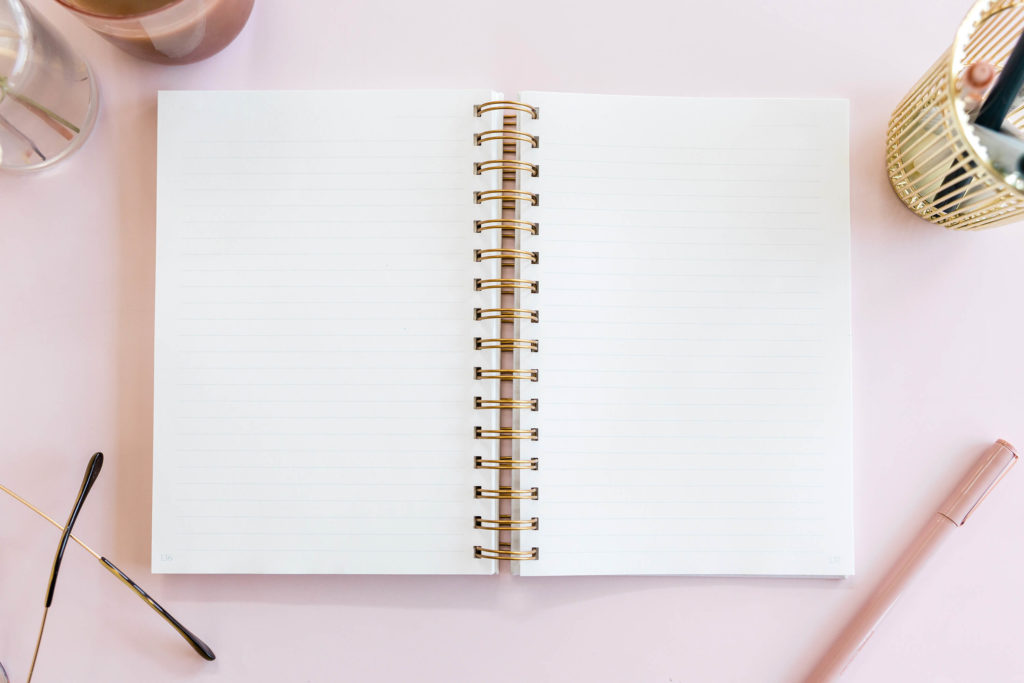 Have a notebook where you keep lists. Writing down lists is by far the most super helpful method to remain organized.
Here are some of the lists I have:
List of books I want to read
List of books I have read this year
List of pending things to do (that I write occasionally when things come up)
List of my blog-related passwords
List of my college work-related passwords
List of my goals till 2030
List of my goals for the next three months
List of courses I want to take to uplevel my blogging skill
List of my blog posts for each category in my blog
List of the things I want to buy
Whenever you feel that something needs your attention and focus, make lists. If you think you'll forget something, make lists. Keeping lists will make sure that you always remain organized.
7. Follow the 2-minute rule
I came across the 2-minute rule from the book, 'Getting Things Done' which is one of the best books on productivity, organization, and time management.
The 2 minute rule is simple – If it will take less than 2 minutes, do it immediately.
This really applies to putting things right back where it belongs right after using it. So many times we end up just putting it off for no reason and then it keeps piling up.
Immediately doing things (even if it takes 10-20 minutes at most) saves so much time and clutter!
8. Schedule or delegate the tasks that need to get done
For every task that doesn't get done immediately, write it down in your 'List of things to get done'.
Then schedule for when you will get it done. And if it's not you who needs to get it done, delegate it to someone else.
9. Use sticky notes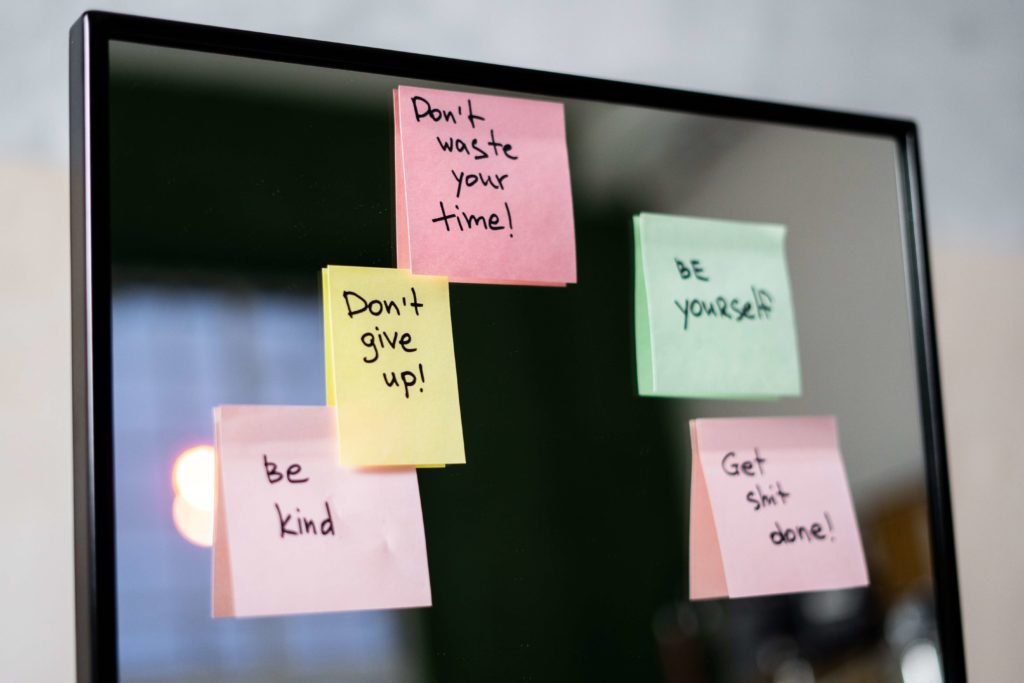 There are so many apps and digital tools for productivity, but I still like pen and paper and sticky notes!
I tried going digital, but because of the fact that I didn't actually see my to-do lists in physical form, in front of my eyes what was in my head or what needs to get done, I had a hard time doing it.
In front of my desk on my wall, I have a sticky note for my daily routine where I have put out time blocks for the things I want to do in my day.
When things come up, I put out a sticky note for the to-dos that need to get done in the day.
Sticky notes work wonders when it comes to organizing your life.
So these were it
9 steps to organize your life.
Write down what you want to begin organizing
Set a schedule to organize your life
Declutter
Have a home for everything
Have a daily routine
Keep lists to keep yourself organized
Follow the 2-minute rule
Schedule or delegate tasks that need to get done
Use sticky notes
Hope you have fun organizing your life!
Hope you have fun taking your power back! <3
Further,
P.S. If you are ready to give a try at working on yourself and changing your life, I have recently created a Special challenge/Guide for you to Change your Life in 7 days.
I think you'll love it if you give it a try for 7 days and see what's possible for you.
You might also like:
Pin for later 🙂