How do you spend your me-time?
Do you love me-time? I simply love my me-time moments, and always make sure to have some time in my day in the mornings and evenings for my me-time.
And with this, I recently realized something about me.
My boyfriend and I meet everyday. Its kind of our daily ritual, but I recently realized that even when we don't meet, I actually enjoy my own company that I spend to myself in that time.
And when few months ago we went through a rough patch and didn't talk to eachother for days, because I knew how to spend my me-time and enjoy my own company, it wasn't that difficult and I didn't find myself lost.
But it wasn't always this way. Earlier, when I would be left to myself, there was no concept of enjoying my me-time, and when I wouldn't meet my boyfriend because of some reason, I would be so sad and didn't know what to do.
I would sulk in boredom scrolling away my phone aimlessly and yet the hours seemed to move at a snail's pace.
Most of us even though we love the concept of me-time, tend to have a negative relationship with it.
And the reason?
We don't enjoy our company enough.


We don't know what to do to when we are left with ourselves, and how to spend our me-time.
So today in this post, I want to share how you can spend your me-time intentionally to actually enjoy your time with self, and about what benefits I have recieved from my me-time.
But first,
What is me-time?
Me-time is the time you give just for yourself, and no body else. It is the time where you actually enjoy your own company. It is the time you give to yourself by doing activities which helps you strengthen the relationship you have with you.
Benefits of me-time
There are so many benefits of indulding in me-time.
Here are some which I have found to be most true for me which I think holds true for every one who indulge in intentional me-time moments strongly in their life.
Me-time helps you develop a strong relationship with you.


Me-time improves your relationships


You stop looking for connections just so you don't be lonely


You come to know who you really connect with from the heart and who you don't.


You stop seeking for validation from outside.


You come to know why setting boundaries are important.


You learn to disconnect, understand its importance and don't feel the need to constantly be connected with the outside world.


You learn to be whole with your own self.


You learn to value time.


You don't constantly need to be distracted.


You don't have the need to have some one in your life to make your life interesting or meaningful.


You come to know more about your energy- what energizes you and what activities drain your welbeing.

So these are the benefits me-time can give you.
P.S Affiliate disclosure: Some of these links are affiliate links. If you purchase from my link, I'll earn a small commission at no extra cost to you.
Now on how to spend your me-time intentionally,
How to spend your me-time intentionally
There is only two rules to spend your me-time intentionally. They are:
Schedule your me-time


Bring awareness and be in the present moment when you are spending your me-time.
Your me-time can be 20 minutes or two hours long. It doesn't matter. But whatever you choose to do during your me-time, do it intentionally by bringing in present moment awareness.
When you have even a little time with yourself, you must be aware that this is your 'me-time' moment and must decide to spend it intentionally.
This little present moment awareness actually helps in bringing in more enjoyment to your activities, rather than doing them just blindly for the sake of it.
When you just switch on this little mindfulness and intentional awareness, even chores like washing the dishes, changing your bedsheets, cleaning the room can be enjoyable and part of your me-time moment.
Now that I have told you how you can spend your me-time, here are some ideas you can try to spend your me-time intentionally apart from just being on your phone and lying down in bed.
There are so many ways!
Ideas to spend your me-time intentionally
Pin for later 🙂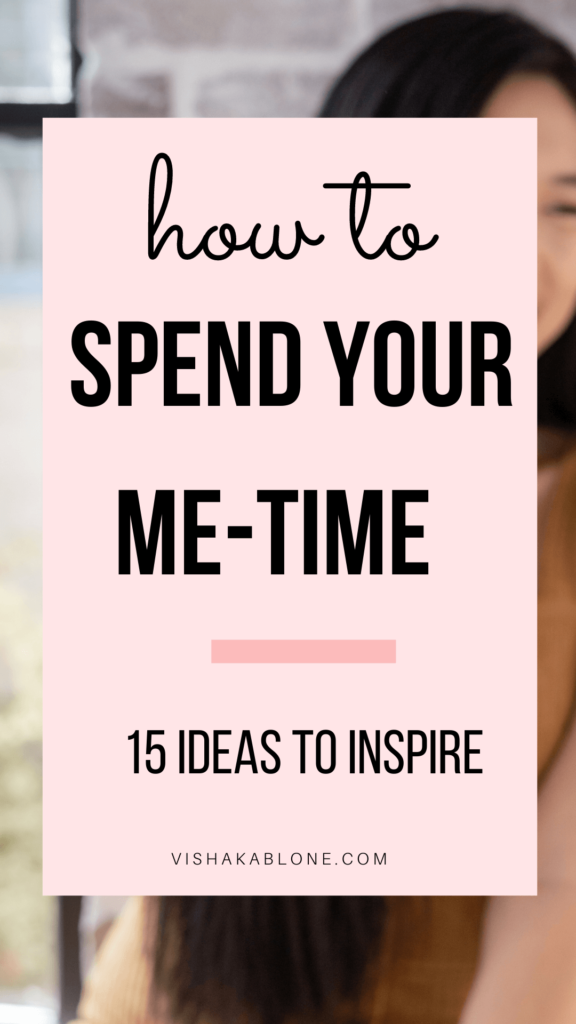 1. Don't check your phone
Throw away the idea that the only way for you to relax and spend your me-time moment is scrolling through social media and watch endless youtube videos.
Put your phone away. Turn it on airplane mode if you are in the habit of checking each and every notification. And decide to not check your phone in your me-time moment.
Here are some other toxic habits that is ruining your life unknowingly
2. Move your body
You don't have to exercise. Just simply stretch and move your body. I love Pamela Reif's 5 minutes and 10 minutes daily stretch exercises.
Even 10 minutes is so soothing, and especially a good start if you want to build a workout routine.
If you actually want to start working out this year, but you hate exercise, I have shared how I actually made myself love working out.
And I can say that this will work for you too! You too can start loving exercise if you do the right thing.
3. Learn something new
Schedule your me-time and learn something new. If there's something you want to start practicing or learning, use this time.
I started my blogging journey from my me-time moment. I utilised this time to learn things about blogging, and this blog has finally become what I wished it to be.
If you want to start a blog too, here are some posts that might help:
4. Dance away
I'm not good in dancing at all, but whenever I am alone, even for little moments, and when I am usually listening to happy and up beat music, I dance.
So I dance in the middle of cleaning my room. I dance when I am putting on cream on my face. I dance when I am taking a bath. And I love it.
I feel so happy and uplifted immediately. This is something nobody knows.lol. I am only writing about this here.
But I have come to know I love dancing! It immediately gives you the happy feeling when you dance without care and move your body. Try it!
5. Take a nap
Another great way to spend your me-time. Disconnect for a while and take a nap. It is refreshing. You don't have to feel guilty for it. Instead enjoy it fully.
I love to create a wonderful sleeping environment in my room for a nap, and when I disconnect and go into bed to take a nap.
I simply love the feeling, especially when the bedsheet has been changed too, and everything is tidy in my room.
Ah!! the wonderful feeling!
6. Give time to your hobby
What is your hobby?
Is it reading, writing, painting, cooking? Give time to it. If you haven't found what your hobby is yet, then use your me-time to explore your hobbies.
Start being a creator of something, anything, instead of simply being a consumer.
7. Treat yourself
So many ways to treat yourself. Go for a spa, take a warm water bath, order a pizza, anything!
8. Write in a journal
Write down your thoughts and feelings in your journal. If you want to start journaling, but don't know what to write, here are journal prompts for 21 days.
Also, Journal Prompts by Yung Pueblo. I love his instagram account, and the words of wisdom he shares!
Journaling has really changed my life, and here in this post I mention 5 benefits I have gained from journaling
9. Cook something
If you want to eat something, then try to make it at home. Google the reciple or watch youtube to cook something during your me-time.
My favourite cooking channel for indian recipes is Kabita's Kitchen!
10. Paint something
This is something I like to do during my me-time moments. It refreshes my mind and calms me.
You can get an adult colouring book or paint something of your own.
Here is what I recently painted inspired by Buddha Doodles 🙂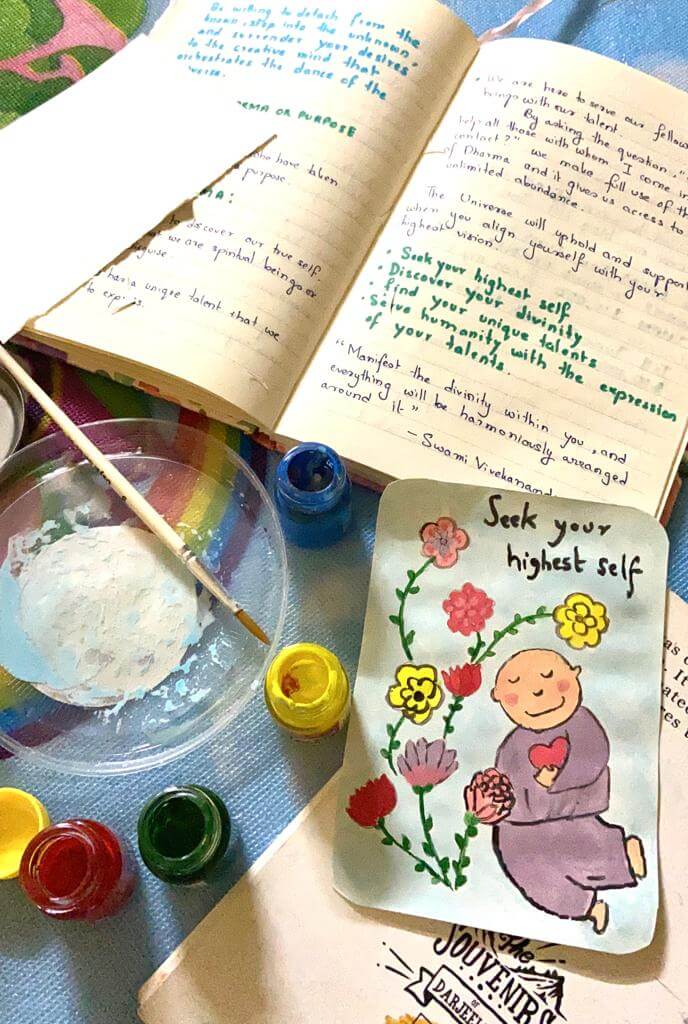 11. Read something
Schedule your me-time and use that time to read something. I spend my most of my me-time in my morning routine and evening routine.
One of my me-time ritual includes reading a book for 30 minutes in the morning.
Here is how I make time to read everyday.
P.S also, here is how I make time for everything without getting stressed.
If you're want to start the reading habit too, here are my book recommendations for beginners. It includes both fiction and non-fiction books which you can read in the morning or evening.
12. Go for a solo walk
As much as I love going for a walk with my partner, talking and enjoying, I also love going for solo walks.
When my boyfriend and I are living in a distance, I go for evening walks, and I enjoy it so much.
Going for a walk soothes me, energizes me and brings in so much clarity.
13. Take a warm water bath
Schedule that me time and bathe in warm water with thankfulness, awareness and enjoy yourself. Wear good house clothes and make yourself feel fresh and tidy even while staying at home.
Related post: Why thankfulness is mindfulness
Enjoy your me-time feeling fresh.
14. Moisturize yourself
Engage in physical self care by taking care of your body. Slow down and moisturize yourself. Don't do it in a hurry, but feel your skin as you moisturize your skin.
Look in front of the mirror as you put moisturizer to your face and smile to yourself.
Here is something I wrote about this new ritual- not hurrying with my body
15. Call your friend
How about calling your friend in your me-time? They just know how to make your day better and get some good laugh.
I talk with my friends every single day. We're not even texting kind of friends, but we love to talk, and on my me-time moments I call her and then we end up talking for more than 2 hours most of the times.
So these were just some ideas on how you can spend your me-time. These are some ways I spend mine. You can always have things to do on your own,
What do you do during your me-time? Comment below
Enjoy your me-time moments!!
Pin for later 🙂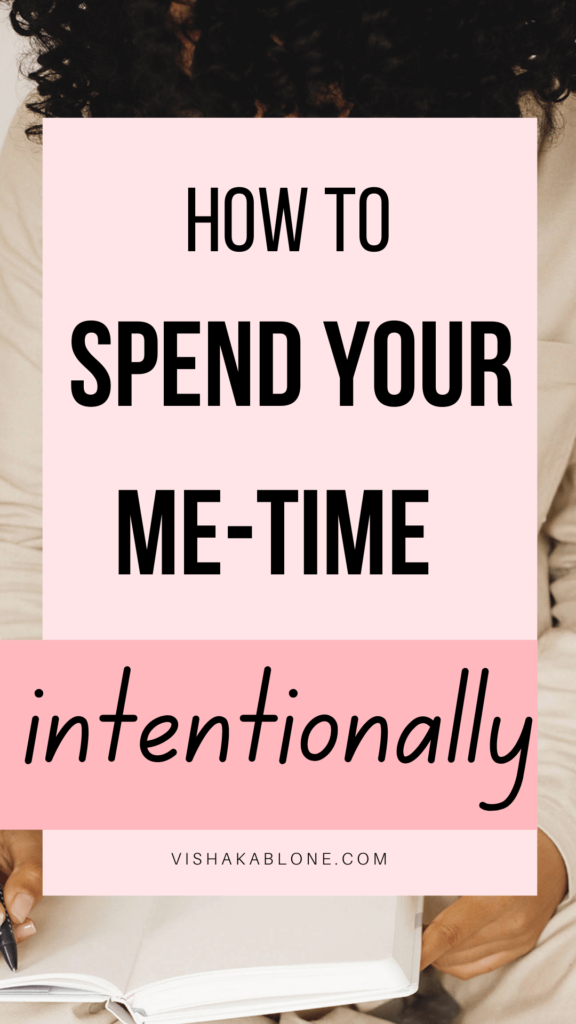 Related posts