What can you do with an empty notebook?
Well… So much! In this post, I am going to share 50+ things you can write in your empty notebook. I am sure that you will love these empty notebook ideas.
As for me, I absolutely love stationery products and am obsessed with buying notebooks.
I took a pic of all the notebooks I have and here it is.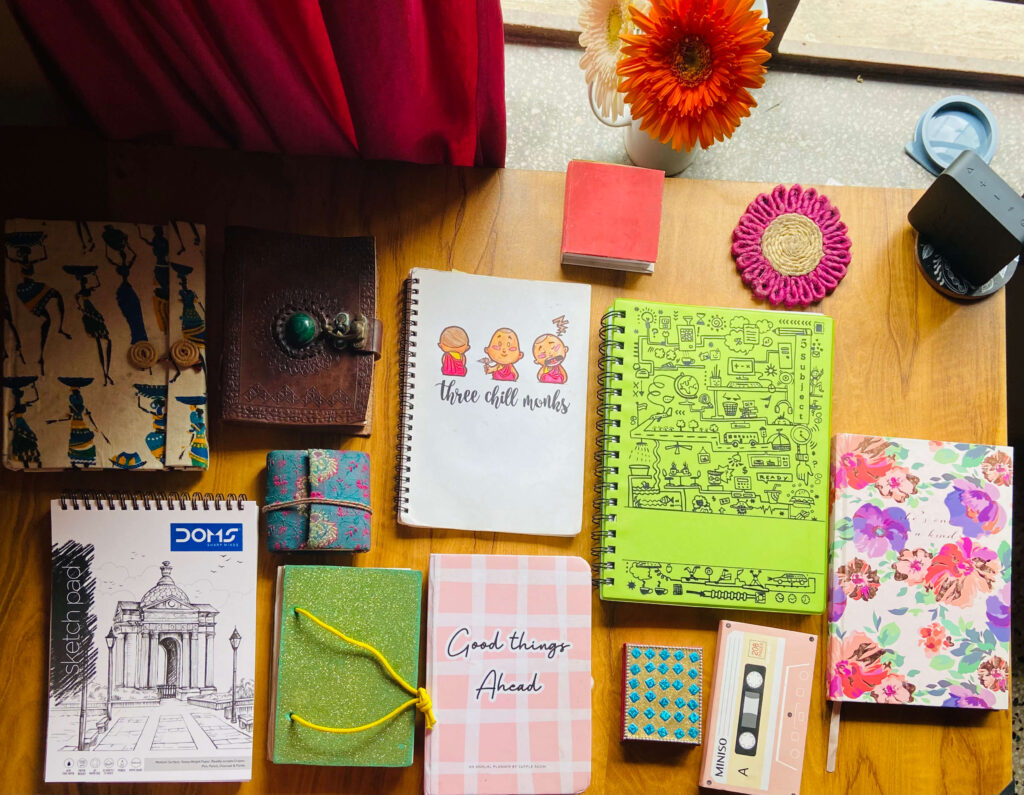 I tried going digital, but I didn't enjoy it much. I came to know I am more of a pen and paper person.
I have notebooks for my goals and intentions, quotes, prayer, my tiny thoughts, habit tracker, blog planner, study notebook, book notes, annual planner, miscellaneous notebook and others.
I feel I can still make use of more.
Buy me even a small notebook and I'll be happy. 
Anyway, now let us get to the main part. 
Here are all the ways you can make use of an empty notebook.
P.S some of these links are affiliate links. If you purchase from my link, I'll earn a small commission at no extra cost to you.
Pin for later 
Empty notebook ideas: 50 ways to fill your blank notebook
Pin for later 🙂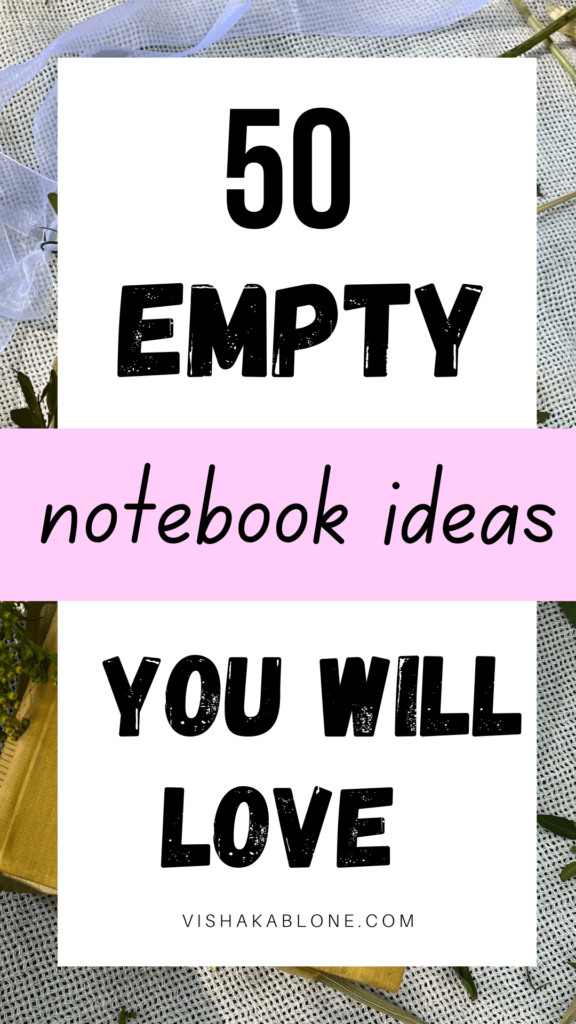 1. Morning pages
The best use of a blank notebook is writing down morning pages. Get into the habit of writing morning pages.
There is no right or wrong way of doing it. They are only for you and no one else.
Writing morning pages is one of the most essential tool given in the book 'The artists way' by Julia Cameron to live free and live creatively.
You just need to write down whatever crosses your mind, how you feel and what your thoughts are at that moment. 
It can be healing, and transforming and can help you tremendously in keeping away your creative blocks. 
You can buy the book here:
2. Favourite quotes
Use your empty notebook to write down your favourite and inspirational quotes from inspiring people. 
Read them whenever you feel low or in need of some motivation. It works wonders.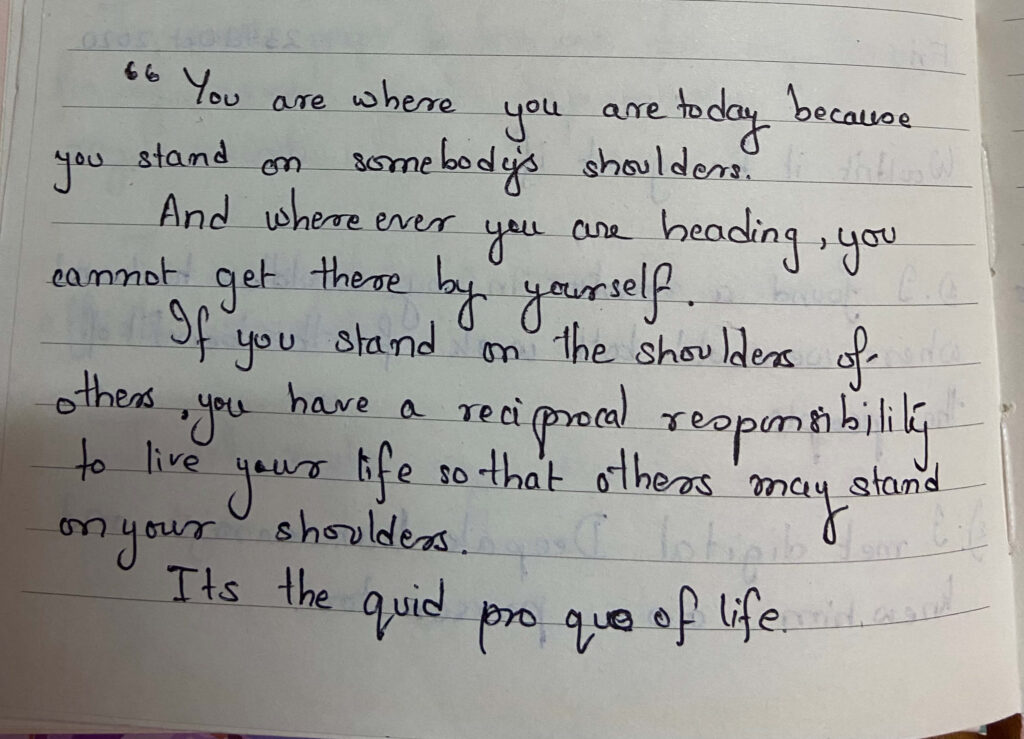 3. Book notes
I love writing down book notes. If there are any lines I love, I write them down in my notebook and after every chapter, I write down what I learned or the main summary.
If it's a novel I write down my thoughts and what I learned from the book. 
This way I retain more from the book and can easily go through it whenever I want to.
4. Kind acts  
Write down any sweet things and kind acts someone did for you or it may just be something you noticed in the day.
It may be your colleague bringing you small gifts from their recent trip, it may be your friend who listened to you for hours without judging, or some stranger giving you a smile.
It may be you saw someone helping another and it made you feel good. Start noticing these acts of kindness which are happening all around you and write them down.
P.S but don't write down what acts of kindness you did for someone, for it should be forgotten and only felt :)
The world is still full of kindness and compassion. It is just a matter of what you give your attention to.
5. Positive affirmations 
Another fun way to make use to empty notebooks is by writing down positive affirmations. You can make an entire notebook just for positive affirmations.
Here are some great positive affirmations and 101 self-love affirmations to change your life.
6. Letters 
You can use your empty notebook to write letters you won't be sending. Just simply write your heart out.
Write a letter to your teenage self, your future self, and to your 80-year-old self.


Write a letter to your ex-best friend, your ex-boyfriend or someone who may have hurt you.


Write a letter to someone you know who's going through a lot and what you would like to tell them.

It is therapeutic and you will learn so much from this process.
7. Lists 
Make lists in your empty journal. Here are some lists you can make
List of books you read

List of books you wish to read
List of podcasts to listen to
List of places you want to visit this year

List of things you want to do this year 
List of things you want to buy 

List of bad habits you want to give up 

List of good habits to cultivate 
And so much more. Here are 12 must-have lists to get organized.
8. Tiny thoughts and ideas 
You can also note down tiny thoughts and ideas that come to you. For this, I have a tiny notebook where I have kept my tiny thoughts from the past couple of years. 
These notes and thoughts are tiny whisperings from my heart and I love to keep notes of them.
9. Learnings
Write about what you learned from a particularly bad experience, what a bad situation might be teaching you and any life lesson you get from anyone.
When you listen to a good podcast or watch a YouTube video or anything you really loved, write what you learned from it and how it made you feel.
When you hear something good from someone, when you have a good experience or notice a good experience, write them down. 
This will go a long way.
10. Gratitude lists
Write down things you're grateful for every day and see how it changes your life.
Here is a gratitude journal you might love.
11. Achievement lists
This need not be only what you achieved in terms of your career, or your education, although it wouldn't be bad to write them.
But you can also fill your empty notebook with little achievements you were able to do today.
Setting one small goal and being able to do it is an accomplishment.
Maybe it is waking up one hour early, going for a walk, or giving 10 minutes for stretching. If you did it, put it on your achievement list.
If you're someone who is having a particularly bad time and in a bad mental health state, be kind to yourself and write down your little achievements in the day which can be as little as doing the dishes, going to get the groceries or just being able to put up a smile.
Remember, even breathing is a big accomplishment on some days. So think strong about yourself.
Keep going and you will slowly start finding your joy if you do them slowly and mindfully.
P.S tiny habits that improved my mental health naturally
12. Bucket list
If you haven't written down your bucket list then it's time to write one. It's one fun way to fill your empty notebook.
13. Wish lists
What are the things on your wish list? 
What books do you want to read? Which places do you want to visit? Things you wish to buy.
You can make a wish list and tick them down as you get them done. This also helps you keep track of your spending in case you end up buying things you don't really need.
14. Vision journal 
Next, you can also turn your empty notebook into a vision journal where you put in pictures, quotes, and affirmations of your vision and what you want to manifest. 
It's similar to creating a vision board except that you make it in your diary.
15. Travel plans
Note down your travel plans, places to visit and things to do on your next trip.
Write down any Info you get while researching the place so that you don't forget.
Make your itinerary for your trip and plan out your budget for the trip.
16. Travel Memories
Use your empty notebook to note down travel memories. What you did and the best moments from your day one, day two, day three of your trip and so on.
Write down how much you spent, the places you visited and how you reached there, the price of the tickets etc.
This will be so helpful when your friends and family ask you for an itinerary and helpful recommendations plan on visiting the place.
Also, you get to can look back and remember your trip always. 
17. Business Ideas 
If you want to start a side hustle or start your own business, it's time to note down your business ideas. 
Research side hustle ideas which can help you make money passively.
If there are certain ideas that come to you when you're walking, taking a bath, cooking or anything, then write them down in your notebook so you don't forget.
Be keen and aware of the problems people might be facing and start thinking of ideas that could solve them no matter how small.
18. Recipes
You can use your empty notebook to write down recipes.
I am not much of a cook and I often tend to forget the right process. 
I have a recipe notebook where I have written down recipes for breakfast and main meals.
This way I don't have to watch Youtube every time I want to cook something special. I read my recipes and am prepared with them.
19. Journal Prompts
If you want to start journaling, but don't know what to start writing in a journal then make a list of journal prompts in your notebook.
Here are 21 Journal prompts for 21 days of journaling and Self Discovery journal prompts by Yung Pueblo you will love.
20. Poems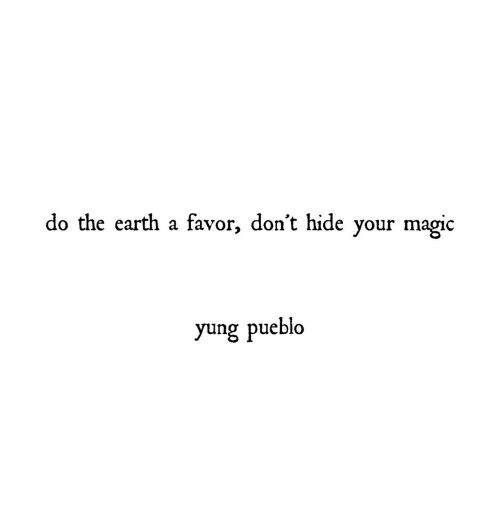 I love young Pueblo on Instagram. His poems are now an international bestseller and it's on my wishlist.
These days there are so many Instagram Poets. If there are any poems you loved to read and would want to read them again and again, write them down. 
Or if you have poems within you which got lost somewhere, use your notebook and find inspiration to start writing your own poems.
21. Prayers
If there are any prayers you love a lot, write them down. 
You can also use your notebook as a prayer journal to write down your own prayers.
You can then read them whenever you are praying. It's an immensely satisfying and self-cleansing ritual.
22. Goals
Write down your life goals, your 5-year goals, your goals for the next year, your goals for this month and your goals for this week.
Start setting goals and believing in them.
P.S Here are 60 monthly goals ideas for all areas of life and
How to set weekly goals and crush them.
23. Goal tracker
Use your notebook to track your goals. Track down numbers, your daily revenue, your monthly target and whether you were able to achieve them or not.
24. Habit tracker 
Another fun thing to do with your notebook is to use it as a habit tracker. I have made one notebook specifically as a habit tracker.
I like to set weekly track of my habits like this. 
This also lets me see as a whole how my week went and the things that I did.
25. Budget tracker 
Use your notebook to track down everyday spending and if you're being able to stick to your budget.
This is something I really need to be good at.
26. Self-care planner 
You can use your notebook as a self-care planner where you make a note of how you plan to take care of yourself.
You can write down what self-care activities you want to do on the weekend or any self-care challenge you want to try.
Here are 30 best self-care Sunday Ideas you can write down and a 7-day self-care challenge.
You can also write down how it went and how you feel afterwards.
27. To-dos, Routines and schedules
We all love making routines, don't we? At least we try to make a routine if not fully able to stick to it.
You can use your notebook to make your routines, and daily to-dos and keep track of your meetings and various schedules so that you don't end up forgetting about them.
P.S if you're always failing to stick to routines, here are my tips on how to create a simple daily routine that sticks.
28. Daily journaling
Use your notebook for daily journaling. A daily journal is simply where you write your heart out and build a connection with yourself.
You write about your day, what went well, what didn't go well if there's anything you could have said or done better, your thoughts, your feelings and any learnings you experienced.
29. Dreams journal
Dreams are a subconscious way of telling you something.
You can make a dream journal out of your empty notebook and note down your dreams every morning and what they might possibly mean.
30. Mindfulness journal
If you want to bring more mindfulness to your day, then create a mindfulness journal.
Have days of mindfulness once a week and note down how it went, what felt good and where you struggled.
P.S how to start practicing mindfulness
31. Sustainability journal
If you want to be more sustainable, and eco-friendly and reduce your carbon footprint then you can also make a sustainability journal where you note down ideas and how you can make a more eco-friendly switch. 
Note down your experiences, what changes you made, what you're learning and also in what areas you're struggling.
32. Health and wellness journal
You can start a health and wellness journal where you note down how you feel, what you're thankful for, your mood, and what physical activities you did or want to do in your day. 
You can make your exercise routine and note down what exercises you plan to do in the day.
You can note down your water intake, what you ate in a day, and what you plan to eat to remain healthy.
P.S how I made myself love working out and 10 daily habits that changed my life
33. Work journal
It's a good habit to keep your work separate and organized.
Keep a notebook specifically for things related to work. Organise them into various categories so that you can easily get what you're looking for.
34. Pregnancy Journal
If you're pregnant or when you're pregnant a fun thing to do is to make a pregnancy journal.
Here are some beautiful journal prompts for pregnancy to write about and pregnancy journals you might love.
35. Motherhood journal
I am not a mother yet, but having your own baby is the most precious thing in the world.
Keep a note of your motherhood journey in your notebook. Write down every milestone your child hit, all the highs, the lows, the happiness, the struggle and the pain, everything.
I will definitely make a big motherhood journal which will be something so wonderful to look back at. 
36. Photo Journal
Turn your blank notebook into a photo journal where you paste in your pictures and write down your favorite moments and memories you want to keep.
If you want to make a photo journal, having an Instax might be a good idea to keep moments on the go!
37. Sweet love notes 
Whether you're just starting a relationship, have recently been married or have been married for 10 years, writing down sweet things your partner said or did for you can be a great way to keep the appreciation, gratitude and love alive.
As the saying goes, 'There are a million ways to say I love you'. Remind yourself of the sweet things and note them down.
When they make you mad, seeing these love notes will work great in keeping you less mad. Lol
38. Study/course notes
Make notes of your study in your notebook. If you've taken up an online course, use this notebook to write down the main learnings so you don't forget. 
When I take blogging courses and ebooks, I always make notes in my notebook.
39. Passwords
If you're someone who keeps on forgetting passwords, then use your notebook to keep a list of all your passwords.
40. Mindmapping
If you're not so much of a writing person, then mind mapping might work the best for you. 
If you don't know what mind mapping is, here are the basics of mind mapping to help you get started.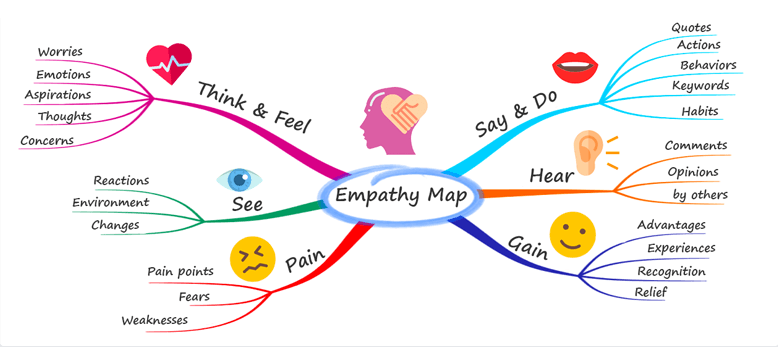 41. Lettering practice
You can start lettering practice in your notebook.
42. New language practice
You can also learn and practice a new language
43. New words
You can use your notebook to write down new words and their meanings.
I used to have a separate notebook for this and would write down any new words I came across while reading a book along with their meaning and learn them.
44. Blog planner
If you have a blog or any online business, you can use your notebook as a blog planner to organize your blog or any content ideas. 
45. Wedding planner
You can use your notebook to plan your wedding because isn't it the most important event of your life.
Even if your wedding is long due it doesn't do anything bad to start planning for it beforehand. It's fun!
46. Meal planning
If you're always thinking about what you should eat next for breakfast, lunch and dinner, then you should try meal planning.
Here are some meal planning ideas to help you.
47. Grocery list
Another simple use of your notebook would be to write out your grocery list and all the things you need and what you spent on your running your household.
48. Draw
You can use your notebook to draw, sketch, paint or doodle.
49. Book reviews
After every book, review the book in your notebook just for yourself.
Write about what characters you loved, why you loved them, what you learned and what was your take on the book.
You can leave the review on amazon or Goodreads if you like for anyone to look up to.
50. Movie reviews
If you're into movies, then you can similarly review movies and write down your thoughts on them.
So here!
These were all the things you can write in an empty notebook.
Save for later 🙂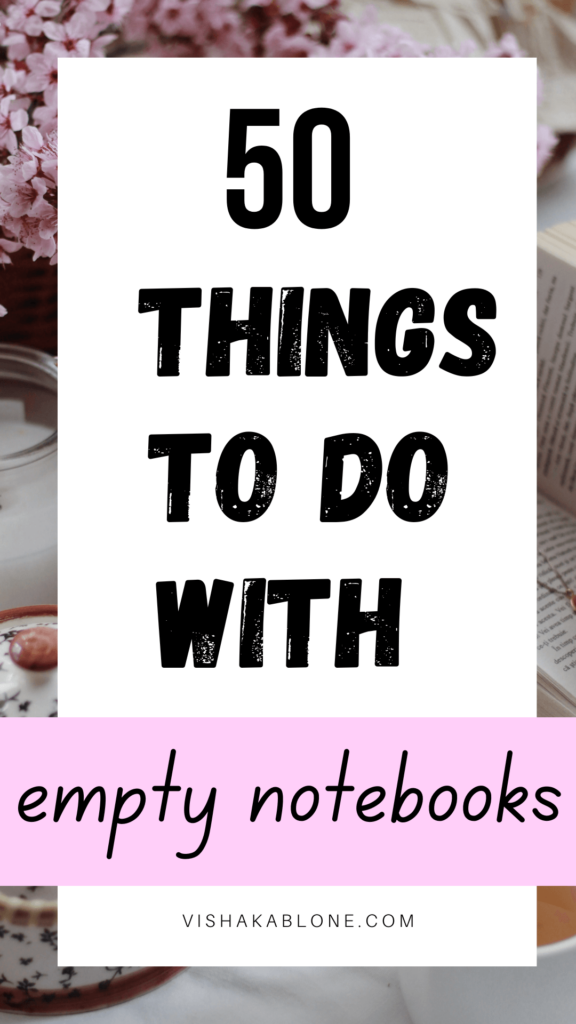 I hope you have fun writing them and make the best use of your blank notebooks. 
Related posts