Want to create a perfect and relaxing self-care night routine for yourself? You must definitely give it a try.
When you're starting out on self-care, it might be a bit difficult to make it a habit and turn it into a regular routine.
Most of us might not even know what to do to have a good self-care night.
So here in this post which is a guest post from The Mindful Hermit, she shares her self-care night routine which will help you get ideas to create your own self-care night routine.
But first,
What is self-care?
Self-care in simple words is a process of looking after yourself. It is a process of prioritizing your needs to improve your well-being.
Self-care encourages you to maintain a healthy relationship with yourself and practice actual kindness to yourself.
Why self-care is important
Many of us live in busy and loud cities, at a fast pace. The majority of our time we spend indoors, we travel almost everywhere by car, or public transport because it is more convenient.
We push our well-being to a side and we forget how important it is to maintain our mental and physical health.
By creating a healthy self-care routine, we can achieve a peaceful life. We can also improve focus and can set the right mindset to accomplish our goals.
No matter what your goals are: whether it is to get a promotion at work, set up a successful business, live a frugal life, have a big and happy family, or look fit and healthy.
All of that can be done only if you start focusing on yourself in the right way.
Actively engaging in a self-care routine can reduce or even eliminate depression and anxiety. 
But that's not all. It can also reduce daily stress, and increase happiness and energy level.
And do you know what else a self-care routine can do? 
It can also improve your physical health and reduce the chances of having heart problems, stroke or cancer. Plus, you learn how to keep in tune with yourself at the spiritual level.
Why a self-care night before bedtime
It actually starts with our brain.
You don't need to go very deep to understand this, but you just need to understand the basics of how our brain functions.
Here is a little bit of brain anatomy!
As we all know our brain is a rather complex organ that controls many things including our thoughts, memory, emotion, and body.
The brain constantly sends and receives chemical or electrical signals throughout the body.
Different brain waves occur in 4 main states which all depend on the level of activities.
The 4 main brainwaves are alfa, beta, theta and delta.
Simply, the Alfa wave occurs when you are relaxed; beta when you are most active, theta either when you're falling asleep or waking up; delta when you are in your deepest sleep.
Neuroscientist Caroline Leaf says, "Theta waves have a frequency of 4-8 Hz. and are activated when we are being insightful or creative. It's often referred to as the healing wave,"
When you focus on self-care first thing in the morning or last thing in the evening, you help your brain waves transfer into theta which is the best time to dictate your mind into what you would like to achieve and impress the subconscious.
Best Self-Care Night Routine Ideas
First things first.
Creating the right environment for your self-care night
Switch the devices off.
The first thing you should do before you set out to follow your self-care night routine is switch off all devices and technology, well – apart from radio or music. 
The point is to rest your eyes from screens as the blue light emitted by your phone kicks off the production of melatonin which doesn't help with falling asleep.
Instead, it is the opposite and will keep you awake for longer.
But that s not all.
By using devices in the evenings, you increase alertness at night, which again you wouldn't want.
If you need to charge your phone during the night, just do it in another room. You don't need your phone in the bedroom.
In my post "How Using Too Much Technology Affects Your Brain" you can learn more about the effects of using too much technology.
Also, 7 practices to have a healthy relationship with social media
Open my bedroom window and let some air in.
Yep, sound trivial; however, I caught myself so many times forgetting to open the bedroom window before bedtime. So now I have a habit of doing it straight after I put my devices away.
Turn on calming music and tidy up your nest.
Before I go to bed, I make sure the house is tidy, so that when I get up in the morning, I don't have any distractions from things flying around my house.
Once my devices are switched off and the house is tidy, I can start focusing on my self-care routine.
So these were the three things I do to get started with my self-care routine.
Keep reading to find out what next I do to find inner peace in the evenings.
Self-care Night Activities
1. Yoga or stretching
This is the first step of my self-care routine.
As I usually do workouts during the day, I pick something small for the evening.
It is usually yoga or stretching. Sometimes I will go for a swim, but it's maybe twice a week maximum.
I love doing yoga in the evening as it helps me to tune in with my body, mind and soul.
I also do tai-chi and qigong from time to time. My tai chi coach used to laugh at me as I have long and slim limbs.
So she always was telling me, that I look like a dancing mosquito (LOL). But that didn't stop me from trying new moves.
If you don't have much time like me, just go for 15-20 minutes. It helps to relax after a very long and busy day.
Here is a 15 minutes stretching session you will love
2. Supper
No way I would go to bed hungry! I always eat something in the evening.
Even if it is something small, like a salad or a soup. I try not to eat carbs in the evening, so my dinner is usually full of proteins, fat and veggies.
3. Relaxing Bath
I am such a huge fan of relaxing baths in the evening. It is "me time"!
I usually add aromatherapy oil, bath bubbles and salt to my bath. I lit a candle, turn calming music on and just chill in the bath for a while.
I try not to think about many things, just enjoy the moment and be mindful of it.
4. Skincare routine
Once I am done with my relaxation, I will move on to my evening skincare routine.
Again, same as with my bath, I am 100% present while I am doing my skincare routine.
I think it has been around 3 years now since I started the 10-step skincare routine.
Well, some days I do skip some of the steps as it depends on the day and if I feel like my skin needs more or not.
I know what you are thinking now! Is she crazy? 10 steps skincare routine?
Let me explain why I do that.
First of all, it is again "me time". Second of all – I look after my skin. And to be fair it is nothing extraordinary.
Let me walk you through my 10-step skincare process quickly.
Wash face with water
Wash face with face wash
Scrub your face with a gentle exfoliating product (I do it every second day)
Use toner
Use essence
Apply face serum (Vit C, Retinol, hyaluronic acid)
Apply face mask (again I do it maybe 3 times a week)
Eye cream – often forget but very important step!
Moisturizer
Antioxidant product
VOILA!! Done! It's that simple
5. Herbal tea time
After I am done in the bathroom, I will make myself a nice cup of tea. Depending on my mood, I will make camomile or calming tea.
6. Journaling
I love journaling! Especially with a hot cup of tea.  
I think it is one of these habits that I will never neglect.
Gratitude journaling is my favourite and it has saved me so many times.
I do gratitude journaling in the morning and the evening as I found this way more beneficial. 
My evening gratitude journaling is focusing on reflections, on good things that happened during the day, what I have learned etc.
I will also visualize my next day and I set my intentions. However, I will write it down the next day in the morning.
In the evening I only think about it and I use my imagination to picture the day ahead.
You can download a FREE Morning & Evening Gratitude Journal from my website. 
7. Read for 30 minutes
Unfortunately, our day has only 24h and as much as I love reading, sometimes I simply don't have more than 30 minutes for reading.
However, I always remember to read before bedtime.
I usually pick up motivational/inspirational books so I go to bed full of positive thoughts.
Here is how I make time to read every day and the 18 best books to read for beginners.
8. Meditation
Lastly, along with journaling, meditation is my no1! It isn't as simple as journaling, but let me tell you something: it WORKS!
It took me a while to learn how to meditate properly and I was so rubbish at it. But now, after all these years of practising, I can say with confidence that I nailed it.
I have also done 10 days of silent meditation (Vipassana) which taught me a lot.
Plus, I practice meditation with Joe Dispenza (well, not in person, unfortunately) but I use his recordings from YouTube.
I am lost for words to explain how powerful his meditations are. You need to try this.
Self Care Night Routine Recap
Save for later 🙂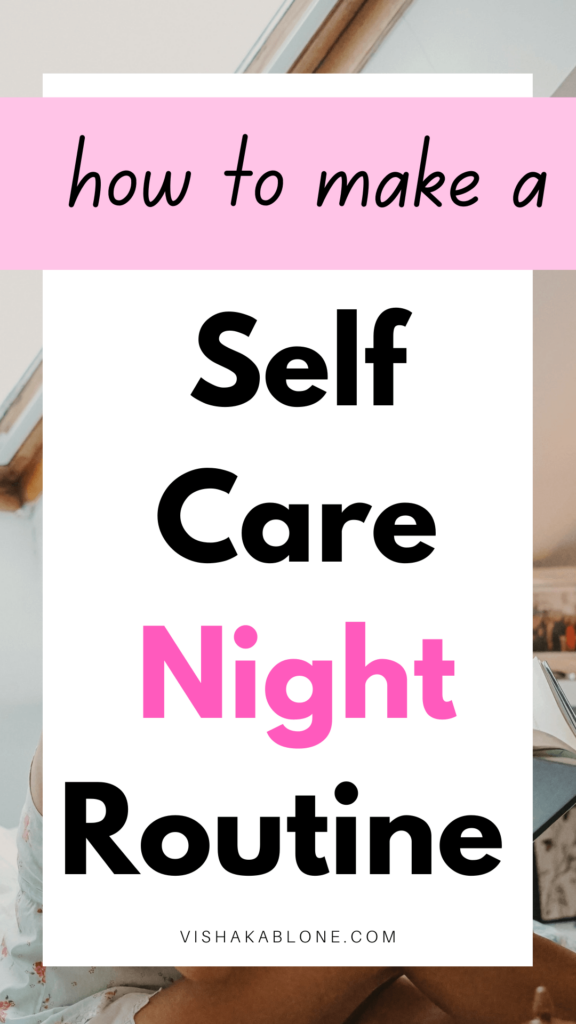 Self-care is often pushed to a corner or is treated like something that we don't need. And that is very wrong.
I hope you create your own relaxing self-care routine or use mine.
Just to recap the self-care night routine comes in two parts:
An environment that you need to set up
Switch the devices off
Open the bedroom window
Turn on relaxing music and tidy up your place
2. Self-care routine habits
Yoga or stretching
Supper/Small Dinner
Relaxing Bath
Skincare
Herbal Tea
Journaling
Read
Meditate
So what are you waiting for? Don't wait any longer, start today and let us know what your self-care night routine looks like. 
More self-care posts