In this post, I'm going to share with you a guide on creating a simple daily routine that works wonders! It has for me, finally!
Well, before I start, I bet you have your own routine. If you come home from work and on the way you eat some snacks for 2-3 days in a row then eating snacks after work becomes a part of your daily routine.
If you get up in the morning and before reaching out to your phone, you instead read a book for at least 20 minutes, then reading first thing in the morning becomes a part of your daily morning routine.
The things that we do every day forms our daily routine.
So it is important that we do the right things, meaningful things as a part of our daily routine if we want to form good habits, and if we want to have a life that is peaceful, calm and satisfying.
Why you should care to create a daily routine
I have a daily routine that helps me give time to my commitments at its proper time. And if you are thinking about whether having a daily routine is worth it, the answer to it is all yes, yes and yes! 
It is essential you keep a daily routine if…
You keep on procrastinating on your most important and meaningful work.
You feel that your life is going directionless and you have no control over your life. We feel we lose control over our life when there we start losing control over our days and go wherever life takes us.

But we are always capable of steering the direction of our life. This life is all yours and you are its master. You decide its fate. And creating a daily routine where 'you' set where you want to go is the first step towards receiving what you want from life.
You want to create a new habit that you want to stick to.
You want to have more freedom in your life.


Contrary to all beliefs, a daily routine does not limit or bind you. I think it actually gives more freedom.

I think freedom is when our heart is happy, and free and when we get to choose what we want to do meaningfully, and not in doing whatever comes our way without a thought. 
How to Create a simple daily routine and stick to it
P.S: Read all the 6 steps. Even if you miss one, it won't work.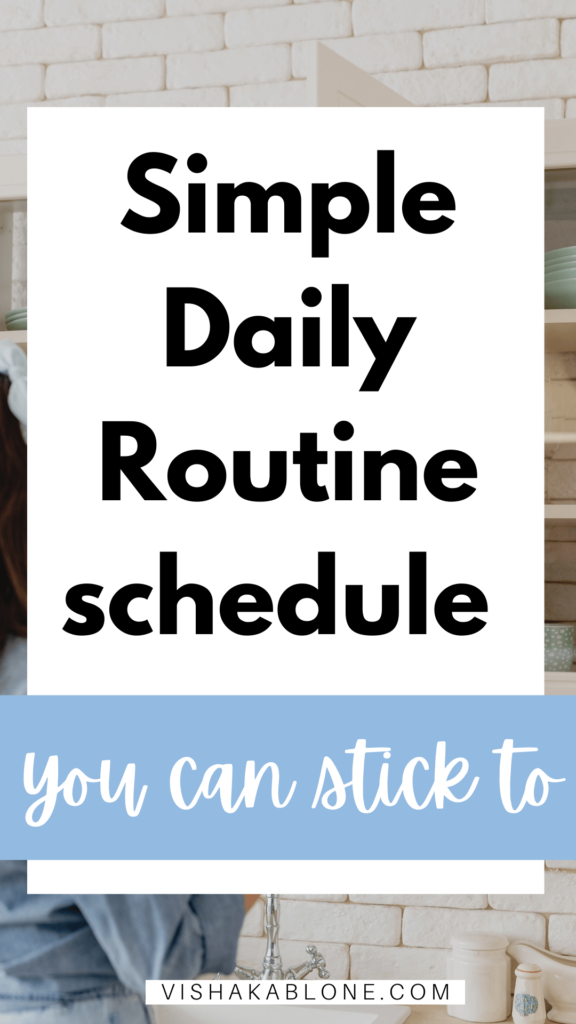 1. Write down the things you want to include in your day
Imagine your ideal kind of day. What are the things you would want to do? Write them down.
It could be a new habit you want to start or something you are procrastinating. Repeating again: You have to write it down and not just keep it in your mind.
For me, in my daily routine, I want to have included time for reading, writing, studying, exercising, prayer and doing my blog work.  
For me most of this is done in my morning routine itself. If you want to know how I spend my morning, here is my morning routine before 8 am.
2. Shorten the list
On any day you can only give priority to some things over others, even if you wished to do them all.
I wish I could do all the things I wish to do in a day but I cannot. If you try to you will only end up being disheartened.
So if you want to have success with your daily routine then you need to next shorten your list.

Add only 3-5 things from your list to your daily routine every day. Make it a rule that you can have less than 3 but no more than 5.
3. Be Aware of your Energy
This is so important that you mustn't miss it.
When creating a routine you want to stick to, don't just keep time as a factor. Perhaps the more important factor is your energy level.
Most of us miss out on this factor- our energy level while we make a routine, and that is why we keep failing to stick to them.
We don't have the same energy at all times of the day. Plus some tasks require more energy or different kinds of energy than others.
Notice when you have high energy, and when your energy might probably be low. Only then assign your daily tasks and structure your day depending on your energy levels.
For me, mornings are the most important part of the day when I am fresh when my energy level is high so morning is the time I get most of my important tasks done before I tend to procrastinate in the day time.
That is why waking up early in the morning is important for me.
Afternoons are for rest and evenings are for going out on walks and doing light tasks like reading, writing in my journal, prayer and small tasks related to my blog which doesn't require much mental energy.
For the night, it is watching one episode from a series now (currently watching young sheldon. I love it! ) and then reading a bit before I head off to sleep at 10 pm.
3. Structure your day
Once you keep in mind your energy factor, next, structure your day into what you can do in the morning, afternoon and evening depending on your energy level, and depending on what tasks require how much of your energy.
On any day you can do only 1 big task and other medium and light tasks.
In the morning do your 1 big thing, that is your MIT (Most Important task) first thing in the morning. This is something you find difficult, or which you tend to procrastinate.

Once you have them done early in the morning without a second thought, you already have it done and been productive.

And then if you wish, add one or two more task from your list. Becoming a morning person really helps in this.

I suggest you to add these 5 sacred ingredients for a powerful morning routine
Keep afternoons for rest
In the evenings do the 2-3 medium and light tasks- tasks that don't require much of your mental and creative energy such as reading, watching a tutorial and reviewing or pending tasks that are unique to each day.

And just keep 1 task to do for the night.
5. Set a schedule
Next, it's not just deciding what you want to do in your day, but more importantly, when you plan to do it, that is the time.

Estimate how much time you might require to get your tasks done. Unless you set a schedule you will never get things done and you can never set and stick to a daily routine.
It is because we never set a schedule we never stick to it. Be very reasonable while setting a schedule. I would recommend at least 20 minutes for a task.
6. Stick that schedule if you want to stick to the schedule
Here lastly I am telling you why I had been failing earlier in sticking to my routine. I did not stick to my routine because I did not stick to my daily routine schedule. 
I use a weekly planner and it has helped me a lot in sticking to my daily routine and getting my most important task for the day done.
Here is a free weekly planner I made to set down my weekly goals. You can just print 4 of them to last you for a month.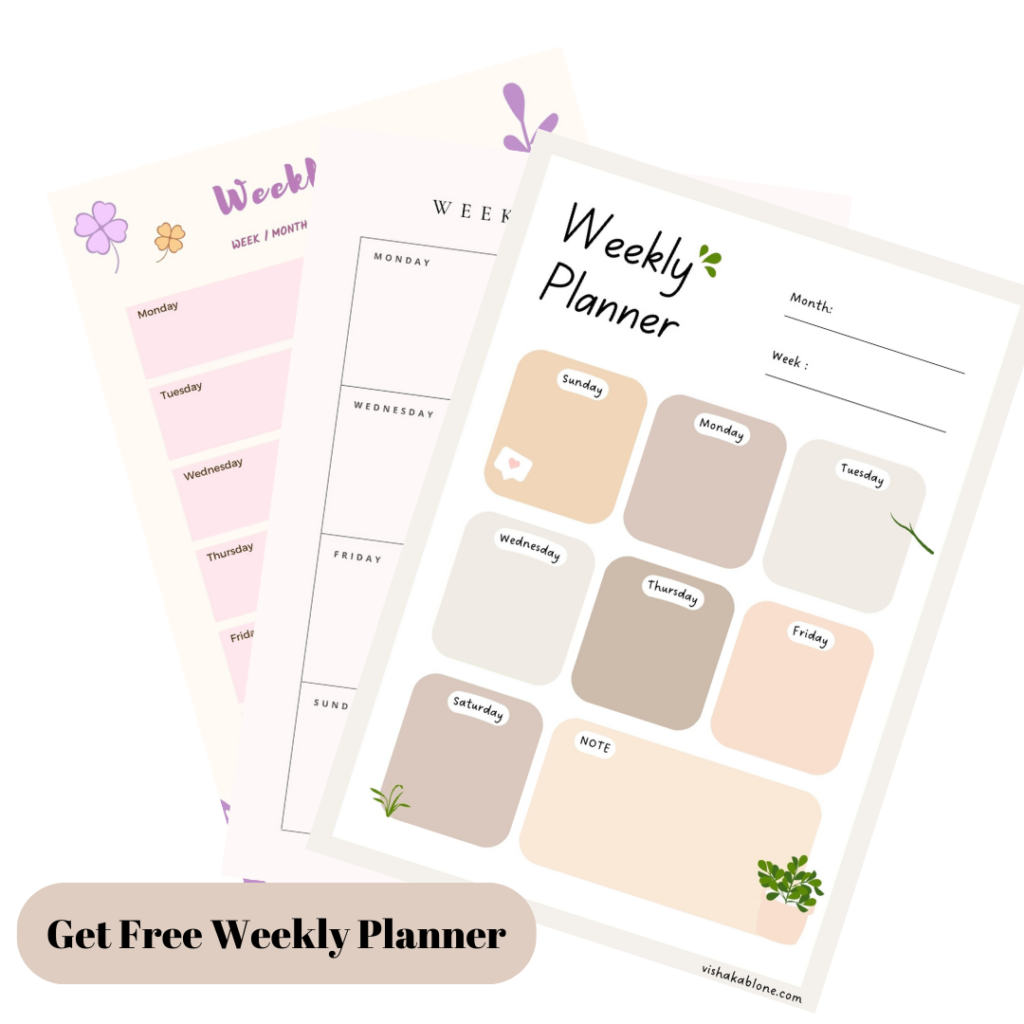 I had always read that you needed to keep your to-dos and your goals for the day in front of your eyes.
But I had just neglected it thinking I would remember. But it was the reason why I wasn't sticking to it. 
So create that schedule and once you do, keep your routine and plans in front of you where you can easily see it. (Where your mind can easily see.) Try it. 
P.S here is how I set my weekly goals
Other tips
Setting a Before/ after schedule: A helpful way to make a routine is setting your tasks before or after something that you already do. This makes it easy.
For example, my morning routine is something like this
After waking up and brushing my teeth- read for 30 mins
After reading- exercise 
After exercise- pray and meditate
Before breakfast- MIT for 2 hours
So this is how you can make your daily routine work wonders for you. Keep space for flexibility too and don't get too attached to your routine as well. Keep revising and keep setting a daily routine. 
All the best!
Pin for later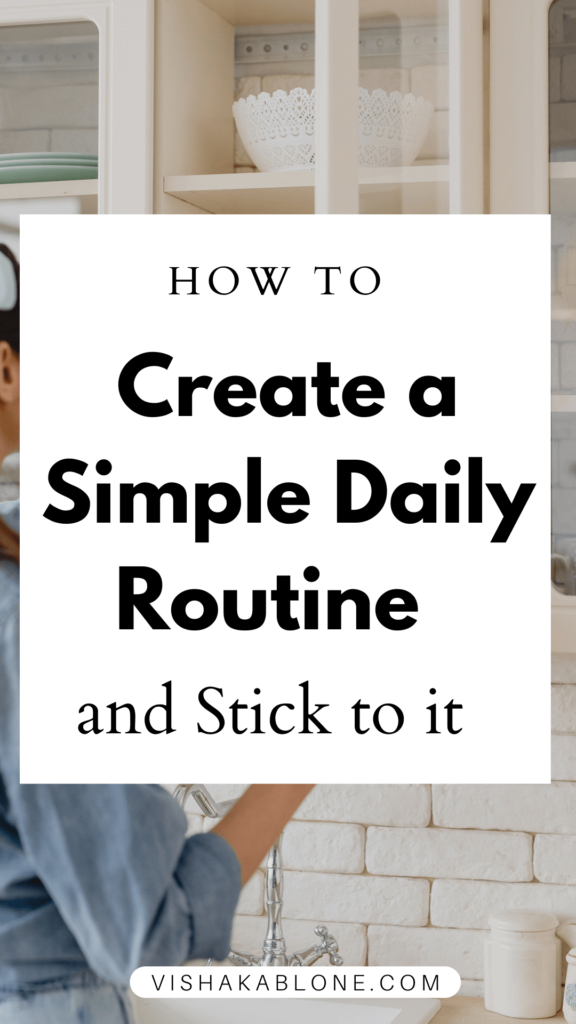 ---
Wish you a great week ahead.