10 things to do before the New Year
It's the end of the year already and a new year is about to set in. In this post, I share 10 things you should do before the New year.
As the new year sets in, we all look forward to it and hope that the next year will be a good one. If you haven't set your new year's resolutions yet, here are 60 achievable new year's resolution for every area of life.
But frankly, in order to make a successful new year, it's not just about hoping, but about doing.
With this, the end of the year always seems to have a lot of work to do, especially if you are keen on your personal growth and self-improvement.
But trust me it's fun to do things for yourself. And so here are the 10 things you should do for yourself before the year ends.
Pin for later 🙂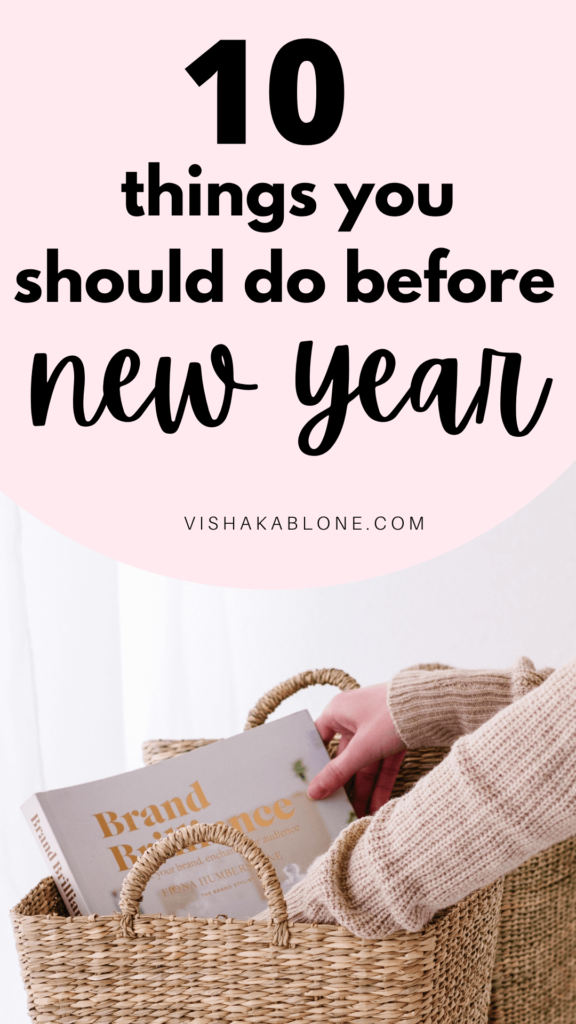 1. Take a day off
Take a day or two off from work if you can. I am going to take a casual leave from work just to reflect on my year and spend some good me-time.
Holidays have already begun in many parts of the world, and with Christmas and everything around the corner, busyness is about to set in.
But before the new year, try to give at least a day or two off just for yourself and spend some quiet time in self-reflection.
On your day off, decide to spend at least that day with slowness and ease. Decide to spend it just on yourself and your own self-care. I have a post on how to embrace slow living for a day and you can try it.
Spend your day off wisely. Do an annual review. Here are 10 self reflection questions to answer at the end of the year.
As you decide to go about your day wisely, you will feel refreshed and energized and you will feel ready for the new year. Do it for you.
2. Get rid of clutter before the New Year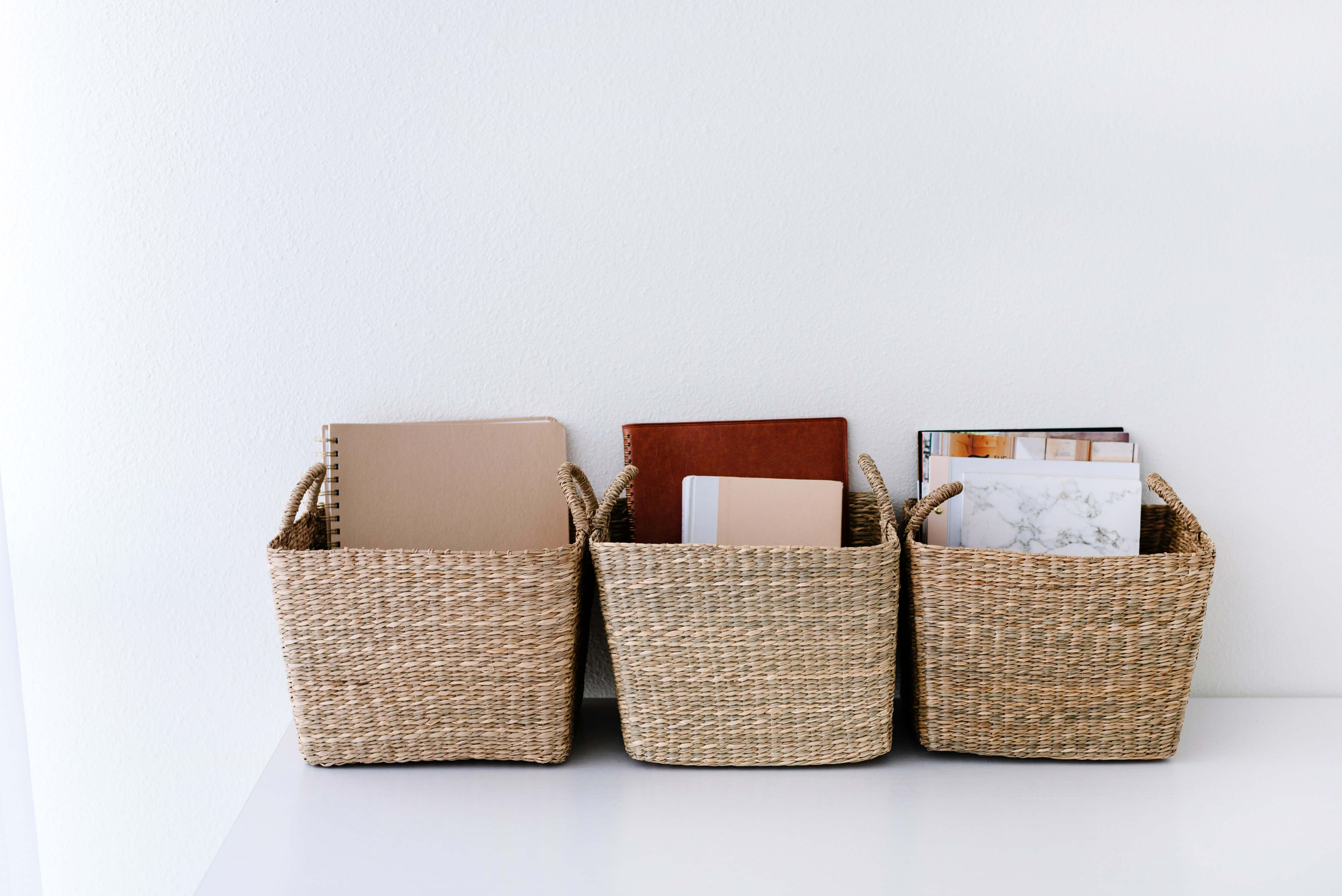 Physical clutter really adds up to the mental clutter
Try to get rid of all physical clutter before the New Year and let the New only year be about fresh things and fresh possibilities.
As you clean them and declutter, do it with the thought that you are cleaning your life for 2022. Do it with the belief that you are decluttering them to make space for the valuable and good things that are going to come to you in the new year.
Keep it minimal and you won't believe how much light your mind will feel as you remove the physical clutter.
Start by decluttering some area of your life- your desk, your closet, your drawer, your room, your bag etc and polish your life.
Here are some things to declutter before the New Year
Your purse
Your pantry
Your screenshots
Emails
Old food items in your fridge
Old Bills
Old makeup you're no longer using
Old clothes
Files
And anything you no longer need
P.S here are 15 things I got rid of to simplify life
3. Reflect on your year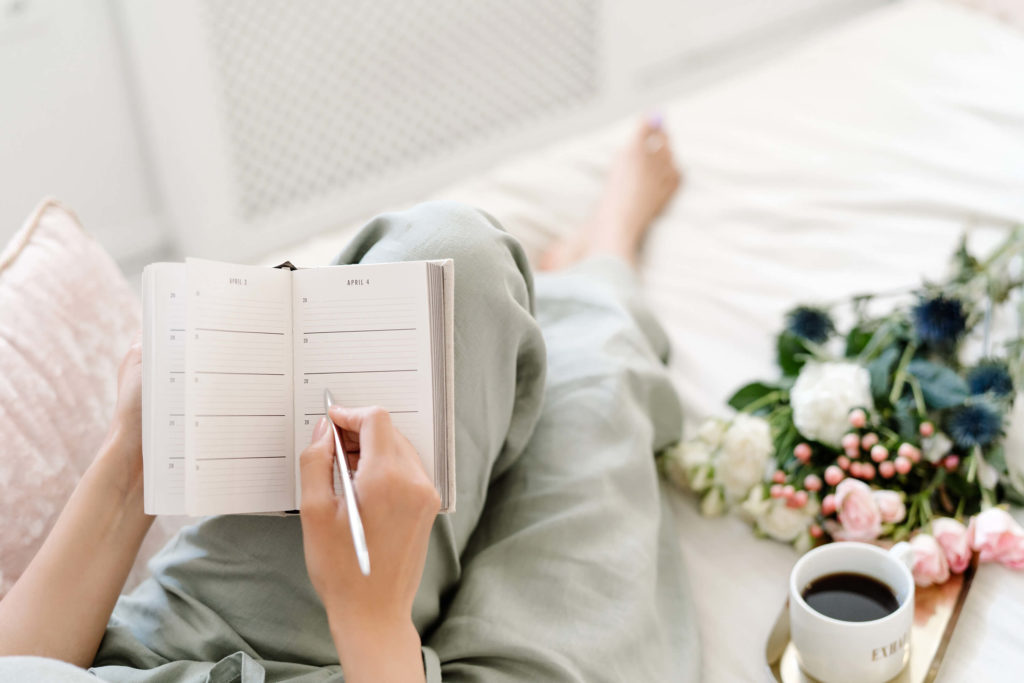 An annual self-reflection practice is a must before the new year. This is a small but strong practice to do every year.
Here are 10 questions to answer for your annual self-reflection practice.
It brings clarity for the year that went by and focus for the year that is going to come.
You come to know what lessons you learned in the year, what you need to let go of, and what you want to take forward in the next year.
Every year I do this practice of annual self-reflection and since I started my blog last year, I also shared my annual review for 2020 last year. I am excited to do it this year as well.
Here is my 2021 annual review and I am going to share my 2022 annual review as well.
P.S if you love Yung Pueblo, I have 30 Self Reflection journal prompts compiled by him.
4. Create a New Year Plan
Another thing to do before the Near year is to create a New Year Plan. Here is a list of things to include in your New Year Plan-
Your Intentions for the coming year in these 4 areas-
Health and Wellbeing
Relationships
Career
Personal Growth
Planning means having an action plan. For each of the intentions you set, create a structure with the actions associated with doing them.
Whatever your intentions are, your plan should make sure that you are able to actually 'do them'.
what will it be like to do this intention everyday?
Your plan must have an answer to this.
A good thing to do is to set up a focus for 3 months at a time. Three months is a good amount of time to focus on a particular goal and get the results you hope to achieve.
For this, I like to divide my year into 4 quarters like this and set up my focus on one or two things for each quarter.
Then I make sure to do these 12 things at the beginning of every month to be on track with my yearly and quarterly goals.
5. Finish all Pending tasks before the year ends
Before the new year, try to finish all of the pending tasks that you have from your work or personal life.
Leave nothing due from the previous year and let the new year only be about fresh new things which you can plan for.
If at all anything gets left, note it down in a piece of paper or in your diary and tackle it as soon as you can.
If you want to be productive, here are Top 10 Productivity Methods from experts to apply (not just Pomodoro!)
And if procrastination is something that is getting your way, here are my 4 tips to overcome procrastination
6. Clear out all your dues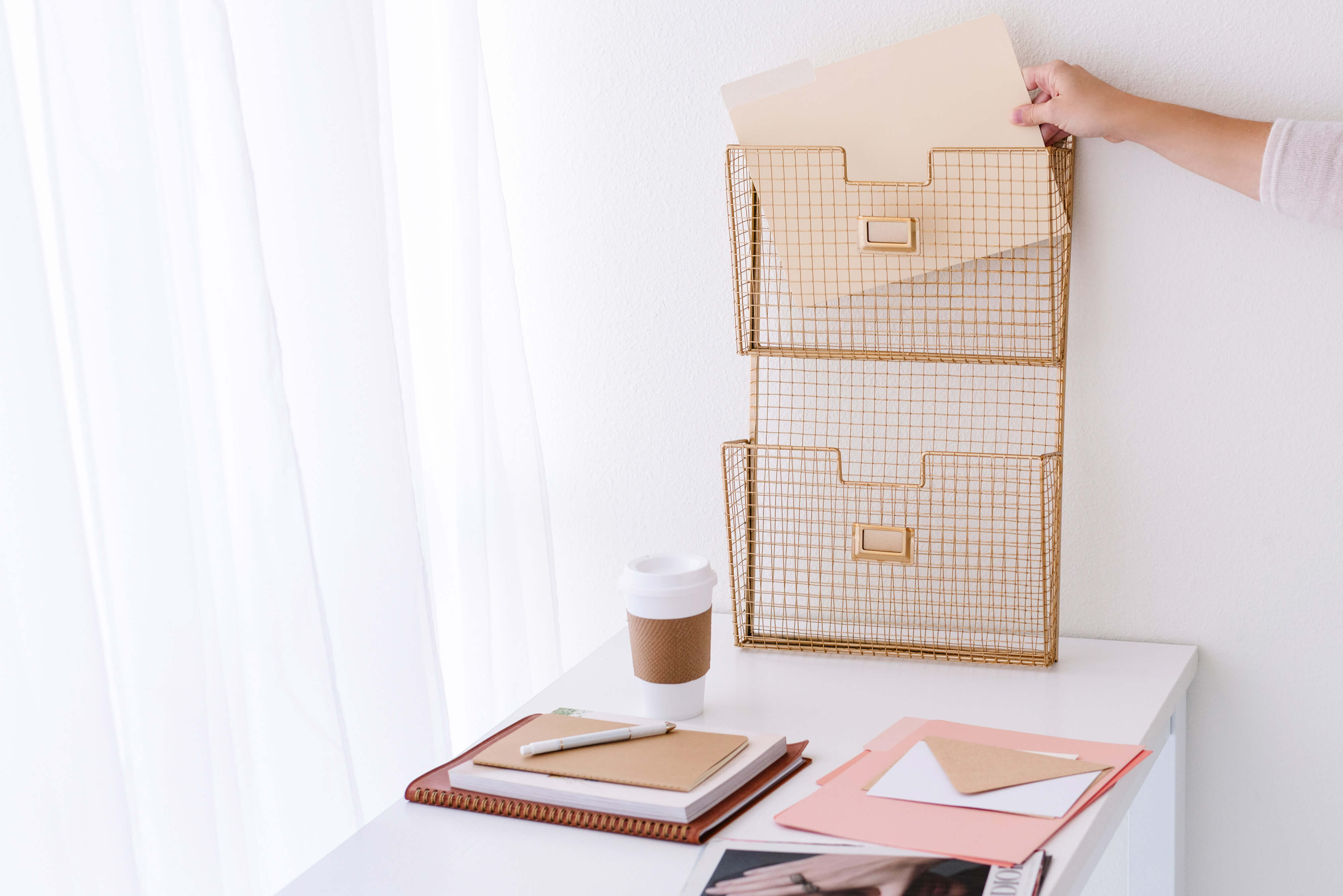 Pay all your bills and clear out all your dues before the new year.
If there are any dues that can't get paid or needs to get paid, again, note it down somewhere and make it your number one goal to clear it out next year.
Make a plan for next year on how you will pay them and by when. Set a goal and deadline. Only then will you actually stop living paycheck to paycheck and be wealthy.
A book I would absolutely recommend for everyone earning is 'The Richest Man in Babylon'. This book has all the secrets of the ancient wealthy Babylonians on how to save and multiply your money.
After reading this book, I have been keeping 10% of my income solely for myself, for investment purpose and this has helped me invest in my blog. In turn, my blog started to make money for me and have a second income source.
You can also create a budget plan for the new year. Here are some printable planner for keeping a budget.
7. Make lists to stay on top of your game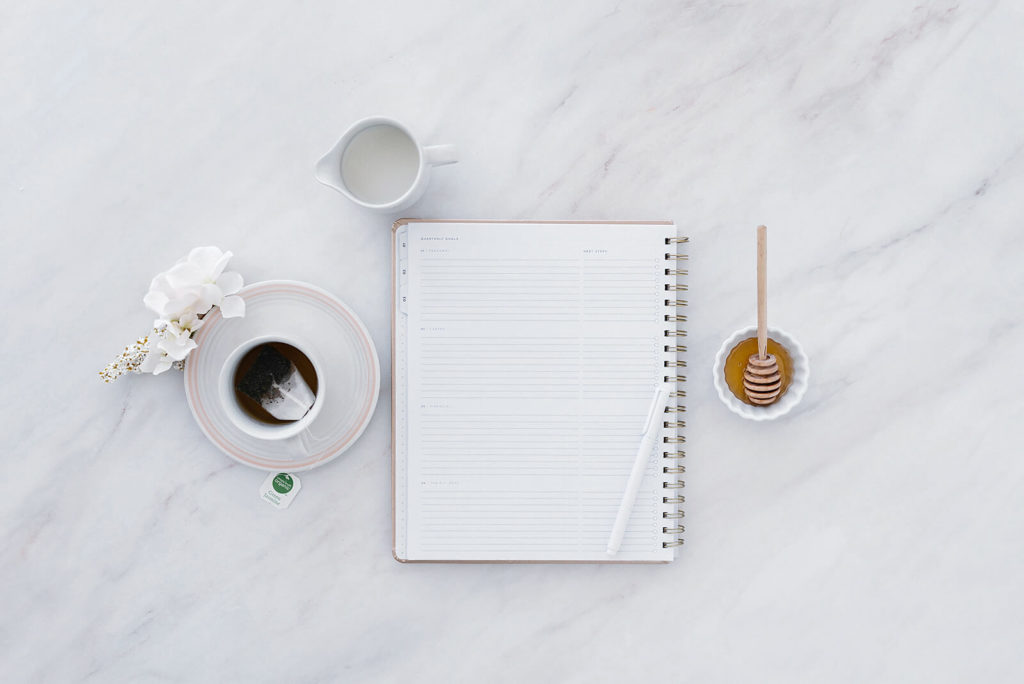 Getting life together before the new year might seem daunting, but actually, it's easy and a fun thing to do! Here are 9 action steps to get organized.
The only thing I do to stay organized is to make lists. I make a list of everything that can help me stay organized.
I have found that only when I have lists ready, I can get things clear in my mind and make a plan for how I want to achieve them. Unless I make a list, I really won't and can't do anything.
So make lists beforehand to get your life together in the coming year. Here are some lists I am going to make before the new year
List of books to read next year
List of things I want to attract next year (Read 'The Secret' if you haven't. And you already have, re-read it)
List of my top goals for next year
List of Pending tasks to do
List of things I need to let go of before the new year
My gratitude list
8. Give forgiveness to those who hurt you
As much important as it is to finish all pending tasks, clear out your dues, and clear out your old clothes and other physical things, more important it is to clear out your heart from all hurt, grudges and negative feelings.
In a year there comes many a situation where we are let down and hurt by another, or sometimes we are the ones who let others down.
Sometimes this negative feeling is towards our own selves and we unconsciously become our own barrier.
We let this negative feeling unconsciously seep into our hearts and the longer it stays, the stronger it grows.
If any negative feelings come for another or towards yourself, notice it and let go of it completely. Let go of it again and again.
Don't engage with it by complaining about it, gossiping about it or engaging in negative self-talk.
Instead, forgive the person (whether you or another), and forgive the situation attached to it.
As much as easy it is to say, it is actually hard to let go of the hurt and pain. But, simply awareness is also a big thing. Bring self-awareness and self-compassion when you have such feelings.
Pray to have a clear heart. Pray for love and compassion. Pray for a peaceful heart. I am praying every day for it.
9. Indulge in Self Care activities
If your priority for yourself had been low throughout the year, and you think you could have done much better for yourself in the year that is about to go by.
If you're kind of feeling that you weren't your best self, still regret is the last thing you should have.
With how much ever time you have at the end of the year, make up for it. Spend these last few days of the year loving yourself, being kind to yourself, going slow with your everyday tasks and observing yourself.
Even mundane everyday tasks can be turned into something joyful if we only bring kindness to the act. We can actually bring kindness to every action we do- cooking, taking a shower, washing dishes, putting on makeup, anything.
Before the new year sets in let's Try to fill our daily acts with as much loving kindness as we do them for being able to do them and continue them throughout.
When you end the year on a positive note with yourself, you start the new year on a positive note with yourself.
Here are some self-care activities you can do for free
And here is how I practice self-care on tough days and my daily self care routine if you'd like to know.
10. Take a break from Social Media
A short hiatus from social media at the end of the year is a good practice to do. Use this time to reflect on yourself and your year.
Give your mind a break and disconnect from everything for some time before the new year.
Use this time to assess where you are in life, what are things that matter and where you want to be.
Here are 7 practices to follow for a healthy relationship with social media.
So these are 10 things you should do before the year ends
These are the things I am planning to do before the year ends. What about you? From this list, what are you going to do for yourself before the new year? Feel free to comment below.
It must feel like a lot of work, but do it with enthusiasm. Fill these last few days of the year working on yourself and let us be prepared for the new year.
I wish you a Happy New year!
Related Posts:
Pin for later 🙂