Can we improve our mental health naturally?
Having a good mental health is of utmost importance, but what can we do to improve our mental health naturally?
Back in 2016, I was failing at myself. I had never been so miserable, and yet the cause was totally unknown.
Only later when I was on the road to recovery and self discovery, I came to know the reason why.
But during that time itself, I didn't know what was wrong with me, except that my whole body felt weak like I didn't even have the strength to walk.
All I wanted to do was be cooped up in my bed and stay in a dark room.
All the thoughts I had were negative. I remember I felt so sad and afraid (almost shaking) thinking that I just couldn't think even one positive thought.
And I was constantly beating myself up for it. I didn't know what had gotten into me.
I went to a regular doctor, but said I didn't have any illness. I knew it was it was not my physical health, but my mental health that had gone down the drains.
I was afraid, but before I gave up, I decided I had to try.
5 years forward…….
I want to share that no matter where you are at life, nomatter how dark it may seem at times and no matter if you can't see even one day ahead of you, the light will eventually come in your life.
Don't give up, but instead focus on your habits. Our mind is not separate. It is all interrelated to how we live our life that affects our mind.
I have come to find that our habits are the starting point and it is what will help us recover or to go completely astray.
Below is the list of tiny habits that eventually helped me to improve my mental health naturally.
Tiny habits that improved my mental health naturally
Start with small habits. Start one, or start two, or start a few. Try hard, but be kind in the process. Then see how it makes you feel.
These tiny habits are now part of my daily routine and life and it is my habits that help me stay sane and take care of my overall well being.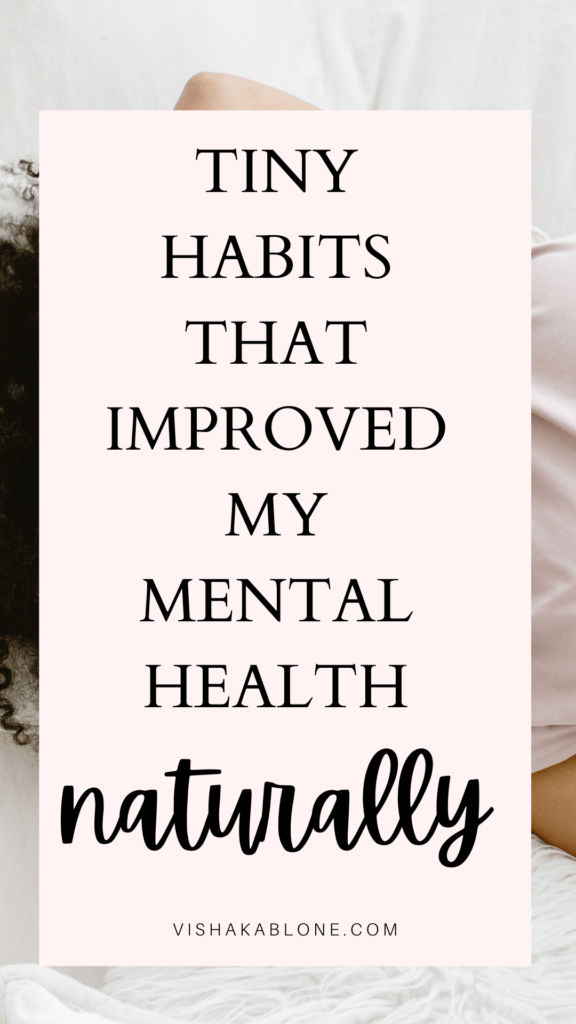 1. Not seeing my mind as me
We are in the habit of associating ourselves with our minds, and that is where all the suffering comes in. When your mind is doing negative thinking, you feel 'you' are Negative, you feel 'you' are powerless.
I have now stopped seeing my mind as me and instead, simply observe my mind. 'You are not your mind'– that is the biggest truth I have come to know and it is freeing.
2. Seeing myself with kind eyes
Be kind to yourself, look in the mirror and smile at yourself.
Forget everything for a while, give a damn to whatever is going on in your mind just like you would give a damn to a crappy movie playing in the background, and simply be with 'you', simply be with yourself and be kind.
Pour in all your love to yourself for as much as you can, for as many times as you can.
3. Creating a routine and structure for my day
Not having any structure in our day lets the mind run haywire. Creating a structure and routine anchors the mind and helps tremendously.
Here is how to create a simple daily routine and stick to it.
4. Setting small goals and achieving them
Your mind gains more and more power over you, the more you stop fulfilling what you said you would do and the more you stop believing in yourself.
The only way to start gaining power over your mind is to start setting small goals and making sure you achieve them. If you don't, try again and again till you do.
Once you start doing what you said you will do against all the will of your mind, you will slowly start to feel powerful and in charge.
Setting goals and achieving them is essential for good mental health.
If you are setting goals, here are 5 goal setting mistakes to avoid
5. Becoming a morning person
This is how I became a morning person and all the benefits I have gained by being a morning person.
6. Staying in natural light
We mustn't forget we are natural beings. Being close to nature is a form of our biological need to thrive and be happy.
7. Moving my body
Exercising helped me tremendously. I always feel happy kind of tired after a good workout. It boosts my mood and I feel good instantly. It also lets you know how strong you are getting both physically and mentally.
Currently I am working out using 'Pamela Reiff's' workout app.
8. Not using the phone early in the morning
Not using my phone and checking social media lets my head stay clear and I don't get distracted. Instead I work on my morning routine and only after finishing everything, I use my phone.
Here are other toxic morning habits I avoid.
9. Creating a morning routine
I love my morning routine and it is the best thing I have done for myself. Here is a doable one-hour morning routine you can try
If you are someone who keeps failing at sticking to a morning routine, you are not alone. Here are 10 action steps to stick to a morning routine.
10. Writing in a journal
I cannot tell how much writing in my journal has helped me in my self-discovery, growth and healing journey and I wish for everyone to start a daily journaling practice.
Writing down eases my thoughts and gives me guidance from my inner self as if God/Universe is talking through me through pen and paper.
I know many of you want to start journaling, but don't know how to be consistent at it or what to write. It is for this reason that I created a 21 Day Journaling Challenge + Guide for you.
11. Cutting down on complaints
In a day, take it as a challenge to not complain. You will see how much we actually complain about the little things.
If we keep ourselves unaware and unregulated, this eventually becomes a habit (as it has for most of us). You need to break free from complaints, but at the same time also be kind to yourself, if you find yourself complaining.
Simply awareness and the willingness to change is also a great thing when you're starting.
12. Keeping my things organized
If you want to get your life together, here is my 9 steps to getting your life organized.
Also, 12 lists to make to organize your life.
13. Eating breakfast lunch and dinner on time
Having a routine and following through with it is calming. Of course, you need to be kind to yourself and keep trying even if you don't follow through.
Anyway, I always eat my breakfast at 9:30 am, lunch at 1 pm and dinner at 7 pm. I never skip meals (especially breakfast) like earlier.
14. Making my bed
There is something really powerful in calming our mind by doing these small things as making bed immediately after waking up.
15. Becoming a water drinker
I always have my water bottle in front of me now.
16. Always keeping a tidy room
17. Turning off social media notifications
Yes, you can actually turn off your social media notifications. Simply select 'Don't allow'. I have done this for Instagram, Facebook and Messenger.
18. Cutting off people whom I didn't connect from the heart
Even if you yourself don't cut off, some time or the other, such people will naturally fall off from your life if you're on your own true path and walking in sync with the Universe.
19. Being mindful of what I consume (food + digital)
20. Watching my negative self-talk
Having negative self-talk and negative self-belief was the number 1 reason why I had started to feel depressed without my knowing.
It is possible to turn your negative self-talk into something positive. First and foremost is always awareness. Simply being aware of your negative self-talk, immediately vanishes.
Then what you need, is to be kind to yourself and start fulfilling the little things you said you would do.
21. Being mindful of auto-suggestions from others
Here is what auto-suggestion means. I came to know about this from the book, 'The Power of your subconscious mind'.
22. Taking things slow
Taking things slow automatically reduces pressure and eases the mind. If you're trying to start a new habit, or anything as such, take it slow.
Here are my 8 practices to slow things down. And If you want to enjoy a day of slowness, here is how to embrace slow living for a day.
23. Reading good books
I now read every single day, and this is how I make sure to read everyday.
24. Going for a walk every day
It is one of my best forms of self-care. I consider it free therapy. I love going for walks.
Here is my recent post on how to truly enjoy long walks
25. Praying
26. Meditating
27. Listening to peaceful music
I love listening to buddha's Flute Music on spotify. I listen to it while I'm working in my desk and sometimes I simply sit down in silence by myself and listen to its calming music with my earphones on.
28. Sleeping early
I tried hard on my own to sleep in early. The change was gradual, but eventually, I have become an early sleeper.
From being not able to sleep at night at all to now being able to fall asleep fast, I take it as a great achievement.
Read this post, If you're someone who can't sleep at night because of anxiety. I have written down everything that has helped me.
29. Coming back to the present moment
We are anxious or depressed because of only 2 reasons: we are either fearful about the future or sad about the past.
When something hits you or makes you feel off, come back to the present moment, to what you are seeing, to what you are touching, to what you are feeling, and notice everything around you. And ask yourself, 'In this present moment is anything wrong?'.
The answer will always be no, because in the present moment, everything is alright. It is just your thoughts that make you feel it's not right.
But don't mind your mind too, just give it some rest and observe it without attachment.
Here are 5 great things I gained from journaling, and if you want to start journaling, here are Journal Prompts for 21 days!
30. Writing things to be grateful for
Write down your gratitude list. If not every day, write it down every start of the month for what you are thankful for in the past month.
Here are other things to do at the start of every month to be happy and successful.
You will feel good. You could also try my 21-Day Gratitude Challenge, which so many of my readers have loved.
31. Being thoughtful about others and myself
So these were some tiny habits that improved my mental health naturally.
I feel as if life/God/Universe is noting down each and everything we say to ourselves and others.
I feel if we just keep complaining, just keep saying, 'my life sucks' or my life feels stucked, we will keep being stuck.
I know having poor mental health sucks out all the energy in us, but what I have come to know is that it is also possible to fill ourselves up with energy, little by little.
You can't just leave it up to God in this case. You have to do the work yourself for you.
Doing things little by little, showing kindness and patience to ourselves, and not giving up makes all the difference.
Your mind is actually waiting for you to take it as your friend, and not your enemy. Once you start seeing your mind with kindness, the whole relationship changes.
The goal is to make your mind be friends with your heart and to let it work together in sync.
You are not your mind, you are your heart.
Take care of your habits and you will be close to your heart.
This much for today.
Related Posts:
Pin for later 🙂