List of Best Books to Read for Beginners
Do you want to start reading and build the reading habit, but don't know where to start? In this post, I have list of easy to read books ready for you which I know you're going to love!
Reading books has completely changed my life and my thinking. It made and makes me more hopeful and optimistic.
Reading good books lets me see a variety of different perspectives and gives me the opportunity to be inside the minds of great people who each give me glimpses of the various treasures of life.
When I read, I can be friends with Obama, be close to Helen Keller, see what was it like to be in the Secret Annex with Anne Frank, and know the lives of people and understand human nature so up close.
I really believe that a person who doesn't read is missing out so much from life, and I really don't want anybody to miss out.
But it's also not about reading any books, its about reading the right kind of books that feed your mind.
That is why in this post I am sharing these list of best books you should read if you want to get started with reading to build the reading habit.
But before that let me share few tips that will help you read more books than you've ever read before. This is how I make time to read everyday
Affiliate Disclaimer: Some of these links are affiliate links, which means that if you make a purchase, I will earn a small commission at no extra cost to you and this will help me support my blog. P.S I only recommend what I absolutely love and find helpful 🙂
How to build reading habit as a beginner
1. Create a reading list
If you want to start reading books, the first thing to do is to keep a list of books to read.
I have two lists. One is the list of books I want to read. The other is, 'list of books I have read this year'.
You might want to add the books I have suggested in this post in your reading list and add in them in your Amazon cart.
2. Pick one book to read every month
Set a goal to read at least one book every month. Most of the books can be finished in one month even if one reads only 10-20 minutes everyday.
Before a new month begins or at the beginning of every month, pick a book to read for the month from your reading list.
3. Read 5-10 pages every morning
The only thing that helped me build the reading habit was to read every morning after I wake up. I no longer use my phone in the morning, and after brushing my teeth and freshening up, I set a timer for 30 minutes and start reading right away.
You can start by reading for 10 minutes or set a goal to read 10 pages every morning. Almost 5 pages can be read in 10 minutes!
4. Always have the next book ready
Another important tip to stick to your reading habit is to make sure that you always have your next book ready.
Purchase your next book before hand so there is no gap in your reading ritual.
5. Get a Kindle
Lastly, with the growing digital age, and how much we are comfortable with digital devices, having a kindle can make you read more books than ever.
You get to know exactly how much time is left to complete the chapter, there is no strain to reading, and you can carry your kindle anywhere and open it anywhere, the incentive to continue reading is great!
I have a kindle and here are 7 reasons why I love my Kindle.
If you get a kindle for yourself, consider it as an investment for yourself, because it is definitely help you get into the reading habit, and reading is the greatest investment you can do for yourself.
So these were my tips to read more and develop reading habit.
Now, lets begin with the beginner Reading books list.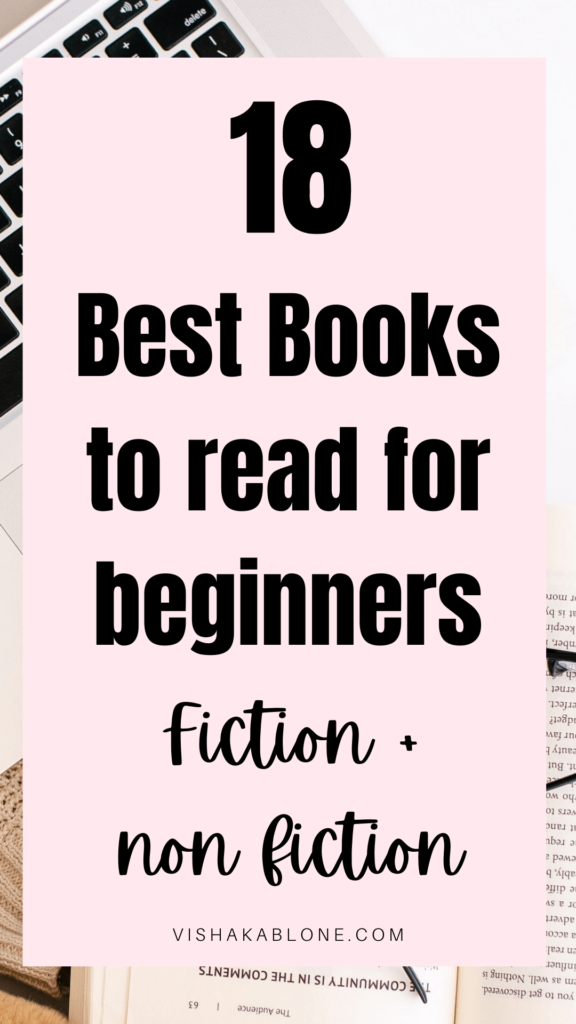 Best books to read for beginners (Non Fiction)
1. The Diary of a Young Girl
I bet you have heard about this book. It's an every day account of a young girl named Anne Frank who writes everyday in her diary which she has named 'Kitty', when she and her family members were in hiding inside their Secret Annex, during the time of Hitler.
This book is definitely for all ages, but especially for beginners, because its easy to read and highly engaging.
It was also one of the first books I read when I started reading myself. I loved Anne Frank so much, and you will definitely love her too.
2. Many Lives, Many Masters
Another brilliant non-fiction book to read for beginners is this book, 'Many Lives, Many Masters' by the prominent psychiatrist, Dr. Brain Weiss.
A patient who had come for therapy for her anxiety and depression is hypnotised to go back to her past to find out the causes of her trauma and suffering, but surprisingly, the patient went back to her many past lives.
This book is a true and unfiltered account of what happened inside Dr. Wein's chamber during this past life regression and how it changed both of their lives.
This is a wonderful inspiring book which lets you understand the many hidden workings of this mystic world we live in.
3. Like the Flowing River
Well, who can leave Paulo Coelho when you are writing about the best books to read. After Alchemist, 'Like the Flowing River' by Paulo Coelho is definitely one of my most favourite book.
This book consists of extremely short stories, experiences and perceptions coming directly from from the life of Paulo Coelho, but each one of them has such deep meaning and connection.
Its easy to read and makes you want to hold on to each of the chapter and keep coming back to them so that you don't forget its lessons.
4.The Power of Subconscious Mind
A number one best seller since the time of its first publication, 'The Power of Subconscious Mind' can change the way you think and thereby improve every aspect of your life whether health, relationship, wealth, career or anything.
Dr. Murphy has brilliantly explained the workings of our subconscious mind and how we can actually use our subconscious mind to our advantage to create the life we will truly love.
This book let me know that we have the power with us all the time, its in our subconscious mind, but we must learn how to use it. And this book teaches you just that.
The best self help book of all times, its easy to read and is a must read for all ages.
5.I am Malala
"I was a girl in a land where rifles are fired in celebration of a son, while daughters are hidden away behind a curtain, their role in life simply to prepare food and give birth to children."
This book is an autobiography of Malala , the youngest person who has ever been awarded the Nobel Peace prize.
It's amazing to know of her bravery and courage, and how she stood up against the Taliban for what is right. It let me know believe that if you have the right intentions, the Universe will always support you.
Being a very shy and introvert person who feared speaking in front of the public, this is the first book that helped me overcome my fear and made me comfortable with speaking up.
I look upto Malala and this book can definitely be read by beginners
6.Think and Grow Rich
Napoleon Hill wrote this book after 20 years of researching about what made successful people successful and wealthy.
This book has 13 principles to follow and is filled with wisdom and ideas. Of course it doesn't have business advice, but it surely lets you understand how the power of the mind works, how auto-suggestion works what it takes for you to be rich, wealthy and successful.
It's a must read book for every beginner, because this book if applied early on can really change lives.
7. Born a Crime
Whether you've watched Trevor Noah in his 'Daily Show' or not, this book is a wonderful read for all.
This book is so easy going, as if Trevor is narrating his life story sitting right next to me. It's funny, poignant and yet it is deep, meaningful and makes you think about societal issues.
I really love reading life stories, and I would recommend this book to everyone.
8. The Secret
A book that mustn't be missed, whether you're a beginner reader or a pro reader. The Secret by Rhonda Byrne is known to have changed millions of lives and continues to do so for generations of people.
It has for me and I can vouch for it. As I read this book thrice now, I seem to understand its principles and how the Law of Attraction more and more.
This book is simple and precise and lets you get into the world of the power of our mind, positive thinking and gratitude.
It taught me that if I want to let the law of attraction work for me I must first align myself with my true self and must always have a high life state.
As you read the books I have mentioned, you will see that the Secret, Think and grow rich, Power of Subconscious Mind, they all supplement each other perfectly and together they make so much sense.
9.Ikigai
This book is a really short insightful read and talks about finding our purpose, 'Ikigai'.
For anyone who is having a tough time or wants to go back to living a simple, slow and joyful life, this book should be the one for you to remind you of the basics of how you should live and why.
Easy to Read Books for beginners (Fiction)
1.The Boy in Stripped Pyjamas
If you start to read this book, you will go on a journey with a nine-year-old boy named Bruno. (Though this isn't a book for nine-year-olds.) And sooner or later you will arrive with Bruno at a fence.
-Goodreads
This is a book based upon the horrors of holocaust during the time of Nazi Germany written from the perspective of a 9 year old boy named Bruno.
This is a truly amazing book which will make you feel all the emotions, about love, friendship, innocence and at the same time about the brutality that we humans can do.
2.The Little Prince
"It is only with the heart that one can see rightly; what is essential is invisible to the eye."
With this book 'The Little Prince' written by Antoine De Saint Exupery, you will go back to your childhood and the childlike thinking once again, which perhaps most of us lost along the way into our so called 'grown up' lives.
This books reminds me that I must never let go of my inner child. If you too never want to be an 'adult', and feel the joys of friendship, innocence and love, read this innocent little book. You will love it and it is a perfect book for beginners.
3. To kill a Mockingbird by Harper Lee
I am in love with Atticus Finch, the lawyer who stands up for what is right. He is a man with such integrity and such a wonderful single father.
This book is a classic and is must be read by everyone for all generations to come. It has timeless lessons which resonates so much, but the biggest take from the book is to be kind and learn to see things from the perceptions of everyone.
One of my best line for the book is
'You never really understand a person until you consider things from his point of view… Until you climb inside of his skin and walk around in it.'
If you haven't read, 'To Kill a Mockingbird' yet, then definitely put it in your list of books to read this year.
4. A man called Ove
If you'd like to enjoy perhaps a light hearted read, and something heartwarming as so many reviews have described this book as, then 'A man called Ove' would be the perfect one for you.
Personally, I didn't quite like this book as I just couldn't related with Ove, found him kind of irritating, and honestly waited for something I found to be funny, but I really didn't.
(P.S I do laugh a lot and I love memes)
But given the number of positive reviews and how many of my friends said that they absolutely enjoyed reading this book, and how much they loved Ove, I really think this is a good book to read for beginners as it is easy going.
Everybody's life views and tastes are different, and if you're not like me, it might keep you thoroughly engaged as it has for the majority of the people.
So give Ove a try!
5. Animal Farm by George Orwell
The Animal Farm by George Orwell is a short allegorical novel which is brilliantly written portraying about class, inequality, the desire for power and communism.
This book was mainly written keeping in mind the Russian Revolution, but it is a case for everywhere where corruption always finds a way to twist the larger good and how division ultimately happens resulting in the ones who rule and the ones who gets ruled.
I don't want to give you any spoilers, but this is a short, easy to read and a must read books of all times, especially if you want to understand class, communism and its downfall.
6. The Achemist by Paulo Coelho
One cannot miss out on Alchemist by Paulo Coelho even as a beginner reader. I have absolutely loved Alchemist and all the beautiful insights and timeless inspiration this book has.
It teaches you to follow your intuition, be close to your heart and always go after your dreams.
I love how Paulo Coelho has turned this into a beautiful story and I am so thankful that he wrote this book!
7. The Kite runner by Khaled Hosseini
The first book by Khaled Hosseini, the Kite runner book is simply heartbreaking, extremely moving and makes you so full of emotions.
I cannot describe how beautifully Hosseini has written this book, so vivid and so real. This is one of the books I couldn't just keep, and it stayed with me for so long after.
8. The Catcher in the Rye
You can either love this book because you see a lot of yourself in the main character, or you will despise the young character Holden thinking about how immature he is and how much he needs to grow up.
Either way, it is a great book for beginners to see perspectives of the young and restless and your own thoughts and your own maturity about things.
Known to be a classic and must read books of the 20th century, this book should be added to your reading list.
9. Malgudi Days
Malgudi days is an Indian classic written by R.K Narayan which consists of several short stories that will help you connect with various people and bring you closer to the old India.
Malgudi is a fictional town located in South India which is mostly mentioned in the short stories of R.K Narayan.
It's poignant and given the popularity of the book, this book has also been adapted into TV series which we watched as young kids.
It has also been added in Amazon Prime Video as 'Malgudi Days Swami and friends' which has 9.5 IMDB rating.
So these were my list of easy to read books for beginners
I hope you have added some of them in your reading list. Trust me, all of these books are awesome and can really make your life get richer.
Happy reading!
Pin for later
Related Posts: