If you ask me, what changed my life? My answer is – being a morning person and reading book first thing in the morning is what changed my life
I have the habit of reading every morning. It's a part of my morning routine.
Reading early morning after I wake up instead of using my phone is how I built the reading habit too.
It has been the best thing I did for myself and for my growth.
One of my reader had asked me about book recommendations for morning routine. So In this post I share my list of best books to read in the morning.
But if you ask me..
What books should you read in the morning?
In the morning you should read books that uplift and inspire you. The first thing you let in your head is important as it improves the whole outlook of your day.
Personally, I read self help and non fiction books in the morning. I also love reading autobiographies in the morning.
But I keep novels and fiction books to read for my evening read.
I really can't digest novels early in the morning and want to read something inspiring, something uplifting or which helps me learn something new in the morning.
How to read book in the morning
I've known many people who read books out of impulse. They pick a book and try to finish it all in 1-2 days.
While you can do that with your evening-read books, reading books in the morning shouldn't be a one time event or something you do only sometimes out of impulse.
You want to develop a reading habit and turn it into a part of your morning routine here.
So here is how you should read books in the morning,
After waking up, don't use your phone


Freshen yourself up and put a 20 mins timer (or even 10 mins timer)


Read for 20 mins.
Do this everyday in the morning and you should be able to read more books than you ever have.
Now, let's get to the main part.
P.S Affiliate disclosure: Some of these links are affiliate links. If you purchase from my link, I'll earn a small commission at no extra cost to you.
Best books to read in the morning
Pin for later 🙂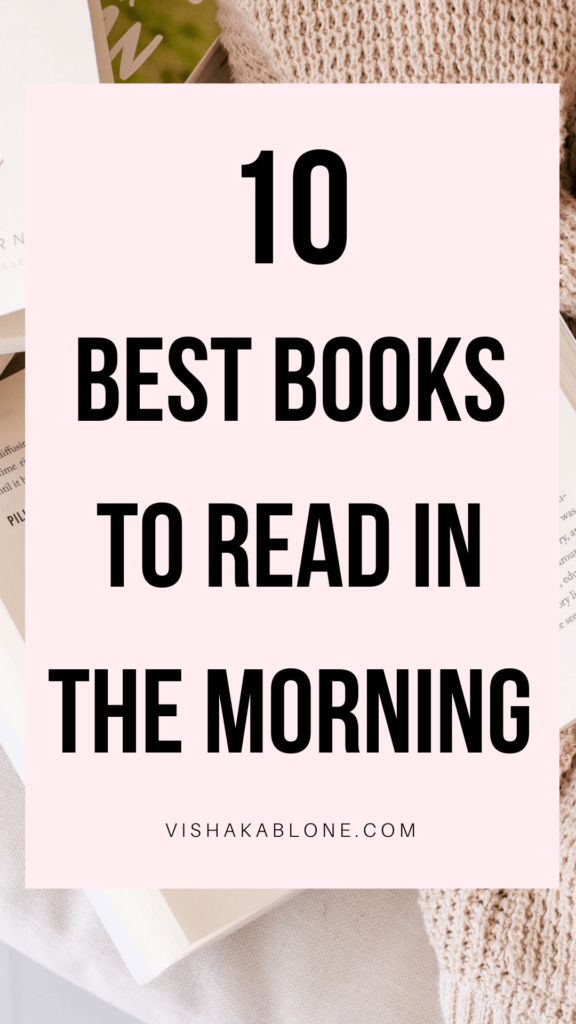 P.S some of these books are up for my next morning read as well.
1. Atomic habits
I had been following James Clear and his blog even before I knew he had a book published. His book 'Atomic habits is perfect for anybody who wants to build better habits and who want to know how to easily.
I would highly recommend this book for anyone new to their morning routine reading ritual.
2. Deep work
Deep work by Cal Newport is a book that will help you 10x your productivity. In it Cal Newport shares about rules for focused success, how we can minimise distraction in this increasingly distracted world, shares the different rules that successful people follow, and also gives his own experiences and strategies.
If you are someone who has a hard time with procrastination, and gets distracted easily, but you want to finally change the pattern, then this book is for you!
3. Big magic
Readers of all ages and walks of life have drawn inspiration and empowerment from Elizabeth Gilbert's books for years. Gilbert offers insights into the mysterious nature of inspiration. She asks us to embrace our curiosity and let go of needless suffering.
She shows us how to tackle what we most love, and how to face down what we most fear. She discusses the attitudes, approaches, and habits we need in order to live our most creative lives.
Whether we are looking to write a book, make art, find new ways to address challenges in our work, embark on a dream long deferred, or simply infuse our everyday lives with more mindfulness and passion, Big Magic cracks open a world of wonder and joy.
4. The Secret
Fragments of a Great Secret have been found in the oral traditions, in literature, in religions, and philosophies throughout the centuries. For the first time, all the pieces of The Secret come together in an incredible revelation that will be life-transforming for all who experience it.
In this book, you'll learn how to use The Secret in every aspect of your life—money, health, relationships, happiness, and in every interaction you have in the world. You'll begin to understand the hidden, untapped power that's within you, and this revelation can bring joy to every aspect of your life.
5. The power of subconscious mind
Joseph Murphy's Power of subconscious mind has been a best seller since the time of its publication in 1963. This is one of the most helpful book I have read.
It is through this book that I first came to know the workings of the subconscious mind. The book is all about how we can use the subconscious mind to our advantage and get closer to living a life we truly love.
6. A new earth
After reading the book, 'The Power of Now' by Eckhart Tolle which is highly recommended book for morning read, 'New Earth' is next on my list for morning read.
In "A New Earth," Tolle expands on these powerful ideas to show how transcending our ego-based state of consciousness is not only essential to personal happiness, but also the key to ending conflict and suffering throughout the world.
Tolle describes how our attachment to the ego creates the dysfunction that leads to anger, jealousy, and unhappiness, and shows readers how to awaken to a new state of consciousness and follow the path to a truly fulfilling existence.
7. Think and grow rich
If you want to get highly motivated, and want to learn the principles and habits of highly successful people, then this is the book.
I highly recommend think and grow rich to read in the morning because reading this book in the morning will uplift you, motivate you and will make you want to become the best at what you do.
8. The millionaire fast lane
If you want to live rich now, instead of sometime in the future, probably when you're old, then add this to your reading list.
Stop hoping for a better job, stop hoping the stock market doesn't go down, stop hoping the economy rebounds. For those who don't want a lifetime subscription to mediocrity and a slight chance of elderly riches, there is an alternative; an expressway to extraordinary wealth that can burn a trail to financial independence faster than any road out there.
This book will teach you the leading cause of poorness and how you can get really rich NOW!
9. Like the flowing river
Like the flowing river by Paulo Coelho is a simple book with small life stories and experiences. I simply loved reading one or two stories each day in my morning ritual and wanted to hold on to each story.
I think after Alchemist, 'Like the flowing river' is one of my favourite book by Paulo Coelho.
10. Show your work
We all want to do something great with our life, but we fear terribly. This fear is only more actualized when we try to move out of our comfort zone.
When you just step out of it, you want to move back in immediately and don't want to show the world what you do, and sometimes even hide your face, and remain anonymous.
If you're someone who struggles with self confidence, wants to try new things but fear getting judged and criticized, then this is the book for you.
After his New York times best seller book, 'Steal like an Artist', Austin Kleon shows his reader how we can move past our fear, and get ourselves and our work out there and really show our work.
---
Books to read in your morning routine
So these were my book recommendations for morning read. To sum it up, they are:
Atomic Habits
Deep Work
Big Magic
The Secret
The Power of your Subconscious Mind
A New Earth
Think and Grow Rich
The Millionaire Fastlane
Like the flowing river
Show your work
All these books are wonderful and will help you change your whole outlook, motivate you to do better and will help you create a life you truly are excited to wake up to.
Books really make a difference. Read first thing in the morning, and the difference will be clearer than ever!
Thank you and happy reading!
Pin for later 🙂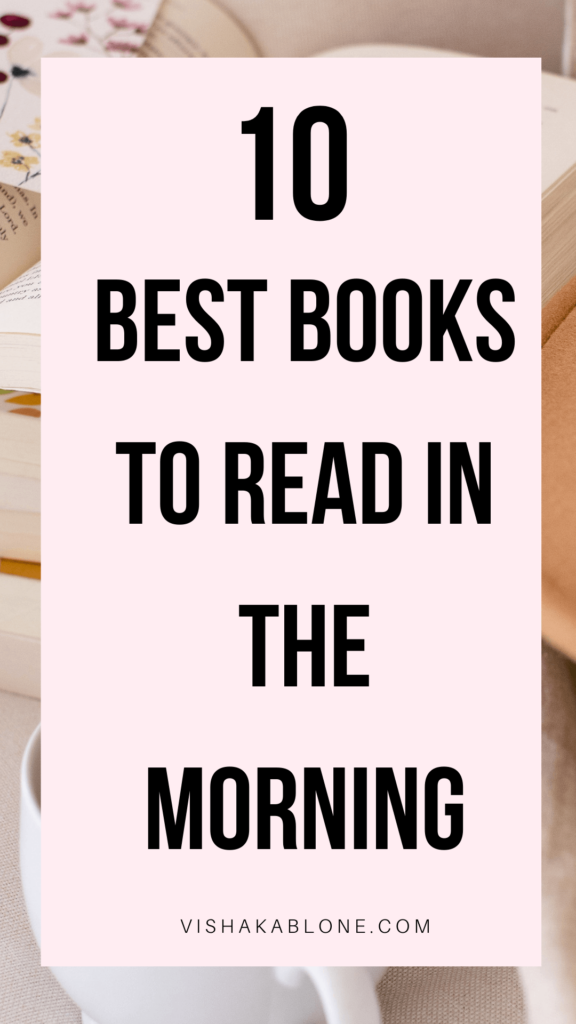 Related Posts