How to build Self-discipline?
You want to be consistent, you want to stop procrastinating, you want to start working out and you want to start taking action for your life, but…. but…. there is this one thing that stands in the way of reaching all your goals- your lack of self-discipline. So is there any trick to building self-discipline?
P.S You can continue to read this post or you can also listen to this episode from my recently released podcast 'Heart Of Living'
Self-discipline is much like any other skill you can cultivate.
When I decided to change my life and deliberately work on improving myself and my habits, I had zero self-discipline.
But now I can unhesitantly say that I have built a certain amount of self-discipline in my life. As I built my self-discipline, I slowly became a morning person.
I started reading, exercising, journaling, writing and doing other good things more consistently.
Self-discipline needs to be built over time and so here in this post, I share certain tricks you would want to know on how to build self-discipline and how self-discipline actually works.
So let's start.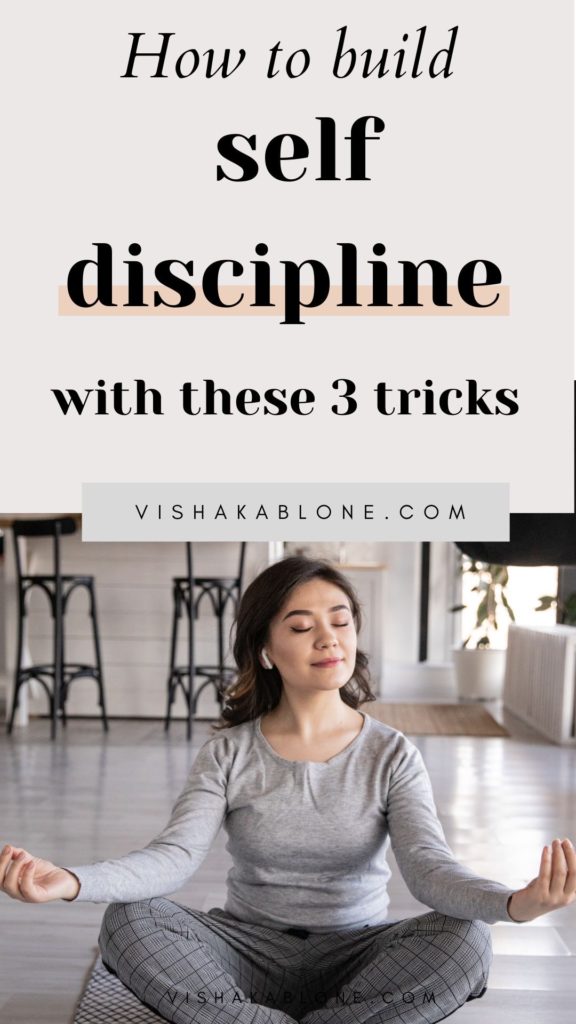 How to build self-discipline
I have come to find out that feeling is the strongest of all motivators behind building self-discipline.
We, humans, love to feel good and we dread feeling bad. We actually don't lack self-discipline, we are only going by our natural instinct that has an aversion to the bad feeling. 
You say you want to work out and eat healthy but you dread feeling sore the next day. Also, you just can't say no to the good feeling after eating a cheesecake and or a pizza.
You say you want to start studying but you dread going through the bad feeling of working hard and stressing your brain.
The process just seems laborious and that is why we keep on procrastinating.
So if it is natural for us to be averse to bad feelings, how will we ever have self-discipline?
1. Focus on showing up
The trick is to only have a little amount of self-discipline to show up and nothing more.

You only dread starting to work out. When you actually show up and start working out, it's actually not that bad.

You only procrastinate opening that book, when you actually show up and open that book, it's actually not that bad.
You only need the self-discipline to start showing up. Actually doing the work hardly requires self-discipline. 

So when you are starting out on building self-discipline, only focus on showing up and not on perfection.
You don't have to work out for an hour, even just moving your body and light exercise is fine. You don't have to read all day to be called a reader, even just reading a page or two is fine. 

Just discipline yourself enough to show up. Make the process really easy to show up and slowly progress from there. Always remember: Progress over Perfection.
2. Wait for the good feeling
The second trick is that you actually only need to keep on working on your self-discipline until that bad feeling goes away and gets replaced by a good feeling.
The bad feeling almost always goes away. And this transition actually does not take so long. You only need to continue to show up.

I used to feel that people who woke up early are punishing themselves, but when I started to wake up early and noticed the changes it brought me, it slowly started giving me a good feeling. 

Now I just can't not wake up early. I just can't not exercise. I just can't not spend my day without reading even a bit.
I seem to have now passed that stage from the bad feeling. Now they give me good feeling.

And when this good feeling comes, you begin to enjoy it and it naturally starts to motivate you to be self-disciplined. 

Actually, it's not even self-discipline, it might look like you have huge self-discipline to others, but it is actually you just taking action because it makes you feel good and satisfied.
We procrastinate and lack self discipline because we haven't given ourselves the chance to get up to the point of feeling the good feeling.
So just build self-discipline until the good feelings set in and you will see that will be the strongest self-motivator. 
3. Keep getting back on track
The last trick to building self-discipline is just to keep on getting back on track. Building self-discipline is like building any other skill. You need to keep practising.

It is certain that you will go off track, there is no need to feel you lack the motivation or the willpower.
It is just your old habits that have been there for so long trying to dominate over what you are trying to change. Your old habits don't want to change.

So be prepared for it too. You may as well plan for failure.
Here is also a small post on Accepting the power of accepting off-track moments
And when you do go off track, notice what feelings you are averting and what feeling you are craving. Ask yourself, how can you make the process easy for you to come back on track.
Keep making the process easy and keep coming back on track until the good feeling sets in. And this should not end even after the good feeling sets in. 
End note
There won't ever come a day when you wake up and have the self-discipline to work on the things you want to.
It does not work that way.
There are tricks behind making self-discipline work and here I have shared the ones I have found most true for me.
I hope you give it a try. That is all for today. 
P.S. If you are ready to give a try at working on yourself and changing your life, I have recently created a Special challenge/Guide for you to Change your Life in 7 days.
I think you'll love it if you give it a try for 7 days and see what's possible for you.
All the best with your noble struggle.
---
---