Summer is here and this post is an ultimate summer bucket list for adults about all the fun activities you can do this Summer.
Don't just skim through these ideas, but pick out the ones you would love to try and make your own summer bucket list of the things you want to try alone, with friends or with your loved ones.
At the end of this post, you also get this free summer bucket list printable so you can add everything you want to do this summer.
How fun, exciting and recharging summer will be is all in your hands. Make the most out of this summer with these 200 ideas!!
Summer bucket list ideas for adults
Pin to save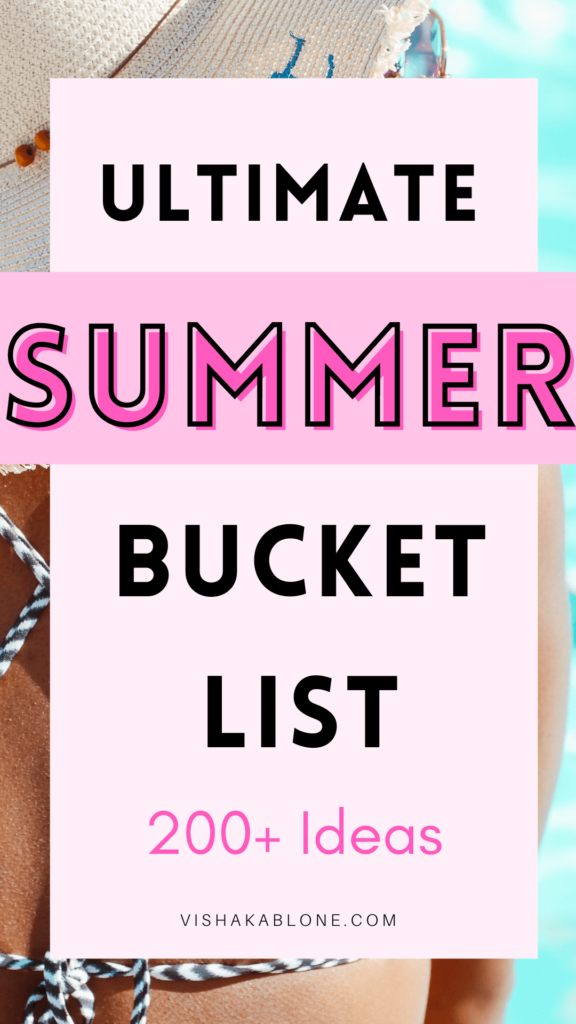 1.Learn mindful photography
2. Do random acts of kindness every day: Here is how to make someone happy or smile
3. Make a gratitude jar 
4. Take the 21 days gratitude challenge
5. Start a prayer journal: Here is how to pray and why I pray everyday
6. Meditate in nature
7. Paint your nails : Here are some best summer nails to try for inspiration
8. Get in shape 
9. Start gardening
10. Go on nature walks
11. Grow in your prayer
12. Meet your loved ones
13. Take Chloe Ting's summer challenge
14. Go for a retreat 
15. Pick a hobby: Do things just for fun. Here is why hobbies are so important in adult life
16. Learn to relax
17. Have a phone-free weekend
18. Have more fruits
19. Make smoothies
21. Clean your garage
22. Go for cafe hopping
23. Take a road trip without any plans
24. Write a short story
25. Build a fort
Indoor Summer Activities for Adults
26. Play indoor games
27. Try glass painting 
28. Write letters to yourself
29. Start a gratitude journal: Here are 100 gratitude journal prompts for 100 days
31. Give yourself a do-nothing day 
32. Declutter your belongings : Use summer time to declutter all the things that have piled up that you haven't used in a while and make yourself and your home feel light. Here is a summer decluttering guide
33. Have a mindful day 
34. Make a summer reading list 
35. Give your room a makeover
36. Deep clean your home
37. Read a book
38. Take an online course
39. Try a new hobby: Here are 60+ hobby ideas for adults
40. Start a blog
41. Start a podcast
42. Start a YouTube channel
43. Start an Instagram page
44. Rewatch your favourite show
45. Rearrange your furniture 
46. Learn makeup
47. Re-do your balcony
48. Organize your closet
49. Start a yoga routine : I love Mady Morrison and Jessica Richburg on Youtube.
50. Write lists : Here are lists to write to organize your life
Outdoor summer activities
51. Go on a picnic
53. Take a mindful walk
54. Get a new haircut
55. Explore your city
56. Re-do your backyard
57. Start a kitchen garden
58. Host a barbecue party
59. Do yoga outdoors
60. Go swimming 
61. Go hiking 
62. Go kayaking 
63. Go running 
64. Go camping
65. Visit the beach
66. Visit the mountains
67. Go on an ice skating rink
68. Go on a day trip
69. Visit a library
70. Wash your car
71. Go for a long drive
72. Go for a bike ride
73. Attend a summer festival
74. Attend a concert
75. Visit a farmer's market
76. Watch the sunrise
77. Watch the sunset
78. Watch the 4th of July fireworks
79. Host a garage sale
80. Rent a bike and go for a road trip
Summer Activities to Do with Friends
81. Go on a picnic date
82. Exchange your clothes for the summer
83. Paint old furniture
84. Host a tea party
85. Photoshoot with your friends
87. Go on a road trip
88. Have a pool party
89. Go for a Yoga retreat
90. Play indoor games
91. Take a class/workshop with your friend
93. Have your own cosplay party with friends
94. Do a DIY thing with your friend
95. Watch a movie in the backyard
96. Go for a trip with friends
97. Go swimming with your friends
98. Have a water balloon fight
99. Visit the museum
101. Have a painting session with friends
102. Do yoga together
103. Have a karaoke night
104. Host a party for your friends
105. Play dumb charades
106. Make momos with friends
107. Camp to see the stars
108. Go for a mani/pedi with your best friend
109. Exchange books with your friend
110. Cook something together
111. Make a scrapbook with friends
Summer activities that are free and cheap
112. Go for a Vipassana retreat 
113. Watch sunrise
114. Create a meal plan
115. Make your own bookmarks
116. Start journaling: Here is a 21 day journaling guide
117. Have a read-a-thon
118. Make cloth bags out of old clothes
119. See your own city with an outsider's eye
120. Watch sunset
121. Try meditation
122. Learn yoga
124. Watch fireworks on the 4th of July
125. Learn how to make salads
126. Plan your wedding
127. Learn something new online
128. Reconnect with loved ones
129. Visit your local tourist spots
130. Have a screen-free day
131. Organize your life
132. Take yourself out on a solo date
133. Start a hobby blog
134. Go for fruit picking
135. Relax at the beach
136. Go thrift shopping
137. Sell old things
138. Up-cycle old clothes
139. Write your life story
140. Review books/movies
141. Find screen-free activities to do
Exciting and fun summer activities for adults
142. Get a photoshoot
143. Rent an RV and go places
144. Take a flight to somewhere with no return ticket
145. Visit a new country
146. Change your life in 7 days 
147. Visit a beach
148. Visit the Himalayas
149. Swim in nature
150. Visit a wildlife sanctuary
151. Take a pottery workshop
152. Get a haircut you are scared of
153. Get a tattoo
154. Pierce your nose
155. Go for scuba diving
156. Go sky diving
157. Go to a water park
158. Go river rafting
159. Try Ziplining
160. Get on a hot air balloon
161. Learn something new : Here are things to learn when bored at home
162. Run a marathon
163. Take a yoga class
164. Take a Zumba Class
165. Go paragliding
166. Go on a solo trip
167. Go to a waterpark
168. Get outside your comfort zone
169. Make your own wine 
170. Make sand castles
171. Sleep outside in a hammock
172. Volunteer at an NGO
173. Visit an amusement park
More Summer bucket list ideas for Adults
Pin to save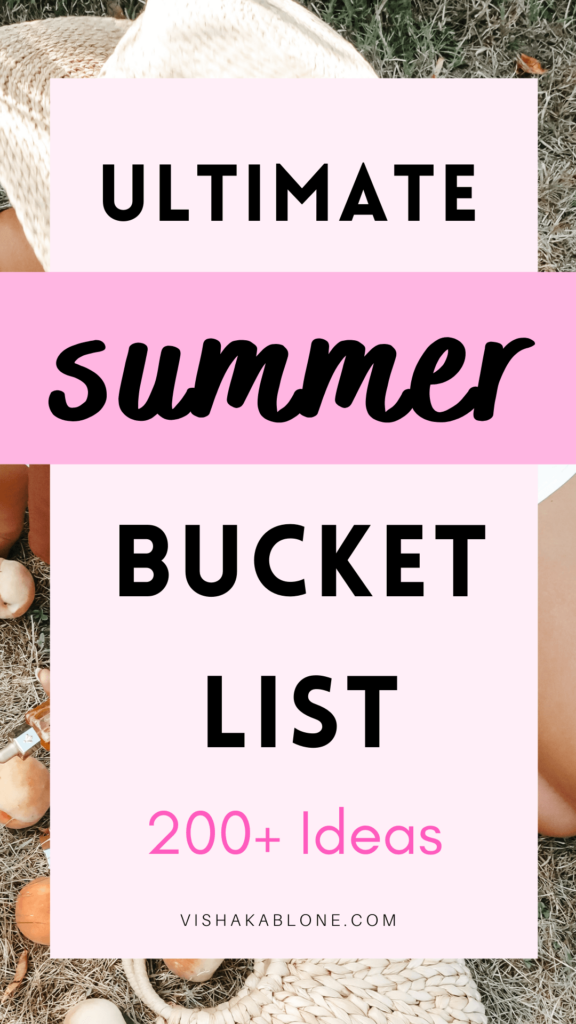 174. Visit an orphanage
175. Wear that swimsuit
176. Get a fresh haircut 
177. Make a surprise visit to your loved one
178. Plan a surprise for your partner
179. Find good podcasts to listen to
180. Listen to positive affirmations 
181. Donate clothes 
182. Get flowers for yourself
183. Go on a solo date
184. See an outdoor concert
185. Take your dogs to the dog park
186. Make popcorn
187. Make ice cream
188. Make popsicles
189. Listen to guided meditation: Here is a podcast I listen to: Mindful in minutes podcast
190. Have a sleepover night 
191. Visit a nearby tourist attraction
192. Camp in the backyard
193. Stay in a resort for the weekend
194. Get a tan
195. Spend time in the park
196. Get plants and take care of them
197. Host a dinner
199. DIY shampoo 
200. Learn a new recipe
201. Visit a local fair
So this was the ultimate summer bucket list ideas. I hope you will try new things this summer and enjoy yourself!
You might also like: