Hobbies are important and I believe everyone should have a hobby. And in today's post, I want to give you 5 main ways hobbies can help us bring joy to our lives, and why you should make time for hobbies as an adult.
If your life has become just a to-and-fro from work and home and you feel like you're losing out on joy, fulfilment and creativity, then consider giving hobbies a chance this year.
P.S you can also listen to this post on my podcast 'Heart Of Living'
Why having a hobby is important
Hobbies are for all normal people like us, not just for the talented and exceptional. It helps ordinary people like us live creative lives. 
I underestimated the importance of hobbies and didn't think of them as a vital aspect of living, but now that I am an adult and trying to live a life that fulfils me, it turns out that our hobbies are so essential in living a joyful, interesting and creative life. 
I often hear people complaining about how their life is all work and no play. I see people posting on Instagram complaining about how hard adult life is.
But I am really so glad to have become an adult. It is really in our hands how we choose to spend this adult life, and choosing to make time for hobbies is a wonderful way to do that.
I hope after reading this post, you are much more enthusiastic about making time for hobbies in your life. It has made a difference in mine.
Let me share with you how.
Why you should make time for hobbies
Pin to save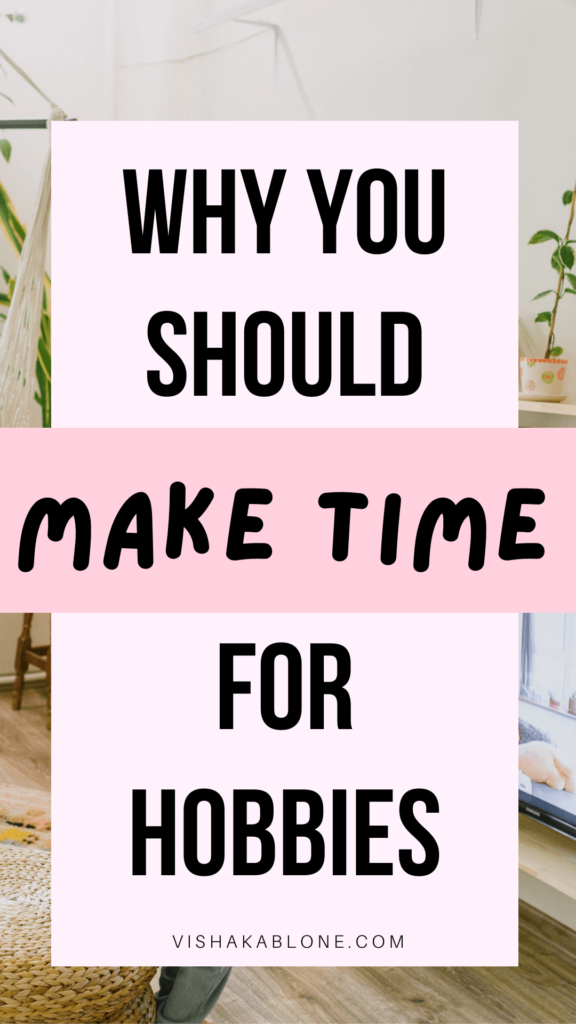 1. Hobbies help you find fulfilment outside work
And as an adult, a big part of adulting is our job which tends to take a major part of our life all of a sudden.
The shift is so major and nobody really teaches us how to cope with it and make time for ourselves.
But I've come to find that nobody will ever give that time to us unless we give it to ourselves. 
We need to deliberately carve out time ourselves just as we carve out time for our work, and do what we love even for a little while, whether it is running, yoga, pottery, painting, gardening, or anything because nobody is going to give it to us ready-made. 
You can complain about how your life is all filled with work, or you can give even half an hour to yourself for your hobbies, or even just a weekend for your hobbies. 
Our lazy self will want to just scroll the phone, watch television or Netflix and not do anything outside work.
But finding a hobby which is not tied to our earnings, our promotion, our raise or anything, but just purely for the sake of enjoyment is what will help us add fulfilment to our life.
Imagine a world with happy adults who are working, but also giving time to what they love outside of work.
You don't even have to quit your job to do what you love. You can do your job, and do what you love on the side, just purely for the love of it.
The world would be such a wonderful place.
You can contribute to that world by giving time to your hobbies. That is a wonderful shift you can make for yourself and the world. 
Plus, when we start giving time for our hobbies, we can show up for our work even better, because we start to feel nice. 
2. Hobbies keep our inner child alive
As we step into adulthood, the only biggest mistake we start doing is that we start becoming more of an adult and less of a child. 
But we can be an adult and still be childlike. And indeed, we must all be child-like.
You might not believe me, but we all still have that inner child somewhere inside us. 
It might be a bit rusted for some of us because it has been a while since it came out in the open, but trust me it is there waiting to be cared for and given your tender love and affection.
Having a hobby and enjoying our hobby helps us be in touch with our inner child slowly.
At first, your inner child might have a hard time coming out because you might start thinking you're not good enough at this, or you don't know how to do it or think you have no hobbies, but trust me it will come out, the more you slowly become child-like.
And what do I mean by being child-like, you ask?
It means to be like a child who is so happy drawing a sketch or painting or writing, or whatever, without caring about how it looks, or without caring about how perfect it is. 
They don't compare, because in their imagination, it is what they think it is, and it is the most wonderful representation of it.
They're just so happy about what they created. Have you noticed?
And the parents are equally happy, and just so proud of whatever their child drew.
It is only as we started growing up that we started screwing things up with perfection. And here I've written a separate post about why I am no longer rooting for perfection
But, what I want to say is that we must be like a child, and we must also become like a parent for our own inner child because it is there and we have the responsibility to parent it, and nobody else.
Adulting is all about parenting our inner child.
Hobbies help us do that wonderfully.
3. Hobbies know no age barrier
There is great joy in being like a child. But another thing why you should make time for hobbies is that hobbies know no age barrier.
My mum who has reached her 50s is still child-like and that is why I feel she still enjoys her life so much. She is still finding new things she likes to do.
She found out she likes taking care of plants and has now filled our home wonderfully with plants and created such a wonderful environment at home.
Through her, I too found my hobby in gardening and I love taking care of plants too.
Where most women fear riding a scooty, she learned to ride a scooty in her late 40s and now goes on rides with her friends and visits her friend's place all by herself on weekends.
I know a di ('sister' in Hindi/Nepali) who in her late 40s found out that she loves painting and doodling. Now she has created a separate page for it on Instagram and shares little paintings, sketches, mandalas, and doodles without caring about the likes or anything.
She just simply paints and draws because she loves it. No.other.reason.needed. And I love her spirit.
I have even complimented her saying how I love how she does things just for fun and just for the love of it.
And that's why hobbies are special.
With hobbies, you don't have to burden yourself with reaching perfection. You need not try to make money out of it, though there's nothing wrong if you want to make a side income out of it too.
The point is, with hobbies, you can do things just for fun. And after all, practice makes perfect. Who knows, your hobbies may turn out to be your life's passion.
You are never too late to have a hobby. 
So what is something your heart wishes to do more often? Or what is something you wish you could do deep inside your heart?
Don't let it go unnoticed. Your inner child is waiting for you to notice it and make time for it without caring about society's impression.
You are never too late, never too old or never too young.
4. Hobbies help you live creatively
Until I started blogging, I really didn't think of myself as a creative person. I thought creation had to be something perfect, and I am not perfect.
I thought creative people are different, and I am not different.
But now I have come to know that we are all creative, and as human beings, we all have a deep hunger to be creative.
It is almost close to our basic needs. 
If we feel something is missing out from our life, it is because we have this deep urge in us to be creative and live a creative life. 
But because we are only being a consumer now, it is what makes us feel lost, meaningless and directionless in life. 
I started this blog just as a hobby because I really didn't want my life to be just going and coming back from work and I wanted to share things in my heart.
Now, this blog is what helped me live creatively unknowingly, and I can't believe I can call myself a creator now.
Sure, we can just go buy stuff online or in the store instead of knitting, painting, sewing or anything.
We can just go buy a candle, a soap, or buy a cake. There is no shortage of things we can buy.
But it feels wonderful to create something from scratch.
For me, even if it is just putting words into sentences.
Creation of any kind feels wonderful and uplifts our human spirit. 
And hobbies are for normal people like us. It helps us create something, anything. 
It helps us learn something, anything.
And when you're learning new things and creating something that wasn't there in the first place, no matter what it is, whether it is painting nails, potting a flower, writing a silly poem, making your own shampoo, baking a cake, learning a new language or learning a skill you hadn't known in the first place, it is creative living.
And there, we will find our joy as an adult.
That is why hobbies are so important because they help us live a creative life and living a creative life is SO important.
5. Hobbies bring us back to the present
Our life is stressed because we're never in the present.
Have you ever been in the company of someone you love and wonder why all your worries have gone away even if just for a while?
Or when you're with animals or your loved ones?
It's because when we're with them we're fully in the present moment and being in the present moment is what relieves stress, anxiety and worries.
You won't always have the company of your friends, your loved ones or your pets. So we need to find something that will help us come back to the present.
Hobbies are a wonderful way to do that.
While we're immersed in a hobby, whether it is gardening, painting, or drawing a mandala, there is no past and no future. Just present. And I always say that the present is completely safe.
During the pandemic time, we found so many new hobbies in us. There were people making pickles, cooking new items, baking, painting and so many things.
And it was our hobbies that kept us sane in those hard times.
I have never found myself worried when I am gardening. I have never found myself anxious when I am painting and drawing. It relaxes me and lets me come back to the present.
And through giving time to them, I take care of myself when I am alone.
Hobbies have aided me a lot in coming back to the present. It can help everyone.
6. Hobbies help us befriend ourself
As an adult, we need to learn how to love our own company and hobbies are a way to develop a bond with ourselves.
There are some full grown-ups I know who can't stay by themselves, even after years of growing up with themselves.
I think it's because they have never really become friends with themselves. 
They haven't really given time to their hobbies, so they don't know what to do alone.
They just watch tv, scroll over the internet or talk about other people.
But hobbies help us befriend ourselves.
In the act of baking a cake, sewing something, or making a bar of soap, you're enjoying your company too and giving yourself time.
It's like a date with yourself when you give time for your hobbies.
Concluding: Why we must give time to hobbies
So explore, experiment and find a hobby you love, or get your lost hobby back into your life.
Let us become good parents to ourselves and give our inner child something to play with.
We let our inner child, then go silent and get fully engrossed in the present moment. 
And in that present moment, what we're doing becomes the most important thing just like it is for a child who is playing with mud, putting her mother's lipstick, painting a picture, or doing some mischief.
At that moment the child is fully present, fully in the now.
That is why children are so happy because as children we had so many hobbies that brought us back to the present moment (but sadly now even the children are losing touch with them)
Even if we cried, we would forget it in just an instant because we would get back to something else that brought us back to the present moment.
If you want to find that same joy and go back to those early years, you still can.
You can still be childlike in the pursuit of your hobbies and enjoy becoming an adult.
This much for today.
Pin to save!
I hope this year we all give time to our hobbies and enjoy and explore life more.
You might also love,