I love solo dates. They are something I take out time for regardless of my busy schedule. In this post, I have put together a list of more than 50 solo date ideas which I believe you would love to explore. 
I truly believe solo dates are something we all should be doing every once in a while regardless of whether we are in a relationship or not. 
Yes, solo dates are not just for the single women or men out there.
Solo dates should be and are meant for everyone because you need to build a solid and harmonious connection and relationship with your own self first if you want to have a harmonious relationship with another person. 
You need to nurture your own self and fill your own cup first before you try to fill someone else's cup.
Taking time for myself and doing things that I love, which fill my cup, has helped me come to love myself more and be kinder to myself. 
I could give you thousands of reasons to date yourself, but here are the most important ones:
Why you should date yourself 
You feel good in your own company 
You get out of your comfort zone
You come to know your worth 
You stop people pleasing 
Your creativity improves 
You come to understand how to recharge yourself
You learn to handle yourself better in different situations as you learn more about yourself 
You become strong in your own presence and worth 
You stop looking for unnecessary flings and hookups just to pass your time 
You become more intentional with your time and what you want 
With this, here are some solo date ideas you will love. 
Pin to save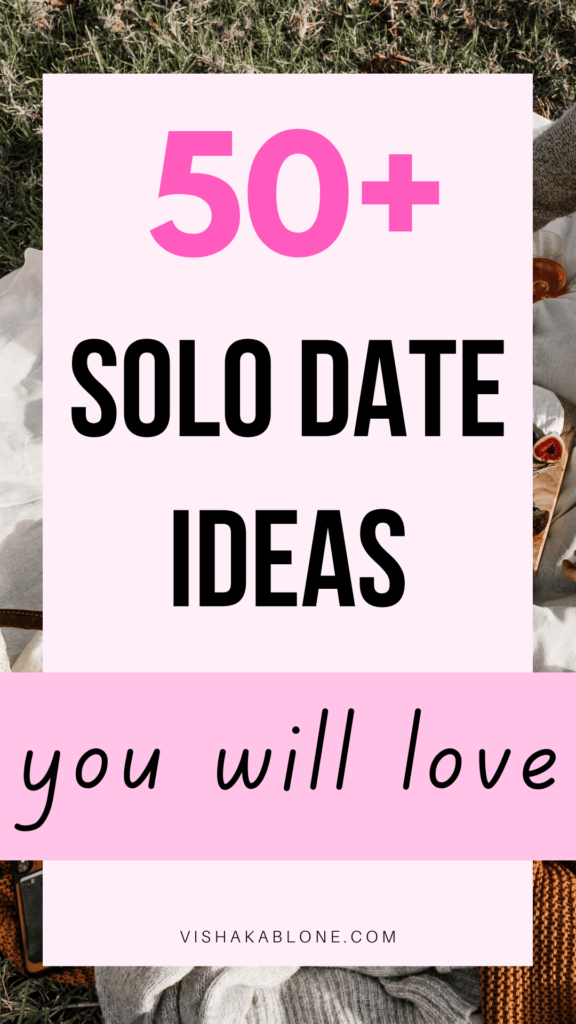 Simple Solo Date Ideas 
Go for a mindful walk 
Go for a drive 
Cosy yourself up and read a book
Treat yourself to your favourite food 
Dress up nice and go for dinner with yourself 
Get a mani-pedi done 
Go on a bookstore date with yourself 
Go out and buy yourself flowers and make your own bouquet
Attend a play or live show 
Attend a pottery workshop 
Fun Solo Date Ideas 
Book a yoga class 
Take an in-person dance class
Take a local walking tour 
Book an Airbnb at a place you love and enjoy your own space
Go on a weekend getaway
Find a farm to go for fruit-picking 
Dress nice and get a solo photo shoot done 
Explore your area
Go on a solo-trip 
Take a drawing or painting class 
Cheap Solo Date Ideas 
Go for thrift shopping
Go for a movie date with yourself 
Visit a farmer's market
Go for a mindful morning walk 
Go on a hike 
Make yourself a three-course dinner, put on some music and drink some wine 
Volunteer at an animal shelter or any NGO 
Take a novel with you and head out to a nice cafe
Spend a day at the museum or an art exhibition 
Have a game night playing sudoku, board games or video games
Free Solo Date Ideas 
Go for a nature walk
Cook a wonderful meal for yourself 
Do some star gazing by yourself 
Look in the mirror, play some music and dance like nobody's watching
Do a digital detox for a day 
Write a love letter to yourself 
Find a viewpoint and enjoy the sunset 
Spend a day in nature 
Take yourself on a picnic date 
Go somewhere in nature and read a book 
Fancy Solo Date Ideas 
Take yourself out to a fancy restaurant 
Book a night at a fancy hotel 
Take a spa 
Go on a wine-tasting tour 
Go to an art gallery event
Go to a jazz bar and dance the night away 
Go for jewellery shopping
Go to watch an opera
Go to an open mic night 
Go furniture shopping at an antique store 
Solo Date Ideas at Home
Bake a cake 
Grow your own garden 
Take a bath, light candles, put on your best comfy home attire, tidy yourself up and make yourself feel nice
Redecorate your room and make a happy space in your home 
Learn some nail paint ideas and paint your nails at home 
Have a painting session by yourself 
Binge a show on Netflix for a day 
Meditate or listen to soothing music
Listen to a Dhamma talk 
Take a warm mindful shower 
Wrapping Up Solo date ideas
Pin to save 🙂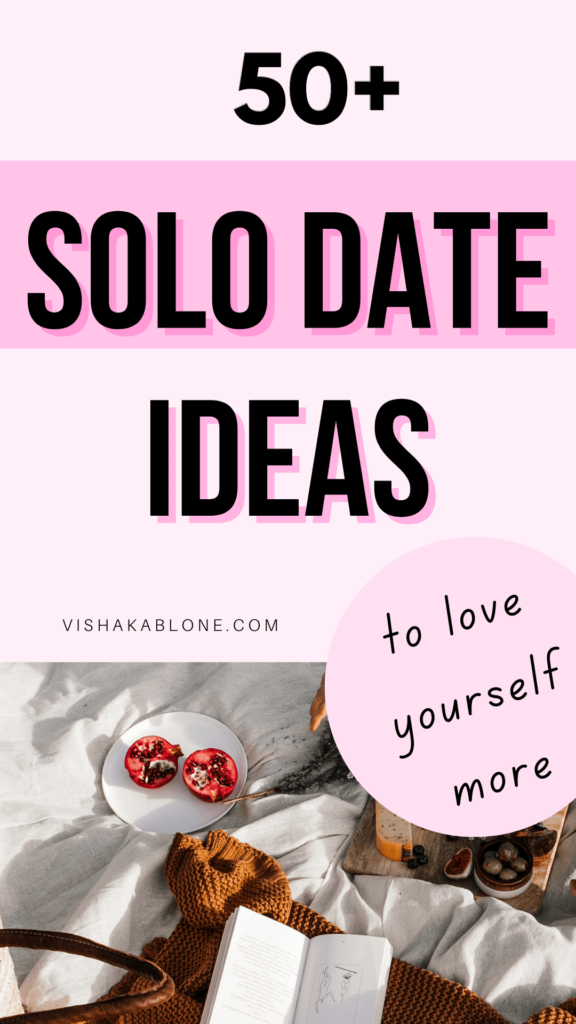 I hope you try these solo date ideas. It's all about having fun with yourself, making yourself feel nice and uplifting your state of life.
Taking out time for myself always cheers me up and recharges me as no other thing can.
However, the essential thing here is to do them mindfully without rushing and enjoying your time with yourself being intentional and knowing that you are taking your time for yourself.
Personally, my favourite solo date moments while at home are gardening and taking care of my plants, potting new plants, propagating them, decorating my home and keeping a neat and tidy space.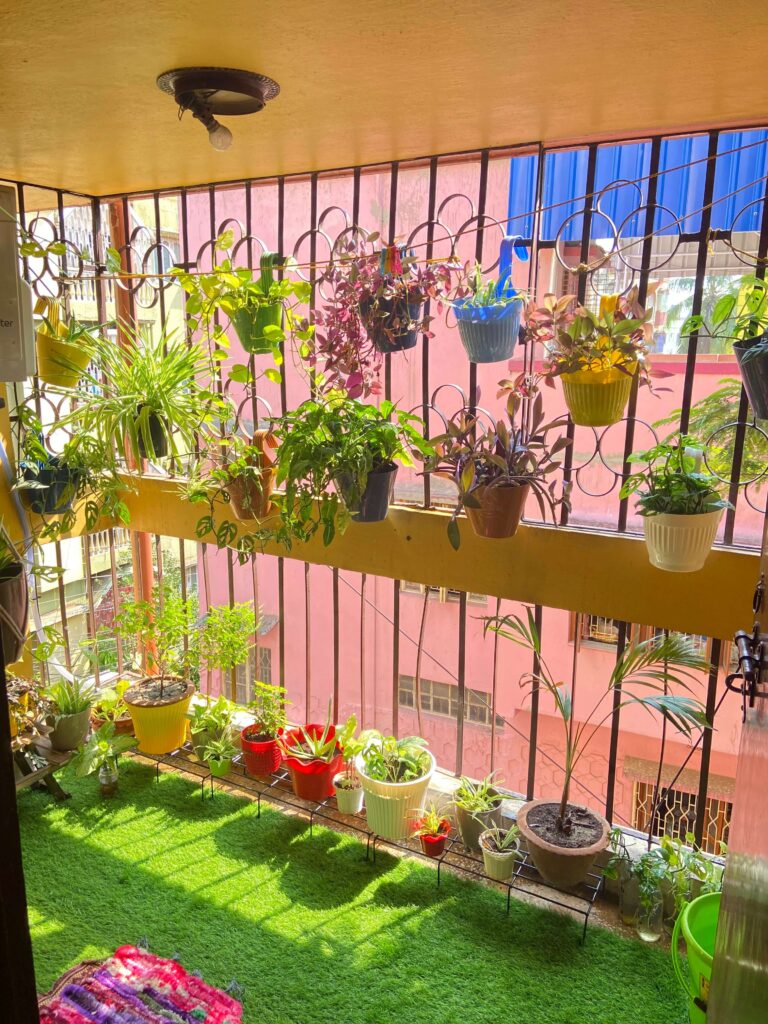 I love going on my evening walks, drinking tea by the roadside on my walk, taking a walk in the hills, taking a mindful bath, and cooking myself some wonderful meals.
When I am feeling drained, I take out time for drawing, painting, putting on nail paints, taking care of my skin, and all such things and it makes me feel relaxed and good again.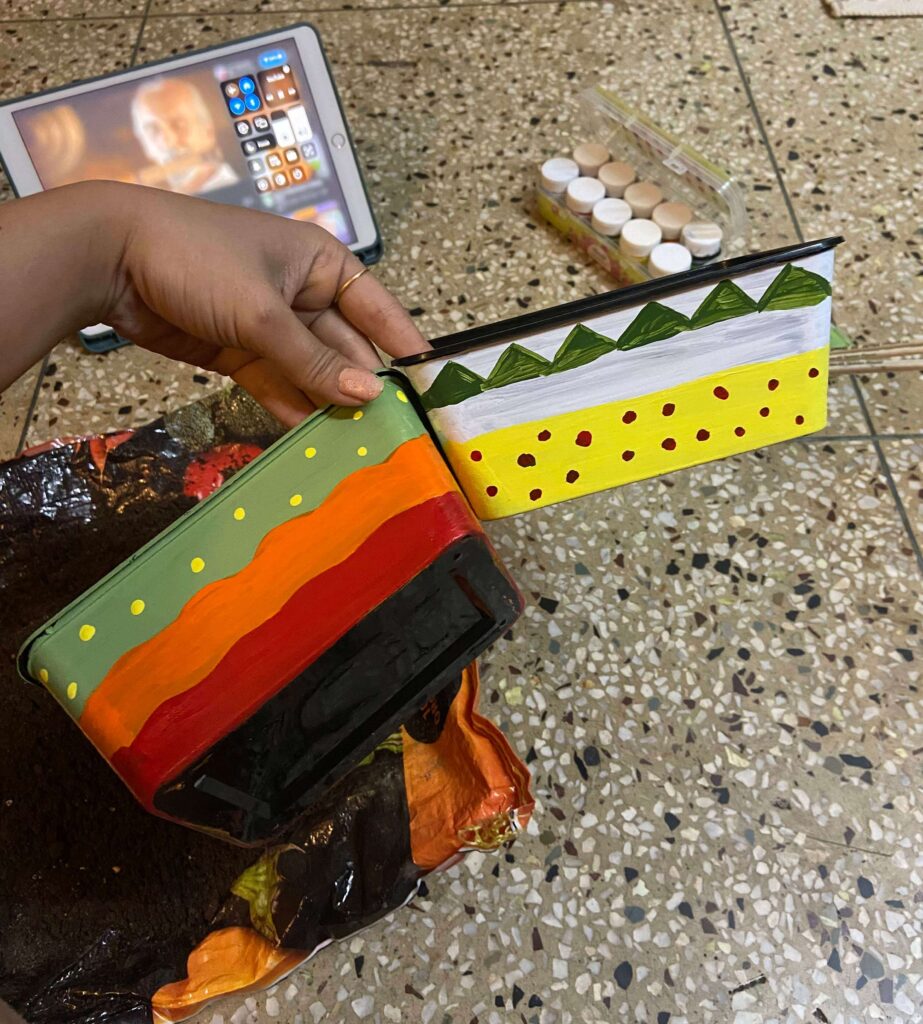 I recently also took myself on a solo trip, booked an Airbnb and simply enjoyed my time there with myself in my own space.
I watched Emily in pairs, ordered food, went out for long walks, took myself to nice cafes, explored the new city and enjoyed my time so much.
It really felt like I was living my dream life and I look forward to more such times.
Solo dates are a must for everyone and it takes us not just one, but a hundred steps closer to loving ourself ore and in turn loving our life more.
What are your favourite solo date moments? And what new solo date ideas are you going to try? Feel free to write to me in the comments 🙂
You might also love