Here's a great list of fun, productive and creative things to learn when you are bored at home.
You might think getting bored sucks, but I truly envy you!
Getting bored and finding nothing to do means that you actually have the time and opportunity you can use to learn and do something fun for yourself.
There are so many of us who have no time to even spare to themselves or for their families because of their work and other struggles!
Also, getting bored is actually a reminder from your mind that it's getting dull and wants to learn something new.
So it's your responsibility to give to yourself some creative outlet and a fodder for your heart and mind.
I hope that you use your boredom wisely and give yourself time to learn any of these things from this list.
So let's get started
Things to learn when bored at home
Pin to save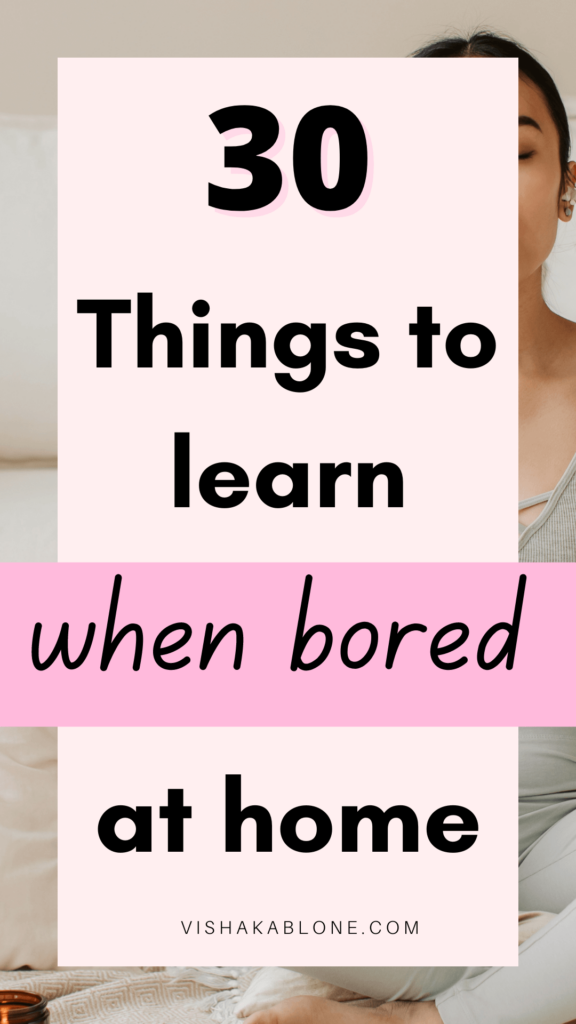 1. Learn how to meditate
Nobody teaches us how to meditate at school even though it is such an essential life skill.
When you're bored, instead of simply scrolling over your phone and not knowing what to do, sit down and learn how to meditate.
The thing is, you actually don't need to 'learn' meditation, because you can only practice it and by practicing every day, you will slowly learn it. 
You can listen to a guided meditation or subscribe to online apps. 
My best go-to app for meditation is the Plum Village App which has Dhamma talks, meditation music, prayer and guided meditations to help me come back to myself.
I also love listening to the 'Mindful in Minutes Podcast' which has meditations for all kinds of feelings and states of being. 
2. Learn gardening
Plants boost my energy and my life state. They brighten up my home and make me feel nice.
Now I don't know how my home would feel if I didn't have any plants. 
I slowly learned gardening during my free time and when I was bored and it has been such a joyful addition to my life. 
To save yourself from boredom, you can learn about gardening and buy a few plants and take care of them.
I love this youtube channel Garden up. She explains gardening so easily and turns you into a plant lover soon.
Then you can learn how to propagate them and grow your garden wonderfully.
3. Learn yoga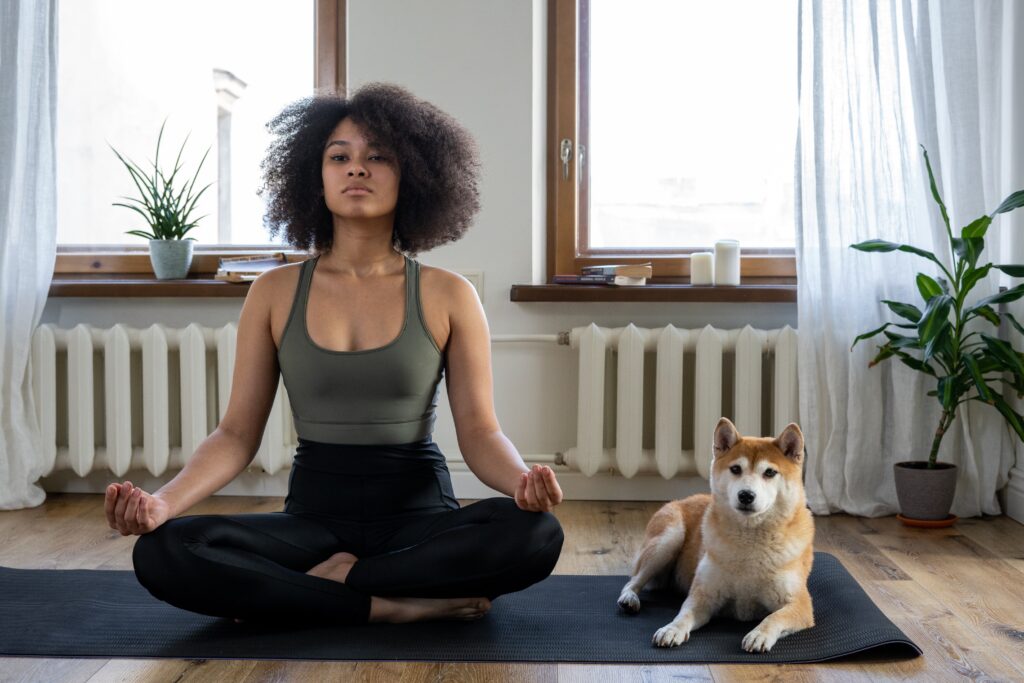 Learn how to do yoga and start out with easy asanas.
You can also start by learning one yoga flow and do it when you're bored.
I know many people who started practicing yoga from their home and now they've become so good.
Follow yoga channels on YouTube or you can join an online course to teach you yoga.
I love Mady Morisson and Jessica Richburg on Youtube.
You can take up a 30-day yoga challenge and slowly grow from there. 
I am not a yoga expert, but I do easy yoga poses and yoga flows in the morning.
Doing all of these things keeps my boredom at bay.
4. Learn face exercises
There's yoga for the face too and you could learn different face exercises when you're bored. 
This is something I want to learn too and I want to do them every morning as a part of my morning routine and every night before going to bed.
If you have eye bags, a double chin or want to tighten your facial skin or want a glowing face, you could learn different face exercises for the same. 
I think it's a great thing to learn because we all want to look lovely! 
5. Learn to cook your own meals
Once you're 18+ I believe we all should learn how to cook our own meals, whether one is a man or a woman.
Cooking is a major life skill that we all need to learn.
When you're bored, pick up a new recipe you want to learn and get on with it.
I often tend to forget the recipe so I made a recipe notebook for myself.
You can also make your own recipe book that has the recipe for tasty meals so that you don't have to keep on looking on the internet every time you plan to cook.
I knew a bit about cooking, but I never cooked regularly as at home, my mother would cook for me, but once I started living alone, I learned cooking and now I can cook so many dishes. 
And I am really happy with myself when I can call home guests and cook for them all by myself.
6. Learn how to make healthy smoothies
Buy a juicer and learn how to make healthy smoothies at home.
Here is a juicer that has great reviews on Amazon. 
Here are great smoothies recipe
Keep a recipe notebook for smoothies as well and enjoy making tasty smoothies at home.
7. Learn baking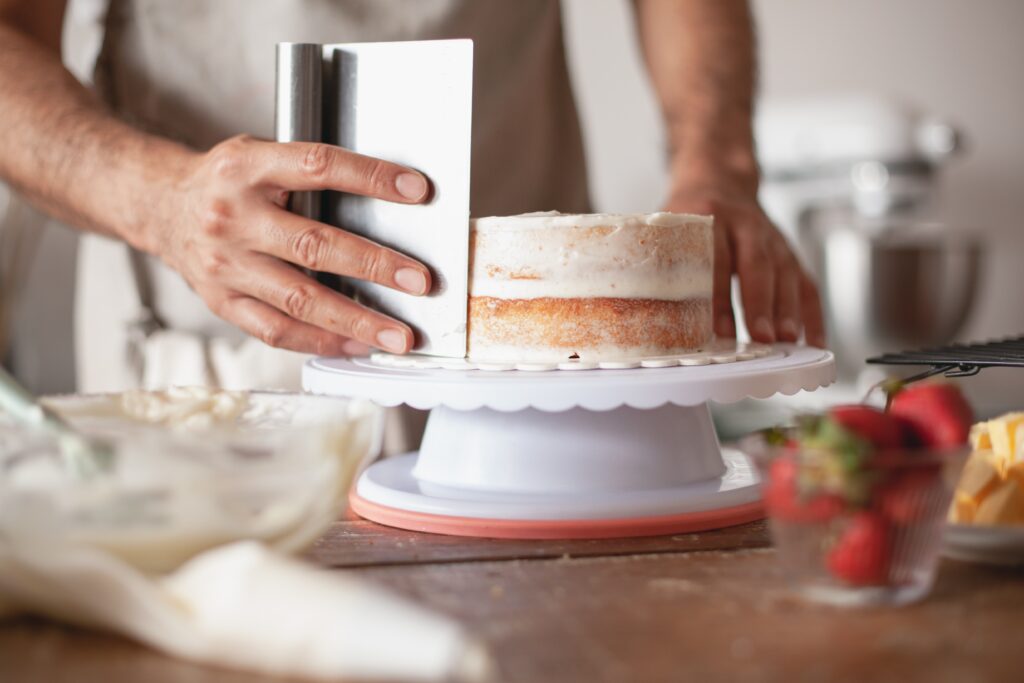 During the pandemic time when we are all bored staying at home, so many of us learned baking.
I myself made chocolate cake, banana walnut cake, and plain cake many times and I enjoyed doing them. 
So when you're at home and feeling bored, you can instead learn baking and start baking.
8. Learn a new language
Learning a new language can be a great skill to have.
Pick up a language you always wanted to learn.
These days you can learn a new language at home online.
Here is a great app called Duolingo that makes it easy to learn a new language from home.
9. Learn how to design on Canva
I love Canva app for everything it does for me in helping me make social media graphics and design.
It has truly made designing for everything easy and if you haven't tried Canva yet, you should really check it out.
It has made designing fun and you can make your own templates for calendars, menus, invitation cards, planners and just about anything. 
By learning how to use Canva you could also become a freelancer who provides graphics for busy social media entrepreneurs.
10. Learn how to compost at home
You could make your own compost at home by learning how to take care of your kitchen waste.
You will be fighting climate change this way and you can feed your plants with your own organic compost.
It just takes a little bit of curiosity to learn how to compost.
Here is a beginners guide on how to start composting at home
11. Learn ways to be more sustainable
In this time when we are facing climate change issues, I believe all of us have to learn ways on how to be more sustainable. 
If you haven't gone through the SDGs (Sustainable Development Goals) till 2030, then I urge you to give your time knowing what they are. 
You can use your time when you are bored to learn about these issues and learn ways on how to behave sustainably in the future. 
Here are some tips to live a more sustainable lifestyle in everyday life
12. Learn a new instrument
Similarly, you can learn a new instrument at home.
You can buy a guitar, a ukelele and enjoy your free time learning a new instrument.
13. Learn how to draw and paint
You don't have to be a natural artist to start painting and drawing.
It's for everyone and anyone can learn it.
Again, you could take up courses on it or just allow yourself to learn by yourself watching tutorials and going by your own flow.
You could also learn how to make mandalas and it could be a great way to channel your creativity.
14. Learn to make reading a habit
When you're bored, instead of scrolling through social media and reading all the captions, reels and posts, get into the habit of reading a book.
Pick up a good book to read every month. If you just decide to read one book every month, you will be reading 1… books in a year and that is a great accomplishment.
Here is how I make time to read everyday and best books to read for beginners.
P.S here are 10 best books to read in the morning
15. Learnt the habits of successful people
Instead of getting bored and turning into Netflix, Instagram and other time consuming stuff, use your time wisely and instead devote it to learning the habits of successful people.
If you give yourself just one year to learning about the habits of all successful and wealthy people, you will come to know that all of them share many things in common in terms of how they live.
Learn what the millionaires do. Learn how they became wealthy.
Learn what habits they ask you to build and apply it in your life.
The best place to learn them is through books and you must try to read them.
Here are my top book recommendations
I guarantee that this time of learning will never go wasted and you will cultivate great virtues in yourself too.
16. Learn dancing
You could also learn a few dance moves. Get in front of the mirror, turn up the music and start dancing.
Dancing is a great way to boost mental health.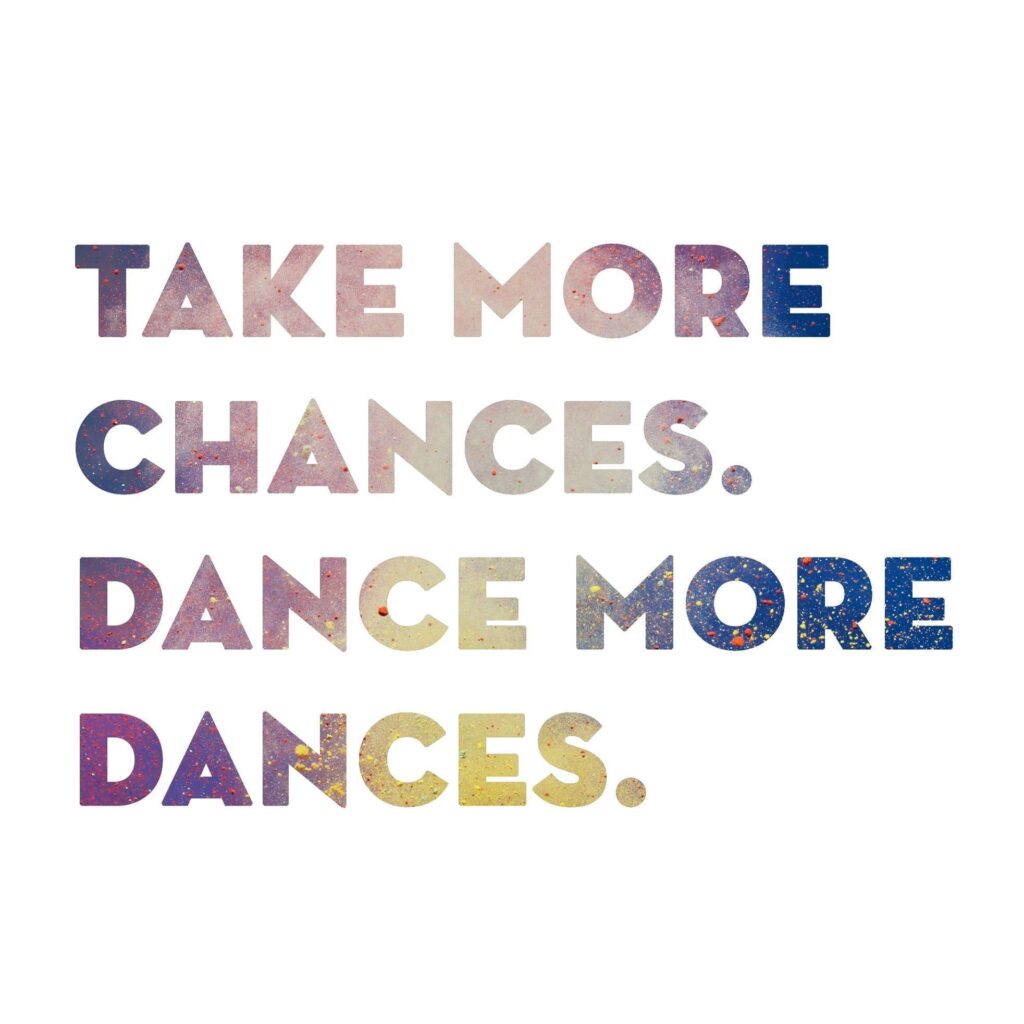 If it's been a long time since you last danced, I encourage you to just open up YouTube and start dancing.
17. Learn Pilates
Pilates is a type of exercise that focuses on improving flexibility, strength, and body awareness through controlled movements.
You could also give Pilates a try and learn Pilates as your new workout routine.
Pilates is for everyone, no matter the age or fitness level and is great for improving flexibility, building a muscle tone and increasing your core strength.
18. Learn story writing
If you're into writing, you can learn creative writing and learn how to write stories.
You can take up a course of writing stories from your everyday life and start writing them.
I have recently taken 3 creative writing course for the same purpose on Domestika. I haven't completed them yet, but I am excited to learn and improve my writing more.
19. Learn new words and meanings
This is a great time pass when you're bored and you get to learn new words and their meanings.
Back when my vocabulary wasn't so great and I didn't know meanings of many words, I had made a notebook where I used to note down words that I came across while reading whose meaning I didn't know and then write down its meaning.
I would memorize it and learn.
My friend when we were living in hostel would also do the same and she would be so enthusiastic in using those newly learned words while talking with us and it would make us laugh so much.
Nevertheless it's a great thing to learn when bored.
20. Learn how to edit videos
When you're bored, instead of watching reels, youtube and wondering how people are making such cool videos, you can instead spend some time learning how to edit videos yourself.
This is a great skill to learn especially in this age of social media and YouTube.
Use your time wisely learning how to make and edit videos and up-skill yourself. Don't be afraid to make mistakes. With every mistake you make, you will keep getting better and better.
21. Learn blogging
Blogging is one of the best thing I learned and still learning. It has helped me make money more than my real job and has given me the satisfaction of sharing my thoughts and helping me inspire people even just a bit.
It all started with learning more about it instead of just hopelessly getting bored.
Blogging is a great thing to learn and you can actually start your own blog in just 10 minutes.
If you want to start a blog or want to know how to grow a blog, I also provide 1-1 blog coaching call. If you'd like to check out, here is the page.
22. Learn social media marketing
Pick up a social platform you want to grow in, and start growing there.
Create an account you always wanted to start and learn all the ins and outs of the platform.
Once you see results, you can teach others the same who are looking to market their products and goals, become a freelancer or help manage other people's social media.
When I started blogging, I got to know that Pinterest is something I had to devote time and attention to if I wanted to grow my blog. I took courses and became consistent on this platform.
And soon enough I started getting the results I was hoping for. Now I teach how to do Pinterest for bloggers on my coaching call and I can't believe I started from zero knowledge about Pinterest.
Everything requires learning.
23. Learn to start your own newsletter
Its okay if you don't want to start a blog or a podcast right away.
You can also start your own newsletter about anything that interests you.
It could be a new way of learning new things for yourself and you could share it with your readers.
I think in this age, its good to build at least one online space be it a blog, podcast or a newsletter.
You could learn how to start a poetry newsletter, book recommendation newsletter, a newsletter about your own life or anything.
An easy way I know to start a newsletter is just by creating an account through substack which has a simple system that lets you publish to the web and email.
24. Learn how to start a podcast
If you're someone who has something to share no matter what it is, you can start a podcast and learn how to start a podcast instead of choosing to be bored.
Podcasts are gaining traction more and more these days and if you think your words could benefit even one person, then learn how to start a podcast.
This year I started my own podcast 'Heart of Living' all with the help of YouTube videos and blogs. I am so thankful for them.
25. Learn how to code
If you're into techy stuff and have always wanted to learn programming and stuff, you could learn how to code.
It's never too late to start and you don't need to have had any degree before starting.
You can start now from scratch. I had once listened to a podcast episode where one person learned coding all by him (and he knew nothing about it earlier) taking up courses and reading books.
Then he build his own app which got sold for more than a million dollar.
Yes, coding is a great skill to learn in the 21st century and you can get highly paid for it.
26. Learn how to illustrate
If you love painting and drawing, you would also enjoy learning how to illustrate digitally.
The best way to learn this is by getting an iPad and installing 'Procreate' app.
All the digital artists I love on Instagram illustrate using procreate.
Learning how to use procreate and illustrate your own designs could be great thing to do when you are bored.
27. Learn how to make your own soap and shampoo
Making your own soap, shampoo, lotion, lip balm using ingredients you love can be a great way to drive away your boredom.
Creating your own stuff no matter what it is gives us a kind of satisfaction and happiness.
Plus, you would be helping nature by not using packaged products and using natural ingredients.
28. Learn how to declutter
Decluttering, organizing and creating a calm and relaxed home can be challenging.
If there's piles of clutter lying in your house and you don't know how to sort it out or from where to start, you could try by learning some organising tips and decluttering techniques and hacks.
This will save you not only time, but also your energy and will make decluttering fun instead of overwhelming.
Here are my tips on how to organize your life completely.
29. Learn nail art
You can get your own nails kit and learn how to do nail art.
There are awesome nail art tutorials on YouTube and you could gain some inspiration from Pinterest as well.
30. Learn Embroidery
The last on the list is to learn embroidery. I used to love sewing and embroidery when I was in school. But slowly I lost the habit.
There are different embroidery techniques such as chainstitch, back stitch, stem stitch and you could learn them to make wonderful designs and patterns.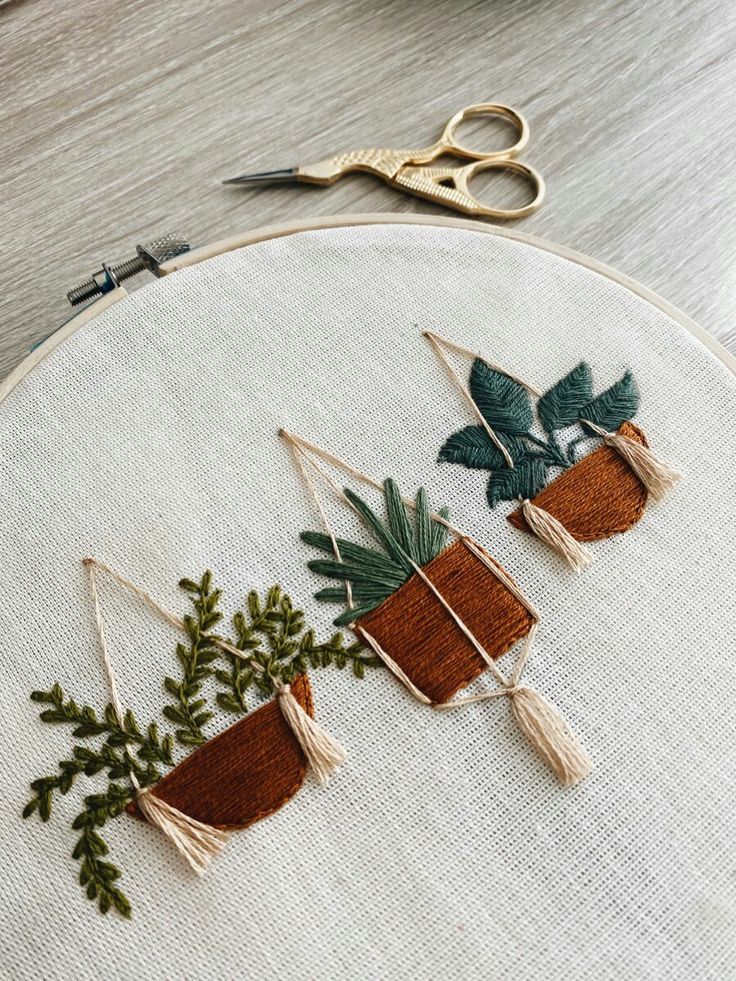 If I had plenty of free time, I would definitely love to do sewing and embroidery again.
So if you're looking for what to do when bored and you think you might love it, embroidery is a great idea.
So these were the 20 things to learn when bored at home
pin to save
You might also like: