Have you heard about a vision board? If you have but haven't ever created one until now then In this post I share all about how to make a vision board you can actually manifest.
Oprah is said to have one and so do Deepak Chopra, Rhonda Byrne and all the thought leaders who have really gone out to seek their heart and become leaders in their field of work.
At the start of the year, I too had made a vision board for myself for the first time.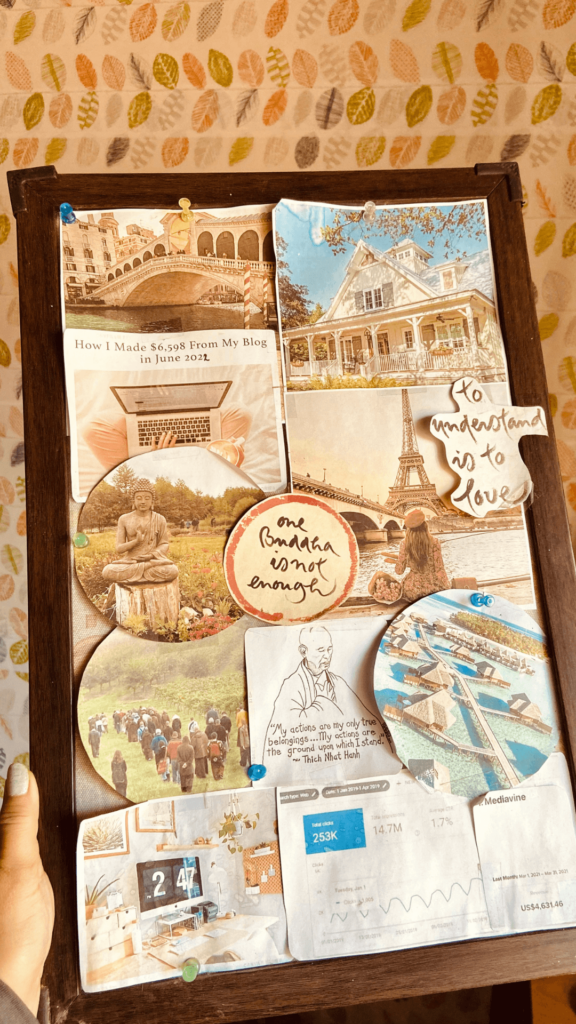 I made it happily with a lot of excitement holding the thought, "Let's see how this works".
(Note: I thought of "Let's see how this works, and not, let's see IF this works")
Today I write this blog post to tell you that it did work magically!
And because it worked for me, I believe it can work for everyone if we make it with the right intention and know the secrets of manifesting.
I will tell you all about it and also tell you my vision board manifestation story at the end of this post, but before that, let's start with what a vision board is.
What is a vision board?
A vision board is simply a board or a poster which is a visual representation of your hopes, dreams and goals.
It is a tool to help you visualize your dreams because when you look at them, the pictures put out there will make you hopeful and happy to create your dream life.
Why you should make a vision board
'Vision' has a powerful meaning. It means our ability to see things. Our vision is our imagination for the life we want to create and the person we want to be.
Our imagination is one of the most powerful tools only we humans possess which we can use it to our benefit. But sadly we aren't or don't know how to use this creative tool.
So…. Do you hold a unique vision for your life?
If you haven't or are scared and sceptical to have a vision for your life, then you must stop acting small and really ask yourself again and again, "What vision do I have for my life?" and possibly also write your answer down.
I believe that a life without a vision becomes dull with nothing to look forward to. And indeed that is what is happening in this world where people are depressed and anxious all the time.
You owe yourself and the world a responsibility to hold a vision and then work towards fulfilling it as an offering to the world.
Having a vision board is the first step you can do to CARE about your vision and be EXCITED about it every time you look at it.
Your vision board will help you 'remember' your goals, hopes and dreams because we all tend to keep our dreams at the backseat of our minds.
Also, having a vision board and having it come true will be valid proof of your manifestation.
It will propel you to keep on setting higher goals and dreams for yourself and it will encourage not only you but also those around you when you share your vision board story.
So take charge of your vision, make yourself a vision board and be excited about your future, because it really does hold so much potential.
What should a vision board include?
Most people think a vision board only includes pictures and images of your goals, of the life you want and the places you want to visit, but it is so much more.
Here are all the things you can include in your vision board
Your goals– even if you can't find any images for it, you can make your own visual representation of it by painting it or drawing it and putting it up on your vision board.


Pictures of the things you want to be doing example, writing a book, skiing, going on a marathon, scuba diving in the Maldives, doing a hobby you love, etc.


Pictures of the places you want to visit


Pictures of what you DESIRE in your life– for example, dream car, dream house, dream marriage, etc


Quotes that resonate with how you want to be and what you want to imbibe more of in your life.


A picture of who you admire and want to imbibe values from. It can be Jesus, Buddha, a mentor, or even your mother.

When you look at their picture, it should remind you of their wonderful qualities that you want to embody in yourself too.

I have put up pictures of Buddha and Thay, Thich Nhat Hanh and it serves as a wonderful reminder of the qualities I want to take on from them.


A Picture that represents where and how you want to be in life.

For example, if you are now single and want a wonderful relationship, then you can find a picture of a couple that resonates with how you want you and your partner to be so that by looking at it, you feel hopeful and happy.



Any affirmations that will help you affirm the right mindset and let go of the long-held false beliefs.

For example, if you have a negative mindset about love and relationships, you first need to change your attitude about it if you truly want a loving relationship in your life.

You can never have a loving relationship if your attitude towards love and relationship is full of doubt, insecurity and misconceptions.

In the same way, you can also never have a good relationship with money and abundance in your life if your money mindset is full of lack and false beliefs.


If you think money is bad, money brings in conflict, rich people are bad people while all the time also secretly hoping for good love and good financial wellness in your life, you must know that it's never going to work that way.

To help you with this, you can put out an affirmation or a quote on your vision board about wonderful things about love, abundance, about your worth, and this will serve as a reminder for you whenever you look at it.
So these were the things you must include in your vision board
Now, let's go to the main part where I share how I made my own vision board
How to make a vision board (step by step)
P.S this post has an affiliate link.
1. Get a bulletin board
You obviously need to get a board where you will put up your pictures.
I bought a bulletin board from amazon for my vision board.
Click the image to add the board to your cart.
If you don't want to buy a bulletin board, you can also just get chart paper and make a poster of your vision.
If you want to go a bit fancy and actually make a vision board and also make sure your vision board doesn't get dirty, you can then frame it and put it up on the wall where you can easily see it.
2. Find images and quotes
This is the fun part. Go and search for the images for your vision board.
You can search in magazines, but these days I believe we have stopped reading magazines and it's tough to find our same dreams and goals in magazines.
I searched for my images and quotes from Pinterest and some from Instagram which I downloaded and some I saved as a screenshot.
P.S. If you don't find a picture of the quote that you truly love and want to embody, you can go to the app called Canva and easily type in your quote in the font and background you love and then download it.
3. Go to Canva
'Canva' is my go-to app and if you haven't heard of or used Canva yet, then you're going to love it.
I used Canva to print out the images for my vision board in the shape and size I wanted.
The only thing you have to do after finding your images is to upload your images to Canva first.
After that, you can head on to this link where I have shared my own copy you can reuse.
Make your own copy this way.
From here you can just change the images and size to suit you.
If you want more pictures, you can simply duplicate the page and add another set of pictures on the next page.
Make sure to download it and then print out your pictures.
4. Set up your vision board 
Lastly, once you've got your pictures and quotes printed, you just need to pin those pictures or paste them to your board and Voila… it's done!
Keep this vision board somewhere you can see every day and which will serve as a wonderful reminder for you to go after your hopes and dreams with enthusiasm and excitement.
So this was about the actual process of making a vision board.
Next, I want to tell you what I have actually learned about how to make a vision board manifest. 
How to make a vision board that manifests
Making a vision board is a great step to start manifesting, but it's not just enough to simply make a vision board and hope that it will somehow get fulfilled.
You also have to do the work.
Here are my simple tips on how to make a vision board that actually manifests
1. Dig deep into your heart
Only put pictures in your vision board that you truly wish for and resonate with. Don't let fear and logic rule you. Find pictures which you really really want to see happening, doing or being in your life deep inside your heart.
2. Be intentional about what you put in your vision board
A vision board is being intentional towards our dreams and hopes. When you make one, don't make it casually, but give it a lot of thought and intention. 
Ask yourself what you truly want to embody and imbibe in life.
Then find quotes or images that you really want to embody which will serve you as a reminder of how you want to see yourself being. 
3. Make your vision board with a lot of joy.
I've found that enthusiasm and joy are the two keys to manifesting.
As you choose your pictures, as you choose your quotes, as you print those pictures and as you put them up on your board, do each of these steps with a sense of belief and see them all coming true in your mind's eye and feel joy.
As you put them up feel deep joy as if you are certain to receive them. If you received a cheque engraved in your name of $100000 which you could withdraw only after a year, you would still be so happy and excited about it and tell everyone about it, wouldn't you?
There would be no doubt in you.
Be as certain about your vision board pictures also coming to life and let them fill you with joy and excitement. 
4. Visualize yourself living that picture
See yourself living that picture every time you look at it. See yourself holding it, walking it, having it and embodying it whatever it is.
If it is a travel destination you have put up, when you look at the picture, see yourself 'being' in that picture and keep on rolling on with happiness, excitement and certainty in your imagination.
If it is your dream house you have put up, imagine yourself walking into it and living in it.
Every time you look at it, let it make you hopeful, happy and enthusiastic about creating your dream life. 
I often keep my vision board in front of me as I pray and visualize as I pray.
5. Learn to do your part
As I said, manifesting can't take place without you putting in your part of the work.
The Universe truly loves people who do their part without begrudging, without complaining.
I think the Universe likes to help those who help themselves. 
I have found that when you do your part of the work which you ought to do sincerely, intentionally and honestly, the Universe comes over to complete the rest, does some touch-up, and make all other things work in alignment just for you, which we then also term it as 'luck'. 
It's really 80% your effort and 20% luck.
6. Let go of the 'how'
Let go of the how and get strong on your why.
Don't let the doubt of 'How will it come true' stop you from believing and going after your dreams.
Let go of logic and reason when it comes to manifesting. 
The Universe will take care of the 'how'. Just make your 'why' strong and it will propel you to keep moving in the direction of your dreams and not give up.
7. Be absolutely certain
Be absolutely certain that your vision board things will come true.
There is no need to rush and be impatient about the 'when'. Just be completely certain that one day or the other you will as long as you are satisfied with doing your part.
I remember I would get so excited about how my blog would be doing and how much I would be earning from it even when I was making zero money blogging during my first year.
I would just be so excited that it would certainly work one day and I would talk about my dreams to my mother and my partner about it enthusiastically.
Now in just one year, I went up from having less than 200k pageviews an entire year to getting 200k pageviews in one month, which is really unusual for a new blogger like me.
And I also went up from making $500 from my blog to more than $7000 a month.
I didn't let doubt stop me from telling my friends about my hopes and aspirations for blogging. 
There are so many other dreams of mine and whenever my mind tries to bring in doubt, I think of this quote- Nothing is too big for the Universe. 
8. Make gratitude and joy your way of life
Lastly, and most essentially, be grateful for the things that are already in your life and make gratitude your way of living.
Once you make gratitude your way of life, joy will automatically come following like a shadow.
Let go of complaints. Let go of lack and your scarcity mindset.
Work on building your mindset. Read good books and enlighten yourself.
Stop sharing memes and talking about the lack in your life even if it's just jokingly.
We keep on creating our lives every day by the ways we affirm things. You are always listening to yourself, so be aware of your self-talk and how you talk with others.
Here are 100 gratitude journal prompts for 100 days to help you make gratitude a lifestyle
So this is all I had to share about how you can make a vision board and how to manifest it.
Below I share my vision board story 🙂
My vision board manifestation story
As I said, I made my first-ever vision board at the start of this year (2022) with full enthusiasm and joy.
One of my goals/desires for this year was to get 100k in blog traffic each month starting from January.
I would read other bloggers' income and traffic reports and get inspired. In one of the traffic reports, the blogger shared her traffic of 253K pageviews.
I remember being so amazed to see that and imagining how it would be for my blog to also receive THAT amount of traffic each month.
253K in traffic seemed HUGE and indeed it IS huge.
I did a screenshot of the blogger's traffic and decided to print it out for my Vision board.
I next wanted to set an income desire from my blog.
I started this blog just as a creative outlet, but I am so thankful for the bloggers who became successful before me and shared their income report which is so personal.
Had I not come across them, I would have never known that making money with blogging is even possible.
But because I read their blog income reports, my thought process turned to, "If they can, even I can!"
Before this year started, I was making around $500 a month from my blog. My first blog income was $464 which I received in October 2021 and I was so happy!
Reading other bloggers' income reports, I came across one that read -' How I made $6598 from my blog in June 2021′.
I took a screenshot of it too to print for my vision board.
When I put it up on my vision board, I changed it from June 2021 to June 2022.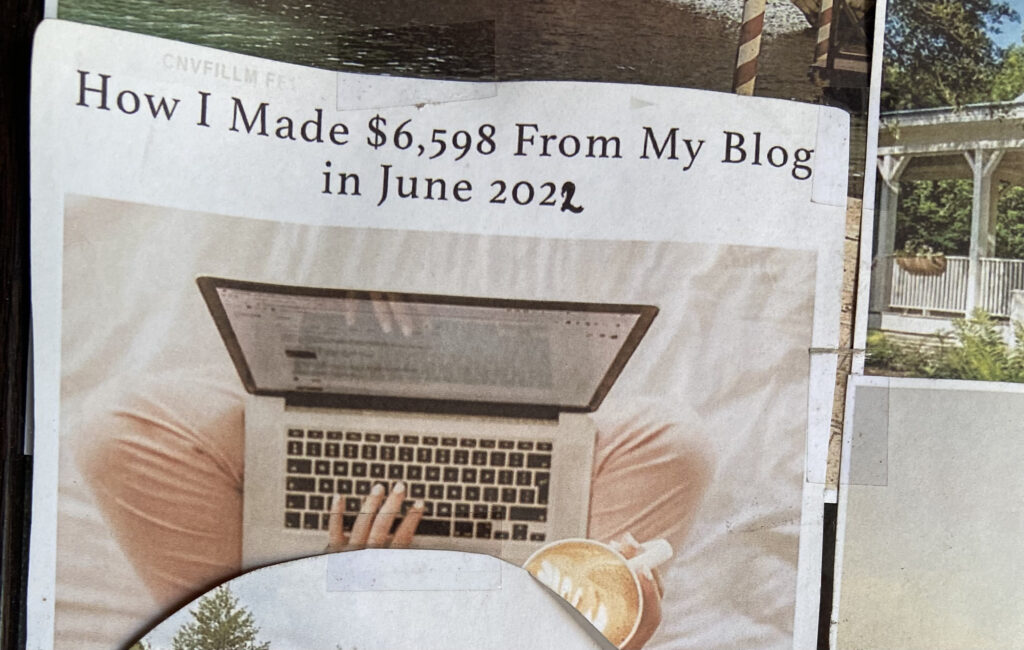 To be honest, I was somewhat sceptical about whether it would be true for me by June 2022. I wasn't even making $1000 a month.
I thought it would be June 2023, but nevertheless, I didn't want to change it and kept the same.
Now I want to tell you that even though it was 5 months late, my vision board dream did come true!!
Last month, in November 2022 I was able to reach more than 253K pageviews as well as more than $6598 as pinned in my Vision board.
To tell you the exact numbers, my blog reached traffic of 2,66,080 pageviews, that is 266K pageviews and my income was $7141 for the month of November!!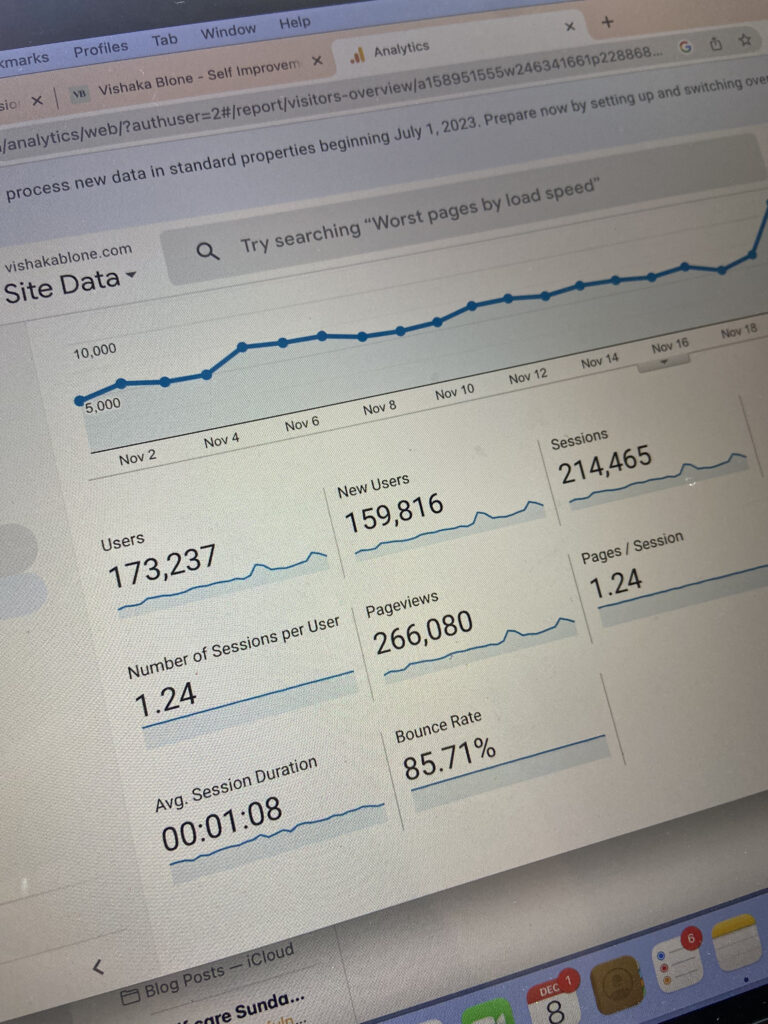 When I found my vision board dream come true by the end of November, I couldn't help but wonder about the power of manifesting and I really wanted to write a post about it.
But my vision board manifestation story is not just about my blog traffic and income.
On my vision board, I had also put up Thay Thich Nhat Hanh's picture, Lord Buddha's picture and quotations.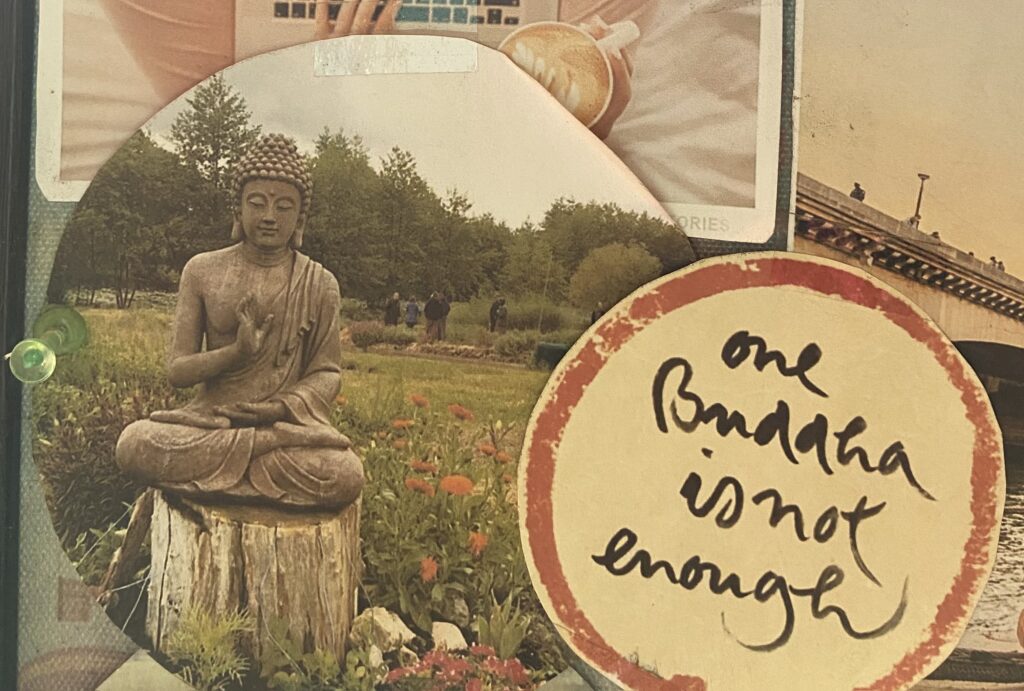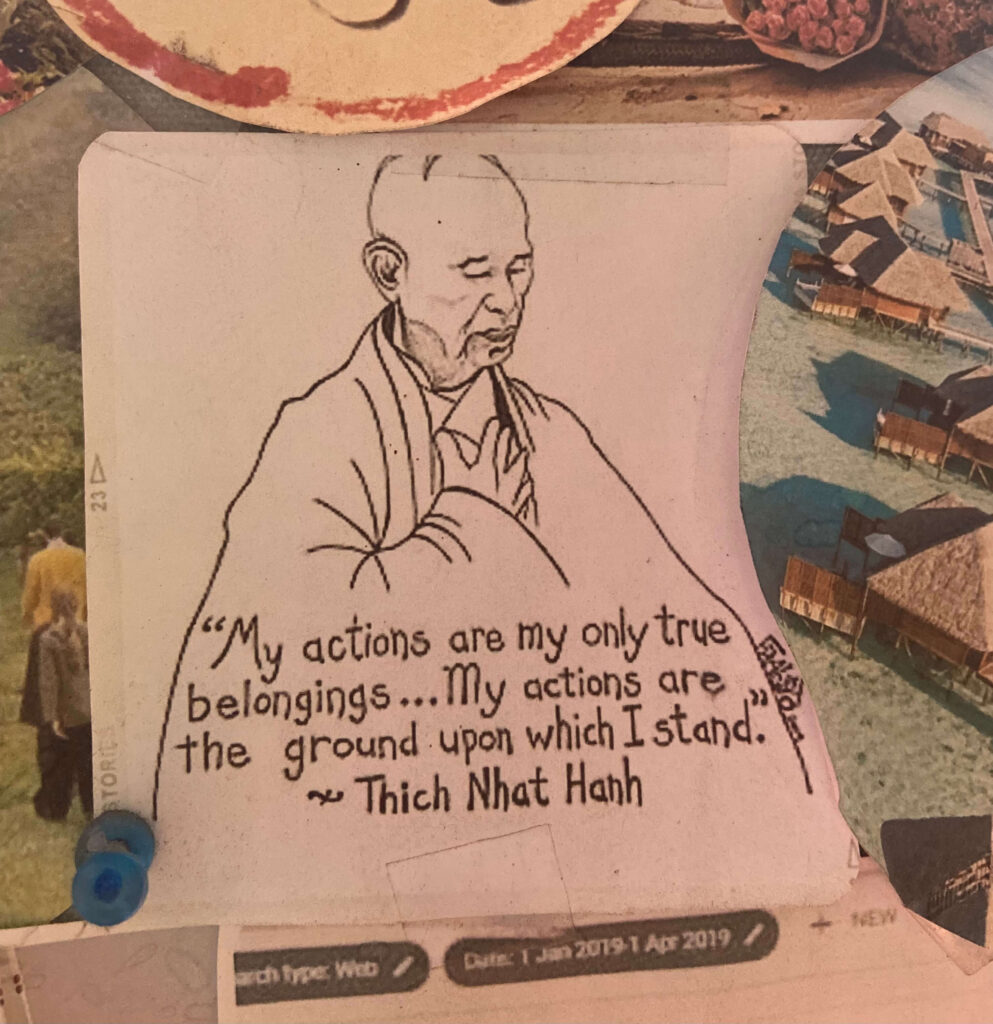 I want to tell you here, dear reader, that this year I feel I have been more mindful of many little things and I have felt more joy than I ever did even in doing simple ordinary tasks.
The quotation 'One Buddha is not enough' has stayed with me this year in helping me do meaningful work and strive to contribute to making an impact.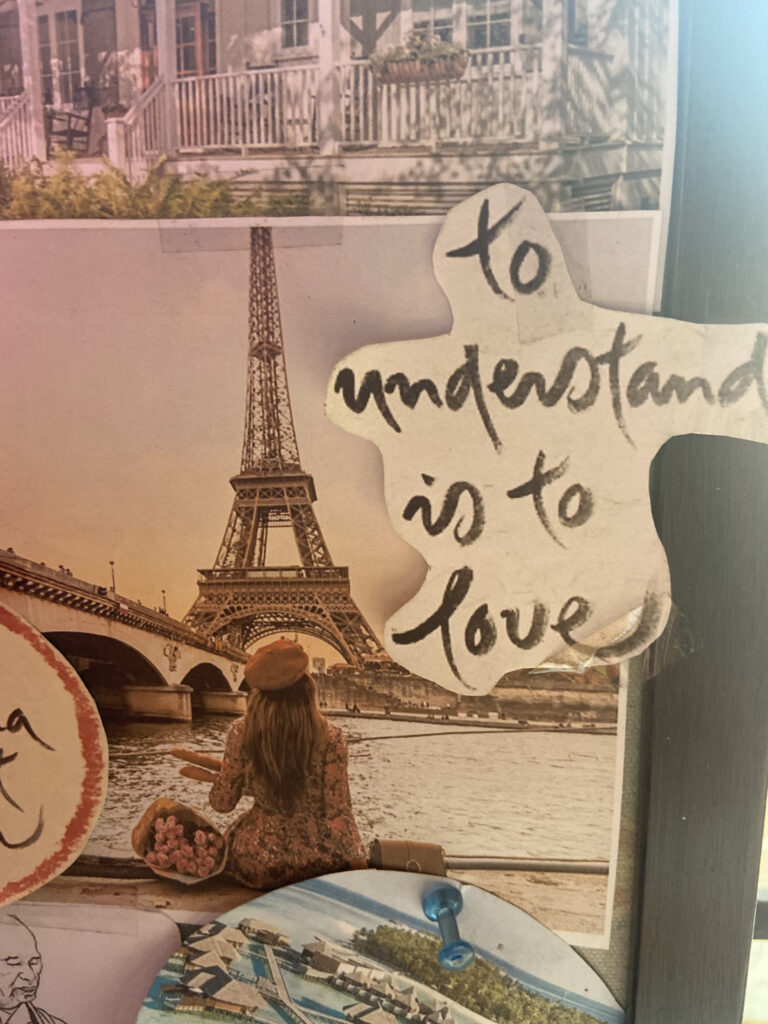 The quotation 'To Understand is to love' helped me to be more understanding and not be too focused on my mind's tendency to create conflict.
This year my relationship enjoyed more harmony, peace and friendship and I have nothing to complain about.
I had also put up on my vision board the desire to go to Plum Village, France for a mindfulness retreat and get to meet brother Phaphuu whose podcast 'The Way out is in' me and my mother love to listen to.
I am happy to tell you that just recently I came to know all the schedule for the Plum Village retreat for the next year has been opened up on their website and we (my mother and I) will be visiting next year in October.
If you want to check out Plum Village, here is the link. You can also use their app called 'Plum Village' for resources on Mindfulness meditation and everything else.
Also, my vision of rebuilding my old home is currently in process as we are waiting for the house plan to get passed, and hopefully by next year, this time we will be living in our brand new home.
I had also put up a picture of Paris, Venice and other destinations on my Vision board, and even though that hasn't happened yet, I am so deeply certain that it will. There is ABSOLUTELY NO DOUBT in my heart.
And why should it be? I truly believe that as long as we are alive, ANYTHING is possible.
So this was about my vision board manifestation story.
Are you excited to make your vision board too?
If yes, make it with a lot of excitement, enthusiasm, and belief and don't be afraid to dream big.
Everything is manifestable 🙂
Save for later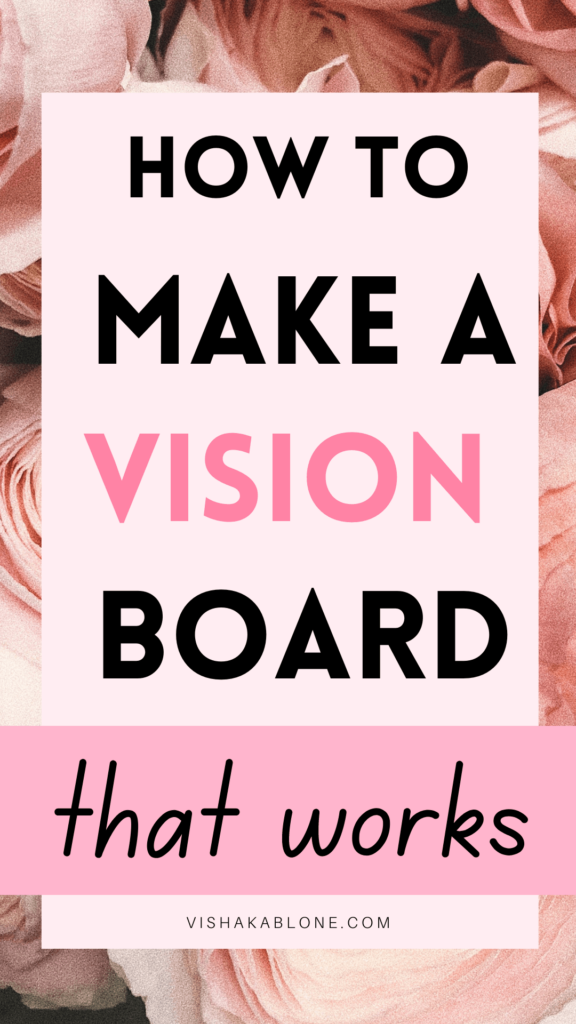 You might also love