At the start of this year, I had set out a list of a few things I wanted to do. And one of the things I had included in the list was to go for solo travel at least once this year.
I had a small experience of travelling solo last year, but it was only for 3 days after attending a conference, so I felt that that didn't really count.
I wanted to plan and go for an entire trip myself. So this summer break, I decided to make this solo trip happen.
I wanted to go somewhere in the mountains. (If you ask me whether it's mountains or beaches for me, it's definitely mountains)
And so Himachal Pradesh became my destination as I had been wanting to visit this beautiful northern state of India for quite some time.
Next, I had to decide where in Himachal I would visit, and I chose Manali and Dharamshala this time.
I booked my stay at an Airbnb home in a small village called Nasogi in Manali and in Dharamshala, I decided to stay in a hostel.
A few days before my travel, my friend who had recently shifted to Delhi told me she could join me if certain situations favoured.
A part of me was happy to have a friend, and another part of me wanted to take this trip entirely by myself.
I left it all to whatever happens.
My friend could not come along and so, I was really doing this on my own.
I took a bus from Delhi which left at 7:30 pm and by 6 am, the next day I had already reached Manali.
And thus began my solo travel.
Below is my first solo travel experience and the few lessons I learned.
This is a bit lengthy because I consider writing here as a journal entry of its own and I wish to share in a bit of detail as I would love to remember all of it when I come back to reading it again.
5 lessons from my solo travel
1. Everyone should go for solo travel
The first lesson I would say is that all of us should go for solo travel at least once a year. I am so glad I could finally do it this year.
Also, Solo travel isn't only for single people (though it certainly could be more enjoyable for single people given the chances of meeting all kinds of people)
But It doesn't matter if you're single or have a partner. I think all of us should go for it and experience it.
From my small glimpse of solo travel last year in the hill city of Shillong, Meghalaya, I found it extremely liberating and I was really looking forward to doing it again.
I love long walks and I always mention how I find long walks soothing for my soul, but walking in a new place and amongst different landscapes, people and places I have not known before is a different feeling altogether.
When I walk into my room and get ready for the day, it gave me the sense of "I am all alone here", but this one is not loneliness, but a wonderful kind of being alone.
This was my Airbnb room in Manali which also had an attic. I only used this space even though I also had a bedroom downstairs. It was so cosy and nice.
Waking up in a new space, having breakfast alone, enjoying my tea, and looking at a view other than my normal routine life, going to different places all by myself felt rejuvenating.
It brought a sense of fulfilment, confidence and amazement in myself and made me feel comfortable being with myself.
I think it's freeing to take yourself places without trying to look for company and instead enjoy an entire day to yourself.
This time on my second day of solo travel, I rented a scooter and spent an entire day exploring the mountains and witnessing the beautiful Himalayas.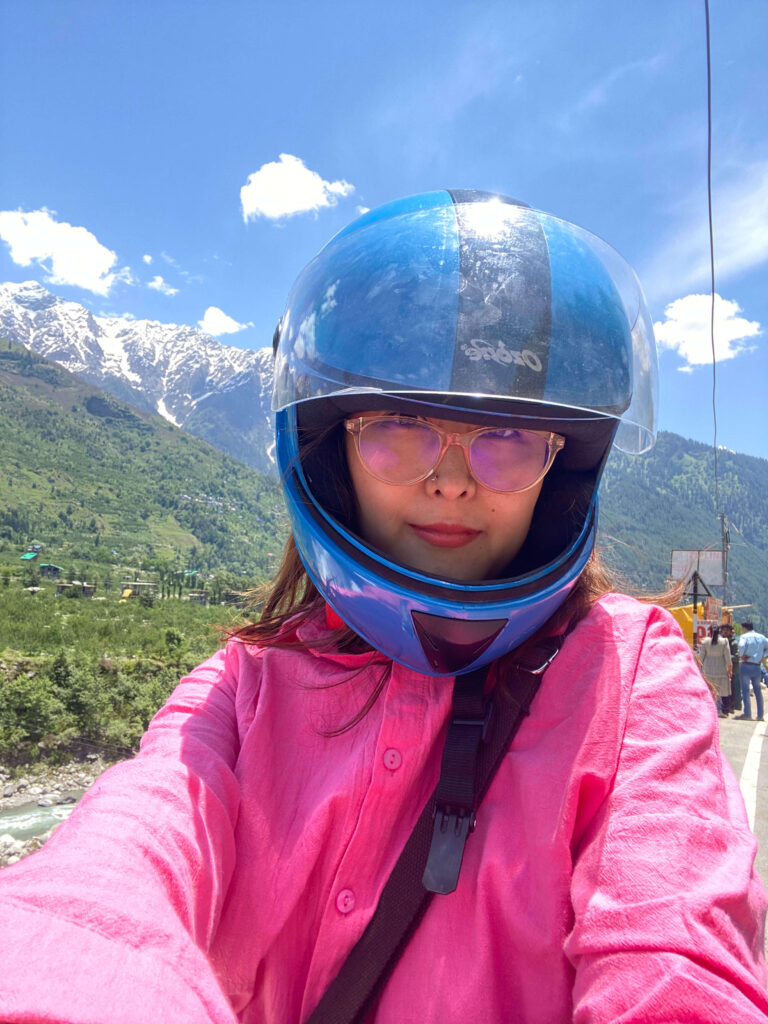 The day was perfect and I was shouting to myself, "K dammiiii" (how wonderful!!) and smiling like a fool the entire ride.
I did miss my partner and my mother and wished I had someone to witness the beauty with me, but I enjoyed myself nevertheless.
I tried coming back to my breath time and again and began riding my scooter as mindfully as I can as I soaked in the beautiful surroundings full of nature.
I crossed the Atal tunnel which was an adventure altogether. The Atal tunnel has the record of being the longest highway tunnel in the world which is above 10000 feet.
When I crossed it I had no idea that the tunnel was almost 10km long. I had just put on a light jacket and the tunnel just wouldn't end.
It was dark and cold in the almost never-ending tunnel, but after crossing it, the landscape was entirely different and I went up to a place called Koksar.
I got to experience how thrilling the bikers felt who were on the road to Leh and Ladakh on their road trip.
I too have decided that I will be taking a scooter, and not going by car when I visit Leh and Ladakh.
The scooter Entorq which I rode was smooth and gave no problem at all, and I am so ready for my bike ride to Leh Ladakh next!
While returning, I had a tasty lunch at a highway Dhaba and after that came back to Manali.
It was a wonderful day.
2. People are all minding their own business
The next thing I learned and found comfort in was that people are all minding their own business.
Earlier I would have been very conscious about walking alone, going to restaurants alone and going to different places alone.
I would feel that everyone noticed me and I would find it extremely awkward.
But now I have come to realise that people are all actually minding their own business. Nobody really notices, and even if they do, they don't judge us at all.
People are all busy in their own life. Far from judging is, at most, they will talk to us and ask us our whereabouts and exchange friendly talks.
This is what I experienced.
And even if they did judge us for travelling alone, it doesn't really matter.
3. Expect and be open to new connections
I always considered myself a person who couldn't talk with strangers as I am more of an introvert, but this trip proved to me otherwise.
I can't believe that it was just one solo trip and I learned little life stories of so many different people and even formed friendships.
I met a girl named Karishma at the Hidimba temple and we instantly connected. She had come with her husband and friends and was waiting for them in the chair outside where I was sitting, as we were both on our periods. She was from Gujarat and an advocate.
She told me about the places she visited so far. She had gone to Kaza, Tabo, and Shimla and showed me her wonderful pictures. We had a good conversation and we even exchanged our Instagram profiles and followed one another.
On my 3rd day, I met a guy named Nilesh. He sat in the seat in front of me in the minibus on which we were travelling for our day tour. He was tall, dark and sweet. I got to know he was an Indian Navy officer. He too was travelling solo from Delhi, and so we helped click each other's photos. We spent half the day together and it was enjoyable.
I met Sanchi who was the in-charge in the hostel I was staying in Himachal.
I met a woman named Priya in her 40s who too was travelling solo. I met her on our Triund trek as she too was one in the group. She was from Bangalore and working in an IT and my evening at Triund was spent talking with her.
In Dharamshala, I was randomly called to one antique store and there I had a conversation with the owner whose name was Raj (though I am not very sure I remember his name correctly). He was into Chakra healing, crystals and meditation and had his store selling crystals, jewellery, Tibetan healing bowls, Pashmina shawls and stuff.
He told me about the 7 chakras, and the importance of sound healing, and told me he could even tell which of my chakras are blocked with the help of the singing bowl. I did that and bought one of the Tibetan singing bowls myself.
And there were still so many other people I met and came across from the ones with whom I stayed in the hostel, to the ones with whom I went on the trek, Champa Aunty and her family with whom I stayed at Nasogi village, the cook at the hosteller, the jewellery shop owner from Kolkata living in Dharamshala (who gave me a discount in earrings because he came to know even I was from Kolkata and surprisingly living very close to his own hometown in Dum Dum), our trek guide, and a few others still.
This kind of conversation and connection didn't normally happen when I would be travelling with my family or friends.
We're all busy in our own world and in our own connections and even if we do have conversations, we don't give it much importance.
But in solo travelling, I realised that it's all these little conversations and little connections that become important and satisfying because these were made solely by our willingness.
You remember much more clearly all the people you met and came across from the funny bus driver, to the one sitting beside you on the bus, to how you travelled to a place, because you were only with you and yet with so many other people.
It's what makes the trip memorable and it brings in a sense of fulfilment.
Normally we become so accustomed to our own lives, that we don't even realise that there are other people living this journey of life too.
We get sucked into what we're doing, our own problems, our own failures, our own routines, and don't think of anything else.
But travelling, and more so solo travelling, I felt, helps us shift our eye from what we are doing, to also see and know what others are doing, and how others are living their lives and make an effort to build new connections and explore.
Now that I am back, I have a sense of what must be happening right now on that road, in that area, in that home, how the place must be looking like and so it makes us see that there are things happening elsewhere around the world.
4. Trust banishes fear
Throughout my solo travel, there wasn't much of an instance where I felt unsafe and scared.
Only once I felt so, and it was because I didn't trust the other person enough and that brought in fear.
Now looking back, it was for no reason and I don't think the person's intentions were any bad, but because I didn't trust, that made me feel unsafe.
And that was the only instance.
The people whom I met were all helpful and kind.
But had I expected ill-intensions from people and continuously tried to safeguard myself against something wrong that could happen, I wouldn't have enjoyed the trip and almost all my energy would have been spent worrying, fearing and trying to feel safe.
But trust banishes fear.
And here, trust is both towards our own self and other people.
If we don't trust ourselves, we will be filled with fear and loneliness and we wouldn't even be able to enjoy even a normal walk down the street when alone.
If we don't trust others, we will end up expecting negative experiences from them and ruin our time for no reason.
Of course, one has to apply their own wisdom here. I am not asking to be foolish and trust any stranger, but generally, I felt that all was good.
So I think if we want to enjoy our solo travel, we need to let go a bit, and trust ourselves and also other people instead of expecting negative scenarios unreasonably.
5. We really need to learn how to travel
Travelling is not simply ticking off places from our list and clicking Instagrammable pictures and making reels.
For the first time, I realised that we need to also learn how to travel and it is something that requires practice as well.
To travel well, we need to learn how to travel mindfully.
The first day as I walked the streets of Manali, I could not tell if I was feeling bored or enjoying myself, but I allowed myself to feel whatever I was feeling.
Slowly I got into the mood and on the second day I actually started enjoying myself.
I tried to be present in my walking and everything that I was seeing.
I particularly enjoyed the walk downhill from the village I was staying in Manali to reach the main town, Mall Road.
It was a shortcut road which I got to know from the caretaker at whose place I was staying.
Through the walk, I could see the rustic part of Manali, the old houses, the cows, and the Himachal people living their ordinary lives.
I also enjoyed walking around Dharamshala which felt a lot like Darjeeling.
I kept on asking myself how can I really be present and focused on my breathing on my walks, ride and other journeys.
I had put on my earphones to listen to music but felt that I didn't really need those earphones plugged in.
So I took them off and just tried to listen to the actual sounds that were taking place around me- the dogs barking, the birds chirping, the people talking, the winds rustling and the sound of my own footsteps.
Most of the time, we're busy with our own music, hardly listening to the actual events, people and sounds around us, but if we do that, then we won't truly know and get to know the 'feel' of the place.
Being with the natural sounds taking place allows us to be more present wherever we are and also gives us the chance to be open to new connections and conversations.
I wouldn't have had conversations with people like I had if I was busy in my own world and in my own music. I would have missed it all and I wouldn't have known how the place actually sounded.
Even in the Triund trek, which took around 3 hours to reach, I didn't listen to any music.
There were other people in my group and I allowed myself to just listen to them talking, and listen to the surrounding nature.
This allowed for conversations to happen and I got to exchange little talks with my fellow trekkers.
I camped there for a night in a single tent and talked with the lady who was also travelling solo and a few others before deciding to sleep early.
I went inside my tent while all others were enjoying, dancing and singing over bonfires with their friends.
I missed my friends and imagined how fun it would have been to have come here with a group.
But this one had another ring to it altogether for me and I am glad to have experienced it.
I realized we really need to learn how to travel in a way that we need to learn how to walk around calmly, listen to what is happening around us, look at the places from a bigger perspective, learn how to take pictures mindfully, see different places without rushing, take time to enjoy where we are and also learn how to take lightly- the ups and downs that may come with travelling.
I am really eager to make myself better at travelling, to be able to travel for longer days in one place to really soak in the place.
This felt like a good start even though I have been on many trips before.
And now, here are some of the tips I'd like to give you for travelling solo
Tips for travelling solo
1. Start small
If you want to go for your first solo travel, start small.
Most people won't even go for walks alone. They're always looking for partners, even for going to the market. But if you always look for partners, you can never enjoy your time with yourself.
If you want to enjoy your solo travel, you need to first enjoy and be comfortable with your own company.
You can start by going out for a walk by yourself or you can take yourself out for solo dates, visit a nearby attraction by yourself and enjoy a day to yourself.
This helps in building confidence to travel alone and also be comfortable with your own self.
I got the courage to travel solo and became comfortable with it because I live alone and I really enjoy my space and time to myself.
I don't feel lonely and I really wanted to see how I feel all by myself in a new place and environment. And I loved it.
2. Self-talk matters
What you say to yourself matters. If you say you're not that brave, then you won't ever be brave.
If you say you can't do it, then you won't ever be able to do it.
If you say you can't afford it, then you won't ever afford it.
Notice what you're telling about yourself and change the limiting narrative.
You can do anything you want to do and live the life you have always wanted.
You can explore yourself and you can explore this wide world as long as you say you can.
Don't ever say you can't and limit yourself.
Have faith in yourself and the things you are capable of doing.
I never thought I could become someone who could travel alone, but now I have.
People mistake me by looking on the outside that I may be weak because I look frail and quiet on the outside, but inside I am strong, and I feel brave and capable.
So I say, be open to the possibilities in you.
And it only opens when you shut out your limiting self-talk and embrace all who you can be.
3. Just book that flight
Once you decide to go on your solo trip, just book that flight or that train ticket. Once you get your ticket, there is no turning back and no taking yourself out of it.
Whenever I decide on my travels, I don't delay much in booking my flight, and this makes sure that the trip actually happens.
4. Pre-book your stays
When travelling solo or otherwise, always pre-book your stays. I love Airbnb and I always pre-book my stays.
This way there is much less hassle and also money gets saved as online booking is usually cheaper.
5. Plan or go with the flow
Depending on the kind of person you are and what kind of trip you want it to be, you can plan your trip or just go with the flow once you reach your destination.
I am more of a planning type of person and I always go with a planned itinerary.
But I would love to see how it would be to just go with the flow and not even have a return ticket booked someday.
6. Be mindful
Be mindful in your travels and allow yourself to relax and let go.
Breathe calmly and focus on your breathing as you walk and travel around.
Soak in the surroundings. Pause for a moment and see where you are. See where you are walking, see where you are present and be present.
Don't upload stories and posts on Instagram or other social media then and there. Otherwise, you will miss out on the actual travel.
I like to upload it at the end of the day so that it doesn't consume my mind all through the day while I am actually moving around.
Take pictures as tools for mindfulness.
Stop for a moment to look at the big picture of the place where you are and enjoy your travel knowing and telling yourself, " I am here. I am present. I am breathing in this present moment"
Being mindful is essential to travelling well and it's a practice to cultivate.
Slowly I believe we can all learn how to travel well in a way that leaves us feeling recharged instead of exhausted and wanting to take a break even after travelling.
P.S how to start practicing mindfulness
7. Allow yourself to explore and be curious
Lastly, allow yourself to explore and be curious.
Do things you've never done before. See where it might take you. See how it might taste. See how it might feel.
Explore and be curious about the good things that help you get aligned with your truest self.
Be curious about how you would feel on your first solo travel.
This was from me and I am really happy and proud of myself to have done this.
Are you ready for your solo trip too?
You might also like: