Want to practice self-care in 5 minutes?
You might think you have no time for self-care, but there are actually so many self-care activities you can do that take up hardly 5 minutes in your day. 
Self-care is simply doing anything that makes you feel good in your mind, body and soul. It need not be extravagant, time-consuming or costly at all. 
I wanted to write this post because I know we all wish we could take better care of ourselves, do more of the things that make us feel good and improve our mental health, but we tend to think- "If only I had plenty of time..!"
But self-care isn't a privilege for only those who have a lot of time to themselves. 
I don't have a lot of time either and wish many times if only I had more than 24 hours a day to do all the things I want to do.
Still, there are so many things I enjoy and so many activities that help me take care of myself. 
In this post, here are 101 simple and quick 5-minute self-care activities to lift you up divided into 5 categories
5-minute self-care activities to feel good
5-minute self-care activities for the body
5-minute self-care activities for the mind
5-minute self-care activities for the soul 
Other quick 5-minute self-care ideas 
I obviously don't do all of them, but I sure do a lot of them.
All of these little 5-minute activities add up to helping me take better care of myself and make a big difference in my life by making me feel good and enjoy the little things in life.
I hope you enjoy them too.
Before I begin, here are my quick thoughts on how to do 5 minutes of self-care
How to do 5-minute self-care
Whatever you do, do it mindfully and with intention 


Take your 5 minutes as 5 minutes of total non-distraction and being full with whatever you do and enjoy your flow. 



When you do it, do it with a sense of gratitude for being able to do it. 
Even if it is just opening your windows and letting in the fresh air, do it with a sense of thankfulness for waking up to a fresh new day with 24 brand new hours.
Even if it just painting your nails, feel joy in having the time to do it. 
Even if it is just walking mindfully in your house, feel gratitude for your legs.
Even if it is just calling your parents, feel gratitude that you have them in your life while you have them. 
Once you have this sense of gratitude for little things, you will find that these little things are indeed big things.
You will find that it is these little 5 minutes moments of your day that take up so much space in your day that you can actually fill it and enjoy as 5 minutes of moments of ease, peace, lightness, love and care for yourself.
Remember, 5 minutes is a Gift.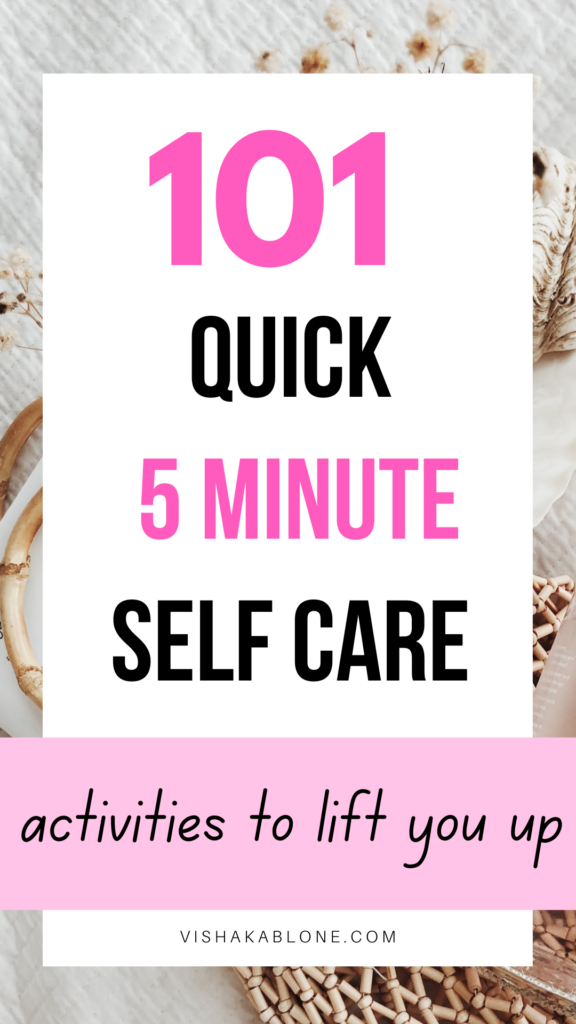 5-minute self-care Activities to feel good
1.Let the sun kiss your face
2. Open blinds and windows and let in fresh air
3. Look in the mirror and smile for no reason
4. Have a cup of tea mindfully with no distraction
5. Wash your face and feel the water as it splashes your skin and feel happy
6. Change your bedsheets.
7. Wear nice house clothes
8. Use an oil diffuser and make your room smell nice
9. Light an incense
10. Gift yourself flowers and don't forget to look at them closely.
11. Kiss your hands
12. Hug yourself and just be
13. List things you are grateful for each day before going to bed. A small tip- keep a small notebook and pen for this by your bedside always so you don't feel lazy to miss it.
14. Create a playlist you love
15. Soak your feet in warm water
16. Count your blessings literally or write them down
17. Water your plants
18. Wear nice sexy innerwear and feel good
19. Hug your partner
20. Call your parents
5-minute self-care activities for the body
21. Drink water
22. Take a mindful shower
23. Do a wonder woman pose 
24. Do a 5-minute Yoga Flow
25. Do sun salutations
26. Do cat cows
27. Put on lip balm
28. Apply a face mask
29. Apply makeup without rushing
30. Give yourself a head massage
31. Give your hair a mindful oil massage
32. Give yourself a foot massage
33. Paint your nails mindfully
34. Do a 5-minute stretch session. I love Mady Morisson on Youtube
35. Tidy yourself up and brush your hair in the morning
36. Eat a healthy snack
37. Eat fresh fruits
38. Make a salad
39. Brush your teeth
40. Lie down and rest
5-minute self-care activities for the mind
41. Breathe 5 mindful breaths
42. Go out and listen closely to the surrounding
43. Walk barefoot on the grass
44. Turn off notifications on your phone
45. Unplug from social media
46. Don't reply to messages instantly
47. Notice any sensation in your body
48. Make your bed
49. Clean your desk
50. Do some colouring
51. Read your favourite blog
52. Watch an inspiring video
53. Walk mindfully in your house
54. Do a quick 5-minute decluttering session
55. Watch funny videos
56. Sing out loud
57. Eat ice cream mindfully
58. Find images for your vision board and get inspired. P.S how to easily make a vision board
59. Read inspiring quotes
60. Relax and daydream
5-minute self-care activities for the soul
61. Pray
62. Light a candle and look at it closely
63. Meditate for 5 minutes
64. Journal for 5 minutes
65. Listen to positive affirmations
66. Look at the stars
67. Write down what you want to affirm
68. Write your own prayers
69. Read a scripture
70. Listen to mantras. I love this Prajna Paramita mantra and have learnt many mantras by heart because I love to sing them out loud and how it makes me feel and vibrate higher.
71. Take a short walk
72. Write down your happy future with full belief and excitement
73. Sit quietly
74. Cry your heart out
75. Call your best friend
76. Dance a happy dance. I love Pamela Reif's dance workouts on Youtube.
77. Write a letter you wish you could send to someone
78. Close your eyes, and only listen to music
79. Note down any acts of kindness you noticed recently.
80. Compliment your favorite Instagrammer / YouTuber/ blogger
Other quick 5-minute self-care ideas
81. Take a bath and change your clothes.
82. Fill your house with loud music
83. Wear a comfy hoodie
84. Don't use your phone when you get up in the morning. Here are other toxic things not to do in the morning
85. Sit close to plants. They bring happy vibes.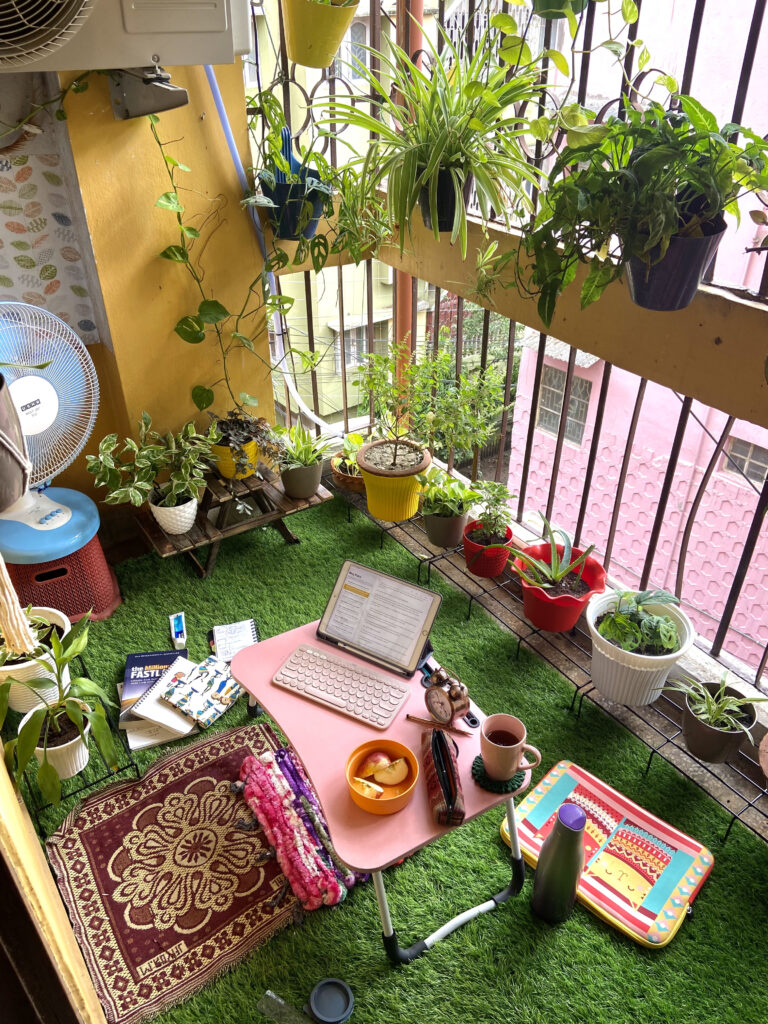 86. Eat your favourite chocolate and enjoy
87. Send a kind message to someone who'd need it
88. Put on warm lights in your bedroom
89. Fold your clothes
90. Cuddle with your partner
91. Cuddle with your pet
92. Plan your self-care day. Here are some Best Self-care Sunday Ideas
93. Decide on your morning routine. Here are the 5 things to add to your morning routine
94. Be kind to yourself.
95. Hug and kiss your children
96. Make yourself your favourite drink
97. Treat yourself to something
98. Order your favourite food and savour it mindfully
99. Find and read lovely poems. They are pleasures of life. Here is a recent favourite I came across.
100. Do whatever you're doing without any feeling of rush
101. Do nothing
So these were all the 5-minute self-care activities you can enjoy doing
Save for later 🙂
I hope you loved them and give them a try.
When you take care of yourself, you take care of the world.