Looking for the Best hobby ideas for adults?
Do you want to try out new hobbies? Or do you think of yourself as a person with no hobbies and would like to have one? Well, here are more than 50 great hobby ideas for a fulfilling life.
Yes, having a hobby makes us have a more fulfilled life.
In this really extremely fast and money-driven world where we constantly do things only for others or for the sake of money (whether we like the job or not), it is essential that everybody has a hobby they can come back to from time to time.
Without a hobby, life can get dull. Everybody now is complaining about not feeling joy in their life.
That's because there is no source of things that can make you feel renewed and rejuvenated or that which helps us connect with our inner child.
To create time for a hobby is to make wise use of our time making sure that we give some me-time and enjoy our own personal interests.
But as we grow up and become adults, we tend to inevitably lose our spark and joy about little things. So how can you find a hobby as an adult?
How to find a hobby as an adult?
1.Think about what interests you:
What are the things that interest you? Do you like cooking? Dancing? Spending time in nature?
What are the things you are searching for? What is in your YouTube search history or google search history?
What kind of things are shown in your feed? Who do you follow on social media? All these also say a lot about your interests and have potential ideas for finding your hobby.
2. What is it that you always wanted to do?
Do you think it is outrageous? Or not the right time? Or you don't have time? Or do you think you are possibly too old to do it?
If it is so, get those thoughts in the backseat and get the courage to pursue it again. If it is outrageous, it will be fun. There will never come a right time, and you are never too old to try something your heart always wished to do.
3. Go back to your childhood. Think about what you really enjoyed when you were a kid. Did you like collecting stones?
Did you like playing with mud? Did you enjoy painting?
Growing up we lose the childhood activities we loved doing not because we stopped enjoying but because we were taught to do 'other' supposedly more important things.
So reclaim your childhood again and find out if you still enjoy what you loved doing. The things we enjoyed as kids are mostly where you will find your passion and joy.
We are still the little kid at heart. Let us act in our spirit and not our age.
4. Take a class
Whatever interests you, see if you can take a class to learn more about it. Want to try macrame making? Take a class. Want to start writing your own short stories? Take a class on Udemy to learn the basics.
Want to learn swimming? Take a class. Want to learn yoga? Take a class. Make wise use of your time and find your hobby.
It's never a waste of time when you are doing things just for your own personal interest. It may not bring you any money, but you will get a huge Return on the time invested in the form of peace, joy, and improved mental health.
5. Experiment with yourself
Lastly, keep on experimenting with yourself. Keep experimenting in life. It is what will make life interesting. Become like a scientist and try out many different things. Then see what you actually loved doing.
Me, recently I came to know that I love gardening. I always wanted to do something with writing but didn't know how. Then I started blogging and I spent time learning, took many courses and read books to learn about it.
This has been the best thing I did for myself.
Why we should make time for hobbies
If you are privileged enough to spend hours on social media or watching endless series on Netflix, then you are also privileged enough to make time for hobbies.
I think taking out time to indulge in hobbies is a privilege we shouldn't miss.
And here is why I feel all of us should make time for hobbies
Making time for hobbies is making time for self-care.


Spending time on your hobby is spending time wisely rather than just laying in bed being bored and scrolling social media for hours on end.



Having something that you do that is not tied to your social status, money or work is essential for your own well-being. It gives us the satisfaction that helps us thrive in our hearts.



Having a hobby helps us reconnect with our inner child. We don't have to be perfect or exceptional. It just has to make you happy.



We must be like the child that is just happy to paint and make a mess but is still constantly giggling and is happy with what he is painting. That is pure joy. There is no competition and no need for it. A hobby is just for yourself.



A hobby will help you relax from the everyday monotony of life and gives you a chance to spend your me-time.



Having a hobby boosts your confidence, improves mental health and can also improve your performance at work.
Overall spending time on your hobby makes you a happier person.
What are good hobby ideas?
Here in this post, I divide the best hobby ideas for adults into these 5 categories
Hobbies to try at home
Creative Hobbies
DIY hobbies
Physical/ outdoor hobbies
Cheap hobby ideas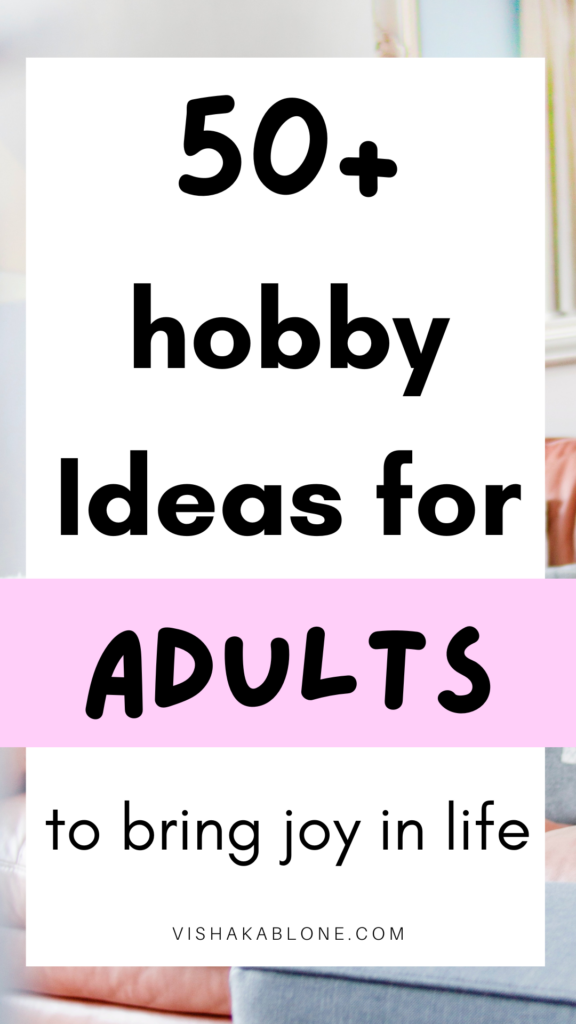 Hobbies to try at home
1. Gardening
It is one of my hobbies that has bloomed recently in life. I love taking care of plants, and it might seem like I am nurturing my garden, but in fact, it is my garden that is actually nurturing me.
Even if you live in the city and there is less space, you can still try gardening and start by planting a few plants for your bedroom or for your balcony.
2. Home Decor
I really enjoy decorating my home and creating peaceful spaces. It lets me enjoy and spend time more leisurely, inspires me and keeps me in a good mood.
In this post, I've even written about why I enjoy cleaning my home and not dread it.
3. Learn to upcycle
Upcycling is the art of reusing discarded objects or materials in such a way as to create a product of higher quality or value than the original.
Here are 10 creative ways to upcycle plastic bottles and how to upcycle furniture
4. Learn how to cook
If you enjoy cooking, then you can maybe join a cooking class to improve your skills.
Even if you don't enjoy cooking now, but would want to try your hand at cooking, take classes or make new dishes by watching Youtube, or getting a cookbook.
And don't forget to wear an apron, keep your kitchen clean and tidy, and always use the right tools. You can check out the Chefswear website for the latest in unique kitchen apparel.
5. Learn Baking
Many people absolutely love baking when they give a hand at it. Try it and maybe you will love it too. Here are 25 fun baking recipes
6. Bullet journaling
7. Nail art
You can try nail art if you haven't. Here are 40 simple nail art tutorial you can try at home
8. Makeup
Makeup is a wonderful hobby. Even if you are not much into makeup now, you can learn basic makeup and improve your makeup skills just for yourself.
9. Learn Calligraphy
Learning calligraphy can be an interesting thing to add to your life. You can write your favourite quotes in your own calligraphy that serve as a beautiful reminder.
I love Thay- Thich Nhat Hanh's Calligraphy and his work which served as beautiful reminders to so many people over the world.
10. Learn Coding
You have to have a computer science degree to learn to code. You can get books or take online courses to learn to code.
There are many people who learned coding on their own sitting at home and built apps that sold for millions.
It's all about the learning spirit.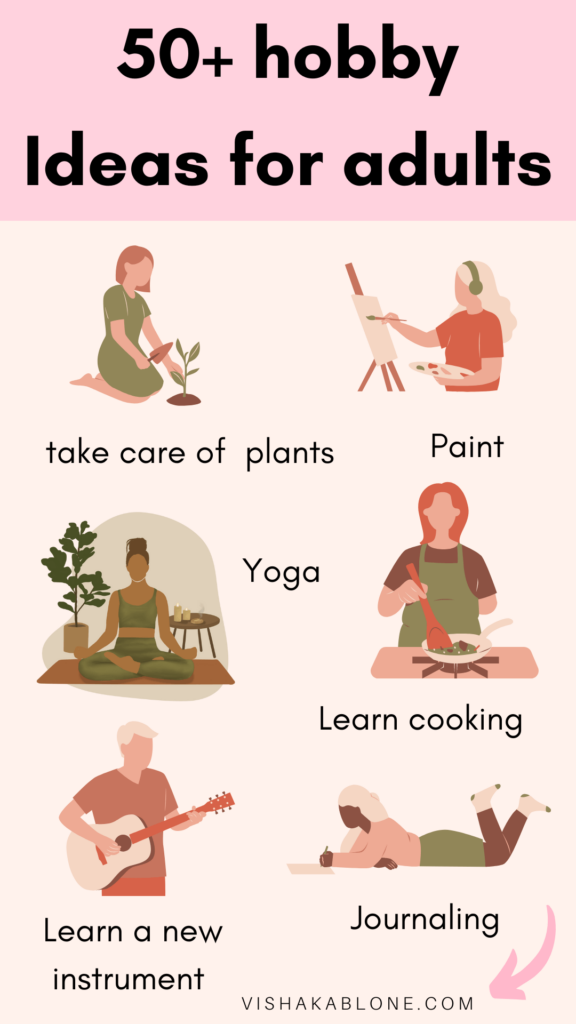 Creative hobbies
11. Start a book club
If you're into reading and would love to have like-minded readers join you and share their views, you can start a book club.
Here is everything you need to know about how to start a book club
12. Learn photography
If you love taking photos generally, then it might be an idea for a wonderful hobby. Take photography classes to learn basic photography skills or invest in a good camera and start taking photos.
Find your genre and what themes you love to take photos of.
13. Start a blog/podcast/YouTube channel
If you have anything to say or would want to share your thoughts and your life learnings with people, then start a blog, a podcast or a Youtube channel.
I started this blog because I really wanted to start writing for others since I had so many tips to give which have helped me in my personal growth journey.
14. Start scrapbooking
Scrapbooking is a wonderful creative hobby to preserve your memories.
Here is a video on how to make a scrapbook and ideas for it.
15. Try creative writing
If your childhood dream was to become a writer someday, start creative writing as a hobby first.
16. Hand lettering
Hand lettering is a wonderful form of art. Here is beginner's guide to handlettering
17. Tarot card reading
If you're into self-love, and self-help, and want to gain more insight into your intuitive powers, you can start tarot card reading as a hobby.
18. Writing poetry
You need not write long-form poetry. Just start by writing short poetries which are 3-4 lines.
19. Writing short stories 
Writing short stories is another creative hobby you can start.
20. Learn a new instrument
What instrument do you want to learn? What instrument are you really fascinated with? It's never too late to learn.
21. Pottery making
Anything that you create by yourself is being creative. Experiment with yourself and join a pottery-making class. This is really one thing on my to-do list.
22. Animation
If you like drawing cartoons, but it has moved to the back seat, then it's time to give it a try again and start your journey with animation.
DIY Hobbies
23. Embroidery
Want to start embroidery? It's a wonderful way to pass time and makes you forget all the worries in life. That's what hobbies do.
Here is a beginner's guide to embroidery
24. Glass painting
If you have glass bottles lying around the house, then you can use them for glass painting and propagating plants.
25. Crochet making
Here is a guide on how to crochet for beginners. This can be a wonderful hobby to start and you can make your own cute keychains, tops, socks, or anything you say!
26. Macrame making
You must be knowing Macrame is really in these days and you can start a new hobby by learning how to make macrame or you can take a class online to learn.
It just takes a weekend to learn.
27. Jewellery making
If you're fascinated with all things jewellery, then you can make your own pieces of jewellery like cute earring, studs, necklaces etc.
28. Candle Making
Here is how to make homemade candles for beginners
29. Origami
Origami is the art of paper folding that is often associated with Japanese culture. It's a nice hobby to have if you'd want to try it.
30. Soap making
Yes, you can make your own soaps and have a wonderful bath time. Select your ingredients and make your own soaps, shampoo, you say.
31. Basket weaving
Basket weaving is an ancient art which you can try as a hobby combining modern elements and design.
32. Sewing
Sewing is one of the oldest hobbies people had.
It is stitching cloth, leather, furs, or other materials, using a needle and thread. You can do it on a sewing machine, or by hand.
33. Making templates
This is a new hobby that one can have in this digital age.
You can make your own templates of cute prints and create your own habit trackers, daily and weekly planners, meal planners, your desktop and phone wallpapers and other stuff.
34. Ceramics making
Here is a wonderful and peaceful video on how to make ceramics at home.
Physical/Active Hobbies 
35. Swimming
You can try swimming as a hobby instead of just being a life skill everyone must have. Join a swimming class and go for a swim every once in a while.
36. Cycling
Get a cycle and start cycling around. During the Pandemic, so many people who got cycles and it became a great hobby for them.
37. Yoga
We all know the benefits of Yoga. You can learn Yoga and it will serve you wonders.
38. Archery
This is a unique hobby one can have.
39. Dancing
Select your genre and join a dance class even if you're not much into dancing. Dancing is a wonderful way to release stress and boost our mood.
40. Zumba
Or you can try Zumba. It not only keeps you physically fit and helps you lose weight but also makes you happy.
Moving our body is always a great mood lifter.
41. Ice skating
You can also do something extra and learn ice skating. It's all about experimenting with new things in life.
42. Skiing
Or you can learn skiing in your free time if this is a hobby accessible to you.
43. Running
Running can also be a hobby by itself. Set small goals and start running.
44. Lifting weights
Once you join the gym and start loving exercise, lifting weights can be a hobby for many people.
No wonder there are people who are always in the gym and wearing gym clothes all the time.
45. Rollerblading
This is also a unique hobby to have that will keep you up and active.
46. Bird watching
If staying close to nature fascinates you and you love being in the wild, bird watching is a great hobby to have and then describe your experiences in your notebook.
Cheap hobby ideas
47. Growing your own food
This is a great sustainable hobby to have.
Learning to grow your own food even if it is only some vegetables or herbs is a great start to living sustainably and helping in Climate change.
48. Learn a new language
Pick a language you always wanted to learn or would want to learn. You not only have a hobby but also a great skill added.
49. Learn to play the ukulele
Learning to play the ukulele is also another hobby that doesn't cost much.
50. Colouring
Buy a colouring book or colouring pages and start colouring. It's therapeutic and a great stress reliever.
51. Drawing
If you're into drawing, but don't give much time to it, then it's time to deliberately create time for your hobby.
52. Write jokes
If you know that you make people laugh and have a good sense of humour, start writing jokes as a hobby.
53. Journaling
Journaling is a hobby I feel all must have, If you want to start journaling, here is my own 21-Day Free Journaling guide you can join for self-discovery, healing and self-growth.
54. Coin collecting
Collect coins as a hobby if it's something that interests you.
55. Stamp collecting
This is also one of the oldest hobbies people had. Collect stamps from places you visit.
56. Explore where you live
We usually take the places we live so close to for granted. If there are places around your home you haven't visited yet, then explore the places around as a hobby.
57. Genealogy
Genealogy, the process of tracking your ancestors and where you came from can be a great hobby in itself. You will learn so much about your own history and develop a sense of gratitude for the ones who were extensions of you.
58. Reviewing movies
If you love watching movies, then reviewing movies is a good hobby you can have.
So these were all the hobbies you can try as an adult
Save for later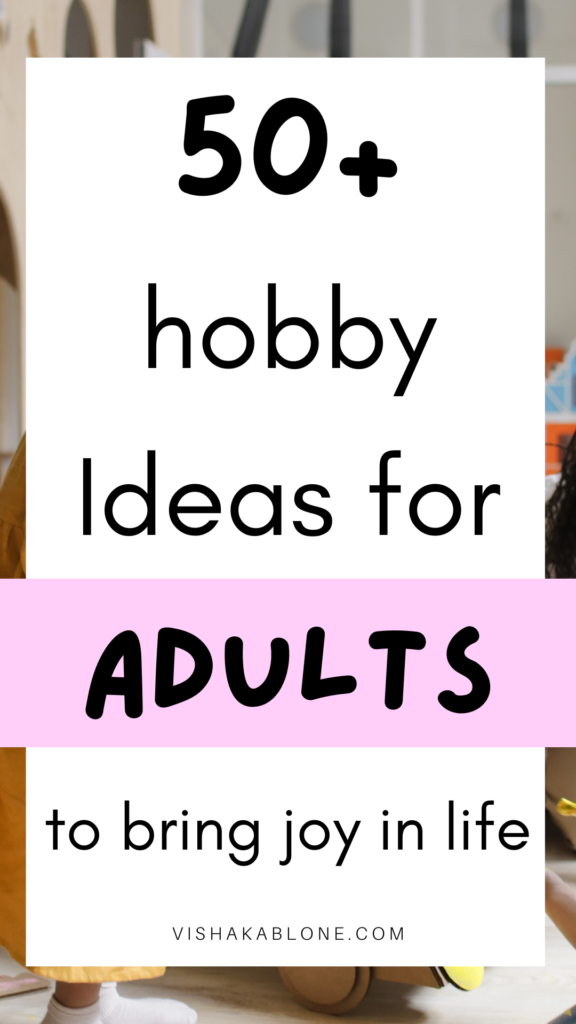 I hope you experiment and make time for your hobby and enjoy your leisure time just for yourself.
Related Posts: