Do you love using Instagram? I do..! There are so many wonderful content creators out there.
Who we follow on Instagram, Twitter, and YouTube can play a big role in what we're feeding in our minds.
Most of us are always using Instagram and checking it every other minute. Though this is something I wouldn't like you or me to do, I think we all have our personal favourite Instagram accounts.
I think we also come to know a lot about a person from what Instagram accounts they follow.
Below are my favourite Instagram accounts from writers, illustrators, memes page, couples page and also dogs page.
I love seeing content from them on my feed and I'm always saving them, sending it on DM to my friends or taking screenshots of them.
If you're not following them, do check them out.
P.S this post is not sponsored. I just wanted to share the accounts I love, but it does have some affiliate links to some of the things I think you might love.
My favourite Instagram accounts
Yung Pueblo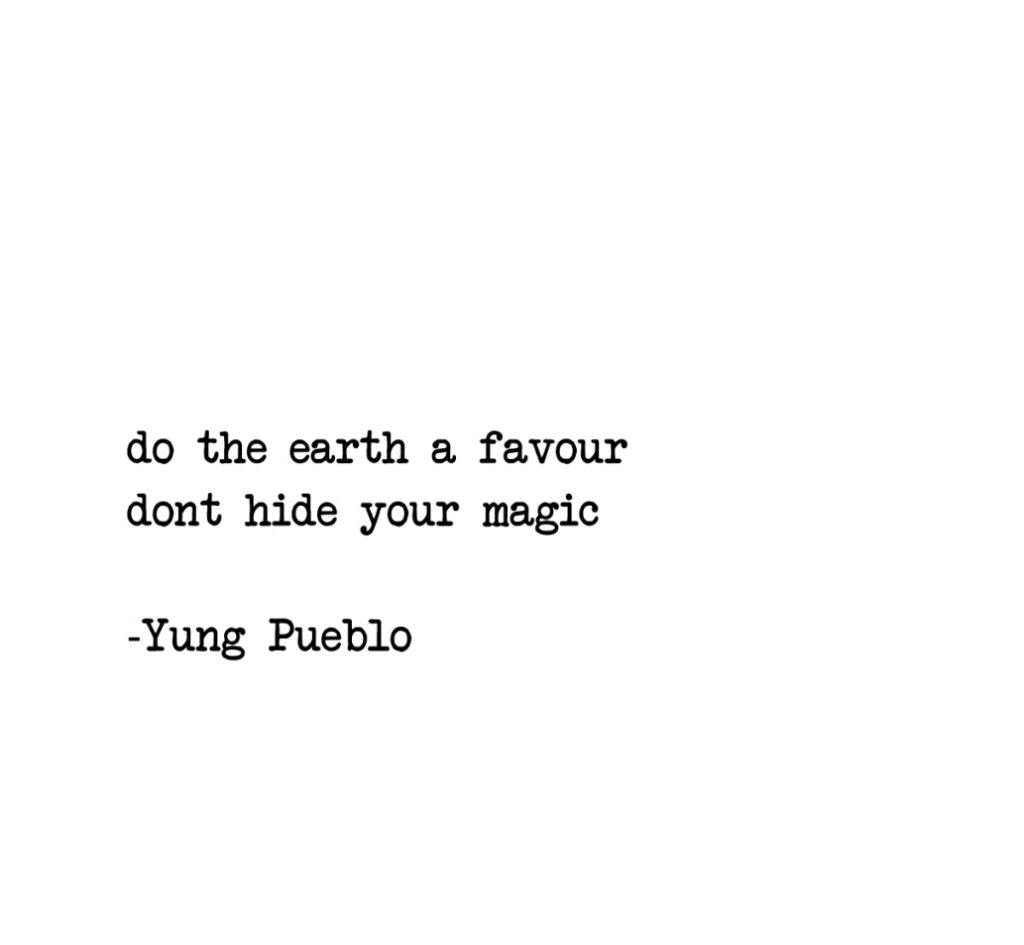 I love Yung Pueblo's works. He is a fellow Vipassana Practitioner and his words spread so much peace and teach us how to live freely, let go, heal our past wounds and transform ourselves.
I've been following him from the time he was just starting to get traction on Instagram, and honestly, I love his words which give such simple teachings.
Now he is a best-selling writer and his third book, 'Lighter' has recently come out. I'm looking forward to having his poems and writing in my hands.
P.S If you'd like to buy his books, click on the image below
Maryam Hasna
Maryam Hasnaa– is another powerful writer I love on Instagram. There are so many words of hers I have saved and kept in my screenshots and quotes folder on my phone.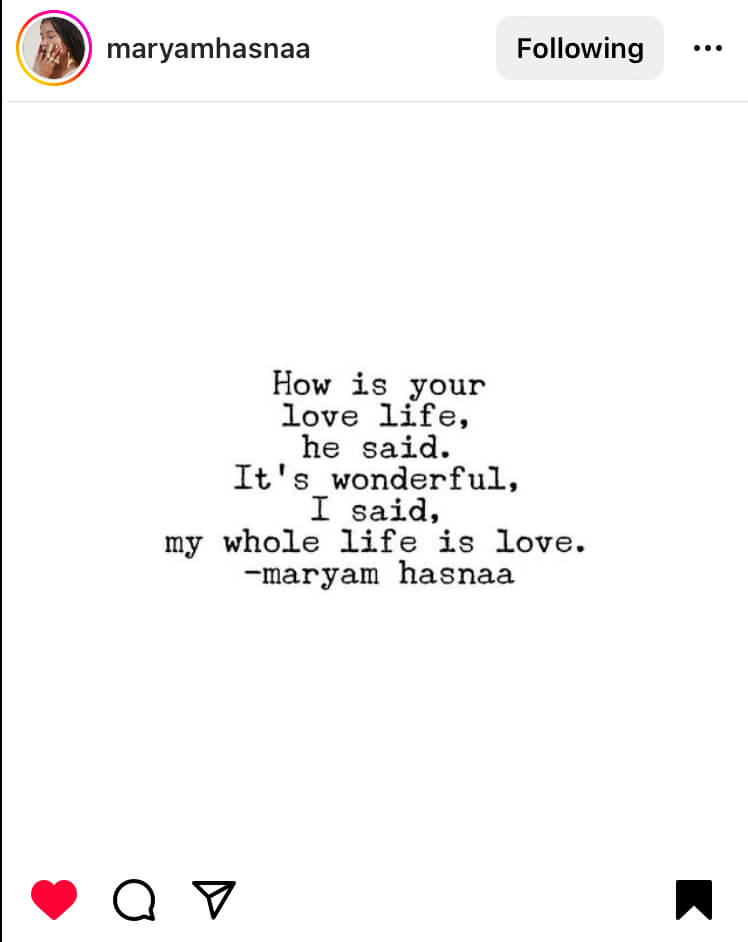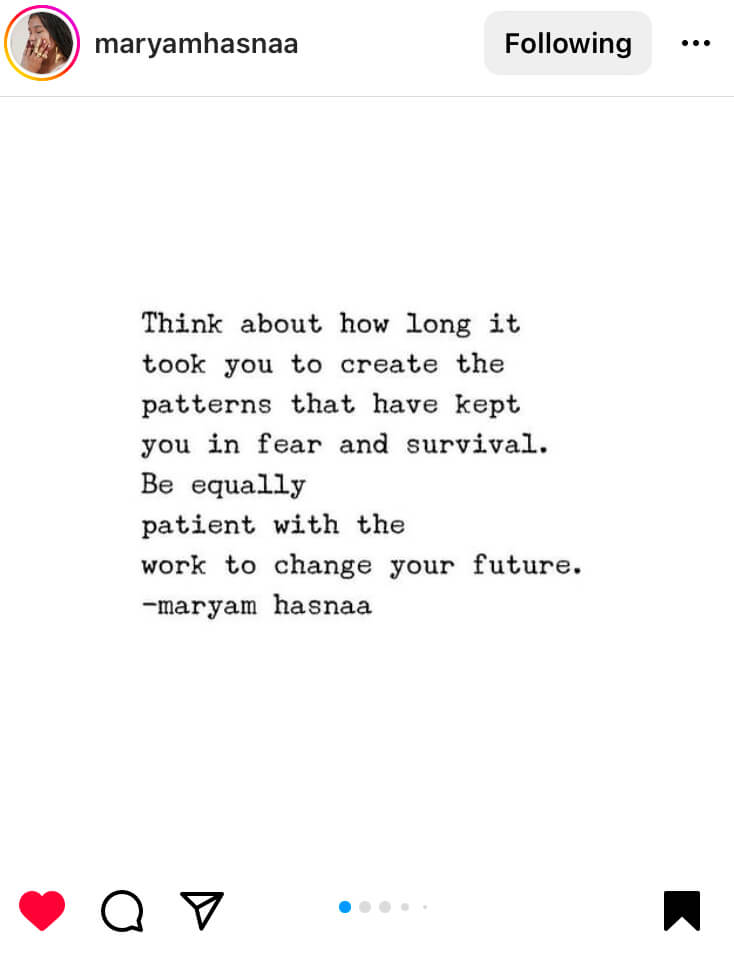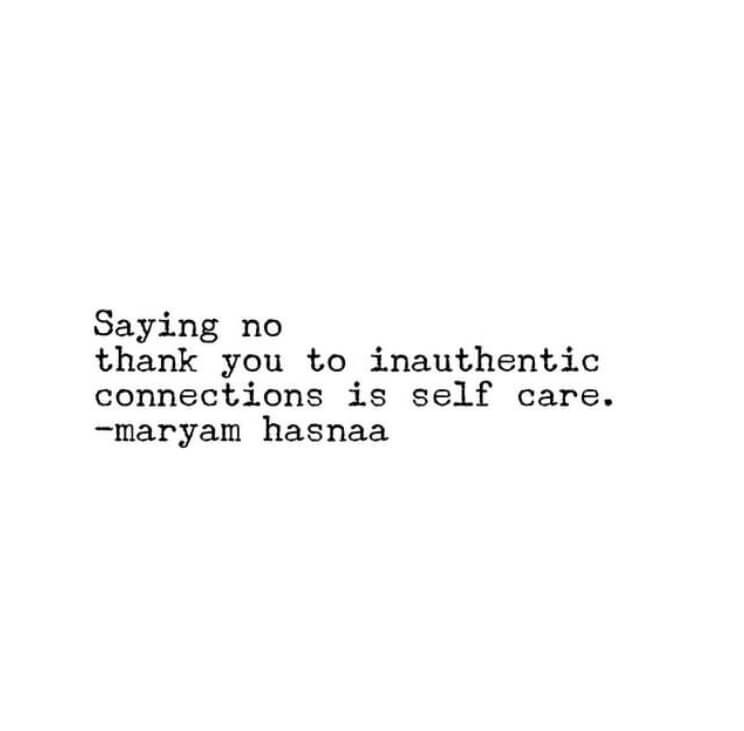 Her words remind me to step into our power and be my authentic self. And on this note of self-care and being kind to yourself, here are some posts you might love to try.
Cup of Jo
Cup Of Jo is one of my favourite blogs and I visit her site every now and then. I love the community she has built and how she is her true self and shares about real life and real issues.
On Instagram, she shares some of her reader comments and I love to read them. They're sweet, funny and inspiring.
You might love to visit her blog, Cup Of Jo too. Don't forget to read the comments!
I simply love her blog and I gained so much inspiration for how I want my blog to be when I came across her blog.
Here are some of her posts I loved:
New Happy Co
Oh! I love this page for its illustrations, the reminders it gives and its captions.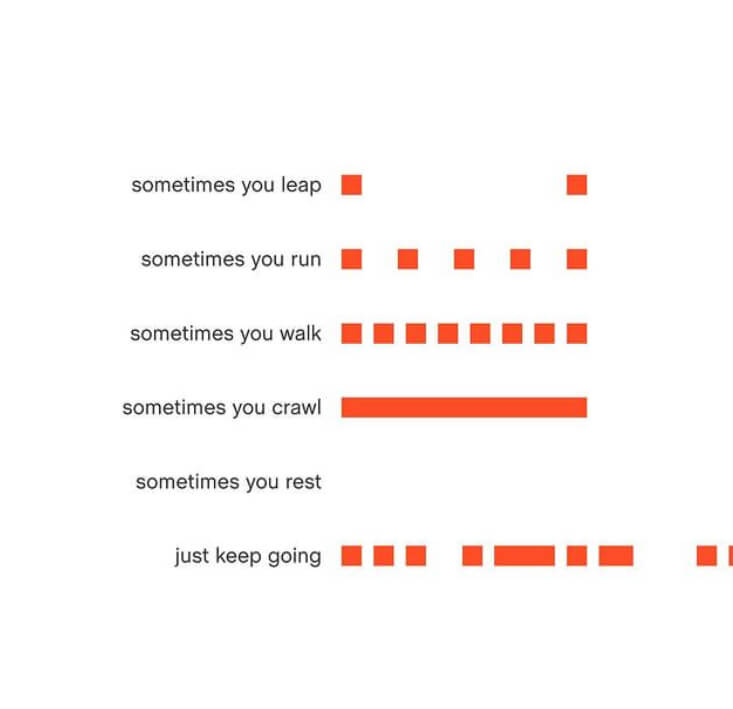 Yes, Just keep going and keep returning to yourself every time you fall back.
This is similar to what I had written in one of my blog posts- The power of accepting off-track moments.
If you're into self-improvement, progress, spirituality and all things self-care, then you will love NewHappyCo
P.S Here are some posts to help you write down your thoughts and start journaling. It really does work wonders
LizandMollie
LizandMollie is another favourite Self Improvement and productivity-related Illustration page of mine.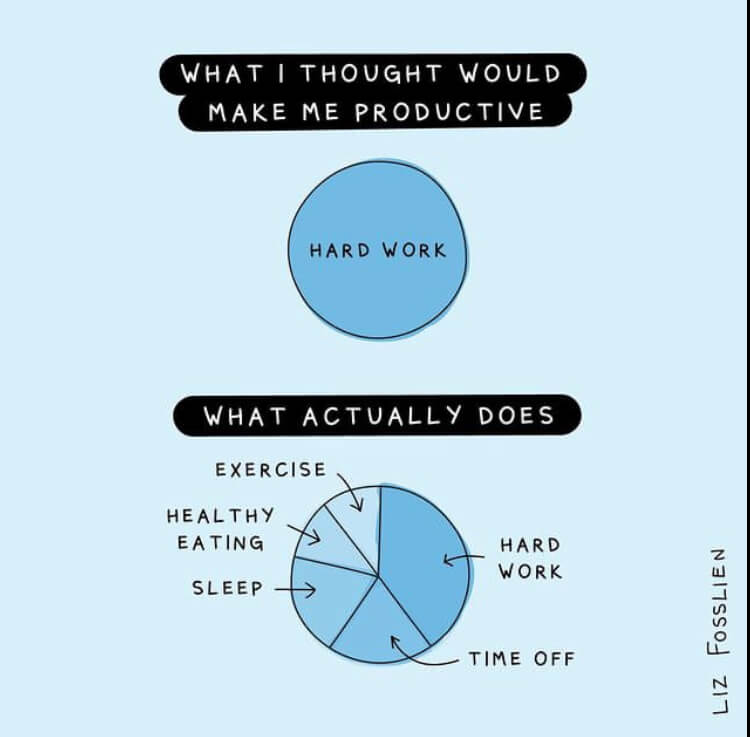 How true is this!
And to help you, here are some posts you might love:
And, I love this illustration so much!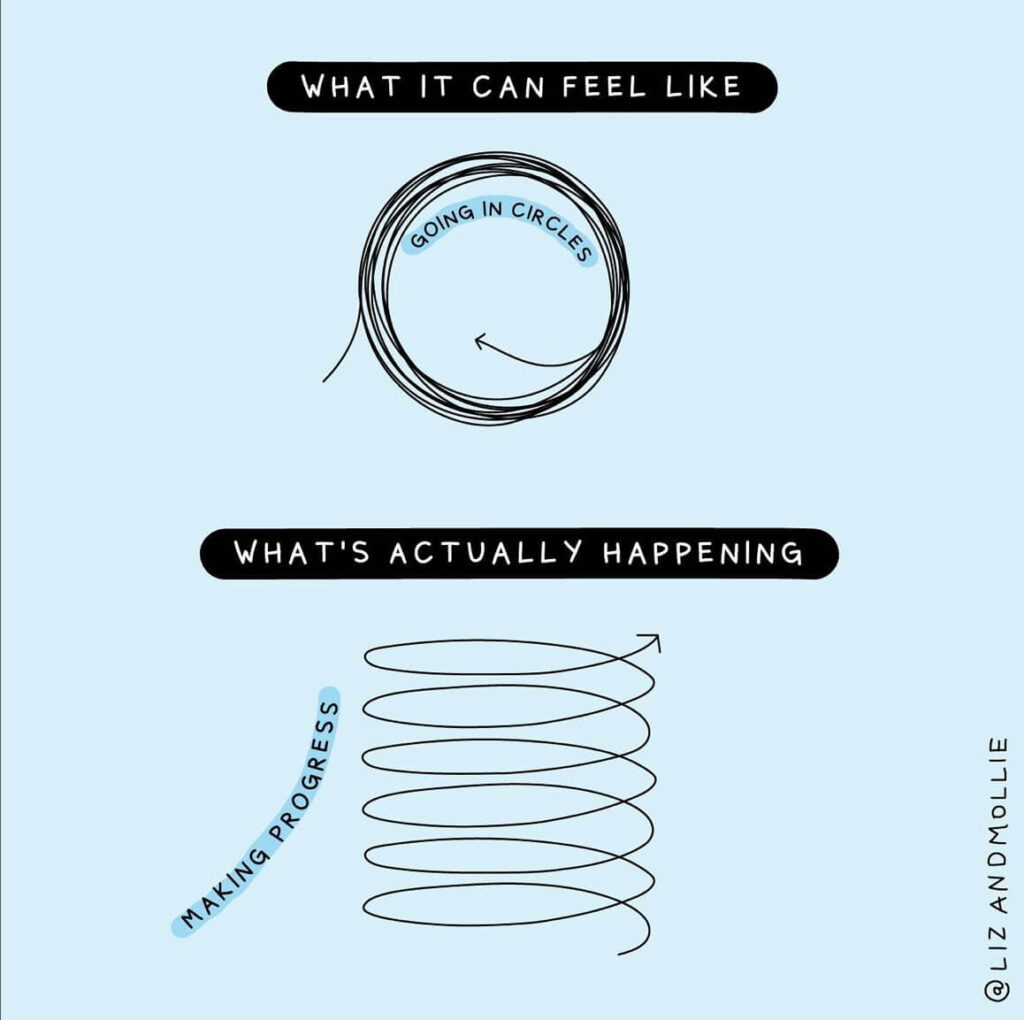 We think we're running in circles, not seeing any results and going nowhere, but this is how we are spiralling.
Also, here are some related posts you might love on a similar note
Charlie Mackesy
If you're following Charlie Mackesy's art and her wonderful writings, then you're missing out on something really wonderful.
Her art will make you want to love life even amidst all the sufferings and makes you want to be gentle to yourself on your journey.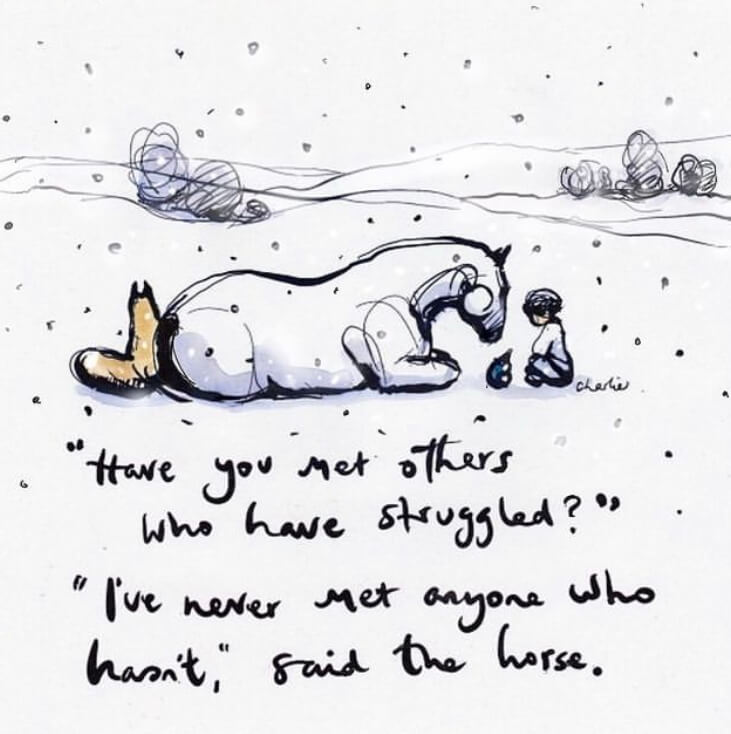 Wonderful how art makes us feel and give us so much strength to us. I am thankful for the art she gives to the world.
She also has a book, 'The Boy, the Mole and the Fox' which you can buy for yourself to serve as beautiful reminders, or this book could also be a thoughtful gift to give your friends and loved ones to put a smile on their faces.
Threeundertherain
I love Threeundertherain for their sweet comics about her and her partner. It always feels so relatable to me and my partner.
My boyfriend is not on Instagram so I am always sharing the screenshots and sending them to my boyfriend. It makes us smile.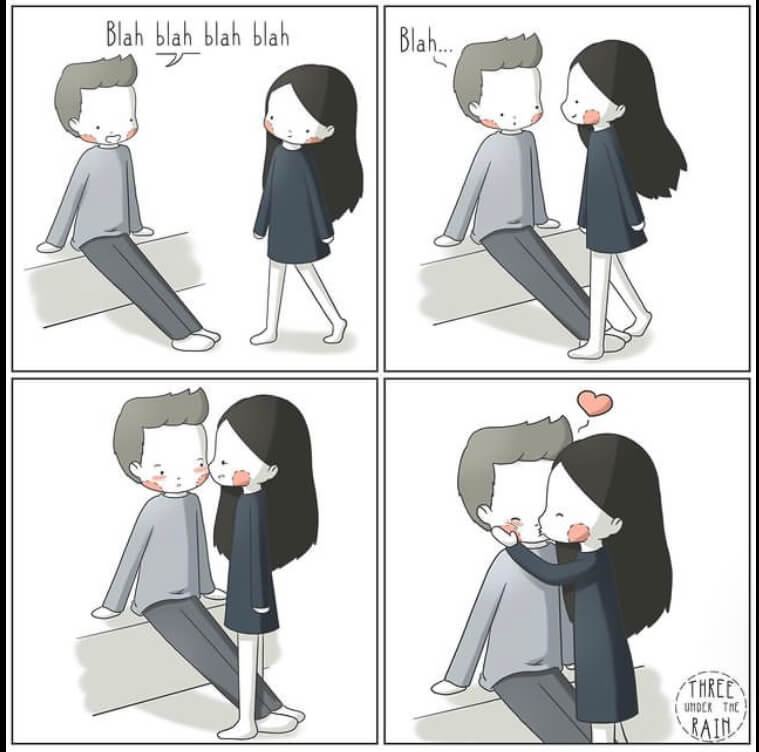 So cute! Aren't they?
I love love. I love to love and love to be loved by my partner.
P.S What are some sweet, loving and annoying things about your partner?
Catana Comics
I am all about love and love to see sweet love things.
Catana Comics is another page that reminds me of the beautiful and loving bond I have with my sweet love.
This is exactly how I feel about Gee.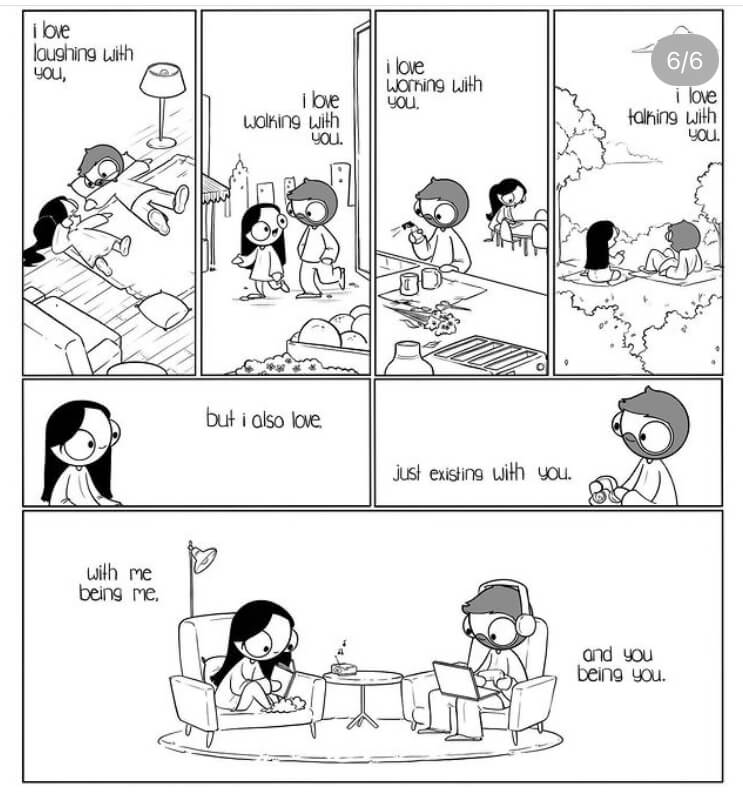 They also have a book, Little moments of love which you can keep for yourself or gift your boyfriend to see them together.
Here is the image link for it.
Buddha Doodles
I think I have been following Buddha doodles since the time I joined Instagram back in 2014.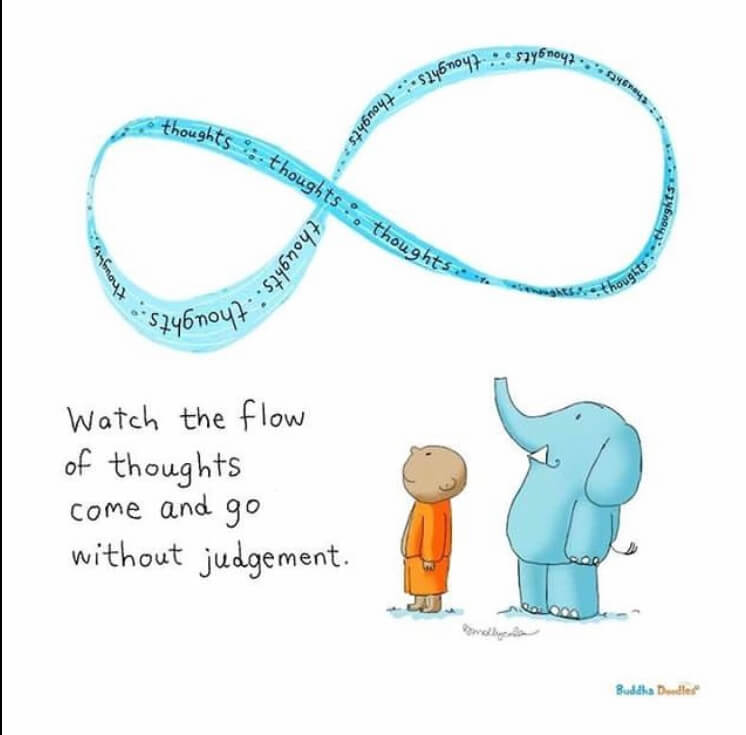 I love her art and the simple reminders of love, friendship, mindfulness and kindness.
I have drawn many of my art by looking at her pieces because I love them so much.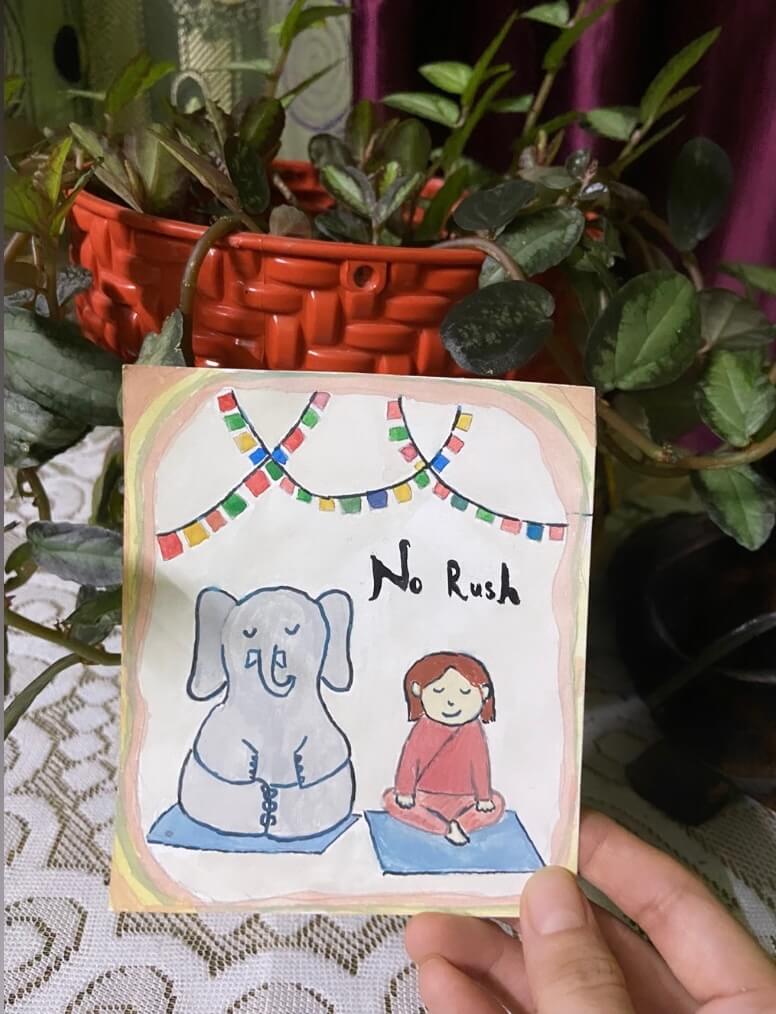 And coming to 'No rush', on a similar note, here are some posts you might love
Here is a gratitude journal from the creator you might love.
Interioryesplease
I am in love with pretty houses and love seeing them on my feed for inspiration.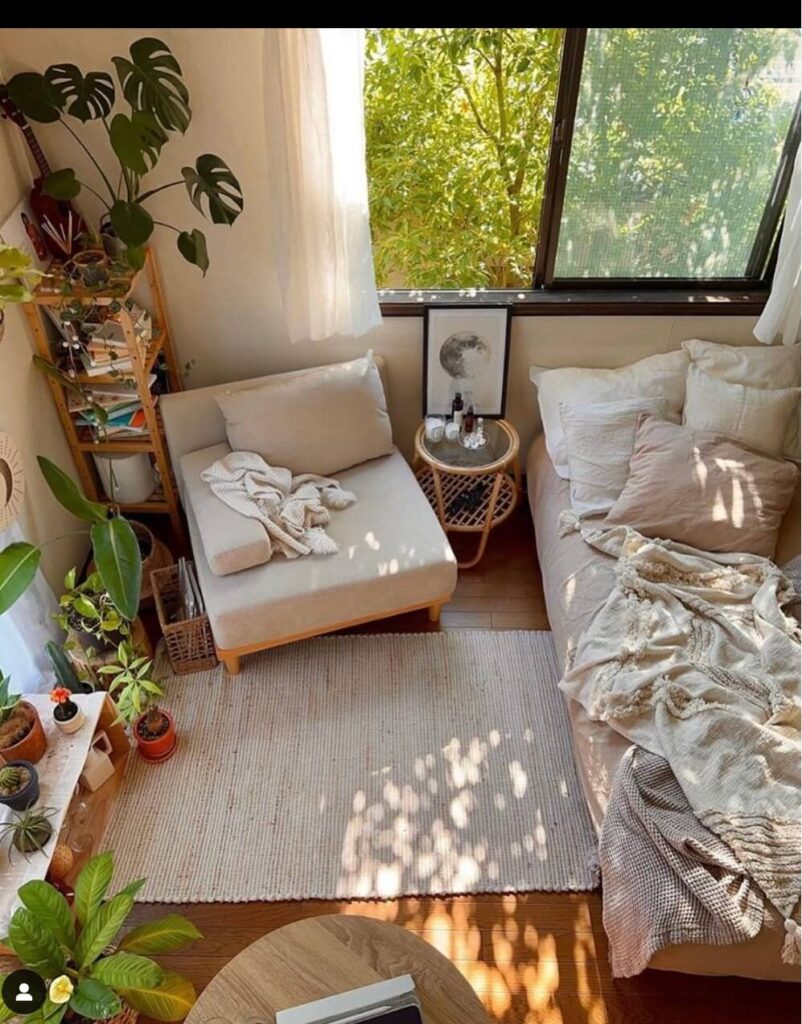 I love this page Interioryesplz for this reason.
I dream of having a beautiful home with cosy rooms and lots of plants.
Sister Cody
Coming across Sister Cody's art is a delight. It teaches us mindfulness, spirituality, and lightness.
He is all about love, acceptance and being in true alignment with ourselves.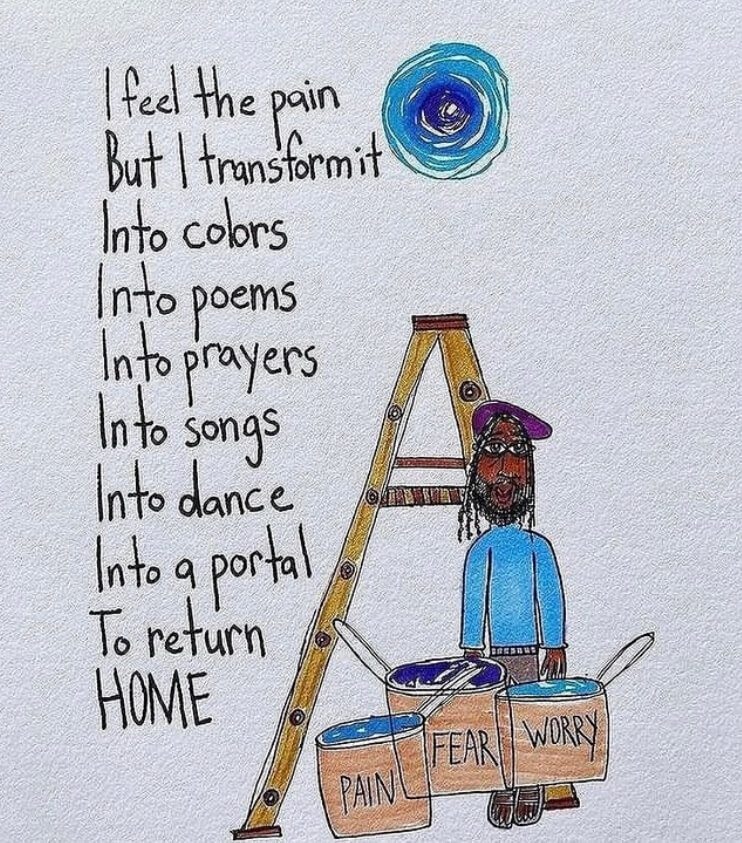 JonHillstead
I just love his energy so much. He shares about manifestation, gratitude, how to live your best life and living according to your true nature.
His posts are only reels and I just love them so much. His energy is magnetic, and I can feel it even while I am just watching him through my phone.
The joy and lightness with which he moves just shows, and I am so happy for the life he has created for himself.
Check out his Instagram profile here.
Steve Mccurry
I am sure you know of Steve McCurry, who is one of the world's most famous photographers. His photos make you stop at look at it for a long time and make you feel that you are seeing it through your own eyes, at least I feel so whenever I see them even on Instagram.
I can't explain how, but it does.
Wawawiwa Comics
Wawawiwa comics is a sweet comics page sharing sweet and cute comics.
I love the perspective of the creator. His comics always leave a smile on my face. It's just so cute and leaves me feeling, 'awwww..'
Girls
I also love the 'Girls' page for the memes it shares after all I am a girl and I love to laugh and have fun. There are also so many other funny meme pages I follow.
I recently came across Capricornmemes and spent almost half a day in my college looking at Capricorn memes with my fellow Capricorn colleague. lol.
GaalaParis / sophiemoulds
I love pretty and elegant dresses and I love seeing women who dress nice and elegantly.
I love the dresses by GaalaParis and wish I could get such dresses easily here in India as well.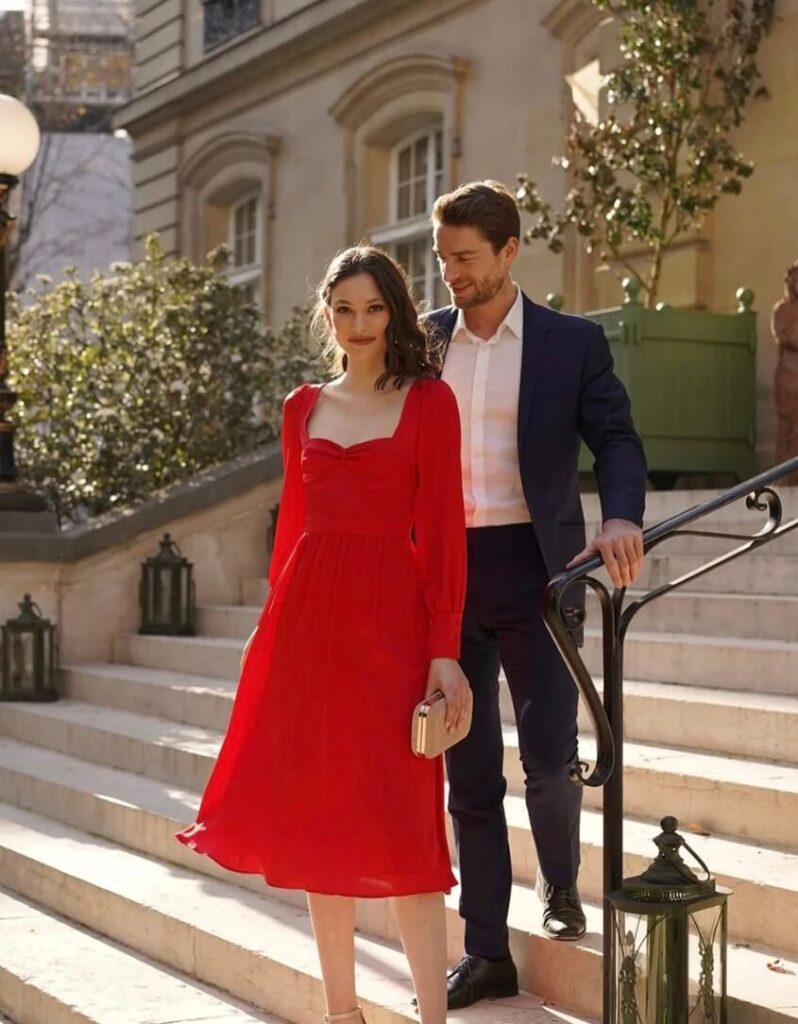 I also love Sophie Mould's fashion content and how she looks stunning in everything she wears so effortlessly! They are my fashion inspiration.
Also, I can't wait to visit Paris wearing such pretty dresses and roaming around there.
Law of Doggy
Lastly, who doesn't love watching funny doggos and animal videos? My Instagram and Facebook are filled with them as well, and my favourite is this page, law of doggy.
I enjoy them so much that I also end up binge-watching these reels and videos sometimes.
So these were some of my favourite Instagram accounts.
There are still so many more.. morganharpernichols, itsnata, nedratawwab, dinosandcomics, aolanow, propheta, and others.
Who you follow on social media matters. What you feed your mind with matters.
I am thankful for all the creators out there who share so much of their energy and love in what they do to make us feel happy, heard and inspired.
I truly appreciate what they do for I know how much it takes to be true to yourself first to enable others to be true to themselves and how much it takes to inspire yourself to enable others to feel inspired.
So, Thank you, even if you don't know this post exists!
Also, Do follow me on Instagram if you'd like to 🙂
You might also love