Want to know productivity techniques like pomodoro?
Well I am no productivity expert, but over the years I have found some great productivity techniques and productivity methods that have helped me increase my productivity and get things done.
In this post I have made a list of the 10 top productivity techniques from experts to help you adopt the right method and technique that might work for you. The productivity experts sure know how to get things done and how to make them done easy!
I have adopted some of these productivity methods listed here and they have helped me hugely in doubling my daily productivity and in getting things done.
So without any delay, here they are..
Pin for later
1. The Eisenhower Box
The Eisenhower Box or aslo known as the urgent-important matrix, is a simple productivity technique given by Dwight Eisenhower.
It is a simple decision making tool which asks you to make a box with four squares and then divide and categorize tasks into the four boxes according to its priorities.
The four boxes you need to categorize your tasks into are
Important and urgent (Tasks you need to do now)
Important and not urgent (Tasks you need to schedule for later)
Not Important and urgent ( Tasks you can delegate to someone else)
Not Important and not urgent (Tasks that can be Deleted)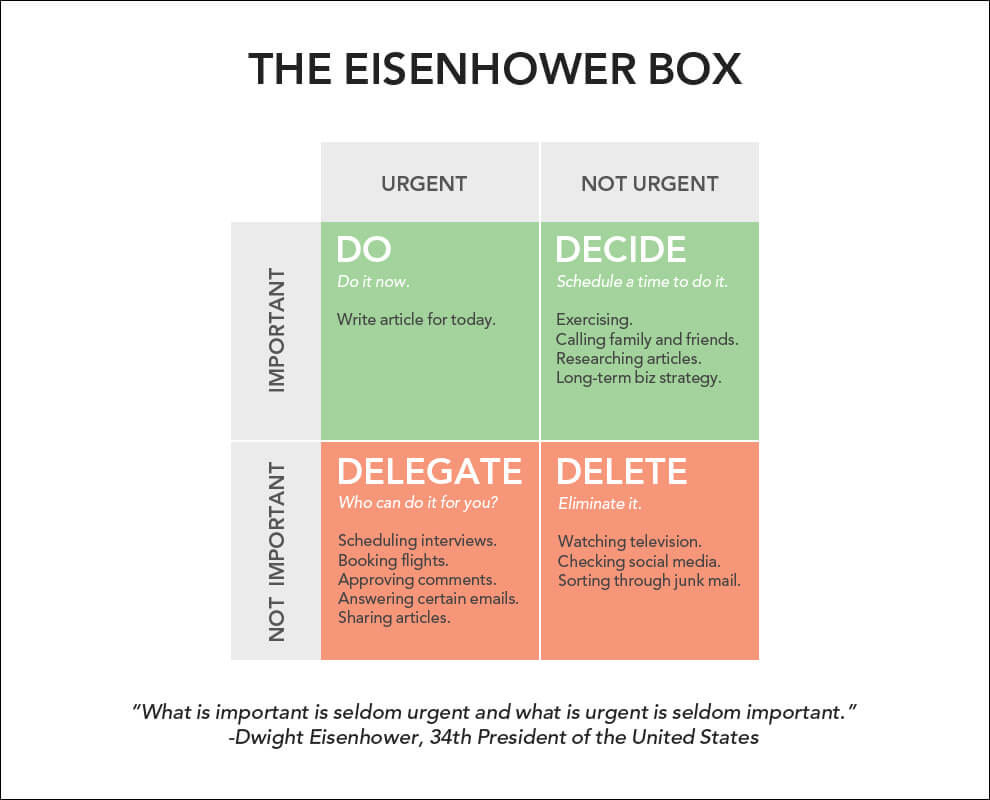 Before you straightaway decide what tasks you need to be doing in order to be productive, here is a thing you need to take care of-
Understanding the difference between what is Urgent and what is Important.
Like Eisenhower himself says,
"I have two kinds of problems: the urgent and the important. The urgent are not important, and the important are never urgent." — Dwight D. Eisenhower
Too often we feel that we are being productive if we just did the urgent tasks like responding to one email, returning to a phone call or messaging someone back.
But true satisfaction comes from fulfilling important tasks that are not urgent- hence you need to schedule it right away- fix a time for when you are going to do it.
"Important tasks are things that contribute to our long-term mission, values, and goals."- Brett McKay
2. The 2 minute Rule by David Allen
The 2 minute rule is easy and simple. In the words of David Allen, the famous productivity expert in his book, 'Getting Things Done' writes, 'If it takes less than 2 minutes, do it now'
This rule not only helps you to stop procrastinating but is also awesome in building and sticking to new habits.
Typically any habit that you start or any task you're most likely procrastinating can be broken down into a 2 minute task
For example if you're procrastinating reading, then 'Open the book' takes you less than 2 minutes of your time and you can get it done once you show up.
If you need to write one article, then 'sitting down in your desk and opening your laptop' takes you less than 2 minute of your time.
If you're procrastinating going for a walk, then tying your shoelace takes you less than 2 minutes.
Whatever it is, break the tasks into 2 minutes and you'll show up to get things done. This productivity method will surely help you to stop procrastinating because it makes it so easy for you to show up!
3. The Time blocking Method
The secret productivity method of experts like Bill Gates and Elon Musk- Time Blocking!
Time blocking as the word suggests asks you to divide your day into small blocks of time where you assign a specific task or a bunch of similar task to get done in the time block.
This is one productivity method I follow daily and the reason why this is so effective is because it not only assigns your to-do list but also when you plan on doing them.
It lets you start each day with specific time blocks with specific tasks. I have found it great as it keeps my day organized and I can start my day with better focus and productivity.
4. The 'Don't break the chain' method by Seinfield
This is yet again a simple yet powerful productivity technique given by one of the most successful comedians of all times.
In an interview on Lifehacker when we was asked if he had any tips for a young comic, he said- 'write jokes every single day'. Period!
For this to work, you need to get a big wall calendar to hang where it is prominent.
Next you need to get a big red marker and for every single day that you write- put an X over that day.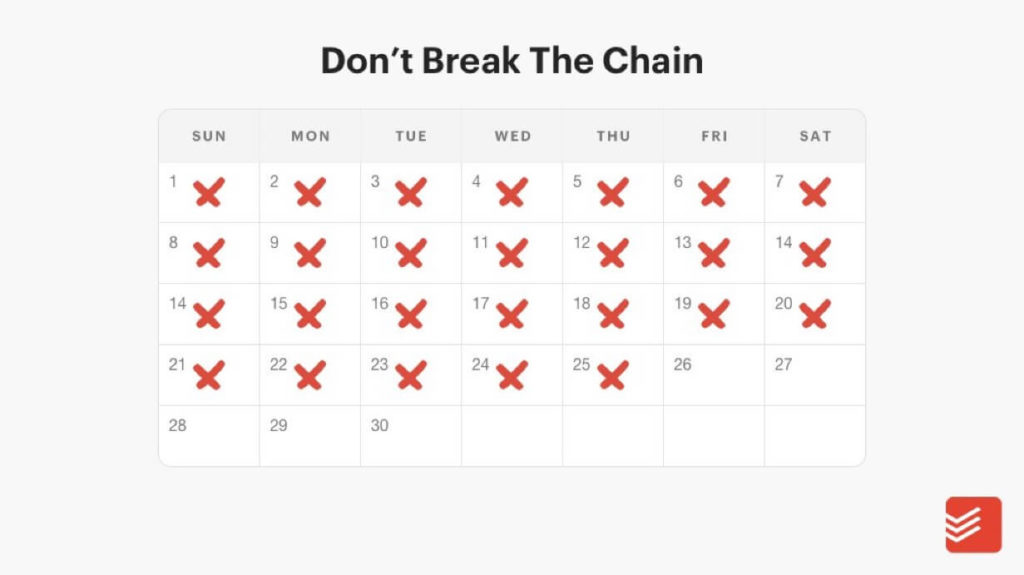 "After a few days you'll have a chain. Just keep at it and the chain will grow longer every day. You'll like seeing that chain, especially when you get a few weeks under your belt. Your only job is to not break the chain."
So in short, for this productivity technique to work, you need to find your one commitment you need to do every single day for your craft and simply, don't break the chain!
5. The Pomodoro Technique
In the Pomodoro technique you don't break down your time into blocks but instead you break your tasks into 25 minute time blocks.
For the pomodoro technique, you choose a big/ medium task or batch similar small tasks to do and then set a timer for 25 minutes.
After every 25 minutes, it asks you to take a 5 minutes break.
After about 4 Pomodoros, you can take a longer break for 30 minutes or so.
Here is an article on why pomodoro works the best and how to do it
Do this till you finish your task.
I follow this productivity method whenever I need to work on a task. For example, as I am writing this post, I have set a 25 minute timer on my phone while I avoid all distractions.
6. The Compelling scoreboard method by Cal Newport
This productivity method is something I came to know about recently from the book 'Deep Work' by Cal Newport.
This productivity technique asks you to keep a visible scoreboard of how much focused time you are giving to 'deep work' or your priority in a day or week.
I have just started with implementing it and here is what I do-
When I have to write and complete a blog post, I first set up a 25 minute timer
For every 25 minutes of focused work using the pomodoro method, once it is done, I put a small circle in my sticky note for the day.
When I actually finish writing my blog post, I cross out the circle on which it was completed so I know exactly how many circles of focused time was required to complete a blog post.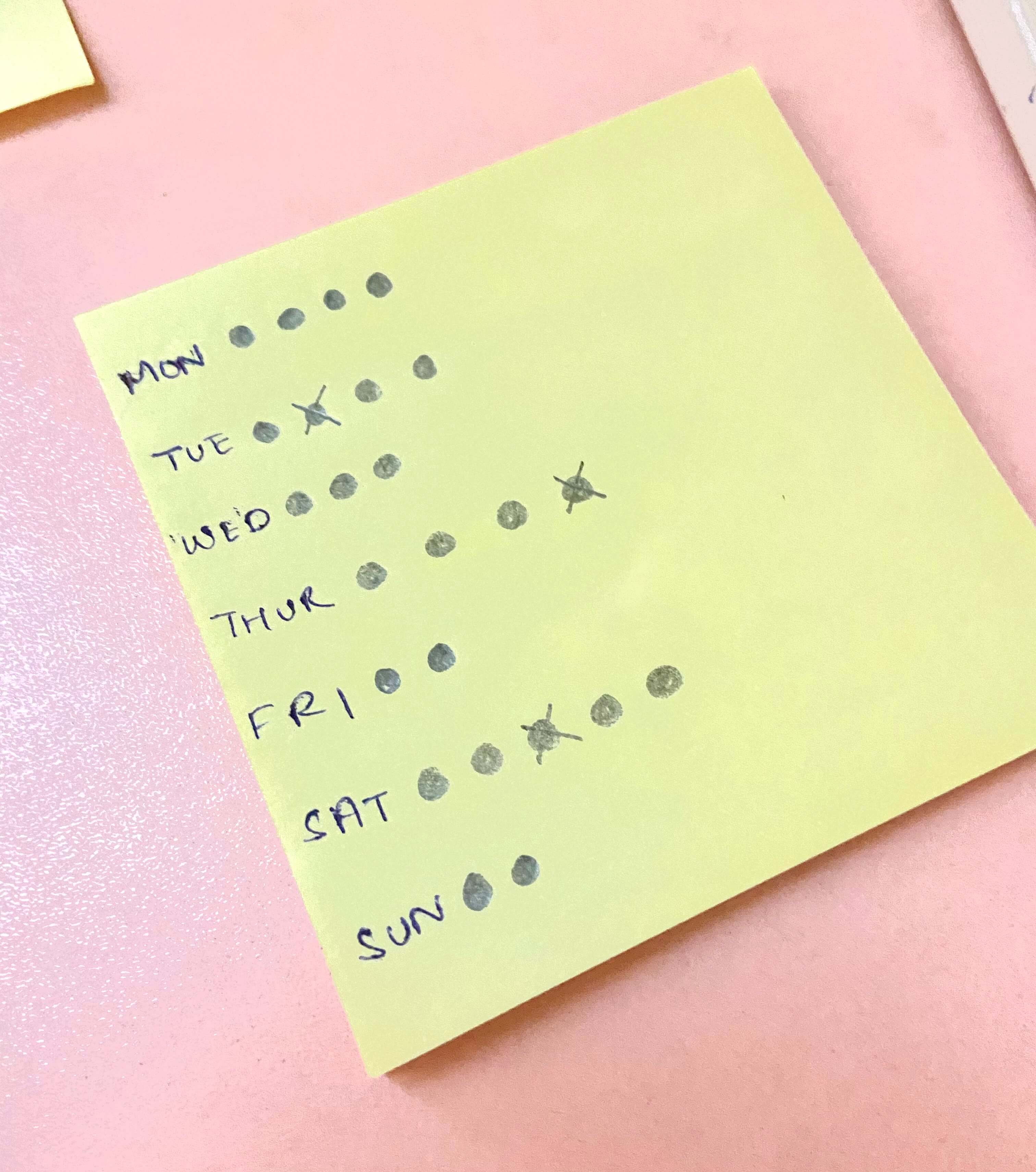 I have found out that it takes me around 4 circles, i.e 100 minutes to complete one blog post.
You can use this technique to know how much of focused time it took to complete studying that one chapter or writing a chapter of your theses, or anything!
This simple productivity technique can help you stay focused, keep you motivated and actually let know how much of deep work you are doing each day and each week!
7. The Ivy Lee Method
The Ivy Lee Method is a simple productivity method you can use for your daily routine.
This asks you to list down 6 tasks that you need to do tomorrow at the end of each day.
Just six and not more than that in the order of its priorities.
The following day, tackle the first task and after completing move on to the next.
If any tasks are left unfinished at the end of the day, add to your list for the next day.
8. Warren Buffet's 2 list Rule
Warren Buffet's 2 list rule or 5/25 rule is a famous advice given by Warren Buffet to narrow down on goals and learn to say No to what is not important.
This rule asks you to write a list of your 25 goals. After writing down your 25 goals, you need to circle the 5 goals which you consider the most important.
These are the 5 goals you need to work upon right away. The rest of the 20 goals you can forgo right away and simply focus on the 5.
For the 5 goals that is most important, write down 5 activities that help you get closer to that goal.
Those activities need to be visible, which means that you need to be able to clearly visualize yourself doing them.
This will help you get closer to your goals.
9. Wake up early and 'eat the frog'
'Eat The Frog' comes from the famous productivity expert from his book 'Eat the frog'.
But how do you eat the frog?
Here is how to do it.
When you eat the frog first thing in the morning you will always be productive no matter what.
Before you get a chance to say no and procrastinate all through the day, you have already done your task and you can go on your day smoothly!
10. Keeping a list of incoming task
Lastly, another great productivity technique is to keep a separate lists for incoming tasks.
I don't know about you, but for me everyday while I do my tasks and try to focus on one thing, numerous tasks magically crops up.
We tend to tackle them immediately or get disrupted by it and then it reduces our focus making us feel demotivated and unenthusiastic about our main task.
A good way to deal with it is to keep a separate list of your various incoming task when they come.
Finish your task at hand first and then adress them in a 25 minute pomodoro one by one.
So these were some of the top productivity techniques you can use to increase your productivity.
I hope you found them useful as much as I did when I found out about them.
Happy productivity!
Pin for later 🙂
Related Posts on increasing productivity