My Annual Review for 2021
Every year in December at the end of the year I like to assess my year as a part of my annual self reflection process. I shared my first annual review of 2020 here on the blog last year, and I will be continuing with this practice for as long as I can.
I shared about 10 questions to ask yourself at the end of the year, the answers to which I wrote to myself in my journal, but for today, for my annual 2021 review, I will be answering these 3 questions just like last year.
What went well this year?
What didn't go well this year?
What did I learn this year?
I am sharing this publicly, not because I want to show off or make comparisons, but just so that I can be transparent in my journey.
All of us are in our own personal journey, and this post is just a personal account of me. I highly encourage you to do this practice for yourself before the new year.
This is going to be a bit lengthy post, as I review each of the things in detail, and go through some written accounts in my diary.
I am also writing this actually for myself, so I can have something to look back to each year, and see my progress more visibly.
So let me begin..
P.S Affiliate disclosure: Some of these links are affiliate links. If you purchase from my link, I'll earn a small commission at no extra cost to you.
What went well this year
Blogging
I started this blog last year in 2020, and I saw no results untill the first half of this year.
In my diary on 5th Jan 2021, I had written this…
'I have plans for myself, for my blog, but I some how feel scared to try. There is always a question of failure. I know nothing great can be achieved as long as we stay in certainty, but I realise now how difficult it is to go out into the world and really show the world what you do.
'You are openly giving yourself the opportunity to be vulnerable, as well as to be successful. I think that is the price to pay. Those who are not afraid to make mistakes are truly the courageous ones'
'More than a work against skill and talent, its more a work against our own lesser selves. This year I want to take the risk, the chance. See what will happen. I want to see what will happen if I don't give up'
…….. Fast forward December 2021
I am so glad (and also proud of myself) that I didn't give up. I am so glad I kept going, kept up my hope even with all the self doubt and struggle.
In January 2021 I had a mere 939 pageviews for one whole month.
But as of today at the time of posting this, I got 70,447 page views for this month and my total pageviews this year has been 2,46,729 ever since I started taking my blog seriously from July this year.
To tell you in more details…..
My blog slowly started to gain traction from July 2021 as I decided to be more serious with blogging. I also started making money from my blog this year and recieved my first blog income of $464 in October.
I had thought I would be making money from my blog starting next year, but it happened this year itself and up till December, I have made almost $2000 blogging which is purely passive income.
I set out my blogging goals for the second half of the year, and I am happy to share the report.
My traffic got bit low in October and November because I was busy with our Indian festivals (Dusshera and Diwali).
But my traffic has again spiked in December and I have officially crossed the 50k sessions (*not pageviews*) mark!
This makes me finally reach My Main Blog Goal no. 2- To apply for Mediavine by Jan 2022 because the criteria to apply for this premium ad network is 50k sessions. I am beyond thrilled and thankful to be able to reach this goal.
And on another note..
Blogging has been the best thing for me this year, and I am so glad that the purpose for which I started this blog is being fulfilled.
My purpose was that if I could motivate or inspire even one person through my words, and make even one person FEEL inspired and good, it would mean a lot.
For a long time I just didn't know whether I was going in the right direction, or if anybody ever felt what I wanted to convey, and I cannot tell you how many times I felt discouraged, but I kept writing, motivated myself by writing in my diary, and now I know that no effort and no intention ever goes to waste.
I now receive so many wonderful comments from people sharing that they feel encouraged and inspired. There is a long journey ahead, and receiving such kind words every now and then is what keeps me going.
P.S if you want to start a blog or thinking to start a blog, you can read this post where I answer 10 blogging for beginners questions which almost every new blogger has.
Writing
This year I was consistent in writing all throughout the year. I used to take a long time to write just one blog post, but overtime with consistency, I am now able to write faster and clearer.
I wrote a good 63 blog posts this year, and this number would have been high if I hadn't taken a break from blogging for 2 months.
I now publish atleast 7-8 blog posts every month. My blog writing process for next year will be publishing 2 blog post every week on Monday and Thursday.
If you want to know how I come up with what to write about, here are my secret tips to find endless blog post ideas
Reading
I read almost the entire year, with only little breaks now and then.
I read 17 books this year and currently reading my 18th book, 'The Buddha in Daily Life' by Richard Causton
If you want to start the reading habit for this new year, here are my book recommendations- 18 Easy to Read books for beginners (Fiction+ non-fiction)
Also, here is how I make time to read everyday
Investing
This year I got to know the power of making the right investments, and learnt that if anything can help you up level your skills and your knowlegde, then you shouldn't hesitate to make investments.
The longer you hesitate, the longer you delay your own success.
This year I kept 10% of my income for investment- a principle I applied from 'The Richest Man in Babylon'.
Keeping this 10% of income solely for investment purpose is what helped me get serious with blogging, and take my blog as a bussiness to start to invest for it.
Once I took the plunge and invested, I actually got to make enough revenue from my blog and created a second source of income through blogging.
I invested in the following things for my blog, and it is these courses/ memberships I'd like to give credit for whatever success I have had with my blog this year.
For next year, I have already made a list of courses I want to take in which months.

Productivity and Daily routine
My productivity process went well this year. I used to struggle a lot with managing my time, and giving things that matter to me, but this year I was able to apply some productive techniques that helped me immensely.
I maintained my daily routine throughout the year, except on times of certain occasions and trips. Having a daily routine is what makes me feel structured and lets me know that my life is in order.
I have written more about this in my post: Top 10 productivity techniques to follow given by experts.
This is my 5 am morning routine and here is this post on how to create a daily routine

Travel
After a year of travel restrictions and staying at home because of Covid, I am glad that we could actually go for a vacation this year.
We travelled to Delhi, Jaipur, Amritsar and Chandigarh in October, and the trip was so worth it.
Among all the places I went, I best loved 'Golden Temple' in Amritsar.
The vibe there was totally different, and I wished I could stay there all day. The place felt divine, and I am definitely going to visit once again.
I also saw my first sunrise from Tiger Hill, Darjeeling.
And here is one of my best picture with mum taken in City Palace, Jaipur, India.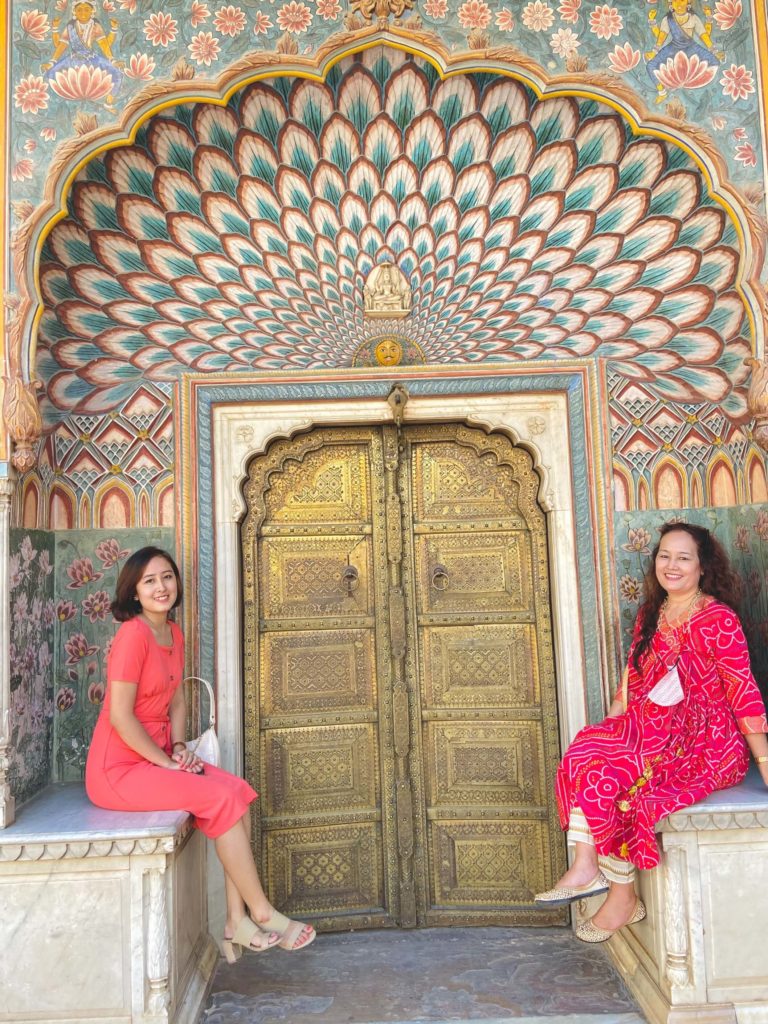 ---
What didn't go well this year

Journaling
Before I started getting serious with my blog, I used to spend more time writing in my diary. Every year I had to add up extra pages to my diary, but this year I didn't even finish the pages of my diary.
I wrote much less in my diary this year, even though writing in my diary is something I really enjoy as it helps me get clarity, and I feel myself connecting to myself more.
I really wish I wrote more. I wanted to write in my diary too, but because of just getting started with my blog, I had to devote more to my blog writing, than journal writing.
How I want to improve:
This next year, I want to get back to writing my diary everyday and note down my thoughts and feelings more often.
P.S I address my diary as, 'Dear Grace……' 🙂

Managing money
Oh! another thing I sucked at this year. I really need to know how to manage my money.
Even though I created a second source of income for myself, I don't have debts to pay, and keep parts of my income for savings and investment, somehow I just can't seem to manage the money I have properly and kept failing to stick to a budget.
I tried to keep track of my spendings, but failed repeatedly.
I am so thankful for the abundance I have in my life, but I feel I spent a lot of money on food going to fancy restaurants, and clothes, some of which I know were unnecessary.
How I want to improve:
This next year I want to be strict with my budget so that I have abundant bank balance, keep my financial WHY strong (that is I want to be wealthy, not just rich), and also start an emergency fund.
This is something I really need to work on.

Prayer
Prayer is something that anchors my life. I know it is the most essential thing for me, and that I must give it my top priority.
For me prayer is a time to stay in touch with my good intentions, and a time I give towards myself and my inner resolve. It nourishes me, and restores my faith and confidence time after time.
My prayer consists of chanting the Buddhist mantra 'Nam Myoho Renge Kyo' as a practitioner of Nichiren Buddhism as well as just sitting in silence and sending out good intentions and prayers.
Without prayer, my life would go haywire, but this year I didn't give enough time towards prayer as I was supposed to. I did pray, but I was inconsistent in praying.
But by the end of the year, I have now realised more clearly of how much important prayer is to my life, and actually in everyone's life. I am back to praying morning and night and my determination for next year is to never miss even a day of prayer.
I noticed a vast difference in myself, my energy, my reactions, and in how I go about my day when I pray and when I don't.
How I want to improve:
This next year, I want to make sure I give prayer the topmost priority in my life, because when I pray, it helps me be aligned to my purpose and Universe, and when I am aligned, I know everything else falls into place in alignment.
Only prayer makes this possible. Only prayer makes us be friends with the Universe.

Procrastinating
This is not any particular area of my life, but just a habit that I need to let go of. I realised that even though I do get the important things done, I usually tend to procrastinate on the little things, which actually could be done in just some time.
I tend to wait for them until the last moment comes, and because of this, I had to face little problems and inconveniences, which wouldn't have even occurred in the first place.
I realise this is because of my long withstanding habit of waiting until the last moment comes, and I need to tackle it head on.
How I want to improve:
This next year I want to be quick in fulfilling all of my responsibilities, and not just the important ones.
I want to be someone who does not wait until the last moment arrives, because that shows reluctance and callousness, and I no longer want to associate myself with such habit.
---
What did I learn this year?

Our feelings are our superpower. I learnt that as human beings, if there is any power we have, it is our feelings. It is actually not our minds that are powerful, but our feelings.

Our mind just acts as its aid. It is not just about thinking good or positive. It is actually about feeling good, feeling positive and feeling hopeful. It is actually about becoming all of them.

The more you feel good, the more magnetic you become, and more everything comes in alignment just for you.

The more you feel bad by complaining, overthinking or by believing and feeling something bad will happen, the more they WILL happen and you will be stuck in your stagnant situation.

Learning to manage feelings and making sure you have good feeling more abundantly in life than the bad feelings or indifferent feelings is what I realised should be our biggest responsibility towards ourselves.


Enthusiasm, belief and expectation is the key to unlock our potential and get what we want. We must be enthusiastic about the work we put in, have belief that someday or the other it WILL happen, and expect it as though they are actually coming true, and FEEL happy.

This year I experienced the effect of these three combo in my life, and I felt I am actually LIVING the Secret and in tune with the law of attraction. I want to keep on going this way.


Learning to take things slow is the highest form of self love. When you take things slow, whether it is working on your goal, or simply doing your daily chores, doing things slowly, and not rushing is what helps us move in awareness and enjoy the journey.

I learned that when you're not to focused on results, but instead take it slow, let go and don't have any attachments, the results come faster.

Taking things slow actually helps us get where we want to be. The fable- The Rabbit and the tortoise is actually so true.

Not rushing is so essential. And this next year, I want to live more slowly, and enjoy the journey even more.


Love should be just two people wanting to share their individual lives together. We think love is about sharing ONE life together, but its not. Not realising this soon, made my relationship go through some periods of turmoil this year. But I am glad that this end of the year has us in love and togetherness again.

We tend to overlap our life with the life of the one whom we love, but this year I learned that love is not overlapping, but it must give enough room to be free, to have our own individual life, and then share that life with another.
In my mind this comes to mind, of how love should be…
And not like this….
Of course this will require practice, patience and a LOT of self awareness. This next year I want to move forward with this knowledge, and step back in awareness and understanding to have abundant moments of love and quality moments.

No good intention, no good effort, no good prayer ever goes to waste. It might take time, and you might think you are not making any progress, but when you keep going even against all self doubt, the power of consistency is enormous, and is ALWAYS compounding secretly.

This has been true with my blogging journey, and if this has been true with blogging, I believe this can be true for anything in life!


Faith is not in not having any moments of doubt, but faith is in not believing in those doubts. Faith is persistence. Faith is keep going back to what you started. Faith is to struggle with our own lesser selves. Faith is kindness for our true self and faith is also letting go.
---
So with this I end my annual review for 2021.
I am hopeful for the next year, and I look forward to it. I hope this next year brings you and me more prosperity, abundance, learning and growth.
Keep going, keep evolving, and be kind to yourself in your journey.
Thank you and I wish you a Happy New Year!
Top 10 Posts in 2021 (based on page views)