Is there a way out to stop being a procrastinator?
Want to know how to stop procrastinating? Well who doesn't. We're all big suckers when it comes to taking action.
You might think you're just plain lazy or you don't have the motivation, but I wouldn't agree on it.
Honestly, I've ceased thinking of people as lazy now. I just take them as people who don't know the tricks yet to start getting things done.
There are more reasons to why you procrastinate which is not 'laziness'.
And there are more reasons why some people always get things done which is more than just because of their 'motivation' or 'willpower'.
And in this post I share the the 4 most effective ways I have come to know to help you stop procrastinating, whether it is your assignment you're procrastinating, or your future goals and dreams.
I don't want to get too lengthy on this post, so let's get started right away.
Pin for later 🙂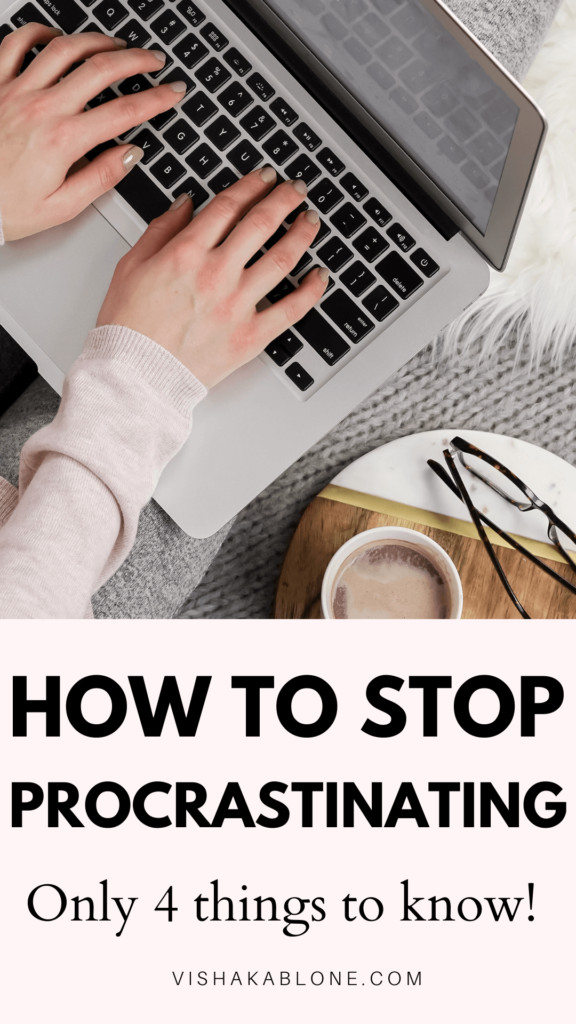 1. Stop expecting perfection
I remember one time my cousin and I were having this conversation.
She said she wanted to start her own YouTube channel of her singing cover songs and doing vlogs. But she had been procrastinating since the longest time.
The reason?
Because she thought she didn't have it in her yet to be perfect. She said she didn't have the camera, the skills, the phone to upload the perfect vlog and songs.
So she kept procrastinating it until the right time came (and eventually the right time never came)
Well, this is not something that only my sister experienced. All of us have at one time or the other.
Whether it is procrastinating on starting to exercise, procrastinating on starting a healthy diet, working on a project, writing a research paper, or just about anything.
We are too scared to not be perfect. And it is this imaginary perfectionism in us, this ideal of having it perfect right from the start that is the biggest killer of our dreams and the main reason why we procrastinate.
I know every one of us wants to be perfect. I too had this attitude of, 'If its not going to be perfect, then I'm not going to do it at all..'
But overtime, after procrastinating on so many things, I realised that this is not the real way to get ahead in life.
It's good to expect perfection, but not at the cost of not giving yourself a chance to progress just because you think you won't do it perfect.
If you want to achieve success and if you want to stop being a procrastinator then you must be willing to do things as a beginner and to have no shame to be seen as a beginner.
Then be an ardent follower of Progress, have the thick skin to be willing to suck at something new and show great amount of self love to yourself to keep learning.
There is really no other antidote to it.
Of course its not easy, but that's how you'll grow as you keep getting out of your comfort zone.
P.S If Perfectionism is what is making you procrastinate, then you might love to read these 3 minute posts
2. Focus only on showing up
In truth, we don't procrastinate reading the book, we only procrastinate opening the book.
Once we open the book, and set a timer for 10-15 minutes its actually not that bad.
We also don't procrastinate exercising, we only procrastinate putting on our work out clothes and shoes, or setting up our yoga mat.
Once we do this initial thing, doing the exercise is actually enjoyable and you start feeling great!
But because we put our minds in doing the actual thing (perfectly), and not on showing up, we don't show up at all and end up procrastinating.
If you want to stop being a procrastinator, then for once you need to completely stop imagining doing the thing.
This means that you need to stop thinking about how you'll do that yoga pose, or how you'll finish that assignment, or stop imagining yourself going for a walk.
And instead, just focus and put your mind on showing up.
Getting started is always the hardest part. Actually doing the thing is actually not that bad.
To make sure you show up and stop procrastinating, here are some things you can do:
Make it really easy for yourself to show up.

If you want to stop procrastinating exercise, then keep your workout clothes in front of you so you don't have to keep searching for it.

If you want to start reading, then keep the book in front of you.


A fun thing to do is to set a timer on when you want to show up. You can say, 'In 5 minutes I will show up' and then put a timer for 5 minutes.

When the timer blows up, its time to show up.
3. Get clear about what must be done
You are not a born procrastinator. You're also not lazy. Nobody is. But our mind sure is a lazy prick!
You see, our mind hates to make prompt decisions and actions (which requires even a little amount of work, thinking and effort).
That is why it is easy to open Instagram and scroll through- it doesn't require any kind of thinking! But at the same time its extremely difficult to start writing a research paper all of a sudden.
To overcome procrastination, you need to make things clear to your mind. This is because we only act on things which our mind is already clear about.
When you say, 'From tomorrow I'll workout' or 'I'll do it later', you keep ending up procrastinating it, not because you don't have enough motivation, but actually because you're not giving your mind enough clarity to act on things.
If you want to start working out, be clear about exactly what time you are going to work out. And may be also get clear about which particular exercise.
For example, I exercise because it has now become a habit for me to exercise at 6 am after my morning read.
I have also set a daily work out routine where
Monday is for legs
Tuesday for abs
Wednesday for Arms
Thursday for Stretching
Friday for abs and
Saturday Cardio.
Because I am clear on this, its easy for me to act on it.
What ever it is that you're procrastinating, if you just sit down for some while to specifically make things clear to your mind about your tasks at hand, it might help you to overcome procrastinating.
If it is a big task at hand, suppose like working on a research paper, break the big task into smaller next action steps so as to make it clear what it is you have to act on.
This might be to:
Research topics
Read and research other articles
Think about what your chapters are going to be
Set a schedule for when you plan to do it.
Usually this making things clear to your mind doesn't take much time. But the bigger the task, the longer it might take.
You need your mind's support to overcome procrastination. Getting clear about what must be done is the least you can do to gain it's support.
4. Do the task first thing in the morning
Lastly, the best way to avoid all chances of procrastination is to do the task first thing in the morning.
This is the one habit that all productive and successful people do. They wake up early in the morning and do their Most Important Thing (which is usually the hard thing you're more likely to procrastinate) early in the morning.
By doing it early in the morning, the biggest task of the day gets done and you can spend your day satisfied with other things.
This might be the only tip you need to stop procrastinating.
Being a morning person and having a morning routine is especially helpful here. My life too changed drastically from the time I became a morning person.
This is my morning routine before 8 am. I get my MIT done early in the morning itself and it is the sole reason how I have been able to be consistent with reading, exercise and blogging among other things.
I cut all chances of procrastination when I do the task first thing in the morning.
Final Things On how to stop being a procrastinator
Finally, I just want to say that you can certainly stop procrastinating. Notice whenever you're procrastinating and try to find out the deeper reason for it.
Once you do try to tackle it with the ways given above.
To recap on how to stop being a procrastinator, I would say:
Ditch Perfectionism
Allow yourself to be a beginner
Allow yourself to suck at something new
Focus on Showing Up
Make showing up as easy as possible
Set Up Timer to show up
Get Clear on what must be done
Break big tasks into smaller action steps
Do your task first thing in the morning
Show yourself great amount of Self Love and kindness
I hope this helped. All the best to you.
Have a good day!
P.S related post
Pin for later