Planning a trip is self-care. Visiting new places is self-care and I consider it a must to live a happy and healthy life. And in this post, I want to share how to be happy while travelling. 
I'm back home after travelling with my mother and her best friend to Haridwar, Rishikesh and Mussoorie in India and honestly, we had a wonderful time.
Travelling is supposed to be fun. It is supposed to bring back your enthusiasm about life and is supposed to be a thing you do for your personal self-care.      
And for most, it is.
But I thought of writing this post because some people even after they travel when they come back home, are exhausted, sick and complaining instead of feeling refreshed and recharged. 
I hope this post if nothing serves as a little reminder for all those who travel to feel happy and come home feeling happy. 
How to be happy while traveling
1. Complain less
When you're travelling, it's a wonderful chance to shed your old habits away and come back home a new person. 
Don't bring the same set of complaints with you when you're travelling, or otherwise travelling won't be fun at all. 
Go 24 hours of your travelling without complaining.
Don't complain about anything- the weather, the traffic, your health, your work, your husband, your girlfriend, or anything. 
This simple thing will let you enjoy your travels more. 
2. Don't compare
It's easy to compare different places to one another, but that is not the point of travelling. 
You don't travel to compare, or to boast about the other wonderful places you have been. 
You travel to get to know the place, the people, the accent, the food, the landscape, how they are and what they do in order to live. 
Some experiences will be good, some bad, and some neutral, but they're all part of your travelling experience which you must be willing to embrace fully. 
If something bad happens in your travel, don't let one negative experience ruin all of your travel. 
Just accept it as a part of what happens while travelling, and move on and think of it as an interesting story (instead of complaints) to tell. 
3. Don't gossip
Gossiping happens a lot when you're travelling in a group, but it is essential that you don't lose your peace because of it.
You travel to feel light.
Don't burden your mind with extra information about people or things that is not at all needed in your journey. 
This applies even in our everyday life when we're not travelling.
It's most important to bring awareness to your travel. Bring awareness to your own speech and bring awareness to what you're listening to. 
If what you hear is not helping you in any way to feel good and lighter, don't take part in the conversation or add to it and the one who is gossiping will eventually stop. 
4. Choose your travelling partners well
Choosing a travelling partner is equally important in order to have an enjoyable trip. 
If your travelling partner is always complaining and bringing up all sets of issues, they will have an inevitable influence on your energy as well and will seep the enthusiasm out of you. 
Your travelling partners should make you laugh a lot, forget all the worries of the world and should be equally enthusiastic about creating wonderful memories out of your travel. 
5. Leave everything behind 
If you're travelling and still stuck with things that are unfinished and you're constantly thinking about what you should be doing instead of what you're doing, then you will never get to enjoy your travel.
You need to leave everything behind.
Don't talk about your work. Don't talk about what you need to do. Don't reply to emails. Don't think about what you should be doing instead.
Just let go and leave everything behind.
I let go of my blog this time and didn't post anything, and it felt freeing and I was able to enjoy it fully. 
Surprisingly, my blog wasn't down at all and my traffic and income were constantly on the rise and steady.
I didn't think about the things that are pending. I just knew I had to be at this moment when I was travelling. 
Now that I am back home, I feel refreshed and much more enthusiastic about my work and writing.
6. Listen to music
I can't tell you how much thankful I am for music. 
The world would be so boring without music. Everything is good, but honestly, I feel music makes it better. 
I don't think I need to tell you this, still, while you're travelling, listen to music on your way and simply enjoy the journey.
7. Do something new 
Do something new in your travels anywhere. Maybe it is trying a new adventure, a new dish, a new experience or anything. 
This time, I did river rafting for the first time in my life in Rishikesh. 
Rishikesh, India is in India's northern state of Uttarakhand in the foothills of the Himalayas beside the holy Ganga River. It is also known as the capital of Yoga and Meditation. 
It is the place where the famous rock band Beatles once stayed in the 60s to learn meditation. The ashram is now called "Beatles Ashram".
It also has a whole lot of adventure activities and my river rafting experience was simply awesome! Getting into the Ganges river was the best part.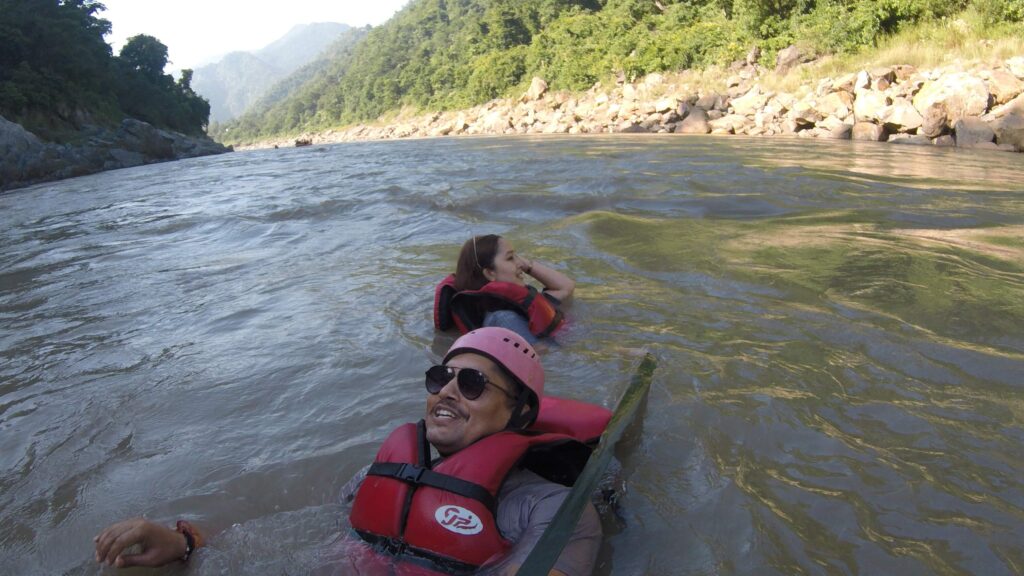 I also did flying fox in Mussoorie and enjoyed it so much! 
8. Note down any kind, interesting or funny acts
I love noting down any acts of kindness I see. This makes me smile when I later read the account and makes me believe that the world is full of kind people too. 
Also, funny and interesting moments are always happening in our ordinary lives.
If anything funny or interesting occurs, I note it down on my phone so that I can write about it later in my journal. 
This is a fun thing to do and a way to relive your travel memories in future. 
Some things that I noted were:
Seeing a guy give water to a cow through his hand in Rishikesh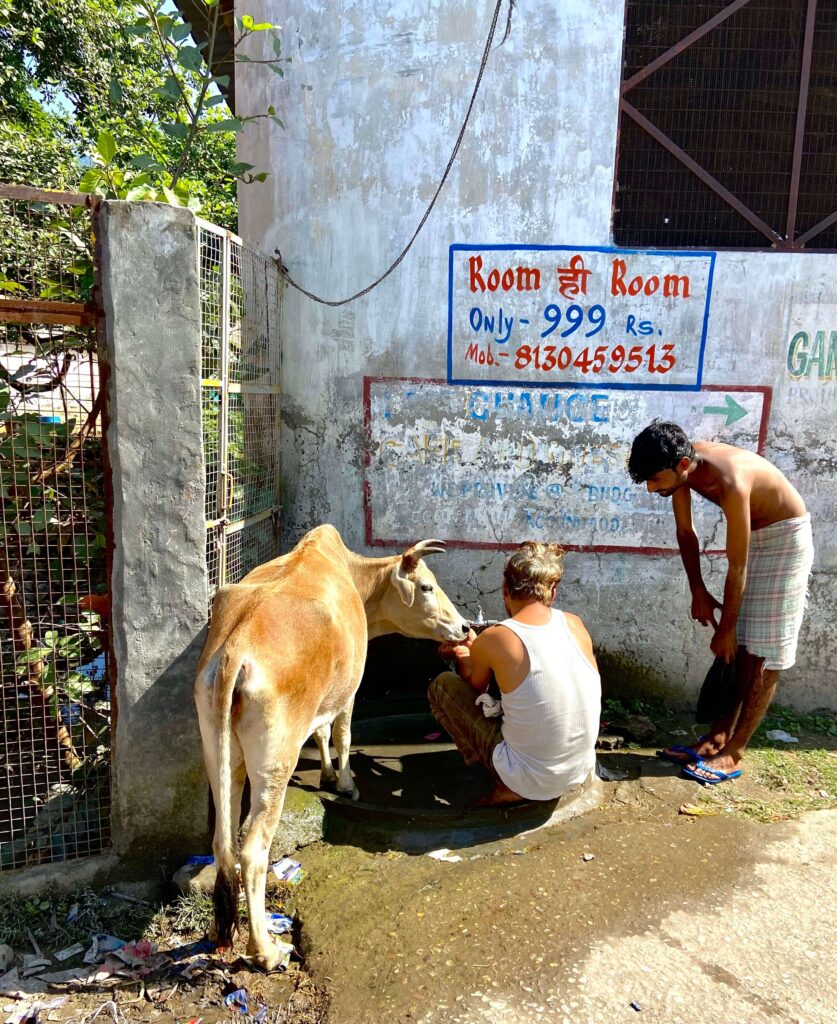 Seeing tourists give biscuits to dogs
Rickshawala singing Bhajan 'Hare Krishna' as he took us to the Ganga Ghaat 'Harr Ki Pauri' in Haridwar. 
Our Driver called us just to know if we got on the train safely.
Seeing two dogs in a playful mood and flirting with each other made me happy
Seeing a Sadhu-baba roaming around with his pet dog in Rishikesh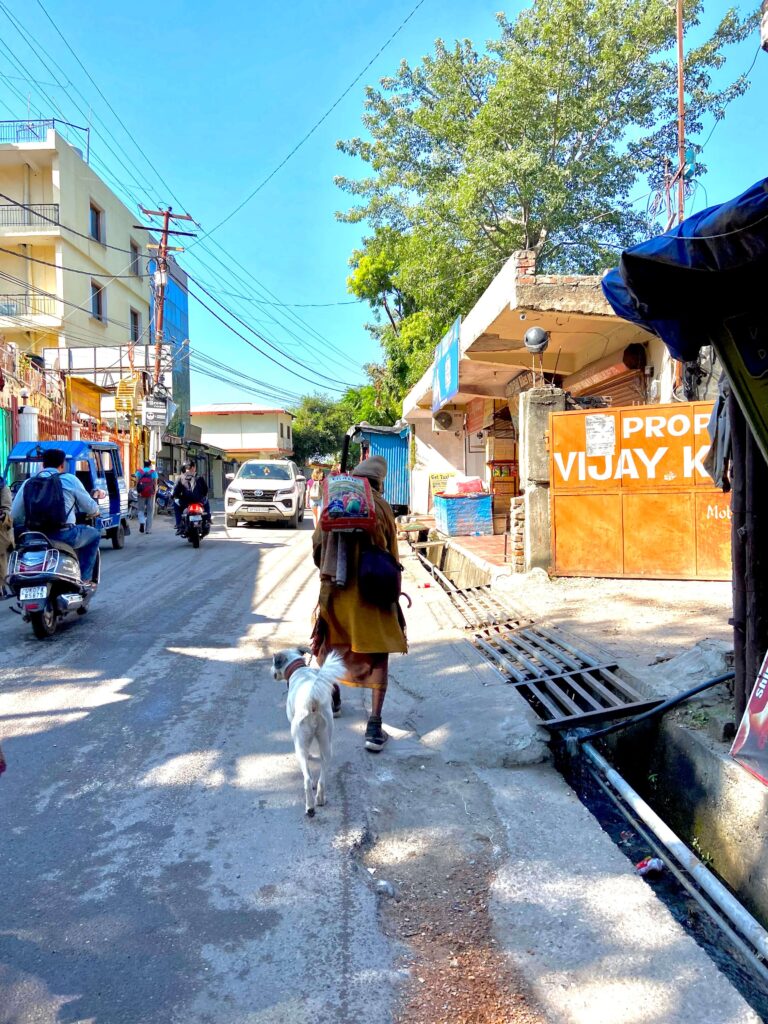 My mom teaching her best friend how to make reels on Instagram
Came to know aunty has a habit of saying, 'Haittt" and it was so funny
Aunty interviewing Auto walas in Delhi and us having a good laugh.  
And there were so many more incidents and funny, kind moments.
9. Trust people
If you're always doubting people in your travel, your mind won't feel light. 
Trust people. It will help you feel lighter in your travel than if you are always anxious and worried that others might be taking advantage of you. 
Most people are kind and have good intentions, so trust it and travel feeling free in your heart.
10. Say thank you a lot
Whenever someone offers you a service, say thank you.
Say thank you to your guides, your driver, the receptionist, the waiter and everyone who offers you something.
When you visit new beautiful places, say thank you to yourself, to God, and to Universe for getting to visit the places and you will keep attracting and manifesting it. 
10. Shop what is authentic to that place 
I think all of us love shopping. It makes us feel good. When you're travelling, shop what is authentic to that place- something that you won't get anywhere when you go back home. 
In India, every state you visit is like a different country on its own- with different styles, different languages, different food, different accents and different things that are unique to its place. 
So shopping in travel is fun in India. 
11. Absorb the surrounding
Take moments to absorb and observe the surrounding. Look at the place from a big picture- the people talking, the cars moving, the roads, the lanes, the shops, the transactions, the landscape, the culture, and feel yourself right there amidst it all.
Feel grateful to be there as you absorb and observe the surroundings and be happy. 
12. Take lots of pictures
Yes, take lots of pictures as they are physical objects of your memories. You won't ever regret them.
13. Don't post on social media then and there 
Take lots of pictures, but I'd say don't post them on social media then and there. 
It takes away the fun and won't let you enjoy the present moment.
In my recent travel, it might have seemed like I was posting pictures on my Instagram stories from that day itself, but I was posting it one day later after all of our trip for the day had been done.
This made me enjoy my travels more and still have pictures saved in my archive and posts (from the day before)
14. Be grateful 
Lastly, as you travel, don't forget to be a grateful traveller if you want to be happy while travelling.
Be grateful for the places you get to see.
Be grateful for your healthy body which allowed you to travel. If you were sick, you wouldn't have got the opportunity in the first place.
So travel while you are fit and fine.
Be grateful for your legs that allowed you to walk, for your eyes that allowed you to see wonderful places. Be grateful for the money and your job that you have that helped you make the travel possible. 
And above all, be grateful for life because, without living, none of the experiences would be possible. 
So thus, I believe these are all the little things to remember that will help you to enjoy and be fully happy in your travels and return home feeling happy, relaxed and rejuvenated.
Have fun!
Happy travels