Are you in that phase of life where you are desperate to change your life completely?
If the answer is yes, then I want to congratulate you and welcome you to this new phase of life which you are now going to pave for yourself.
You are done with all the nonsense. You are done feeling low all the time, and you are done playing small with yourself.
You now want to transform yourself and completely change your life. And I want to tell you, that yes, it is all possible.
As dramatic as it sounds, one fine day I woke up with the thought and feeling, 'Enough is enough' and decided at that very moment that, 'things have to change and I have to take control of my life'.
That was the first step in trying to change my life.
And in this post here, I share with you 50 ideas to change your life completely.
This is a long post, so you can save it for later 🙂
P.S Affiliate disclosure: Some of these links are affiliate links. If you purchase from my link, I'll earn a small commission at no extra cost to you.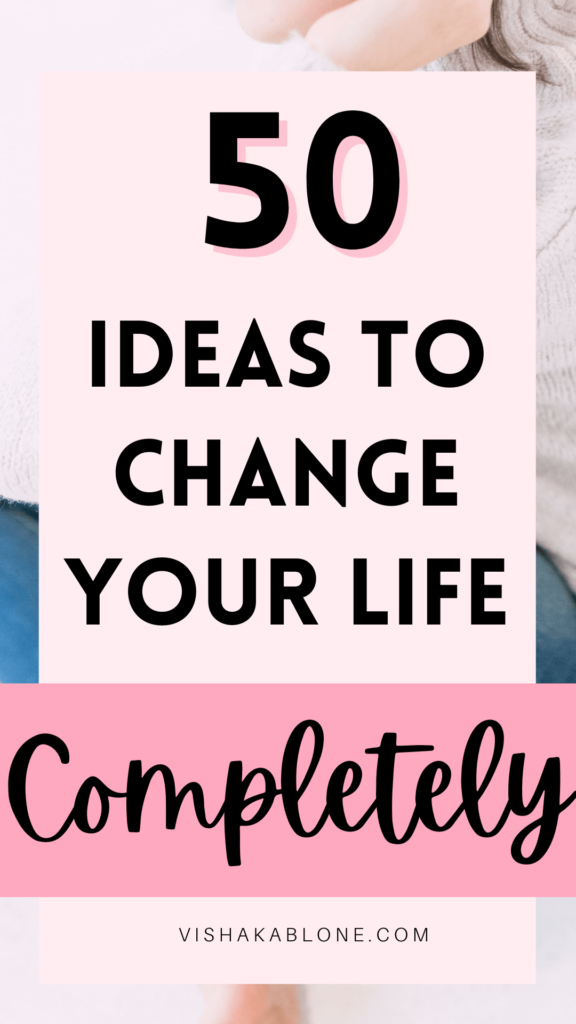 How to change your life completely (50 ideas)
1. Eliminate one bad habit at a time
Focus on eliminating one bad habit at a time. Identify what you are struggling most with, and identify the bad habit associated with it.
You will find that the thing you are struggling with most always has a bad habit associated with it. Eliminate that one to start with.
Take it as a challenge for 7 days, then 14 days, then 30 days and you will see much progress.
2. Create one good habit at a time
Similarly, work on creating one good habit at a time. Maybe it is to start exercising. Start with 10 minutes and determine to exercise for 10 minutes every day no matter what.
Habit trackers can help you a lot in consistency. Don't break the chain and continue with that one habit until you start enjoying doing it.
Then start with building another.
3. Write down your intentions
Sit down in a quiet place by yourself and write down your true intentions from the heart.
Here are some questions to help you know your true intentions
What kind of life do you envision yourself living?


How can you start living that life from this moment on?


What makes you/ would make you truly happy from the heart?


How do you see yourself living your life in 5..10 years from now?


Why do you intend to change your life?


How do you want to change your life?
4. Write down your 5-year plan
You all already know about the 5-year plan, but there is something else I want you to do.
Make an odyssey plan. If you don't know what it is, then click here to read more on what is an odyssey plan.
Basically, it asks you to answer three questions in detail
How would your life be 5 years from now if you continue down your current path and habits?


How would your life be 5 years from now if you took a completely different path?


How would your life be 5 years from now if money, obligations, time and what people think were irrelevant? 
P.S. If you are ready to give a try at working on yourself and changing your life, I have recently created a Special challenge/Guide for you to Change your Life in 7 days.
I think you'll love it if you give it a try for 7 days and see what's possible for you.
5. Make lists 
Making lists can help you organized your life and stay on track with your life.
Here are 12 must-have lists to get organized.
Take your time to answer this.
6. No social media
To completely change your life and focus on yourself, you need to at least remove yourself from all social media channels for at least 3 months.
When I decided to change my life, I deactivated Facebook and also stopped using WhatsApp for more than a year.
And it was in that one year that my life began to move in a positive direction.
It is honestly so much easier to focus on yourself when you are free from the constant scrolling and mindless watching.
7. Be aware of your self-talk
Start being mindful of how you talk to yourself. What you speak to yourself is a powerful energy which passes on to you.
Be aware of what you are talking to yourself because YOU are listening. Make sure you are saying all positive things and don't belittle yourself by calling yourself lazy, unworthy of love, careless or anything as such.
You become what you say to yourself so make sure you only say good things to yourself.
8. Don't complain
Take it as a challenge to not complain. Don't complain about the little things. You are so much more as a person.
You need not bother about every little thing. Just allow things to just be. Stop complaining for a day, then for a week, then for a month, and see how it changes your life.
9. Let go of toxic relationships
If there are any toxic relationships in your life that you know you need to let go of, then until they are in your life hanging around on the periphery, you will never be able to change your life.
Be strong and cut these people off and move ahead in life.
If you have to change your location to be away from them, change.
Once you know your worth, life will then bring you people who will then act according to your worth.
P.S 12 things to let go of to be happy
10. Read good books
Books have been my greatest source of inspiration for change.
Without reading books, I would have never found the motivation to keep going and transform my life.
Interestingly I was never much of a reader earlier, but I cultivated the reading habit when I decided to change my life. I now always start my day by reading for 30 minutes in the morning.
If you want to start the reading habit too, then here are 18 great books to read for beginners.
And here is my list of best books for morning read.
11. Listen to good podcasts
Changing your life is all about filling in your mind and your life with positive people and their conversations which can have a better influence on you.
With podcasts, we have this wonderful opportunity to listen to the minds of great people and feel that we are also a part of those conversations. They help us grow and learn so much.
I have only recently started listening to podcasts and I feel everyone must listen to good podcasts because it is so easy.
You can listen to them on your walk, while commenting, while travelling, while exercising, while cooking or anything.
Currently, I am listening to the Tim Ferris show. Before this, I finished listening to the entire episodes of 'The way out is In'
Here is a YouTube video from where I've made a list of good podcasts to listen to (Love this guy!)
12. Watch good content
You are what you consume. It also includes what you consume as a digital consumer.
Be mindful of what kind of content you are consuming because they all have a huge influence on how you view and live life.
If you're only watching vlogs and senseless YouTube videos, they are only adding to the junk in your mind.
But if you watch videos who is living a good life and making a change, then it will also inspire you to do the same.
P.S Only three things required for personal growth
13. Start waking up early
I honestly think that unless you wake up early and give time to yourself before anyone else in your life, your life will remain the same.
You don't have to wake up at 5 am or even 6 am (even though the earlier the better), but all I am saying is just try to wake up early enough so that you can have that time to yourself in the morning to work on yourself.
Morning time is the best time to actually work on yourself and your habits.
Personally, here are the wonderful benefits I received from being a morning person and how I became a morning person.
14. Follow a morning routine
Many people ask me, what do I do after waking up so early? I say, 'If I don't wake up early I won't be able to do all the things I wish to do.'
And this is basically what I do every morning before 8 am.
Follow a simple morning routine for 1 hour or so. Include exercise, reading and writing morning pages and 10 minutes of meditation in your morning routine, and trust me you will feel so much better.
Just starting a morning routine will completely change your life. It happened to me.
And that is why I am such a firm believer of a morning routine, and why I write about creating a morning routine in so many of my posts.
15. Create a simple daily routine
Creating and following a simple daily routine can change your life, and it need not be so difficult.
Here is my simple guide on how to create a simple daily routine that sticks
16. Declutter
As long as you have old kinds of stuff and junk in your room taking space, it will continue to take space in your mind too.
Decluttering not only clears the physical space, but also cleans up our mental spaces and clears overwhelm much more than we realize.
So declutter heavily when you decide to change your life. And do it regularly.
Here are some decluttering tips to help you get started.
17. Keep your personal space tidy
Visual pollution is real. A big aspect of where you live your life is in your personal space. This personal space can be your bed, your table, your desk, your chair or your living room.
Try to keep your personal space clean and tidy and you will see what a big impact it has on your mind and in how you improve your work habits.
18. Start your month right
I love starting my month right and I'm always excited about the beginning of the month.
There are a few things that I do at the start of every new month, and it helps me start the month on a good note.
Here's what you should do at the beginning of every month.
19. Set weekly goals
Setting monthly goals is great, but sticking to a monthly goal is harder than it seems.
Here is where weekly goals come in. Weekly goals are actionable goals and its easy to set SMART goals with weekly goals which you can actually achieve.
If you want to change your life, you have to set goals and setting weekly goals is a good starting point.
Here is how to set weekly goals along with weekly goals ideas.
Here is a free weekly planner I made to set down my weekly goals. You can just print 4 of them to last you for a month.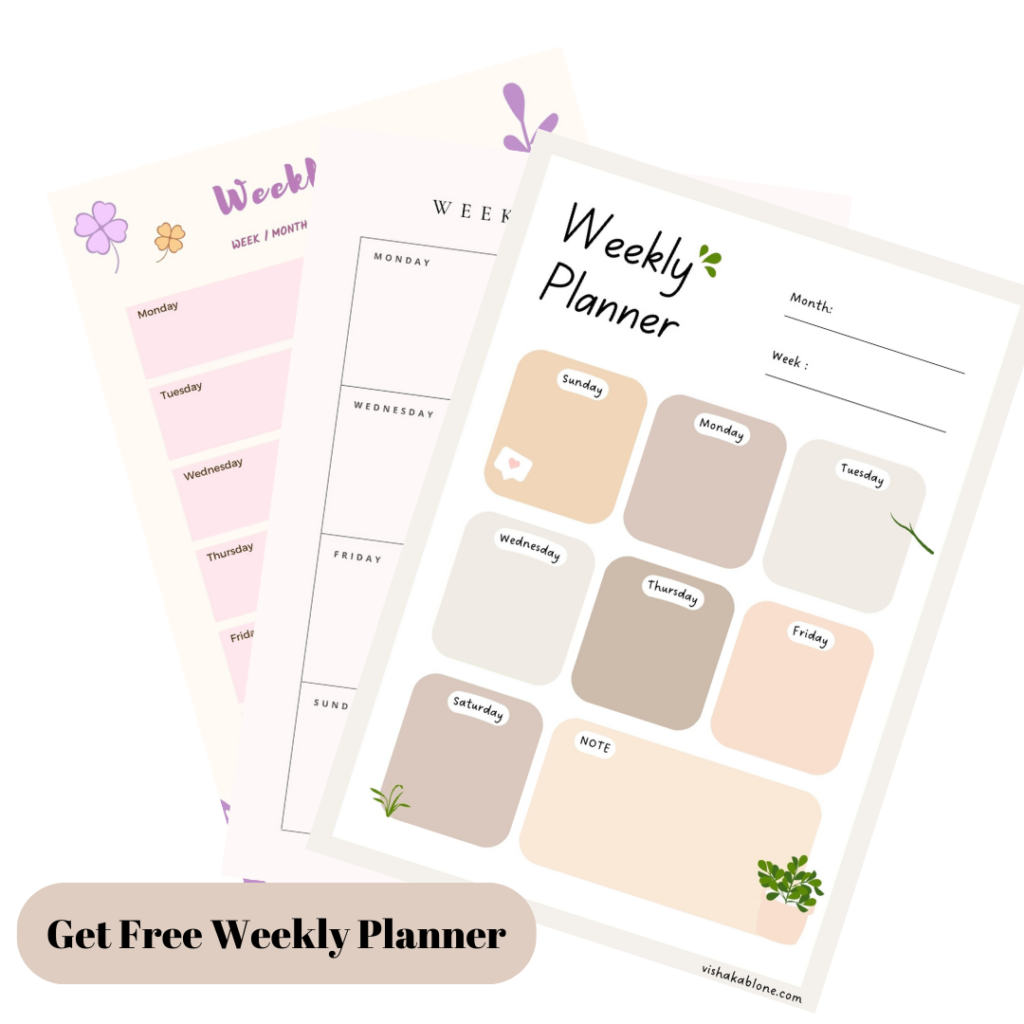 20. Engage in deep work habits
Deep work allows you to do in 2 hours what other people would take 5 hours to complete the same thing. 
You can learn more about the strategies from the book 'Deep Work' by Cal Newport.
21. Organize your things
Start organising your things. Start by organising your room, your desk, your phone, your laptop etc.
Organization helps you gain control over your life and helps you keep your mind clear. 
Here is my detailed step-by-step guide on how to organize your life.
22. Be kind to yourself
Most of us don't realize how unkind we are to ourselves. We are often so hard on ourselves and our self-talk language with ourselves unconsciously seems to be so poor.
This needs to change. The only way it can change is through more mindfulness.
Change your relationship with yourself by being kind to yourself. Without kindness, you won't be able to change your life.
You will only feel like you've made so many mistakes, and that your life is doomed and stagnant, but if you only give yourself love, you can then allow yourself to transform your life.
23. Stop waiting for validation
Don't wait for anyone to give you approval when it is something you really want to do.
Here I'd like to quote Leo Tolstoy,
"If you care too much about being praised, in the end, you will not accomplish anything serious.
Let the judgement of others be the consequence of your deeds, not their purpose"
Listen to your heart and continue with your actions only for the sake of actions.
24. Help others
You can do all different kinds of things to change your life, but the shortest route to changing your life is by helping others.
It's not only about focusing on yourself, but also about what you can do for others whenever you can. 
I personally believe that helping others is an opportunity we shouldn't miss.
Wherever or whenever you can, provide help, whether directly through money, or through gentle support, through inspiration, sharing your experiences without holding back, giving genuine suggestions about things you can, making time for them, and in all the various ways whenever you can.
25. Find a philosophy you resonate with
Trying to change your life takes more than just trying to build better habits.
You need something to help you sustain your motivation, and your inspiration and to provide you with insight.
Here is where philosophy can help.
We might think philosophy is probably not for us, but philosophy is simply something that gives us knowledge on how to view things and life from a certain perspective.
When I decided to change my life, I became attracted to Buddhism and Buddhist philosophy because even though I was born a Buddhist, I didn't know much about the Buddha's teachings. 
A book that really made me fall in love with Buddha is 'Old Path White clouds' by Thich Nhat Hanh. Another book written by him, I'd love to recommend is 'Living Buddha, Living Christ '
Learning about his teachings totally accelerated my path to betterment and gave me so much grounding to live well.
26. Find a mentor
Similar to finding a philosophy, you can find a mentor. It need not be something you sign up for in a mentorship course, but can be anyone who can guide you with something.
Read books, and blogs, listen to podcasts and watch good videos and you might find your mentor you would want to set a benchmark for yourself.
For me, I've found my mentor in Gautama Buddha, Thich Nhat Hanh, S.N Goenka, Abdul Kalam, Deepak Chopra, Phap Hu and all the wonderful people who have taught me and continue to teach me so many different things through their compassion to be of help to others.
27. Eliminate obstacles
Obstacles are anything that causes you to stop from getting into action. 
It might be a toxic relationship putting a toll on you, your urge to check social media time and again, your procrastination habit, or anything.
If you feel you're watching too much Netflix and are stopping you from doing other meaningful things, then eliminate that obstacle by not subscribing to it anymore and uninstalling it.
Identify your obstacles and try to eliminate them from the root so that it stops distracting you time and again and you don't have to find them again and again.
28. Write in a journal
Making the journaling habit is one of the best things you can do for yourself. By journaling, you will establish a lifelong friendship with your own self.
Here are the benefits of journaling I've received.
And if you haven't tried any of my challenges and aren't currently subscribed to any, you can try my 21 Day journaling challenge where you will receive daily prompts and guidance from me for the next 21 days.
29. Clear debt
If you have a huge outstanding debt, you'll always be stressed about it and that will take up all of the energy that will be required to change your life. 
Make a plan to clear your debt. Find ways to earn extra income. Here is how this girl is doing.
Never be okay with debt. That is the worst thing you can do for yourself.
30. Manage your money well
Save money and manage your money well. Follow educative YouTube channels on how to manage money well. Read inspiring stories and make a goal to save money.
31. Follow a good night's routine
If you don't have a good night routine, then it's time to make one. Following a good night routine will help you take care of your wellness, add to your self-care routine and help you sleep well. 
Here are some ideas for a good night routine to help you sleep better.
32. Don't use your phone first thing in the morning
I know many of us have this habit of using our phones first thing in the morning for a good half hour to one hour.
Just quitting this one habit will have a tremendous impact on changing your life. After waking up, read a book for 30 minutes daily or sit for some quiet time with yourself meditating, or journal instead.
There are so many things you can do but never do these 10 things in the morning. 
33. Move your body
Move your body every day. Challenge yourself to exercise for at least 10 minutes a day. Start with some basic exercises or simple stretching exercises.
There are plenty of stretching exercises for 10 minutes on YouTube. You might think 10 minutes is nothing, and you need to really start sweating it out right from the beginning, but just allow yourself to get into the habit. 
While making a habit it doesn't matter that you do it for 1 hour or 10 minutes or even 5 minutes. What only matters is that you do it.
Here is how I made myself love working out.
34. Give time to your unique talents
What are your unique talents? What are you naturally good at or something that you would love to do daily?
Some of us might think that we're not good at anything, but nothing can be so far from the truth.
There will always be something we feel inclined to do. Give some time to those in your day.
Here is an episode from my podcast on 'Why you should make time for hobbies as an adult'
35. Work on your craft
If you are good at something, then work on your craft. Are you a good cook? Then work on creating new recipes or you could start your own YouTube channel or a food blog or anything. 
Do you love painting? Then you could take up a course to help you learn more about painting.
It is all about working on your craft and giving your best to excel in it.
36. Find a course to help you level up
There are some things we are naturally good at and some things which we want to be good at because later in life we realize that there are some things we feel drawn to.
So if you want to be good at something, but it's not natural for you to be good at it, then find courses or resources or mentors to help you level up your skill.
You can take cooking classes, drawing classes dance classes or just about anything you are interested in even a bit. Your heart is asking you to explore.
37. Go for walks
Going for walks is one of my favourite things I do in my day. You can start going for long walks too and be intentional when you're walking.
38. Spend more time in nature
Nature heals and uplifts us. It gives us positive energy and fuels our creative site. Spend more time in nature.
If you live somewhere that doesn't have much greenery, then you can always fill your home with greens.
When you start to take care of them, you will see how it uplift your spirit and change your life. 
39. Drink more water 
Need not elaborate on this one. Just drink more water. Always keep your water bottle with you and keep it filled.
40. Don't skip breakfast
These little habits such as not skipping breakfast also go a long way in building better habits and in changing your life.
So if you're doing these little habits, be proud of yourself.
40. Have meals at the proper time
If we are just eating food whenever we feel hungry, or have an impulse to have food, then we are no less than animals.
Start having meals at the proper time. Set a time for your breakfast, lunch, snacks and dinner.
41. Start meditating 
Start meditating for at least 5-10 minutes a day before you head out for the day and after coming back home.
It will help you remain calm and centred through the day when you meditate in the morning, and in the evening it will help you assess yourself, your reactions, what you did well and what you could have done better.
42. Be more mindful
What actually shifts and transforms our lives is by being more mindful of our lives, our habits, our thoughts, our instincts, and our feelings. 
Unless we are mindful of our thoughts and feelings, we won't be able to truly change our life. 
Here's a simple way that has helped me to be more mindful and you can see for yourself.
43. Learn to say No
Saying no is thought to be rude and unwelcoming, but if you say yes when from your heart you want to say no, then you're not being honest with yourself.
Learning to say no was a difficult thing for me, but it is what helps in setting healthy boundaries. In this post, I share what I learned and gained by learning to say No.
44. Learn something new every day
I dropped out of college in my second year and was in a very miserable phase of life when I decided that I'd had enough and would now change my life.
In the next few months, I took myself to learn new meanings. I made a notebook of words which I came across in books whose meanings I didn't know.
I started building the reading habit from then on, and it changed my life.
Learning something new satisfies you and pushes you to improve yourself each day.
45. Get out of your comfort zone
Learn to get out of your comfort zone. Our mind loves to feel safe, but you need to learn to face your fears. Identify your fears. Identify what you are attaching most to and why.
If you are feeling reluctant, ask yourself why. Is it because of what would other people think? your social roles? Your obligations? Because you're scared?
Identify them. Notice them and get out of your comfort zone.
46. Travel more
We've got one life and we must travel more. Travelling is really my priority these days and I hope to travel more often and travel in a slow and meaningful way.
47. Give more
As you change your life, your life will start to thrive. When your inner life changes, your outer life must inevitably change.
When you find yourself in a better state both physically, mentally and materially, give more.
Give your smiles freely, give help freely, donate freely and give your love and trust freely.
48. Laugh more
Don't let petty things get the best of you. Learn to ignore them and laugh it off.
Don't take things personally and forget about them. Just laugh more and have fun with this life.
It's worth enjoying. There is so much to enjoy.
49. Dance more
Even if you're not a dancer, just like me, try dancing more.
In the morning when you get up, put on some music and dance freely. I love to do dance workouts.
At other times I just love getting into the vibe and dance. It immediately uplifts the spirit and makes you feel in tune with yourself.
50. Keep getting back on track
Lastly, just keep getting back on track. Changing your life for the better is never a one-time event.
You will get lost, you will feel defeated, and you will feel as if you have no willpower and you don't have the strength in you to move forward, but if it were so easy we would be superhumans.
Remember that your habits until now were a result of years of indulging in them and so they are very strong. You need to be kind to yourself to be strong and try again.
Just keep getting back on track. You definitely can.
Here is how to get back on track with your goals and about the power of accepting off-track moments.
This is how you can change your life completely! Take your time and take things slow. It is going to be worth it!
How long does it take to change your life completely?
You can change your life completely overnight if you decide to. Changing your life only requires a little bit of more awareness and mindfulness of your actions, thoughts, and feelings and generally bringing in awareness in how we are living our lives.
However, it is going to be tough sticking to it as past habits and conditioning tend to be strongly rooted.
But if you are consistent in building better habits, work on your mindfulness and give yourself enough understanding and self-love, you will be able to change your life completely in 30 days and it will have a long-lasting impact on you to actually start noticing the difference in yourself.
And this will be enough to motivate you to keep on getting back on track.
Pin for later 🙂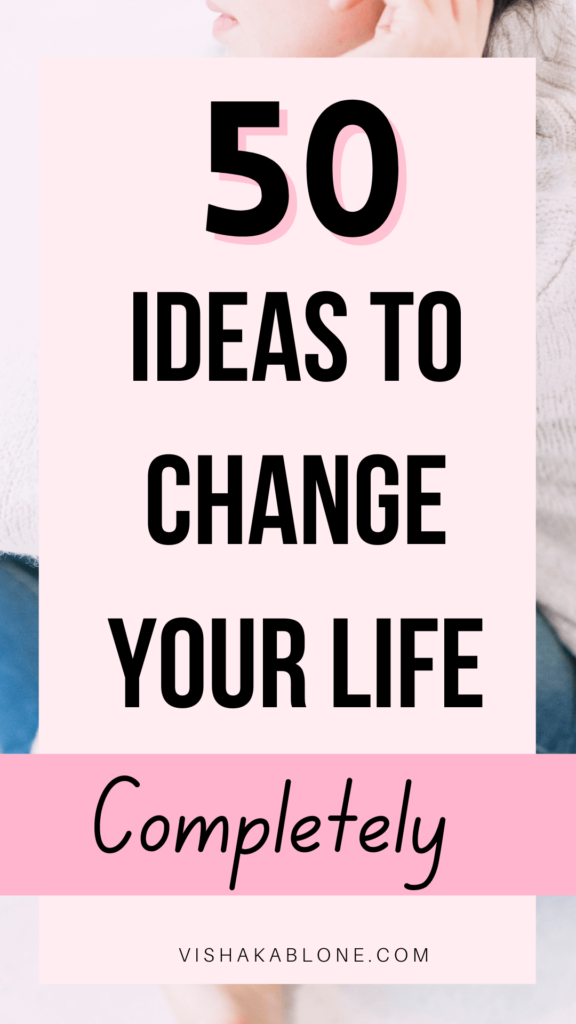 Related posts to help you change your life