How do I stop feeling stuck?
Is this your major question too? Feeling stuck in life might be a universal problem or rather a phase faced by everyone at some point in our lives.
This is especially true for most of us who are navigating our 20s and 30s. I hear many of my friends say that they feel stuck, they feel unmotivated, and they have stopped finding life enjoyable.
But I want to tell you that you CAN get yourself out of being stuck and get your life together again.
And in this post, I share all the things you can do, and also some inspiration for how to stop feeling stuck and take charge of your life.
But first,
What does it mean to feel stuck?
The Cambridge Dictionary defines stuck as being unable to move from a particular position or place, or unable to change a situation.
Feeling stuck in life feels something similar, except that there's no external object holding you back, but your own self and your own mind that is making you feel stuck
Here is what it means to feel or what feeling stuck looks like:
You know what you should be doing, but you just can't take action



It feels like you haven't made any progress and nothing is moving forward



You feel trapped in your head and in your situation


You feel like you have lost all control of your life



You feel like nothing you do matters or will matter


You feel like you've been in this situation for the longest time and nothing is moving in your favour.


Each day seems harder and longer.



Feeling stuck makes you lose all sense of time and how to spend time meaningfully.


If you're feeling things like the above, then read on to know why you're feeling stuck because knowing the why is as important as knowing the how.
Why you're feeling stuck
1. You don't let yourself find motivation
A big reason why you're feeling stuck is that you're not motivated enough to make a change or take action.
We all know we need to do something, but just knowing that is not enough. Motivation is the essential key here.
And it might feel like you're not motivated because you feel stuck but the truth is you're stuck because you're not motivated.
But I am not saying here that you don't have motivation, I am saying that you don't let yourself find motivation.
Motivation is not something that is freely available at will, so you need to allow yourself to find motivation.
2. You are stuck in your old habit patterns
You are not stuck in life, you are simply stuck in your old habit patterns.
These are the toxic habits that you need to break from your life.
Engaging in them is what is making your life feel stuck because it is stopping you from moving forward in life and making good changes in your life.
You keep doing the same past habits, and your life doesn't change a bit. The cycle keeps repeating.
We end up doing the same things day in and day out which again leaves us feeling stuck in our situation.
3. You have not planned your future
Another big reason why you might be feeling stuck in your life is that you have really not thought of your life goals seriously and you aren't working towards them.
Where do you want to go from here? How do you want your life to be in 5 years? What actions do you need to take?
What are the things you can control that can change your life's direction?
Chances are you aren't working towards your life's goals and it feels like your growth has been stagnant and there's no moving forward.
And if you've been setting goals but unable to work on them, chances are you are setting your goals the wrong way and you're making these 5 common goal setting mistakes.
If you only mend these goal setting mistakes, you will have 80% more chance of reaching your goals.
4. You are afraid of uncertainty
You want to make certain changes, but you are afraid of the risk and uncertainty.
You know you need to make changes, but being in the comfort zone pulls you in, and you don't know if you have the strength and courage to make it through after you make the changes.
So you decide to stay where you are, in your comfort zone, even though it makes you feel stuck.
If this is the case for you, here is a post to inspire you: How to embrace the joy of not knowing
5. You belittle yourself
If you're feeling stuck in life, then I can tell you that you're belittling yourself.
When you think that you don't have the courage in you, the discipline in you, the determination in you and the potential in you to change your life and challenge your lesser self, you belittle yourself.
Even though you know you really need to make a change and move forward, you can't because you keep belittling yourself.
It's going to be a tough fight, but if you don't pick it up, it's going to be tougher and disrespectful for your highest self which is there, inherent in you.
So stop belittling yourself and dig deep for your higher self. Here are some ways to finally get unstuck.
How to finally get unstuck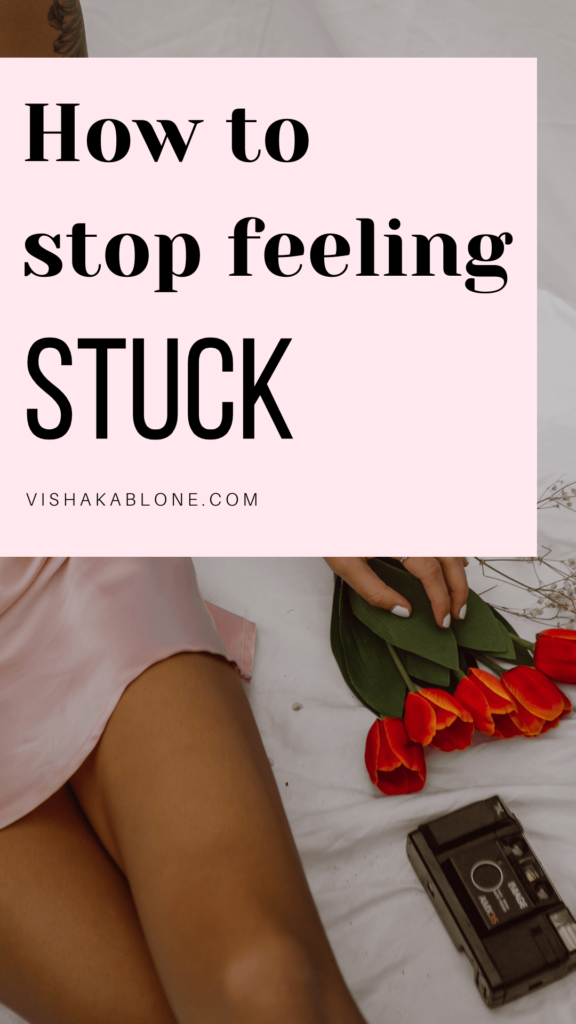 1. Notice how you talk about yourself and life
If 80% of the reason why you feel stuck in life is because of your habits, then the rest 20% is because of how you speak to yourself and others about yourself and about your life.
Are you always complaining about the problems and troubles in life?
Are you always feeling drained?
I hear many people say so and I see many people sharing memes on social media about their bad traits and habits as if they're commanding it and they're so happy to flaunt it.
But If you want to change your life and change your stuck situation, you need to change the narrative.
You need to stop the complains, negative self talk and boasting about your bad habits like as if you're so proud of it.
Unless you stop doing these, you won't be able to move forward in life and unstuck yourself from your situation. The only key is to start being grateful.
This is how I changed and simplified my life.
2. Set really small goals and achieve them
The first step in getting unstuck is to start setting really small goals and making sure you ABSOLUTELY achieve them.
Even if you can't on the first try, even if you fail after a day or two, get back up again and make sure you achieve them.
The goal can be as small as just reading 1 page of a book in the morning, going for walk every evening for 20 mins, waking up a half-hour early than your usual time, or whatever it is.
Set just one small goal for a day, or for a week- you decide, but it is really important that you reach those goal(s).
But why is it important in getting unstuck?
Because when we feel stuck in a situation and in our past habits for a very long period of time, it has inevitably shattered our self-confidence, self-determination and belief in ourselves.
But once you start setting goals and achieve them no matter what, it slowly boosts your self-confidence, and you will start to regain your belief in yourself.
You will slowly start to feel that you still have the power to take control over your life and change it in the direction you want to go.
Even reaching tiny goals self consciously brings in satisfaction and confidence. And that is all you need right now to get your life unstuck.
3. Break your old habit patterns
These old habit patterns that are making you stuck in life have been strongly rooted in you for the past several years.
These old habit patterns can take the form of laziness, procrastination, watching endless Netflix, sleeping late, waking up late etc which has an extremely strong pull.
So you must know that it will take time to break them, and you must work on it again and again.
But tackle them head-on one after another and you will be able to break them.
Here are 10 toxic habits to cut off from your life and 10 habits you must never do in the morning.
And here are 4 ways to break the procrastination habit.
If you only break these habits, you will stop feeling stuck.
4. Follow a simple daily routine
When we don't know what to do with our time, when we don't know how to manage our time well, we end up wasting our time.
We also end up doing the same things, engaging in our past habits, and so we end up doing the same things again and again making us feel stuck.
The way to break this negative cycle is by following a simple daily routine which goes according to how you would love to spend your day.
Take a moment to think of what kind of day would make you feel happy and satisfied with what you did?
And establish a simple daily routine around that.
It needn't be that hard to stick with it. Here are my easy tips on creating a simple daily routine you can stick to.
5. Write down your goals for life
To really stop being stuck in your life, you need to make a change and have some goals in life.
It is not enough to only have it in your mind or only say. You need to write it down.
Get a diary or a journal, and write down your goals for life. Write down what you want to do by 10 years, 5 years, next year, next six months and for the next 3 months.
Set a goal for the next 3 months. 3 months is a perfect amount of time to work on things and even start seeing results.
Then based on your 3 months goal, break it down into a weekly goal.
Here is how to create a weekly goal with 50+ weekly goal ideas.
6. Get your body moving
Exercising and moving my body helped me a lot to start feeling good and in control on my body.
Starting exercise helped me shake off the slumber state I had been for a long time and it is a habit that has stayed with me for many years now.
If you want to get unstuck, you should start with exercising and moving your body. It brings in routine, discipline and makes you feel more alive.
I normally only exercise for 25-30 minutes. You can start with 10 minutes with simple stretching exercises. Trust me it does make a lot of difference.
In this post I have shared, how I made myself love working out.
7. Manage your day well
The reason why we all feel that we have lost control of our lives is because we have lost control of our time.
Gain control of your time and you gain control of your life.
The key here is to learn to manage your day well, build a routine and start cultivating healthy habits in your day.
This way you will start to again feel in charge of your life and not feel stuck anymore.
If you feel like you can't give time to all that you wish to do, here is my guide on how to make time for everything without getting stressed.
8. Actively seek inspiration
Don't expect that its a one day thing to get you from feeling stuck. You need to work on yourself, and for this you need to actively seek inspiration.
Don't wait for the day when everything else will fall into place, or when everything starts to go in your favour.
You need to start focusing on yourself first and then things will start falling into place.
For this matter, start actively seeking inspiration.
Here, while trying to seek inspiration, what you consume matters. Make sure to consume good things, not only for the body, but for the mind.
Read good books
Cut off distractions
Watch helpful YouTube videos
Find some good podcasts to listen to
Follow inspiring people on social media and the like.
Be mindful of what you're letting inside your head. It plays a big role.
9. Notice the pattern
Once you decide to take charge of your life and decide to move forward against all odds, working on yourself, setting small goals and trying to achieve them, chances are you will fail many times.
You will want to give up. You will want to go back to how things were and ask yourself many times as to why are you even taking the trouble when you can just stay comfortably and sleep in your bed all day.
But rise up again, and notice the pattern instead. Notice what your mind is telling you and realise that you're more than your mind.
Notice what your mind tells you and also how your body is behaving.
Notice your resistance patterns and what excuses your mind is giving. Notice your self talk and where you are struggling with most.
And instead of letting it dishearten you, simply notice the pattern and give yourself love, understanding and compassion. Write in your journal, and begin again.
Without love and understanding for yourself, you won't be able to get unstuck.
10. See each day as new
When you wake up in the morning, see it as a fresh new day. You can completely turn your life around in a day if you see it with fresh new eyes.
Wake up feeling grateful for a fresh new day, for 24 brand new hours, for having a body and for being able to talk, walk and do the things you can.
Don't let your mind or anything handicap you and keep you stuck.
Get up and moving. Make your bed and dance in the morning.
Create a routine and do the things that helps you be centred through the day.
This is my morning routine before 8 am. Start seeing each day as a miracle and a wonderful opportunity to be alive and there will be no reason for you to feel stuck.
How to take action when you feel stuck
It's going to be difficult, but here is how to take action when you feel stuck
Set small goals and achieve them
Give yourself compassion
Keep getting back on track
Final thoughts: How to get unstuck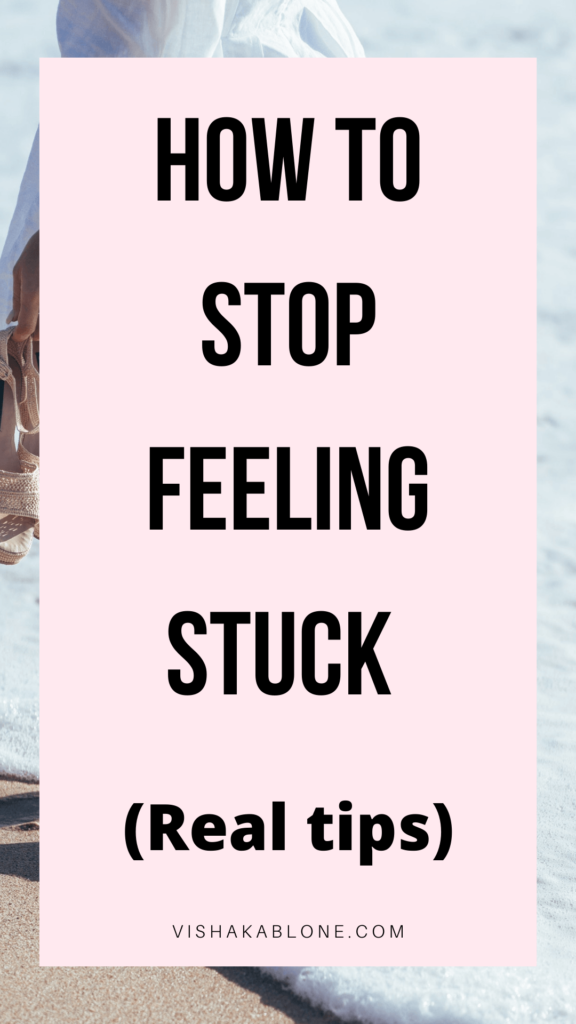 So these were all the ways you can get unstuck. Remember that it is not a one-time thing.
You need to have a lot of compassion and kindness for yourself to be able to get yourself out of this feeling and get unstuck.
Without compassion, you won't be able to work for yourself and on yourself and build discipline, so don't forget to be kind to yourself.
Learn to manage your day well, begin to set small goals and make sure to achieve them no matter what.
You need to rebuild your confidence in yourself. It's all inside you in infinite measure, but you need to stop with the negative self-talk.
Then you will see that the treasure is still in you and that you have finally got yourself unstuck!
All the best to you.