How to be more consistent in life? How to not give up midway? How to stay consistent with goals?
Well! I have certain strategies I have learned over the past few years which have helped me finally crack the code to bring more consistency in life, and thus reap its wonderful rewards of ~ peace, ease, health and wealth.
You can also listen to this post here from my podcast, 'Heart of Living'
For one year ( specifically when I had first begun blogging) I set my whole 'theme/intention of the year' to cultivate the virtue of consistency. Personally, it helped a lot.
Whether you want to succeed in YouTube, blogging, business, writing, or with new habits, all the rewards we will ever get in life will be because of consistency.
Today in this post I am going to share why we fail to remain consistent and how you can bring more consistency into your life.
I've divided this post into three parts to make it easy for you:
So let's start
Pin to save 🙂
I- Getting Started with Consistency
Pick your goal
See here, that I've mentioned 'Goal' and not Goal(s).
Often the reason most of us struggle to be consistent is because we set too many goals and then we forget what they even were.
To stay consistent with your goal, it is important that you choose just one goal for a specific period of time (which I will get to in the coming points)
It may be to start exercising, to work on yourself, to stick to a morning routine or anything, but make sure you pick just one, and give it your 100% dedication.
However, if at all you want to set more than 1 goal, set just 1 goal for different areas of your life, for example
Healthwise – to start exercising
Moneywise- to save $500 this month
Self Care- to give 1 hour to myself in the morning
If you do this, choose only 3 areas of your life at a time, never more than 3.
To have some more clarity on how your goals should be, don't make these goal-setting mistakes
Here are some good monthly goals ideas for all areas of life
Make your why strong
For most of the things, I've been able to be consistent, like- exercising, sticking to a morning routine, meditating, going for a walk, and also being consistent with blogging was because I made my 'why' strong.
Give some time to yourself to contemplate your 'why'.
If your why is strong, you will want to stay consistent despite everything and will be more likely to stick through it, compared to when you just start a thing out of impulse or because everyone is doing so.
My 'why' for blogging was/is that I really want to put my words and thoughts out there, and create and build something I can truly call my own.
When I first began, I set my intention as, 'Even if one person benefits from my content, then I will be happy'.
I remember I had written this in my diary back in 2020
This 'why' was strong enough for me to keep going despite the doubt and despite all the struggle of not seeing results for more than a year.
Now fast forward 2 years, and I can actually feel this joy.
I am so happy about my blogging journey and grateful that I didn't give up.
So what is your why? Make your intentions strong.
Here are my personal examples of 'how to set intentions the right way'
Set timelines
Next, set a timeline for your goal and keep getting back to it even if you fail within that timeline.
It's up to you to decide if you want to keep a 1-year timeline, 6 months timeline or 3 months timeline.
I would recommend you not set less than a 3-month timeline for your goal or focus.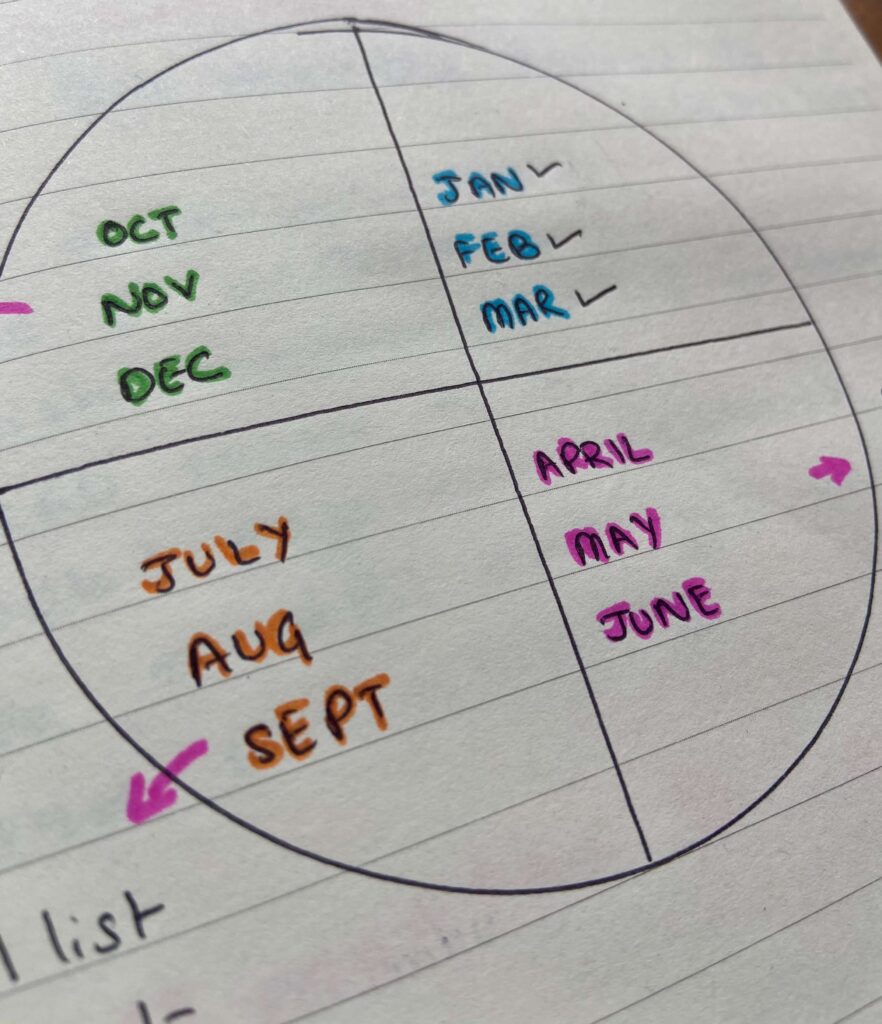 I find dividing the year into 4 quarters and then setting 1-2 goals for each quarter very achievable.
3 months is a perfect amount of time to set realistic goals and even start seeing results from it.
After that, you may set monthly goals and weekly goals. Here is how to set weekly goals and crush it.
Make it measurable and visible
"Anything that is measured and watched improves"- Bob Parsons (CEO of GoDaddy.com)
Whatever your goal is, try to make it measurable and then make it visible. Keep it right in front of your eyes.
P.S. This step is very important, so don't miss it.
Track your progress and keep it in front of you to see every day.
Here you can make use of habit trackers (I recommend weekly habit trackers as it is easier to stick through a week than when you see a whole month ahead of you)
Also, make sticky notes your friend as you'll need a lot of them when you want to bring consistency.
II- Learning to deal with lack of consistency
Once you've done the groundwork to bring more consistency in your life by
Choosing your goal
Make your why strong
Setting a timeline for your goal and
Making your progress visible and trackable
we now head on to how to stay consistent when you're in the middle of your journey.
This is the hardest part as it is in the middle that we most often give up. We end up missing a workout or two, something comes in between, or we just feel plain lazy and we feel we can't be consistent anymore.
So here the coming points are about how to deal with a lack of consistency.
Allow yourself to struggle and be uncomfortable
As human beings, we are fond of good feelings and hate feeling bad and uneasy.
But the path to progress isn't always filled with flowers. In fact, if we ever want to get close to our goals, then we must allow ourselves to be okay with the mud, with the messiness.
I would say, keep a note of all your struggles for they will be proof of your victory.
If you want to stay consistent with your goals, then you must accept them beforehand, saying, 'This is going to get uncomfortable and this is going to make me struggle, but I am ready to finally come out of my comfort zone and allow myself to be a beginner and struggle'
Here is a post I specifically wrote about embracing the joy of not knowing when I had just started blogging knowing nothing and feeling all those uncomfortable feelings.
P.S. If you are ready to give a try at working on yourself and changing your life, I have recently created a Special challenge/Guide for you to Change your Life in 7 days.
I think you'll love it if you give it a try for 7 days and see what's possible for you.
Make being consistent easy
Sometimes or most of the time lack of consistency is simply because we don't make consistency easy.
Make being consistent easy. Here are three ways to do it:
Get clear on the when and what.

Don't just say I'll start working out from tomorrow or later. Our mind doesn't like to make a bit effort when it comes to taking action. You must make it clear beforehand on the when and what.


Make early preparations. For example, if you want to work out every day and not miss your workouts, keep your workout clothes and shoes ready. If you want to write one blog post a week, then write a blog post outline beforehand.


Take care of the environment to reduce distractions and temptations
Schedule
Consistency can't rely on impulse or motivation. Period.
A YouTuber who posts videos every week doesn't do so because he/she feels greatly motivated all the time. A writer doesn't become a writer because he/she wants to get the feeling to write every day.
You can surely motivate yourself, but feeling and motivation are unreliable. The only way to have consistency in life and be consistent with your goals is by deliberately scheduling.
What are your goals? Set up a schedule for it. Fix that time slot and keep it sacred.
This is the only mantra to consistency.
End perfectionism
Don't let your imagination of perfection stop you from doing your good in reality.
Once you are able to identify your perfectionist tendencies of, "This is not the best, this is not original, this is not how it should be, I suck at this.." and all such thoughts, you will make it far easier for yourself to be consistent.
End your relationship with perfectionism. It does no good, but as you keep being consistent you will get better.
Allow yourself to be a beginner. Allow yourself to struggle and come out of your comfort zone.
That's how you'll grow and succeed.
P.S 3 reminders to help you keep going on your journey
III- How to stay consistent with your goals
Focus not on outcome, but on routine
Another main reason we fail to be consistent is that we get too attached to the result and end up being impatient.
To be consistent I had to keep on reminding myself that even if I gave up, time would pass anyway, so it's better that I keep going until I get to my goal.
Building a routine and following a routine greatly helps to be consistent, because then you start working on your goals out of habit and out of your daily routine, instead of doing it for the outcome or relying on your motivation and feelings.
Find ways to remain motivated
To keep on maintaining consistency with your goals you must find ways to keep yourself motivated and energised.
There will inevitably be times when you will feel depleted, burned out, lazy, doubtful, and will want to give up badly, but what matters is how you recharge yourself and make yourself come back to your goals.
What are your strategies to remain motivated? Here are some of mine which keep me motivated to reach my goals
Enjoy the process
To be consistent learn to enjoy the process. Don't be so bent up only on the outcome, but let your journey be something you will love to remember.
If you struggle, then struggle. Also, learn to enjoy the struggle.
Let it be a remembrance of what you crossed over with courage, faith and confidence despite the doubt and setbacks.
In the future when you look back, you will feel proud of your self and it will be an experience to share.
Keep getting back on track
Lastly, keep getting back on track. Even if you miss out one time or two, what matters is whether you come back to it again or not.
Remember, 'Our greatest glory is not in never falling, but in rising every time we fall'
Learn to rise every time you fall. Find inspiration and come back to yourself. Once you come back to yourself, you will come back to your goals.
Here are my small tips on how to get back on track
Wrapping it up
Pin to save 🙂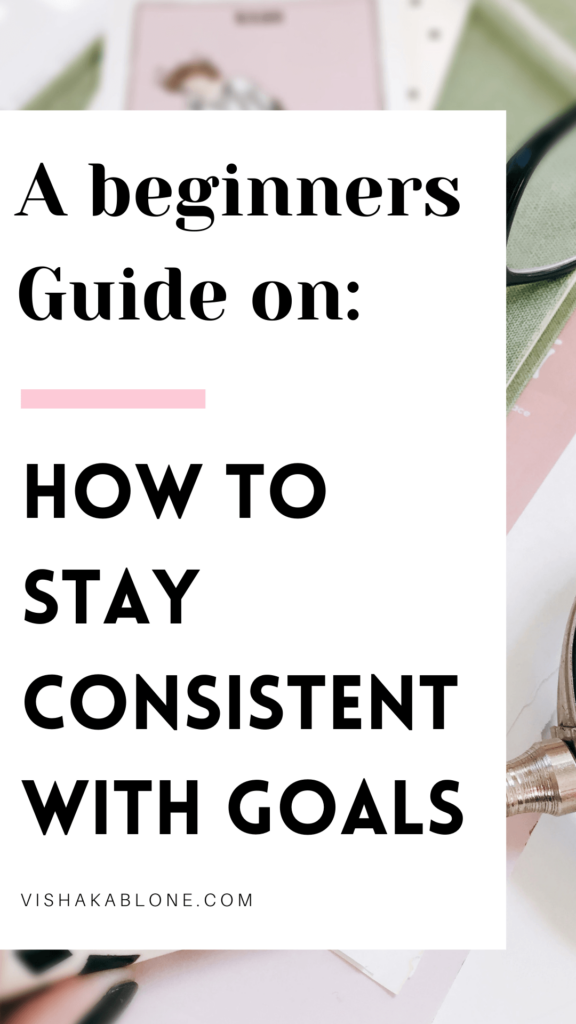 Even though we KNOW that consistency is what will help us reach our goals and succeed in life, it is so hard to remain consistent.
Hopefully, by applying these tips, you will be able to bring more consistency into your life.
To sum it up once again here they are:
Pick your goal
Make your why strong
Set timelines
Make it measurable and visible
Allow yourself to struggle and be uncomfortable
Make being consistent easy
Schedule
End perfectionism
Focus not on outcome, but on routine
Find ways to remain motivated
Enjoy the process
Keep getting back on track
Also, here are some quotes/thoughts of mine I wrote along in my journey on bringing consistency and to keep going.
Quotes to help bring consistency
~ A river never questions how far the journey until it reaches the sea ~
~ No matter how far the journey or how hard it is, don't lose your 'why' along the way ~
~ Use doubt to fuel your courage ~
~ Three things to never underestimate:
Patience
Consistency
Sincerity
~ Go Slow, but grow ~
~ Keep going even if it all seems meaningless and insignificant ~
~ What little you do is more valuable than what big you say you will do ~
~ If I don't stop myself, is there anyone else who can stop me? ~
~ Learn how to be uncomfortable in the pursuit of your dreams ~
~ This year don't be afraid to experiment ~
Thank you!!
More Power to you
Related Posts: