Living alone and loneliness can be synonymous with each other for most people, but it needn't always be. Living alone can be a wonderful opportunity to live authentically, and to live with integrity.
I once came accross this quote by C.S Lewis, 'Integrity is doing the right thing, even when no one is watching'.
I feel we can practice integrity more when we're living alone.
You can go about your day feeling like nobody is there so I can eat what I want, sleep when I want, and wake up when I want, or you can remind yourself that its not for other's sake that you are living your life, but for your own self that you must eat well and live well.
Instead of feeling lazy, reckless and unbothered, living alone can be a wonderful opportunity to understand yourself better and to be there for yourself better in a real sense.
However if you are living alone, and it is making you feel lonely and void on the inside, in this post I want to tell you that there you that there is indeed a way out to stop feeling lonely.
I hope that by the end of this post, you will feel a little more enthusiastic about living alone, and make use of this wonderful opportunity of taking better care of yourself.
But still if you ask,
Is it possible to live alone and not feel lonely?
If we're with the wrong people or if we're far away from our true self, loneliness can be felt even in a room full of people.
If you know how to live well and know how to take better care of yourself, it is possible to not feel lonely even if you're living alone.
I had never lived alone until now. I have lived with my parents all my life. During college I lived with my roommates in Darjeeling, and after graduation I lived with my mother after my father's passing away.
Infact I also always had a sleeping partner. I shared bed with my roommate in college, and at home with my mother.
I always wondered how people could live all alone. I wondered what people do when they are by themselves living alone. I could never imagine myself in that setting.
Now my work is keeping me away from my mother and my dog Bella, and even though I miss them, and would love to have someone around, I can say that as a first timer in living alone I am doing fairly well.
When I come home from work to an empty apartment, I don't feel sad, but I see my clean and tidy room, and I feel at ease.
I haven't had feelings of loneliness at all. No kidding.
I could easily bingewatch netflix, not have food in proper time, wake up late and go to bed late.
But even though I live alone, I wake up early in the morning before 6 am and go to bed early.
When I say people this, they ask me WHY with astonishment.
But just having the freedom to do what I want to do, and then making use of this freedom in being unbothered with my day is something I wouldn't consider as true freedom.
If I didn't live well, if I didn't follow my daily routine, and lived carelessly just because 'I don't have anyone who will tell me anything', then my whole life would go haywire and turn upside down in an instant.
When you live well when you're only with yourself, you can also live better when you finally have someone to live with. Seen in that way, living alone can be a practice to live well with others.
How to not feel lonely living alone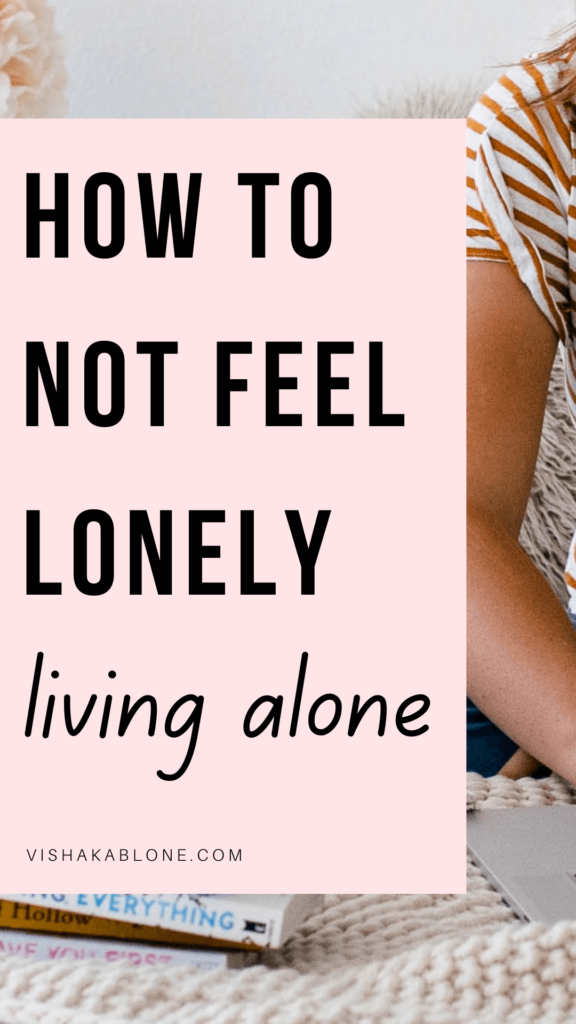 As a first timer, I am happy with myself of how I am living alone fairly well. I feel strong and also proud of myself.
So here in this post I want to share some of the things you can do to not feel lonely living alone.
These are all the practices I have been doing which have helped me live well and without loneliness when living alone.
1. Don't cover up your loneliness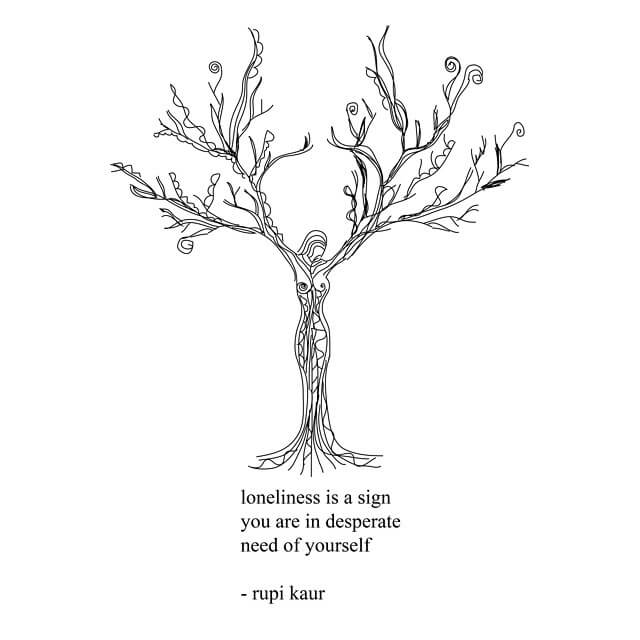 Ever realised how we don't allow ourself to face our loneliness, but instead always try to avoid it as much as possible?
We mask our loneliness, and don't allow ourself to feel lonely, because loneliness is a bad feeling we don't want to have.
So we cover up our loneliness in bingewatching netflix, eating out, or simply scrolling through countless hours of social media and youtube everytime we feel bored or lonely not allowing ourselves to know how exactly we feel.
I don't want to go on about the many different ways this flashy modern day world gives us the option to mask our loneliness.
But the truth is, in order to not feel lonely, you need to first be face to face with your loneliness.
Don't try to cover up your loneliness. You've done it for too long, but instead face it freely.
When loneliness comes in, don't avoid it but see it as a chance to truly be there with and for yourself.
'But what do you do when you feel lonely?'
The coming points are about that.
2. Follow a Daily routine
How do you spend your time? Do you have a daily routine that takes care of your wellbeing and how you spend your time?
For me, I can surely say that the reason I am happy and content with myself even when living alone and why I don't feel lonely is because I have a set daily routine to follow.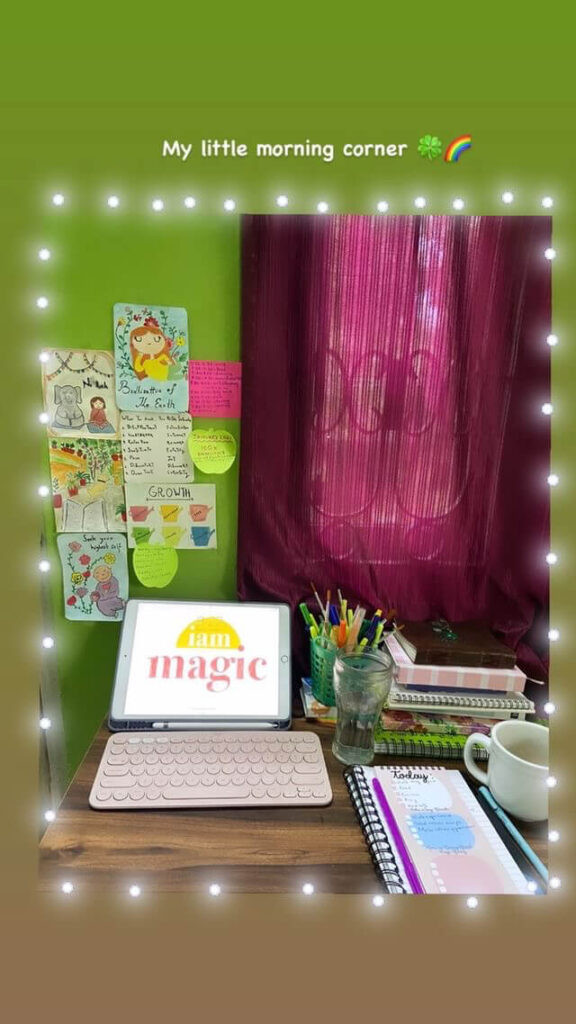 I have been following a morning routine diligently for many years now and it is what grounds me.
My morning routine before I go off for work is my appointment with myself.
Always meet yourself first when you start your day. This has a huge change in our whole day and in how we feel.
Here are simple tips on how to make your morning routine stick
Once you're good with following a morning routine, have a basic routine to follow after coming from work to again meet yourself fully.
Without a daily routine life can easily go unanchored and directionless. And an unanchored life is the breeding ground for loneliness.
Create a daily routine to be there for yourself. What are 2-3 things you really wish to do in your day?
Add them and schedule them to your daily routine.
If you've always had a hard time sticking to a routine, it need not be so.
Here are some easy tips on how to create a daily routine that sticks .
3. Take care of your environment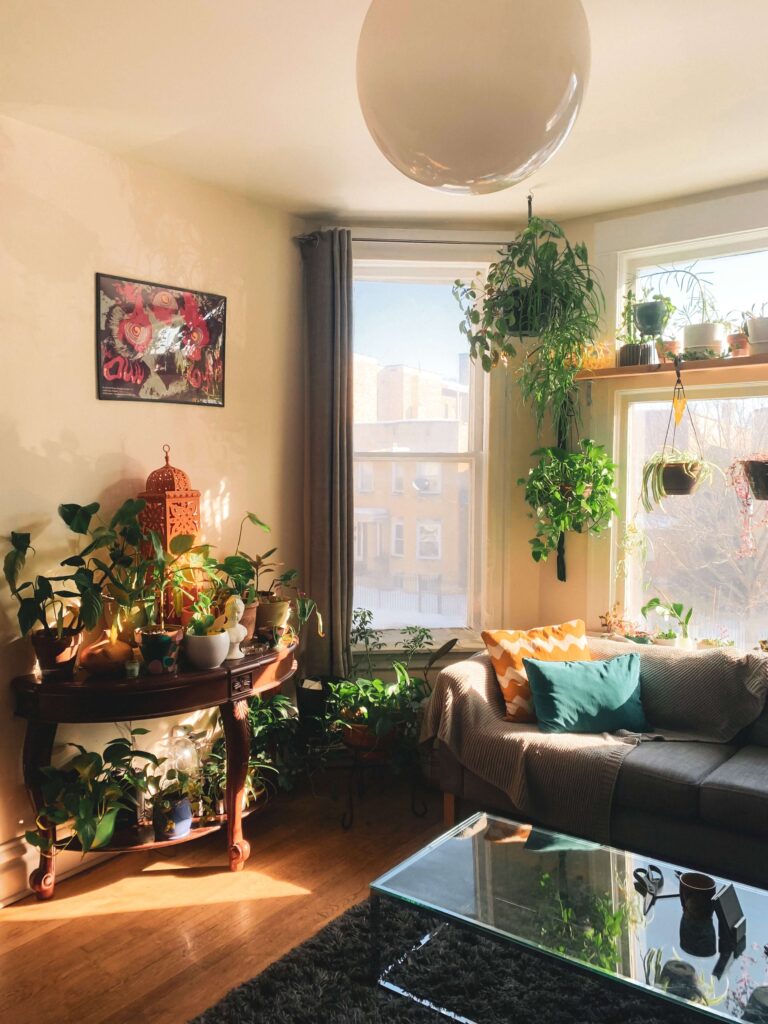 We live our lives in our home, in our room, in our bed, in our study table, in the kitchen, in the living room.
When you're living alone its easy to get disorganized and not care to declutter, but without realising physical clutter adds up to mental clutter.
Take care of your environnment by making your bed instantly after you wake up. Tidy your bed. Its your sanctuary. Clean your desk and clean your room.
Take care of how your home makes you feel.
When you enter your home, let it be a zone of peace and calm.
When you're living alone, you have the wonderful opportunity to be in full charge of your how you let your home make you feel.
Let your home make you feel at peace.
It feels wonderful to come home to a place I love to live. My mind feels lighter. This helps in nurturing good thoughts. Negative thoughts and feelings stay far away thus.
If you can't clean your home everyday, keep sundays for cleaning and organizing purpose.
Here are some Sunday Habits to start to organize your life.
4. Set some rules
Too much freedom is not freedom, but an invitation for chaos.
Rules aren't bad. Rules actually allow us live in true freedom.
It is perhaps the negative relationship we have with rules, our aversion to rules that we feel increasingly lonely.
Try setting some personal rules when living alone. If you are unclear about what rules to set, here are some
No eating in the bed in my home
No phone right after waking up
No skipping breakfast in my home
Use bed only for sleeping purpose
Making bed right after waking up
No social media after 6pm
Give 1 hour to myself in the morning
Declutter and clean home every sunday
Here are 13 rules that simplify my life
5. Listen to podcast
When we're living alone its easy to get too caught up with out own self and own loneliness, but there are ways to still feed the mind with good conversations.
One of the ways is by listening to podcasts.
Good podcasts and consuming of good content can change our life. Listening to good podcasts lets us realize that there's life outside our life.
Also the things that you normally do at home alone (like cleaning, doing laundry, washing dishes etc) can be done while listening to a podcast in a bluetooth speaker or headphone, and you feel like you have company.
But the plus point is that hearing other people's stories and other people's perspectives helps us enlarge our perspective too.
Its like we've got new good friends and we're no longer alone.
I am currently listening to the podcast 'The Way out is In' during the one hour time I cook, and it has become a wonderful new ritual.
P.S I am really loving this Podcast and I am so thankful I came across it. Its the most wonderful 1 hour I am spending these days.
Cooking has become more enjoyable and I feel like I am listening to my friends talking with eachother as I cook. I don't feel alone at all.
6. Fill the room with music
You're living alone. Fill your room with great music and uplift your spirit. Get clean and tidy, dress yourself up or undress yourself and dance to the music.
There is noone around, so just enjoy the music to the fullest.
7. Find a community
Loneliness happens when we feel we like we don't belong anywhere. In such a case, being a part of a community and engaging in certain activities help.
Find a community or a club which you'd like to be a part of. I am a part of the SGI community and I feel engaged with them.
If you look, you will always find one or the other community whom you can meet once a week.
Or you can create your own community with like-minded people, Like meeting up to talk about books you are reading, what podcasts you are listening, what you learnt, or simply to go for a walk.
In one of the podcast of 'the way out is in', brother Phap Hu says, "even two people can be a community"
8. Connect with nature
I know many people who live alone and who don't even open their windows all day. They will stay in their room cooped up all day if they can not even caring to open their doors and windows.
I must tell you that that's a recipe for loneliness and depression.
We are natural beings as much as plants and flowers. We need the sun's light, we need fresh air, we need abundant water not just to survive, but to thrive.
Connect with nature and open your windows to let in sunshine and fresh air.
If you don't have any plants at your home, and even if you're not a plant lover, buy one and take care of that one plant.
Don't let it die, but water it everyday.
Just like with humans or with animals, I've realized that we need to develop a relationship with plants as well and we slowly develop this relationship by meeting the plant everyday and by watering it daily.
Slowly we will know the plant better and we will love to take care of it. This helps us connect with nature and our own true nature.
9. Go out for walk
Living alone can make you lose all motivation to do things with enjoyment by yourself, but you need to start sometime or the other.
Imbibe it in your daily routine to go out for a walk. Simply put on your clothes and shoes and go out for a walk.
P.S here is how I made myself love working out as well.
You can start with a 10 minutes walk. Walk for 5 minutes while going and for 5 minutes while returning, then slowly increase to 10, 20… 30.
Or you can start by choosing a route for your daily walk.
Every evening after coming back from work, and after waking up from my nap, one of my favourite evening routine is to go out for walk for 1 hour.
I stop for tea on the way at one of our famous 'Chai shop', and enjoy my tea mindfully.
Even though the route here is not walkable, and is full of people and noise, still I enjoy walking every bit as I listen to music or listen to a podcast.
10. Keep a pet
Having a pet can take away all signs of loneliness. They're such wonderful beings to be around with and teach us how to love well.
If you feel too lonely, also consider keeping a pet.
The reason why I also recommend keeping a pet is because pets help emanate love and keep us in a high life state.
And when we're in a high lifestate and full of love, its hard to complain, or feel lonely or feel bad about ourselves.
Keeping a pet replaces all of this with love.
11. Connect with loved ones
Find time to connect with loved ones. Call your friends, call your parents and your loved ones.
Talk to them often and tell them about your day. Listen to them and find company in them.
12. Engage in your hobby
Living alone can be a wonderful opportunity to explore your hobbies. Instead of being in a pity-mode for yourself thinking you are all alone and then spending every bit of extra time on your phone, try using the time to engage in some hobbies.
Experiment to see what makes you happy and fulfilled.
This life is too short to not know what truly fulfills our heart and soul.
Try journalling if you want. Here are Journal Prompts for 21 days for you to make journaling a habit.
Try painting and colouring. Doesn't matter even if you have never painted. Do it for enjoyment.
Try gardening, try running, try a new recipe or try blogging.
If you'd like to start a blog, here are 10 things you should do before starting a blog.
Find your hobby. Do more things offline and you will see loneliness will be something very far away once you truly enjoy your time with you.
13. Give yourself time
Lastly, it all comes back to how much time you give to yourself. If you say you can't find time for yourself, then you will never.
Loneliness is telling us that we need to build a stronger relationship with ourself. The only way to do it is by first giving your presence to yourself as in any other relationship.
You need to deliberately set up at appointment with yourself. Give abundant time to yourself.
Start by choosing some morning habits and giving time to yourself by creating your own morning routine. Slowly you will start to enjoy your times with yourself and perhaps start enjoying living on your own.
Also, here are some great and loving me-time Ideas you can do to enjoy yourself!
Wrapping Up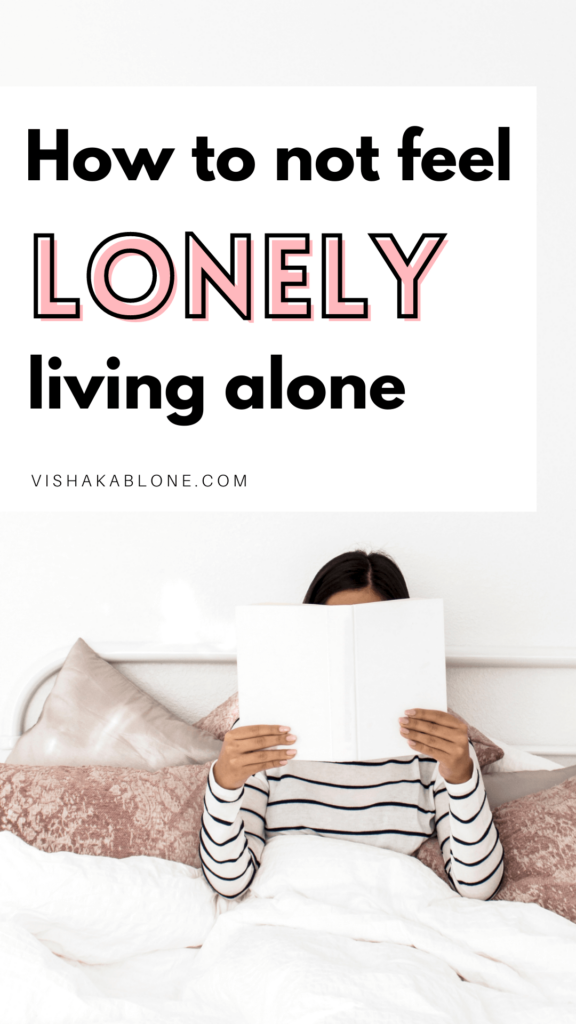 It all matters in how you live and how you perceive your situation.
If you keep thinking and enlargening the situation by saying 'I live alone. I have no one. I don't have a partner. If I had a partner, then I would be happy. If I had this, I would be happy' or things as such, then we will always be stuck in the same cycle.
Let go of all of it and simply allow yourself to enjoy living alone.
You will see that once you only allow, things become so much easier and enjoyable. But first, you must allow.
This much for today!
Wish you plenty of happy living alone moments!!
Related Posts