Rainy days can seem full of boredom when you're stuck inside and your plans to go outside fail. 
If you're feeling the same and don't know what to do, here is a list of over 100 things to do on a rainy day. 
This list is full of fun, creative, productive and organising ideas that will make your rainy day at home or indoors more fun whether you are living alone or having your friends over. 
100+ things to do on a rainy day for adults
Use these ideas to make your own list of things you want to try and go ahead with it to have fun.
Pin to save 🙂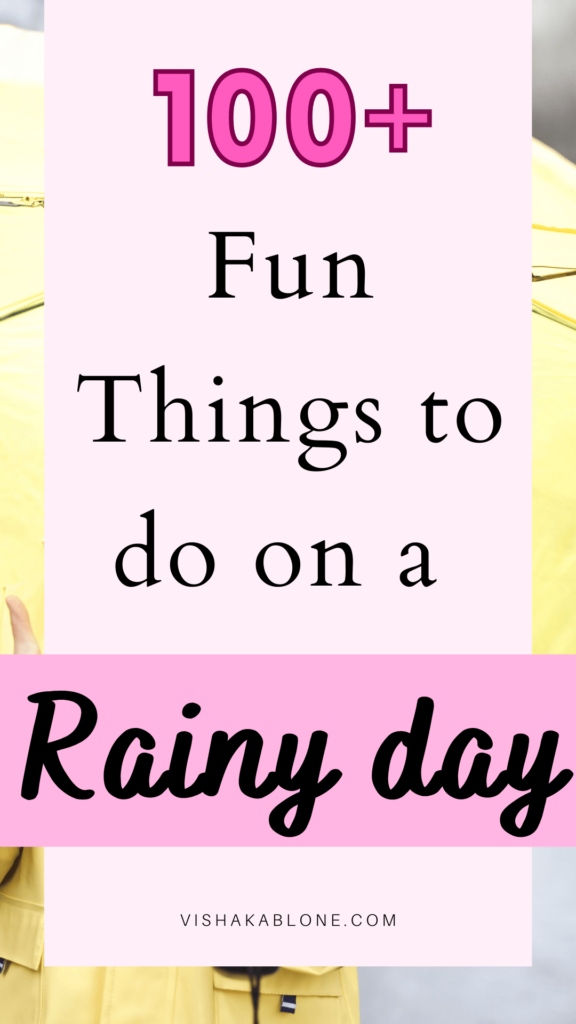 P.S Affiliate disclosure: Some of these links are affiliate links. If you purchase from my link, I'll earn a small commission at no extra cost to you.
Fun things to do on a rainy day
1.Paint your nails
Choose your nail paint and give yourself some slow moments of painting your nails mindfully and enjoy.
2. Cosy up and read a book
Just love the feeling of getting all cosy and reading a book on a rainy day. Pick up the book that has been left unread and spend your time reading a book on a wonderful rainy day.
3. Plan a vacation
What better time to plan a vacation when you don't know what to do? Make a list of places you want to visit and make your plan and itineraries.
I love the Airbnb app and I find myself making a wishlist of all the places I want to visit and stay in on my vacation.
4. Write down your bucket list
Write down your at least once-in-a-lifetime bucket list and bucket list for your 20s, 30s or whatever decade you are in.
5. Make a vision board
If you don't have a vision board made, I highly recommend you spend your rainy day at home making one.
Here is how to make a vision board that actually works.
6. Write letters
Write letters to yourself. Here are 2 ideas from me:
-Imagine you're 80 years old. Write a writer from your 80-year-old self to your current self. Write about everything you would want your current self to do to how you are living your life at 80.

-Write a letter to your younger self.
7. Paint something
You can paint your pots, paint the plastic food containers, paint some bottles or just paint anything you like.
It fills up our creative juices and eases us up.
8. Make a balcony garden
If you don't have a garden living in an apartment, you can consider turning up your balcony into making a small balcony garden for yourself and enjoying some greenery in your home.
9. Research your family tree
If you've ever wondered who your great-grandparents and your ancestors are, use a rainy day afternoon or evening to research your family tree or any personality you want.
10. Make a playlist
Create a workout playlist, a playlist for your drive to work or a playlist with your lover.
You can also make playlists on Youtube for anything you want to learn, save or listen.
11. Play the guitar or any instrument
I think rainy days are a perfect time to bring the guitar, or any other instrument and brighten up the mood.
12. Make ice cream
Make your own homemade ice cream and enjoy.
13. Cut your own hair
I've never done this myself, but my friends would say they cut their own hair and they loved it.
If you can dare to cut your own hair. then go for it. lol
14. Video call your friends
Have a video call hangout session with your friends and have a great time.
15. Spruce up a space
Pick up a space in your home and make that your sacred space where you can enjoy your creativity, read, write and meditate.
This kind of space for me in my home is my small balcony and another space in my room. I love how I feel just when I enter and sit in this space.
16. Watch a series
This is easy. Find a good series to watch on Netflix and have an intentionally lazy day on a rainy day watching something good.
17. Bake something
Bake some cookies or cake for your loved ones and yourself.
18. Host a tea party
We all do drink tea, but hosting a proper tea party is different. So here is a guide on how to properly host a tea party.
19. Play hide and seek
If you have kids in your home and they are getting bored, play hide and seek with your kids and have a wonderful bonding time.
20. Cook a nice meal
Plan a menu and cook a nice meal for yourself and your loved ones at home on a rainy day.
21. Make Pasta
Try making pasta at home and enjoy
22. Make pizza
Here is how to make pizza at home.
23. Make samosas
We Indians love to have 'Chai' (tea) and samosa on a rainy day.
If you don't know what samosa is, google or youtube and try making a new Indian snack for a rainy day at home.
24. Do some art and crafts
Here are some easy crafts ideas for adults.
25. Give your balcony a makeover
If your balcony has been full of unwanted items you need to get rid of, declutter and give your balcony a makeover on a rainy day.
Creative things to do on a rainy day
26. Make a YouTube video
If you have been thinking to start a YouTube channel, or if you have already captured a video, but needs editing, you can start a channel and make a Youtube video right away.
27. Start a blog
If you've ever wondered about making a blog, start it right away.
Research it a little, but don't let the thought of not knowing enough stop you. You start and then you learn. It takes 10 minutes to start a blog.
Here is how to start a blog in 10 minutes
28. DIY something
Here are some ideas
29. Color in a colouring book
Get yourself a colouring book (like this motivational swearing words one) and colour it away on a rainy day at home.
30. Make an origami
Here are 30 easy and cute origami ideas
31. Make wall art
If you're good at painting, use a rainy day afternoon or evening to make wall art.
If even if you can't paint it yourself, you can put up wallpaper for your living room or bedroom.
I put up a wallpaper myself one evening and it has changed the whole look of my room. So many people have complimented it.
32. Tie-dye an outfit
Here is a guide on how to tie-dye an outfit.
33. Try nail art
Here are some pretty and simple nail art ideas
34. Decorate your home
If your home needs some decoration, you can organize and decorate your home
35. Upcycle something
Here are some easy and useful upcycling ideas you can try.
36. Write a song
If you're into music and songs, why not write a new song on a rainy day.
37. Write a short story
Even if you've never written one, you can come up with a short story and see if you can write one.
38. Write a poem
Its amazing how boredom can lead to creativity if we only let it.
On a rainy day, pick up your pen and paper and write poems that are inside you.
39. Start a kitchen garden
Here is how to start your own kitchen garden in an apartment
40. Take an art class
You can find art classes or workshops on Domestica or skill share and spend your rainy day learning and creating new art.
41. Make a card for someone you love
If you haven't made an actual card or given a card to someone, you could make one as a sweet gesture.
You can also make a card online on Canva and get it printed.
It would surely make your loved one happy and smile.
42. Draw and paint
Draw your home, your environment or anything you are grateful for.
It would be a fun thing to do.
43. Learn calligraphy
I would personally love to learn it too.
44. Create a scrapbook
Here is how to make a scrapbook
45. Make an indoor camp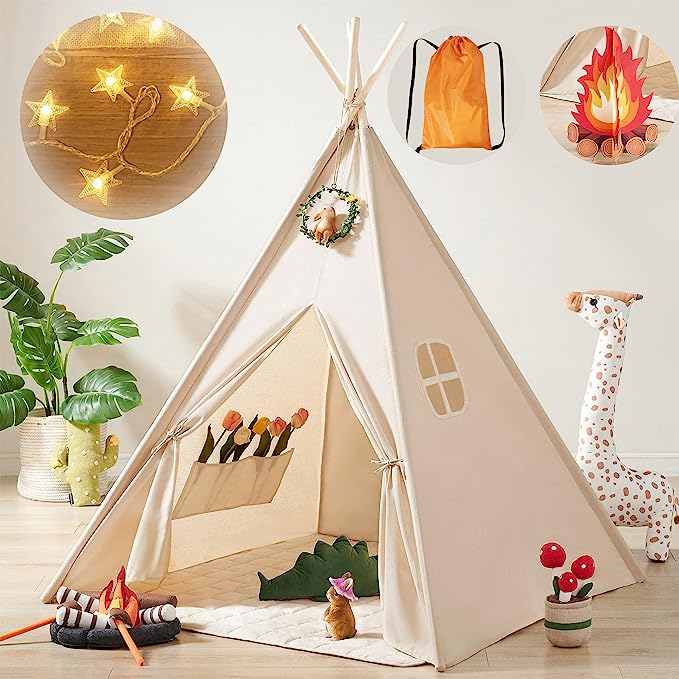 How cute is this tent! I want to get in now 🙂
So get a small tent like this one, and make your own indoor camp.
Things to do on a rainy day at home
46. Declutter a space
Decluttering the mess and all the unwanted stuff room by room might seem overwhelming.
Select a space and declutter and organize that space.
47. Clean out and organize your closet
Here are some tips to organize your clothes in your closet.
48. Create a savings plan
Use your time to sit and consider creating a savings plan. Set up a monthly and weekly budget.
List out how much debt you have if you have any and decide how you are going to repay your debt and then save money.
Work on building up an emergency fund.
49. Organize your kitchen
Organise the spices in your kitchen, your utensils and other items that are used together.
50. Prepare a meal plan
Prepare a meal plan for the week.
Here are free weekly meal plans with grocery list
51. Declutter your phone
How long has it been since you deleted your screenshots and multiple images?
On a rainy day when there's nothing much to do, declutter your phone.
52. Mend old clothes
Take out the clothes that need mending, and mend them all.
53. Rearrange your furniture
Even if you add nothing new to your room, just rearranging your furniture can also seem such a nice change to do from time to time.
54. Clear out your inbox
Delete the unread emails. Unsubscribe from emails you don't read and strive for inbox zero.
55. Change your sheets
Fresh new sheets always feel good!
56. Learn a new hairstyle
Here are some new hairstyle ideas
57. Learn a new skincare routine
Here is a quick one!
58. Do a dance workout
Here is my fav: Pamela Reif's dance workout.
59. Organize your shoe rack
60. Clean your garage and car
Find the time to clean your garage. If your car has been a mess, use this time to clean out your car and make it smell fresh.
Productive things to do on a rainy day
61. Read blogs
Hopefully, you love reading my blogs. There are also many other blogs you can find if you want to learn something new.
Use that time to read blogs and learn from them.
62. Write your weekly goal
I find setting weekly goals very achievable and something that we all must make.
Here are my tips on how to set weekly goals
63. Listen to a podcast
Here are my best recommendations:
The way out is in
The Marie Forleo Podcast
Mindful in Minutes Podcast
Heart of Living (My podcast)
64. Make lists
Here are lists you can make to keep your life organised
65. Learn to code 
If you're any bit interested in learning how to code, then go for it and learn it. There is nothing you cannot learn or cannot do.
Use the amount of free education that is there on the internet and learn new things your heart desires.
66. Learn to procreate 
Procreate is the colouring and digital art app only found on iPad. If you want to learn how to draw and make art digitally, learn how to use Procreate.
67. Learn a new language
There are many good apps now that help us learn a new language.
68. Learn something new
Find anything to learn and make use of your time.
69. Join an online retreat
There are many online retreats that Plum Village, France offers and you can try if the dates are preferable for you.
I personally want to visit Plum Village in France and spend a retreat there.
70. Take up an online course
What is it that you wish to learn? or wish you could learn?
You can search in Domestica or Skillshare and use a rainy day to take up an online course which seem interesting to you.
Things to do on a rainy day with friends
71. Play some board games
During Covid times we loved playing Catan, snakes and Ladder and Ludo (our all time fav)
72. Play Jenga
Here is the link to buy a Jenga for you and your friends.
73. Do a painting session
Get together and paint something together.
You can have a pot painting session or a bottle painting session or anything you like.
74. Organise a vision board party
Here is how to organise a vision board.
75. Solve puzzles together
How long has it been since you last solved puzzles?
76. Watch a foreign film
Here are best foreign movies on Netflix to watch
77. Learn magic tricks
Would be fun to learn a few magic tricks and play it with your friends 😀
78. Play dumb charades
This would be one of our favourite games to play when we were school kids.
79. Cook something together
Make a menu plan and cook a delicious meal together.
80. Have an indoor picnic
Organize your living room, get a carpet and all the essentials and have a mini indoor picnic.
81. Give your friend a makeover
Put make-up on your friend and give her a makeover.
82. Organize a film fest
Get a projector, popcorn and organize your own film fest at home.
83. Have a pizza party 
What better way to spend time with friends than ordering pizza and chilling?
84. Play cards 
Even if you don't know how to play cards, learn the rules and spend a rainy day playing cards with your friends.
85. Play video games
Here are best video games to play for free right now
86. Play truth or dare
Here are the best truth or dare questions
Self Care things to do on a rainy day (20)
87. Follow mindful breathing
You can just sit in silence and follow your breath or you can listen to music or do your tasks, but follow your breathing mindfully.
88. Put on a face mask
Put on a face mask and relax for 20 mins.
89. Take a nap
Take a good nap and don't feel guilty about it. Leave everything and take a nap. You deserve it.
90. Make a gratitude list
Here are 365 things to be grateful for in life
91. Start journaling
Here are 120 insightful journal prompts for self growth if you don't know what to write.
92. Meditate
I have the 'Plum Village' app on my phone and I use this for meditation guides, Dhamma Talks and listening to poems.
93. Do a Yoga flow
Do a 10-minute Yoga Flow by watching on Youtube.
94. 15-minute stretch 
Here's one that feels so good. Try it now!
95. Try Zumba
Find good Zumba Videos on YouTube and try them.
96. Listen to meditation music
I am currently loving handpan music. It's so calming and relaxing!
97. Give yourself downtime
Give yourself a do-nothing time.
It's good to do nothing. Allow yourself this time and be intentionally lazy and relax.
98. Unplug from devices
Turn off your internet or uninstall those apps, or put your phone on aeroplane mode and spend at least 2-3 hours unplugged from your devices.
99. Light a candle
Clean your room. Change your sheets. Take a bath and light some candles.
100. Take a bubble bath
Here is a bath bomb set that has great reviews on Amazon.
This can be a perfect self-care gift for yourself or for someone you love too.
101. Make a self-care basket: Here is how to make your own self care basket
102. Make yourself a homemade mask 
103. Write down your own affirmations
104. Have a pyjama day 
105. Have an at-home spa 
Things to do on a rainy day outdoors
106. Go bowling
107. Visit your family
108. Spend your day at your friend's place
109. Go out to watch a movie
110. Go on a long drive
111. Go shopping
112. Go out for lunch
113. Visit an orphanage
114. Go on an ice skating rink
115. Visit an animal shelter
116. Go on so a solo date to a restaurant
117. Visit the library
118. Visit a Museum
119. Volunteer
120. Dance in the rain
So these were the best rainy day activities
Pin to save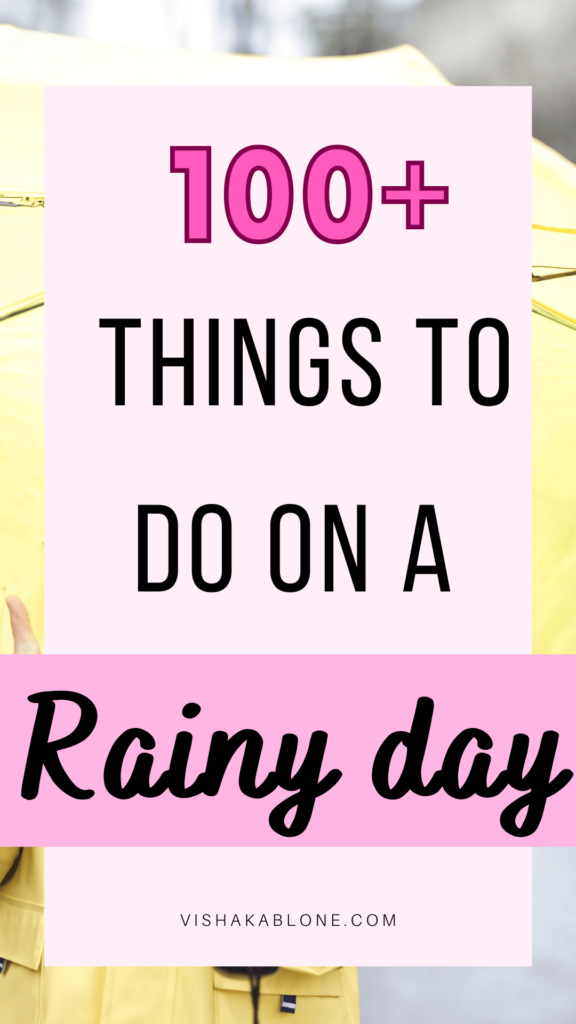 Rainy days needn't be boring for you anymore.
Try out a few from these ideas and enjoy your rainy day!
You might also like: