Are you grateful to be alive? To be born? Do you feel a deep sense of thankfulness for all that you are and all that is in your life? 
It's a wonderful feeling to live and bask in thankfulness. But it is also okay if right now you're finding it a little hard to be thankful. 
The fact that you are looking for things to be grateful for in life, itself attests to the fact that you want to show more reverence, respect and love for this life by being a little grateful.
That intention itself is something to be grateful for.
And here in this post, I just want to make being grateful easy for you and list out all the things to be grateful for in life. I have made a list of 365 things to be grateful for in life, but it could still have been much more.
I had to remove some of it because I didn't want to exceed the number 365!
So yes, there are countless things to be thankful for and grateful for in life.
Gratitude is a practice
We might think that gratitude is a feeling that comes only from time to time when things go right or when we buy things or when someone does nice things for us.
But gratitude can be cultivated. We all have seeds of gratitude, love, and peace, and we also have seeds of anger, jealousy, and superiority planted inside our hearts.
What matters is what seeds are we watering each day. 
A good seed to water is the seed of gratitude because with gratitude springs all love and starts to bear all fruits of peace, joy, mindfulness and kindness. 
It's an everyday practice, and it's a wonderful practice. 
In the beginning, you might not know what you should be thankful for, but slowly you will like to include all things, including the things that you just hadn't even thought about.
Slowly you will start to live with gratitude where you will feel thankful then and there right in the middle of things.
You will be grateful then and there when you're spending time with your kids or your parents or anyone you love. 
You start to see the preciousness of things while they are happening and that's a wonderful way to live.
Everything starts with gratitude. And Gratitude is a practice like any other. 
How to be more grateful in life
An easy way to start practising gratitude and be more grateful in life is by starting your day or ending your day with gratitude and listing out the things you are grateful for.
Get a small notebook and always keep it by your bedside or underneath your pillow along with your pen.
The moment you wake up, write down the things you are grateful for.
Or the moment you go to bed before sleeping, make it a habit to list out things you were grateful for in the day. 
I do this every night and it's wonderful to look back and see all the nice things that happened in the day that I could be thankful for.
They may not always be big things, but looking back you'll notice that it's those little things that are actually big things. 
I have written down the things recently on my gratitude list as well in this list and you can see them. 
Why you should make a gratitude list
Count your blessings and see all the good things no matter how small and little that take place in your day. Like, literally! 



To slowly become an expert in seeing the positive. 



To receive more goodness and kindness from people and the environment



To choose the light and choose to see the bright side of things



Being grateful helps you be kind to yourself 


Being grateful slowly helps you to have an eye for the blessings in disguise.


For everything that might be going wrong in your life, practising gratitude can help you see the good things that are going right and focus on them instead.



It makes you more focused on what you have instead of what you don't 



It helps in fostering an abundant mindset.



Writing about the things you are grateful for allows you to enjoy life more and more even the simplest things.



It makes you happier and more satisfied.



You slowly become an expert on living and loving life! 

List of things to be thankful for
Here I have made a list of things to be thankful for. It's a long list, so that is why I have divided it into different categories. They are 
365 things to be grateful for in life 
Pin to save
Big things to be grateful for 
1.Your health 
2. Your family 
3. Your kids 
4. Your parents whom you are able to call
5. Marrying the one you love 
6. Becoming parents 
7. Getting to shop with your own money 
8. Buying things for your loved ones 
9. Your friendships that add meaning to your life 
10. Having found someone you can't live without 
11. Having money to fulfil more than your basic needs
12. Your pets who bring so much joy
13. You being loved by the one you love
14. Having someone to talk to when you are in need
15. Your home
16. Delivering safe birth to your child 
17. Celebrating another birthday
18. A safe neighbourhood
19. The food on your table 
20. Electricity which helps make our lives so easy
21. Access to the internet that makes our lives so easy
22. The job that's helping you sustain 
23. Medicine that's available to help you get better
24. Your freedom and rights that allow you to do things as you want 
25. Your parent's good health 
26. Your kid's good health
27. Your partner's good health 
28. Your pet's good health
29. Getting to enjoy and drink a clean supply of water 
30. Getting an education 
31. Getting to read whatever you want to 
32. Getting to wear the clothes that you want to wear 
33. Transport that makes our lives so easy
34. Politics that is stable in your country with no wars and terror
35. Getting to travel
36. Getting to buy something to gift your mother on Mother's Day
37. People who are genuinely happy for you
Small things to be grateful for 
38. A good cup of tea 
39. A nice weather 
40. Getting to enjoy a good bath
41. The weekends you get to enjoy and relax at home
42. A wonderful afternoon nap 
43. A free space of time where you can indulge in your hobbies
44. A good laugh with someone you love 
45. A good talk with a friend after a long gap
46. The phone ringing with your parent's name 
47. The sunshine filling the room with ease and light
48. Guilt-free rest
49. A productive day
50. An outing with friends
51. Picnic days
52. Celebrating friendship day 
53. Celebrating Father's Day 
54. Celebrating Mother's Day
55. The phone ringing with your partner's name
56. Playtime with your kids
57. Getting to enjoy a good walk
58. An evening just to yourself 
59. The bed that puts you to sleep
60. Good clean sheets
61. A stranger helping you with the direction 
62. Smiling after watching a sweet Facebook video
63. Getting to cook wonderful food for yourself and the ones you love
64. The park nearby
65. Your comfy blanket
66. A nice stretch after a long day 
67. Your partner making you breakfast
68. The delivery person who delivers your goods home 
69. Coming home and being greeted by your pets
70. Getting to learn things and building the skills you want to
71. The chocolate cake you had with a friend 
72. Ice cream that always makes you feel good 
Things on my gratitude list recently 
73. Thankful for Gee dropping me at the airport and coming to see me early morning with breakfast that I like.
74. Thankful for a safe flight back to Kolkata 
75. Thankful that none of my worries and fears got manifested and realised that most of the time it's just my over-thinking
76. Thankful for being able to visit and see my BSG friends
77. Thankful that my dog got better
78. Thankful for Gee who's so sweet and always calling out to me saying, "My Vee".
79. Thankful to wake up to "Good morning my Vee"
80. Thankful that today I prayed, read, exercised, went for a walk and listened to my favourite podcast.
81. Thankful for a wonderful sleep 
82. Thankful that I protected my energy today
83. Thankful to receive a small gift from my colleague who had come back from her vacation
84. Grateful that I am breathing and everything is safe and sound
85. Thankful to wake up early and having done my morning routine
86. Thankful to have been able to publish a new podcast episode
87. Thankful for Swiggy that placed my instamart order and thankful for the delivery boy who brought my package right in front of my door and who was courteous and sweet and even bowed after giving me my package even though there was no need of it.
88. Thankful for my mom's good health, my Gee's good health, my Bella and mIssy's good health 
89. Thankful for the wonderful one-hour rest I took before noon. It felt free, and spacious and I enjoyed my rest as I deserved it.
90. Thankyou to Rickshaw wala bhaiya who takes me to my college
91. Thankful to have access to water that refreshes me wonderfully after a hot day. Don't know how I would feel if there was no water.
92. Thankful for my determination. Our well-being requires determination and discipline.
93. Thankful for the music I am listening to. 
94. Thankful for a ride back home with a new friend and getting to know more about each other.
95. Thankful to have gotten my kittens home. They're three months old. 
96. Thankful that the kittens are now coming out and playing with me. 
97. Thankful for the tea, biscuit and nice conversation at Nath Aunty's place.
98. Thankful for a sweet message from a dear reader. 
99. Thankful for Jo Confino and brother Phaphu's podcast 'The way out is in'. It brings me back to my inspiration and aspiration and makes me want to come back to mindfulness.
100. Thankful for a healthy body with no aches and pains 
101. Thankful to have celebrated a colleague's birthday and the cake we cut on her birthday.
102. Thankful for the summer break we got from our college unofficially
103. Thankful for a treat we got from one of our colleagues
104. Thankful to have a friend with whom I can be me and talk for hours
Things to be thankful for that we take for granted 
105. Our parents who are there in our life
106. Having the unique talents that bring us joy 
107. Living in a safe country with no wars 
108. The moment until now that has kept you safe
109. Being free of illness and disease 
110. Having time
111. Getting to eat all the things you love because you are not sick
112. Having an appetite.
113. Waking up to another 24 hours 
114. Getting to experience love 
115. Overcoming an illness
116. Overcoming a hard and hurtful time, but still coming out kind, compassionate and being open to giving and receive love.
117. A good night's sleep 
118. Your car that's working properly taking you to work 
119. Your body that's working day and night for you
120. Waking up and having water to drink and refresh you
121. Having found someone you love
122. Having food on the table
123. Having a home you can call your own
124. Having someone to share your meals with at home
125. Getting to walk in this wonderful world 
126. Living a debt-free life
127. Having a supportive husband/wife 
128. Having no poop problems and doing poop on time
129. Coming home safely from somewhere 
130. Getting to spend time with kids
131. Having someone who cares about your safety
132. Our pets eating food properly 
133. Your loved ones being healthy and at ease
134. Our time with which we can do anything
135. The ability to read and write 
136. The chance to learn anything we want to on the internet
137. The chance to explore what career we want to choose 
138. The chance to explore our hobbies 
139. The chance to explore what we are really here to do on Earth 
140. Your own self and your potential
Things to be thankful for in your relationship
141. Thankful to have found someone you enjoy to love 
142. A partner who is supportive of your dreams
143. Having a good laugh together 
144. Being able to call each other when needed
145. Getting the first good morning message from your partner
146. Getting to kiss good morning and good night to your partner 
147. Receiving gifts from your partner
148. A sweet hug from your partner after a long day
149. Talking with your partner until you fall asleep
150. Getting to watch a movie with your partner
151. Seeing missed calls from your partner
152. Getting to hug your partner from behind
153. Cuddles before going to sleep 
154. Cuddles in the morning
155. Coming home and relaxing with your partner after a long day at work
156. Dates with your partner
157. Celebrating Valentines day 
158. A getaway with your partner
159. Getting to cook nice things for your partner
160. Your partner cooking nice food for you.
161. Your partner bringing you something nice
162. Getting to watch a movie with your partner 
163. Getting a surprise from your partner 
164. Receiving an 'I love you' message from your partner
165. Your partner being genuinely sorry after a mistake 
166. Your partner putting equal effort into the relationship 
Everyday things to be grateful for 
167. 24 brand new hours where you can start afresh each day 
168. Having water to drink when you're thirsty
169. Music that uplifts the mood 
170. Flowers that brighten up the room
171. A nice show that always makes you laugh
172. The person in front of you
173. A safe drive to the workplace
174. GPS 
175. Cuddles in bed 
176. A room of your own
177. Safe flight home 
178. Your baby sitter looking after your baby
179. Having dinner at the same table with your family 
180. Having friends for dinner
181. Sunshine 
182. Trees giving us oxygen
183. The sound of the birds that we get to hear lets us know that we're alive
184. Mom calling for dinner 
185. Talking to parents
186. Talking to a friend and being able to share your struggles
187. A good colleague you can get along with
188. A boss that cares about your success
189. The one who cooked food for you 
190. Your house help 
191. Your driver 
192. Your good health 
193. Waking up with no aches and pains
194. Holding hands with your partner 
195. The ability to dance whenever you want to 
196. Your favourite content creator
Things to be thankful about yourself 
197. Be thankful for who you have become 
198. Also be thankful for what all you went through and who you could have become, but still chose not to
199. Be thankful for your smile that you can use anywhere
200. Your eyes allowing you to see the world 
201. Your legs letting you walk in this world
202. Your sense of touch 
203. Your sense of smell
204. Your sense of taste letting you what its like to eat yummy food 
205. Your hands allowing you to touch and hold things with ease
206. Your face that is like no other 
207. Your eyes
208. Your hair that makes you look good 
209. Your body that is working for you wonderfully 
210. Your intention to become a better version of yourself
211. Your personality
212. Your laugh that's like no other 
213. Your character
214. Your skills
215. Your degree that you earned 
216. Your unique talents
217. The love that you give to others
218. Your kindness 
219. Your love for the things you like 
Things to be grateful for in your home 
220. The AC that's keeping you cool and work with ease 
221. The heating system that keeps you warm on a cold day
222. Fan
223. Your bed
224. Your blankets
225. Your kids 
226. Your partner
227. Your pets 
228. The plants in your home that make you feel nice
229. The scent when you enter your home 
230. The photo frames reminding you of the times made together
231. The mirror where you get to see yourself and dress up
232. Furniture in your home
233. Your kitchen where you spend time making wonderful meals for everyone
234. Your balcony
235. Your porch
236. Toilet paper
237. Your own bedroom that is your comfort zone
238. A happy space in your home 
239. The kids running around and making a mess 
240. Your pets playing and sleeping in the house 
241. The pillows
242. Freezer
243. Your washing machine 
244. TV
245. Your laptop 
246. The fireplace that keeps you warm when it's cold
247. The dishwasher 
248. Your neighbours
249. Memories you have made in your home 
Random gratitude list 
250. All the places you have been able to visit
251. Your bucket list that has every possibility of being fulfilled
252. Apps that make life easier 
253. Ice cream on a hot day
254. Day spent just reading a good book
255. Pizza that always makes the day 
256. A random quote that inspired you lately
257. A hot soup on a cold day 
258. A cosy bed
259. Getting appreciated for your efforts at the workplace
260. A relaxing time after work
261. A random video that made you smile
262. All the books that you read that inspired you 
263. Having books you want to read (that's something to look up to)
264. Having a to-do list
265. Encouraging a friend
266. Being encouraged by a friend who supports you and believes you
267. Having found a good podcast to listen to 
268. Being remembered by a friend 
269. Finding your mentor in life
270. Visiting a cute cafe
271. Your morning routine, you have started doing 
272. Old photographs reminding you of the good times
273. A mindful evening walk
274. Your favourite show on Amazon prime or Netflix
275. A tidy room that makes you feel nice
276. Candles that bring good vibes
Things to be grateful for in nature 
277. The plentiful stars in the night sky
278. Fruits that magically appear in their seasons 
279. The vegetables loaded with nutrients 
280. All the seasons of nature reminding us that winter always turns to spring 
281. The river flowing
282. Bees
283. The wind breeze
284. The ocean
285. Snowfall 
286. All the beautiful places on this Earth
287. Rain
288. Sunrise and sunsets
289. Beautiful beaches 
290. Coral Reefs 
291. Beautiful fishes and sea life
292. Water that is the gift of Mother Earth
293. The mountains
294. Clean air 
295. The flowers blooming on the wayside
296. The plants
297. Earth that is sustaining everything 
Things to be grateful about at work 
298. Having a job that sustains you
299. The salary that you earned with your effort sincerely 
300. Colleagues who are nice to work with 
301. A colleague you get along with 
302. A boss that looks out for you
303. Getting a raise 
304. Work that is close to your hometown
305. Working from home 
Jobs to be thankful for 
306. Farmers 
307. Drivers
308. Doctors, Nurses, Scientists, Engineers 
309. Artists, Writers, Musicians 
310. Actors
311. Engineers
312. Teachers 
313. Plumbers
314. Pilots, air hostesses 
315. Garbage workers
316. Cooks, Butchers
317. The rickshaw wala bhaiya
318. Scientists
319. YouTubers, Bloggers 
320. Retail workers, Customer service workers
321. Military workers 
322. Road workers 
Unique things to be thankful for 
323. The invention of planes that lets you travel anywhere in the world
324. Trains
325. Vaccinations 
326. Books 
327. Music
328. Art 
329. The heartbreak that made you strong 
330. A hard person who lets you know who you don't want to be like 
331. Your principles and values you stick to in life 
332. Health Insurance
333. Not having to worry about money 
334. Culture
335. Traditions that bring your family together 
336. Your last vacation
337. The experience of loving and being loved by an animal, our beloved pets. I couldn't imagine my life without having to experience love from an animal. I would be missing out on such a big love!
338. The diversity on this Earth 
339. Your favourite food that got invented
340. Help from a stranger when needed
341. A free day with nothing planned 
More things to be thankful for 
342. Having dogs on this Earth. God has been so thoughtful in giving a man's best friend.  
343. All the animals in this world
344. Knowing God's love in everything 
345. Being inspired 
346. Goodnight kisses to end your day with
347. Good morning kisses to start your day with
348. A long walk with someone you love
349. The intention in your heart to show kindness 
350. Your intention to improve and change your life  
351. Hugs to people you love
352. Kissing the one you love.
353. Seeing a friend after a long gap 
354. Knowing love 
355. Meaningful conversation
356. Meeting your grandparents. How many of us get the chance to meet and love our grandparents?
357. Understanding Religion.
358. Having faith
359. Seeing kindness
360. Your sisters and brothers
361. Your neice and nephew 
362. Having freedom
363. An Earth that is full of life and living beings 
364. This breath you are breathing with ease
365. And lastly, being born on this Earth and getting to experience the wholeness of life 
So here was the ultimate list of things to be grateful for.
Pin to save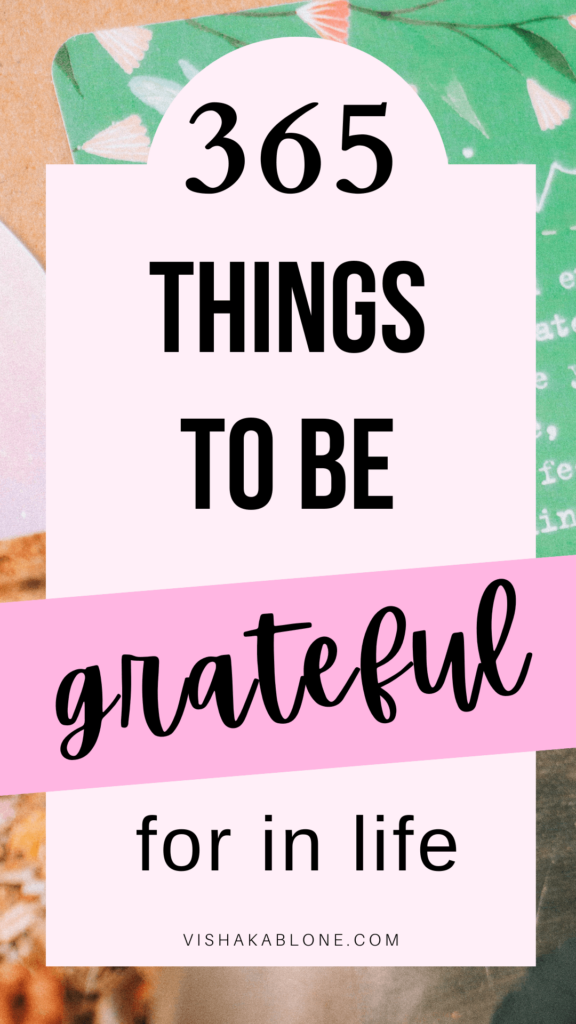 What are you thankful for? 
Let me know in the comments below.
You might also like