It always feels nice to gift yourself little things from time to time. In this post, I have curated a list of sweet self-care gifts you can give yourself or someone you care about.
Whether you want to find a perfect way to relax and unwind, whether you want something that will help you sleep well, or you want to find something that makes you feel inspired and leave you feeling nice and boosted, this list includes all kinds of self-care items that might be perfect for you to come home to yourself and slow down.
So make sure to have a look at all of these sweet self-care gifts and you might find your perfect fit.
30+ Self Care Gifts to make you feel good
P.S Affiliate disclosure: Some of these links are affiliate links. If you purchase from my link, I'll earn a small commission at no extra cost to you.
1. The 5-minute journal
The first on the list is this 5-minute journal. Journaling changed my life and it can change yours too. It's a powerful practice for self-care, for understanding ourselves better, coming in touch with our wise selves and becoming a better version of ourselves.
If you want to start journaling practice, this 5-minute journal might be perfect for you to get started.
Here are some more details about this best-selling journal:
Cultivates Gratitude and Mindfulness – The 5-Minute Journal for women and men is specially crafted for positive manifestation and improved confidence as you get on with your day.


Chic Daily Journal With Prompts – Start your day with appreciation and end it with deep reflection using this wellness journal.


This positivity journal has enough pages for 6 months.


It features thoughtfully designed prompts, such as weekly challenges, gratitude, daily highlights, inspirational quotes, daily affirmations, and self-reflection.


Easy-to-Follow Guided Journal – This five-minute gratitude journal provides writing cues to set the flow. The motivational journal is undated, so you can begin jotting down your thoughts whenever you're ready.

Additionally, you could also try my 21-day gratitude challenge for a start which I have thoughtfully created so that you can make gratitude a way of life.
2. Oil Diffuser
Aromatherapy works wonders in helping us feel nice. Sometimes it's just a soothing smell that can help us relax and that can be a wonderful reminder to slow down and come home to ourselves.
This ultrasonic essential oil diffuser is an amazing multifunction aromatherapy device, unlike any other you've ever used.
This essential oil diffuser can be perfect for every home, office or yoga studio so you can create a calming atmosphere and create the perfect environment so you can breathe, relax, and feel better than ever!
3. Positive messages in a bottle
These include 50 specially crafted positive affirmations messages for manifestation, self-reflection, and daily journaling.
These motivational quotes will support your self-care routine to reduce anxiety, reduce low feelings, minimize frustration and anger, and stress relief, and help you practise gratitude, increase your happiness, improve your energy, and can be great as a meditation accessory.
4. Mindfulness Coloring Book
In this extremely fast and busy world which always wants our minds to be engaged, just sitting down with our colouring book can also be a huge practice in slowing down, being mindful and enjoying the present moment.
Whether you're looking to wind down after a hard day at work or simply enjoy the benefits of meditation, you'll love what this adult colouring book has to offer.
It contains inspiring illustrations with self-reflection exercises that allow you to pause and reflect.
This colouring book can be the perfect way to reduce stress and be more mindful in your everyday life and can be a little thing to do on your self-care Sunday routine or after-work ritual.
4. Shower Steamers
Enjoy an elaborate self-care shower routine with this 6-pack bloom shower steamer.
This 6-pack bloom tube features 1x Eucalyptus Mint, 1x Lavender, 1x Citrus, 1x Tea Tree, 1x Rose, 1x Milk Honey to elevate your shower experience.
This self-care weekend, try out a self-care shower routine and be with your body.
Enjoy the feels, the smell, and give time to your body with natural essential oils which will dissolve in your shower and help you immerse in deep relaxation.
5. Waterproof Deep Cleaning Exfoliation Rotating Spa Machine
I haven't used this personally, but I would really want to try this too.
This one has great reviews and here are some more details about the product:
This facial cleansing brush contains 2 bristle brush heads of different sizes,1 silicone brush head,1 pumice stone, 1 makeup remover sponge, 1 rolling massage brush head, and 1 exfoliating brush head, for a total of 7 brush heads, suitable for all skin types including sensitive skin.



This can meet a variety of cleansing and skin care needs including fading acne marks, removing blackheads, deep pore cleansing, makeup removal and more.



This facial exfoliating brush is IPX7 waterproof, making it safe to use in the shower.
6. Ice Rollers for face wrinkles
You can use this ice roller with your favourite skincare products to take results to the next level.
Use it gently over your eyes, temples, and neck to energize and reduce swelling.
Ice Roller Massager helps reduce wrinkles and fine lines and improves dry skin, promotes blood flow and helps clear pores while the coolness reduces wrinkles and seals in moisture.

The all-over smoothness of the ice roller will work its magic while helping you relax.

7. Incense Sticks
As an Indian, we use incense sticks every day as a part of our prayer ritual and I immediately feel relaxed, soothed, calm and positive energy when I burn them.
You can burn an incense stick every morning and evening as a part of your self care, relaxation and meditation practice.
Here is also an Incense Stick holder you would like.
7. Badass affirmations
Don't underestimate the power of positive affirmations.
If you're looking for positive affirmations to read out and imbibe in your subconscious, check out this book which is a bestseller.
P.S Lucky Girl Syndrome Affirmations to say out loud
8. A year of positive things
Are you looking to live each day with more positivity and motivation? No matter the time of year, this book will help transform your mindset and inspire positive thinking with daily doses of digestible quotes, mantras, and prompts.
Every page of this book is labelled by date and delivers frank, inspirational lessons and reflections to help you grow your self-respect, kindness, and love.
This is designed to appeal to all kinds of adult readers, it is secular and non-gender specific.
9. Hapbee Smart Sleep Pad
If sleep is a problem for you, this could be your solution.
This Hapbee Smart Sleep Pad costs $299, but given how important sleep is and what a nightmare and torture it can be when you can't sleep all night, this could be life-saving.
I haven't used this personally because now I have no trouble sleeping, but if I had found this during my sleepless months many years ago, I would have definitely bought this given the positive number of reviews from people.
You can use this sleeping pad to fall asleep faster, stay asleep all night and improve your REM sleep. If you're wondering how this works, you can check it out here.
Here are some reviews from people who've used it
I was sceptical Before I tried out the Hapbee I was sceptical for sure. I didn't think that there was any way that a little device could change the way that I felt and I was surprised. I tried it out two times and both times I was blown away that I was able to change my feelings. I am super excited to get my own device and really excited to see what new feelings they come out with in the future.


Ok… so I got my Hapbee today and decided to try it out the Sleepy signal as my frist signal. Lately I have been somewhat of an insomniac and have been taking melatonin to fall asleep and sometimes it can take over an hour for me to start feeling sleepy. So I haven't used it all day and since I felt wide awake before I got in my bed, I decided to give it a shot because I'd really be able to see if it was working. I am laying here in my bed with it on and after seriously about a minute or two, I could feel my heart rate start to lower, and at around 7 minutes I started to feel like Donald in the picture lol. Now it's been about 20 mins and my whole b ody feels like lead. I had no idea it would be THIS powerful. And I was literally wide awake prior to putting it on. I'm going to shuf off my device and pass out soon because I'm having a hard time keeping my eyes open, but has anyone else experienced this? I wasn't expecting for it to work THIS well and so soon lol. I can't wait to try other signals tomorrow!
10. Candles
I love candles and they make me feel so nice. One of my evening rituals is to take a shower and relax in my tidy room burning a candle.
They make me feel calm and give me such soothing vibes.
These candles will help you relax, soothe, restore & balance your body and mind. With a burn time of 45 hours, the scent of these decorative candles is long-lasting!
It is also made of 100% natural soy. It is a non-toxic, long burning, scented with essential oils and has a 100% wood wick.
You can also check out this candle bundle from Boy Smells
11. Mindfulness Cards
This engaging deck makes it easy to bring awareness, calm, and joy to everyday life. Those interested in beginning or nurturing a daily mindfulness or gratitude practice will love working with Mindfulness Cards.
This deck features more than 50 accessible and enlightening practices (plus eight blank cards for personalization)

The cards are divided into four color-coded mindfulness categories: Rest & Balance, Insight & Awareness, Curiosity & Joy, and Kindness that makes it easy to incorporate mindful moments into daily life, providing simple ways to achieve balance and well-being at home or on the go.
12. Bathrobe
Do you have a bathrobe? If not, here is the perfect one.
This is a super soft, plush, shawl collar fleece bathrobe that offers great comfort whenever in use.
It can be worn all day long and is perfect for lounging and relaxation.
13. House Slippers
Here's another cute one
14. Bakeware Set
If you're into baking or want to try your hand at baking, here is a wonderful bakeware set you can give yourself.
This could also be a wonderful gift to your friend, mum or to anyone who loves baking.
This Bakeware Set includes 11 pieces, all featuring a toxin-free ceramic surface, so you can get to baking goods without any of the bads.
15. Room Spray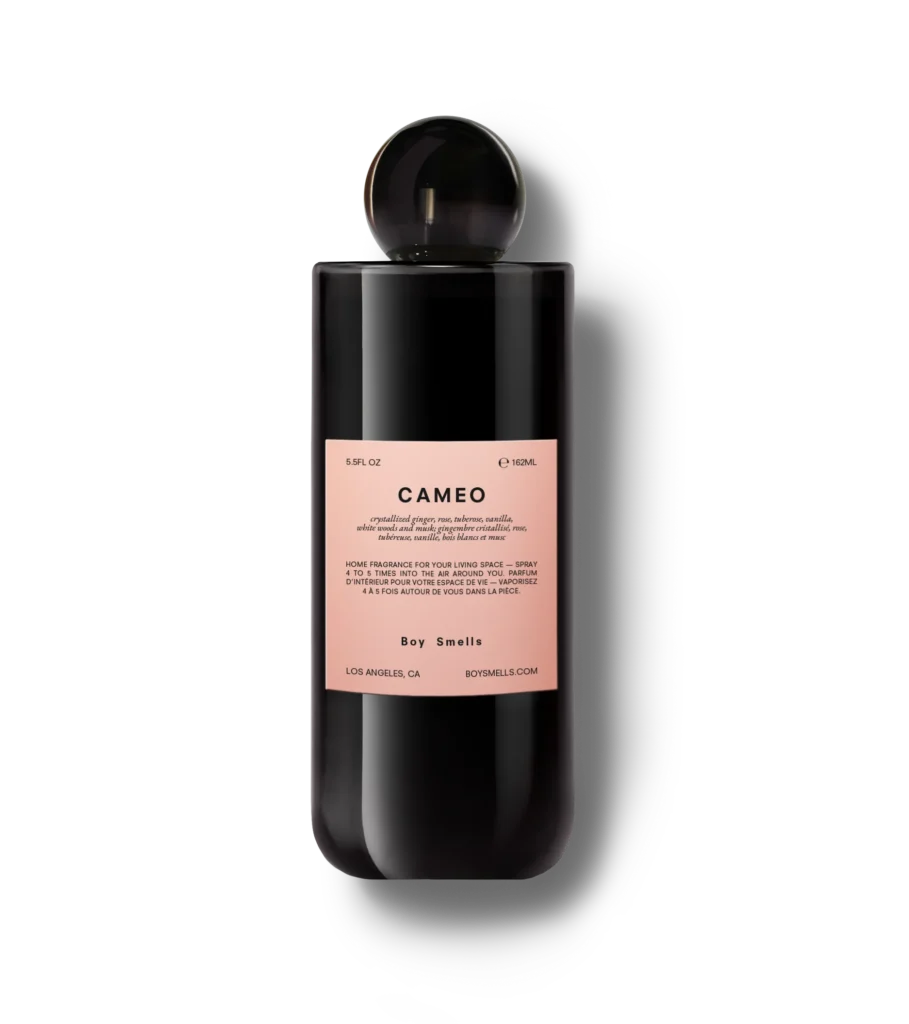 Here is the product description:
CAMEO is an epic floral scent, one that combines strength and softness, the elusive virtues of grace, difficult to find in a not-always-kind world.
The spice of crystallized ginger, the warmth of vanilla, and the grounding sacred feminine of rose act as conduits for compassion. Inspired by Wedgwood porcelain and the Andy Warhol polaroid of Dolly Parton, CAMEO is absurdly pretty, to a subversive degree.
Spray 4 to 5 times into the air around you for an enhanced living-space experience.
Some more self-care gifts for yourself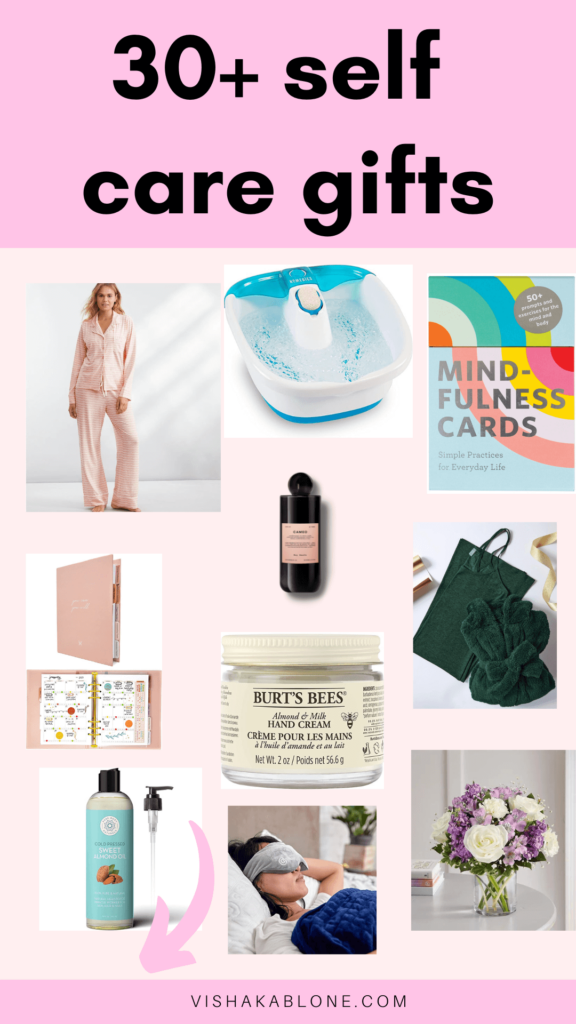 16. Moon Lamp
I love lamps and how they change the vibe of a room. Here is a pretty moon lamp you can gift yourself.
17. The Boy, the Mole, The Fox and the Horse
This book could be life-saving, and life-changing. If you haven't heard of Charlie Mackesy before and don't follow him on Instagram, then you should definitely see his work.
This is the sweetest gift you could gift yourself or to someone you love. This book will surely make your day.
18. Cute Pyjamas
Most of us hardly care about how we look when at home. Some of us dress like homeless people, but ever since the pandemic happened and we had to stay at home 24 hours, I realized how putting a little effort into how we look while at home and wearing nice house clothes makes us immediately feel good and boosted.
So as an effort to make yourself feel nice, you could get yourself these cute pjs.
You could also check out this satin lace lingerie sleepwear or this comfy sleep shirt
19. Hand Cream
As you give time to your face, also give time to your hands. They do so much work all day for you and deserve to be loved.
20. Almond Oil for hair and skin
Equipped with a mild, pleasant scent, almond oil is perfect for household and personal care products, such as moisturizers, hair conditioners, and massage oils.
Give time to your hair, your body using this almond oil.
21. Flowers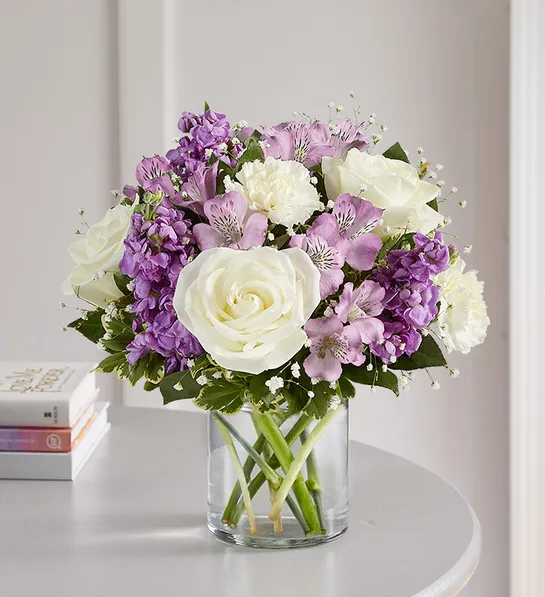 Well, who doesn't love flowers? I buy flowers for myself every weekend and love to see them in my room.
Flowers make me wonder. Their colour, their shape, and their beauty make me wonder and think about our creator and I love them.
They also make me think about our impermanence and how we're all here to fade away.
Anyway, not going so deep.
You could buy pretty flowers for yourself and be happy.
You could get them from the market or you could also order them online.
Here is an online same-day flower delivery service you could try and get flowers exactly as shown in the picture.
22. Sleep Wear Bundle
Get this Sleep wear bundle from 'Beyond Yoga' to make you feel warm and cozy and make going to bed feel good.
23. Water bottle
Most of us forget to drink enough water because we forget about it.
Just by getting yourself a water bottle and always keeping it in front of you can help you become a water drinker and it could be the best thing for your self care.
24. Yoga Mat
Sometimes just getting a yoga mat can be a start to your fitness and yoga journey.
Remember, you don't have to be perfect from the start. You just need to be consistent.
P.S here is how I made myself love working out.
25. Bamboo bed Tray
This bamboo bed tray for when you want to have your breakfast in bed 🙂
However, I really don't recommend eating all of your meals in your bed.
26. Digital Alarm Clock
Use this digital alarm clock instead of your phone for setting an alarm.
1 hour before going to bed, keep your digital devices away and use this digital alarm. This way you will have a better chance of not using your phone continuously before going to bed.
27. Home spa
Have you ever wanted to try a home spa? Then you could get this pack of DELUXE 9 PIECE SET. This spa gift basket has everything a woman needs! It includes Shower Gel, Bubble Bath, Body Scrub, Body Oil, 2 Large Bath Bombs, Bath Salt and a luxurious Bath Towel.
Packed in a stunningly wrapped handmade basket, it also has a gift note card for you to personalize it.
28. Mud mask
About this mud mask:
This mud mask is based on an advanced formula composed of Dead Sea mineral mud, aloe vera, calendula oil, Vitamin E and Jojoba oil that gently purifies and cleans clogged pores.
PURE DEAD SEA MUD helps cleanse the skin and provide a soothing sensation. Rich in minerals, it aids skin renewal, creating a gentle exfoliation effect that removes excess oil, toxins, and dead skin cells for a softer feel and radiant glow.
REDUCES PORES & ABSORBS EXCESS OIL. It removes dead skin cells and toxins to reveal fresh, soft skin and is also known to stimulate blood circulation.
29. Juicer
Make healthy and tasty smoothies and juices with this juicer.
It's not always a facemask and shower gel that you can buy for your self-care.
30. 5-star hotel quality sleep kit at home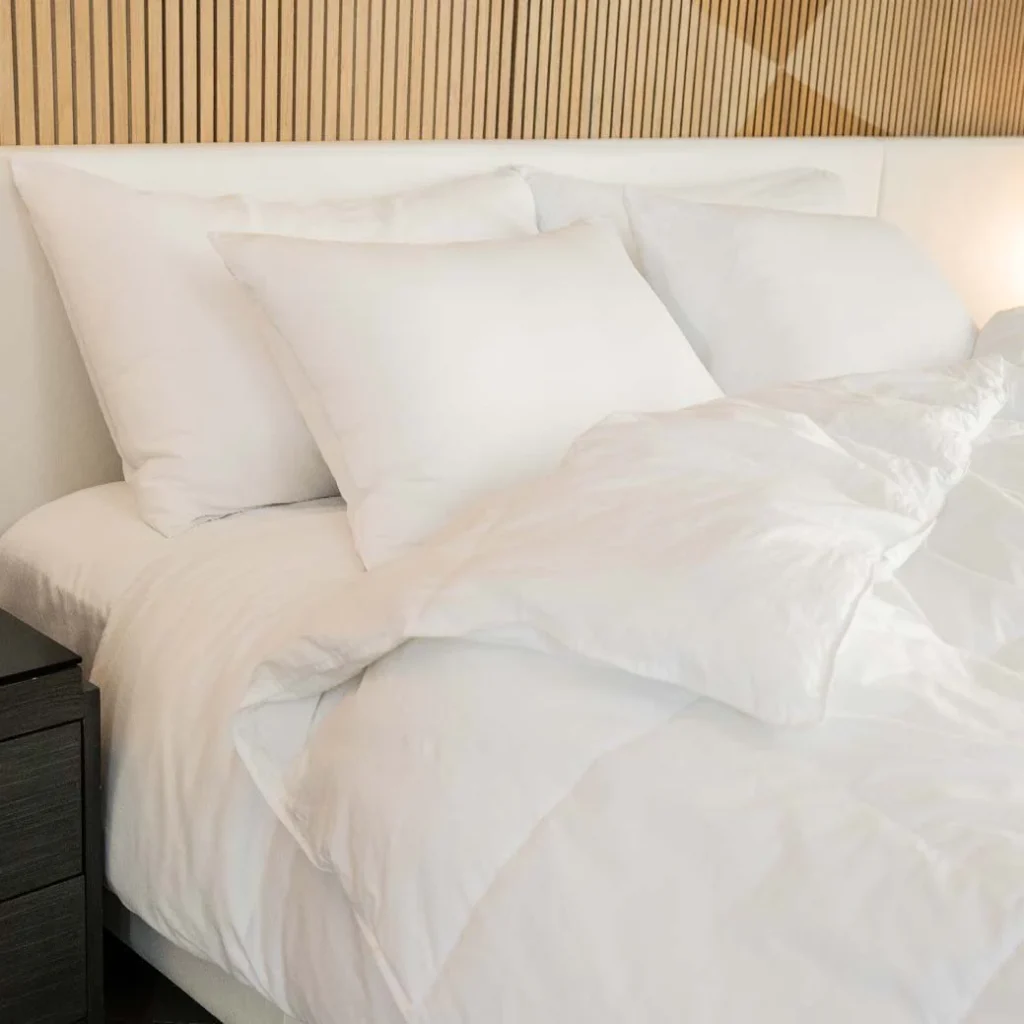 Upgrade the way you sleep at home with our best-selling Sleep Kit.
This sleep kit includes
1x Comforter
2x Pillow (Soft and Firm)
The makers of this product learned early on that there was something unique about hotel pillows. The quality, support, and substance within – there is nothing like it. After extensive research, development and prototyping, they were able to re-create our own version of these pillows and beddings, but in their own way with custom "Fluff" blends and sustainable materials.
If you want to have some luxury experience at home and want to gift yourself this feeling, this could be it.
31. Feel Good SPF bundle
This is the combo that Allure described as the "first sunscreen we've ever been excited to reapply." That Refinery29 called it "an 11/10 SPF experience."
Whether you're new to suncare or a reapplication enthusiast, this bundle is for you. Aloe and Antioxidant-enriched to hydrate your skin & enhance efficacy, these formulas will never stain clothing or leave a white cast.
This Bundle includes:
SPF 30 Lotion 3.4oz
SPF 30 Non-Aerosol Spray 5.5oz
32. Bed sheets
33. Sleep mask
If you have trouble sleeping, this Gravity Blanket offers a Premium Sleep Mask that primes your body for sleep by blocking out light and distributing light touch across key relaxation pressure points; allowing you to fall asleep faster and sleep more deeply
For a better experience, place this eye mask in the freezer to enhance your decompression moment.
34. Self Care Planner
A self care planner to help you take care of your mental health.
It helps you to prioritize your mental and emotional health goals while keeping tabs on your progress in an organized and enjoyable way. It is your own therapeutic, self-help, motivational, personal development, accountability guide and life planner.
Regain your sense of purpose, find meaning in the turbulent times, and be amazed as you find your inner conqueror.
35. Foot Spa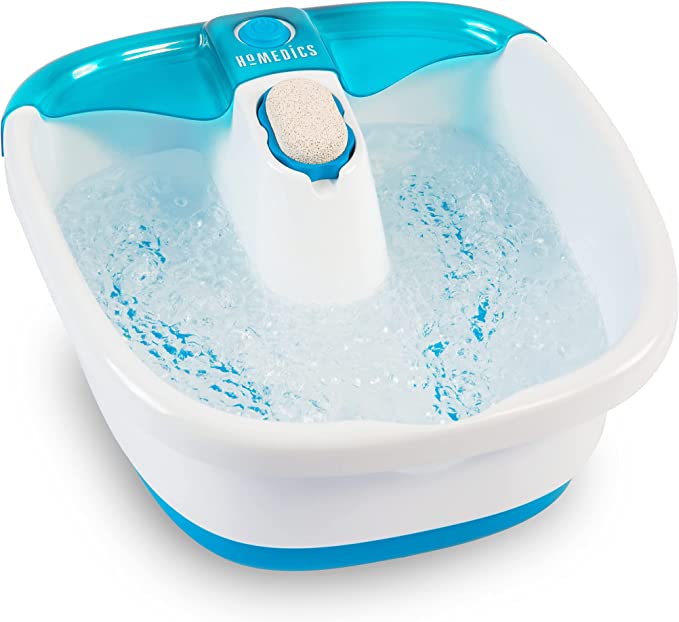 This best selling bubble foot spa is rejuvenates overworked feet.
Treat your feet after a long day of work with this Bubble Mate Foot Spa. The massage water jets and raised nodes work to revive your feet by gently massaging and soothing your tired, overworked feet
Pamper your feet and shape them to perfection with the callus removing stone
The foot spa was designed with an integrated splash guard that helps prevent splashing and spills. This makes it easy to carry your foot spa without worrying about spilling the water, for a mess free experience
So these were it.
Hope you liked these self-care gifts
Pin to save 🙂
You might also like: