'Why can't I focus on anything?' This might seem like a simple question, but getting it right is important if you want to finally improve your focus and concentration.
Right now it might seem like you can't focus on the simplest things, and you might wonder if this will be a permanent state of affair for you, but let me tell you that it won't if you're able to know the causes early.
There are reasons that is making you unable to focus, but with some little changes, as long as you apply them you will be able to fix it and bring back your lost focus.
So before you find out ways to improve your focus, it is essential to first know the causes that are keeping you distracted so that you can tackle them head on.
Why you can't focus and how to fix that
Pin for later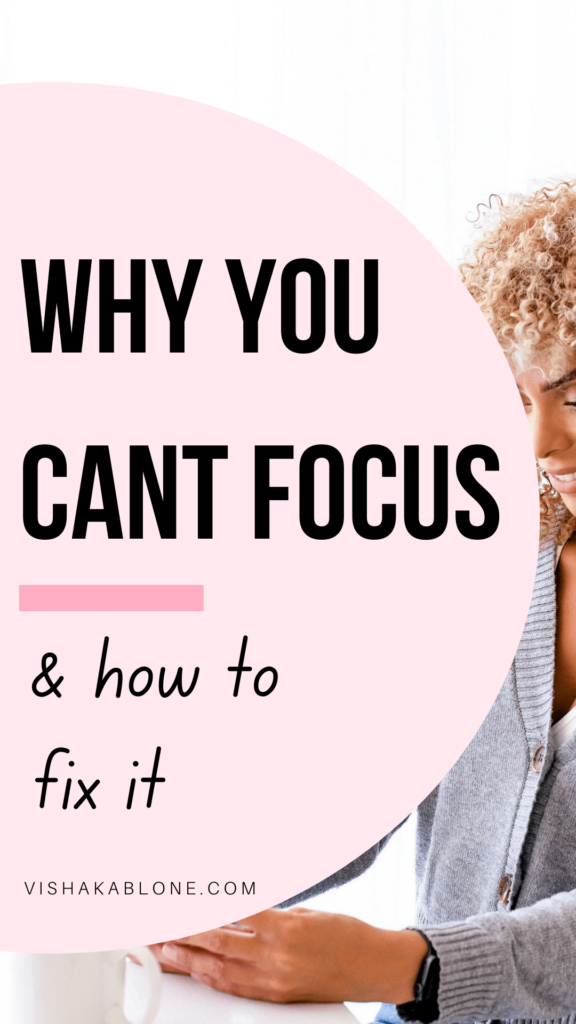 1. You feel overwhelmed by the task
Most often we feel overwhelmed by the task because we don't define the task well.
We keep putting it off or even if we sit down to get it done, we can't bring our attention to it because we don't know specifically what are the action steps to get it done.
Here are some ways to fix it
Break down your big task into mini tasks
Define and write down the action steps needed to complete the task.
Break down your time: here you can try the Pomodoro technique.
Here is what the Pomodoro technique is
If you want to know other techniques, here are other 9 productivity methods used by experts.
2. There is too much mental clutter
Perhaps there is too much noise and clutter in your head and your mind is constantly playing its broadcast.
This happens when we fill too much of our 'non-focused' time with distractions, news, social media, TV, Netflix or gossips.
There is no switch in our mind where we can go from non-focused to focused in an instant.
So it's important that you take care of your non-focused time or non-work time if you want to bring concentration and attention during your work or study time.
Here are some ways to do it
Meditate for 5-10 minutes everyday
Stop taking in too much information
Do social media fasting for 7 days to get started
Limit your digital consumption by allotting a set time for it instead of filling your mind with it every other minute.

And here are some posts to help you
3. You are not mindful of what you're consuming
What you consume has a great role to play on your mental state of focus and attention.
This includes not only what you eat, but also what you consume for your mind.
To fix this, here are some ways
Follow a proper diet for your body and mind.
Read good books, listen to good podcasts and follow people who have reached the goals similar to yours.
Unfollow what is not helpful for you
Be aware of what you are consuming
Here is a post worth reading: Only three things to take care of for personal growth.
4. Your settings are easily distracting
You might think that you have turned into a person who can't seem to focus on anything, but that is actually far from truth.
You can turn it around simply by tweaking your settings which right now is very easy to distract you.
For example, you start working and are trying to concentrate, but you keep your phone near you, your notifications are on and so every time it beeps, you have the urge to check and naturally get distracted.
Here is how to fix it:
Be aware of the things that is distracting you.
Make being distracted difficult by changing some settings.
5. You don't have a plan
You can't focus on your task or your studies because when you sit down with your main task, you do so without a proper plan and strategy.
Without a plan of what needs to be done every step of the task, its easy to lose focus and get caught up in small unnecessary things related to the task.
But if you have a plan laid out and scheduled of what needs to be done by today or by this week, by next week and so on, then it is easy to bring your focus.
So here are some things you can do:
Write down the next action steps
Create a reasonable to-do list
Schedule your task
Follow a routine
Here is a guide on how to create a simple daily routine that works
6. Your notifications are all turned on
This might be obvious but we don't realise how time consuming and distracting notifications are.
The notifications are sent in a way to urge us to click and once we do, we tend to forget everything we are doing and get get caught up in unawareness losing all focus.
If you want to stop losing focus, then simply go to the settings and turn off the notifications of various apps especially Instagram, Facebook, Netflix and snapchat.
And turn them off at all times.
7. You are trying to multitask
Multi-tasking is a myth. Our brain cannot focus on multiple things at the same time especially if its two tasks that both require mental focus.
It not only leaves us distracted, but severely damages our productivity and increases unnecessary stress.
Here are some ways to fix it:
Work on one thing at a time
Work on a small to-do list
8. You don't exercise discipline
If you lack discipline, none of the things will work. If you say you are just not a disciplined person and cannot focus on your work because of the lack of it, then it will be so.
If you want to become focused, you have to exercise some amount of self discipline, and trust me its not to difficult. It only requires a little bit of awareness and determination on your part.
Here is a post that will help: only 3 things to do if you want to build self discipline.
And other tips are:
Do less
Work on the main important task first
9. You have other unfinished tasks in your mind
This is called the Zeigarnik effect which says that our mind quickly forgets finished tasks, but keeps clinging to the unfinished tasks.
This makes us keep remembering the tasks which we had started, but haven't completed at the back of our minds even while we are doing something else.
If you have some unfinished tasks left, the thoughts of wanting to get back to it can come easily, and if you go to get it done, you will lose your focus in your present task and have another unfinished task left.
So here is how you can fix it
Make a distraction list. Every time a thought pops up to do something else other than what you're doing, write down in your distraction list and get back to it one by one after your main task is complete.
10. You are stressed and tired
Another probable reason why you can't focus is because you are just stressed out and tired and don't have any mental or physical strength to work on anything.
In this case the only thing that works is to
Take rest without feeling guilty
Learn to say no to things you don't want to do
Do less, but do meaningful work
Sleep well for 7-8 hours
Maintain a healthy lifestyle
Pin to save
So these were about the reasons you can't seem to focus. Start being aware and find out the cause behind it.
Once you find out the cause, you can then work on improving your focus based on these tips.
Related posts