Are you a perfectionist who wants to do everything perfectly? You might think perfectionism is a virtue, but in this post, I want to give reasons why you should stop being a perfectionist. 
This is from the 2nd Episode of my Podcast, 'Heart Of Living'. You can read the post or you can also listen to it here,
What is perfectionism?
Perfectionism as you might already know is striving for excellence. It is the tendency to want to do everything perfectly and set an extremely high standard for ourselves and for our work.
Perfectionists think that they're doing a good thing by striving for excellence and anything less than that will spoil the mark that they want to set. 
And this is mostly seen as a virtue by most of us in our society, because who doesn't want to set a high standard for themselves? It is treated as having a good work ethic and as a great personality trait to have.
Since our childhood, we are all told to be perfect at what we do and if we don't reach for perfection, we are told it's no use doing it at all.
I too grew up believing that perfectionism is what we must aim for and I didn't ever think anything was wrong with striving for perfection.
I have seen so many people boasting about how perfectionist they are, how detailed they are about everything and earlier I didn't see any fault in it at all.
But fast forward almost 10 years and now I don't really believe in perfectionism and I no longer strive for perfection.
This is because I realised that all the times I have tried to strive for perfection in the past, it didn't actually do me any good.
And here are all the reasons why:
Why you should stop being a perfectionist
Pin to save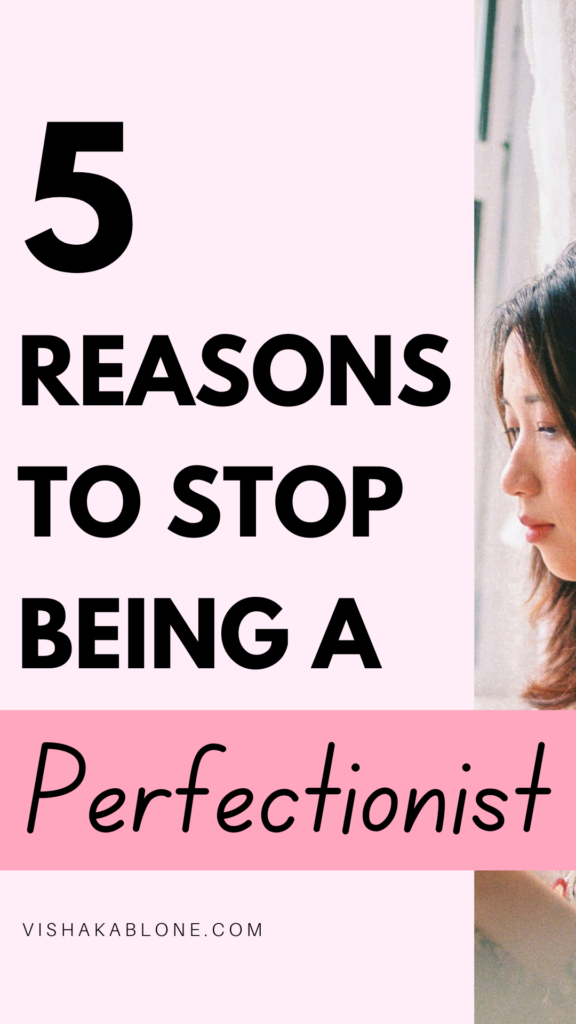 1. Perfectionism stops you from starting anything new 
Because you don't allow yourself to be anything short of perfect, you don't allow yourself to start anything new. 
Starting anything new will always want you to start from the beginning.
And beginnings are always messy. Beginnings are always imperfect and you can never get perfect from the start. Nobody can.
So this is why perfectionists hardly start anything new, and if they do start, hardly have the courage to keep going, because they just can't deal with not being perfect from the start.
I've shared my own experience of my struggles with perfectionism in the 2nd episode of my podcast- the 'Heart of Living'.
I would constantly compare myself with the best and I felt that if I couldn't do it perfectly then I mustn't do it at all.
This is a tendency I hear among so many of us where we think that we need to be perfect from the start.
But you must be mindful of this perfectionist tendency that makes you think that you should be perfect from the start.
Perfectionism comes dressed as being virtuous but it actually stops us from trying anything new and so we don't even start.
2. Perfectionism makes you too hard on yourself 
Perfectionism is sly. It makes you think that it is virtuous and by striving to be perfect, it makes you think that you are actually doing your best but, you unknowingly beat yourself up and become too hard on yourself.
By striving to be perfect you don't allow yourself to make mistakes and feel ashamed to look like a beginner, and no matter how much effort you put in, you feel that it's still not good enough.
You then tend to work to the point of burnout with the end result still not satisfying you.
This makes you either quit what you're doing altogether and think you'll never be the best. 
You start comparing to others and don't realise that the best too actually went through its own timeline of just being good first.
3. Perfectionism stops you from making mistakes
Perfectionism says, 'You are never allowed to make mistakes' and if you make one it makes you think like you have committed the gravest mistake.
You need to stop being so focused on reaching perfection because without giving yourself the space to make mistakes, you will never allow yourself to learn.
Here are all the ways perfectionism perpetuates negative self-talk if you even make the slightest mistake
You are bad
You are nobody to share this
You have no self-discipline 
You don't have any talent 
You will never get good at this
You don't have any authority to share this 
Everybody is going to judge you 
You will never be like them
And the list is just endless.
Here I just want to say that you must give yourself permission to make mistakes.
I hope that you make lots of mistakes because making mistakes means that you're trying. 
And trying and not giving up is more virtuous than seeking for everything to be perfect and so not trying at all. 
4. Perfectionism stops you from enjoying the journey
Because you are too focused on having and making everything perfect, you get too focused on the end result.
Any mistake and you dread it.
This makes perfectionists pessimistic and they never enjoy the journey.
When you get too focused on the result and become frustrated because the results are not coming fast enough, step aside and assess whether it is your perfectionist tendencies making you feel so. 
The real reason you want everything to be perfect fast and you don't want to make any mistakes at all is because you want to see the real results fast and want to make yourself seem 'the best' fast in front of people.
But that is the recipe for anxiety, pressure and mental load.
Just let go instead and allow yourself to move slowly.
Give yourself space for making mistakes and actually see yourself as if you are on a wonderful journey of learning, making mistakes, challenging limiting beliefs and seeing what happens if you don't give up. 
Simply give yourself the space to see how you're moving forward with each step every day.
This will make you feel wonderful when you finally reach the destination and see how far you've come from where you were.
5. Being a perfectionist makes you care too much about being judged
Perfectionism also makes us feel that if we're anything short of perfect then everyone will judge us and that will all be our fault.
We feel that if we look for every detail and work on every single detail perfectly, then nobody will have anything to say against us. 
But if I have come to know anything about creativity and work, it is this- that our work is only to get things done to the best of our ability, to the best of our knowledge at that point in time, and what other people have to say is all upto them.
People will always have something to say. Our work is only to get our work done as best as we can without putting much pressure.
Like Maya Angelo says, "Do the best you can until you know better. Then when you know better, do better".
Stop caring too much about being judged.
How others view you is none of your business. Your business is to do what you want to do and go after your heart freely.
The fear of being judged will always be there. Let it be there, but don't let it get the better of you.
Stop being a perfectionist, and instead, allow yourself to be judged.
You just continue with what you are called here to do. 
So here were my reasons why you should stop being a perfectionist and why being a perfectionist is actually nothing to be boastful about.
Save for later
What happens when you stop being a perfectionist
Most of us think that by not being perfectionists we will bring out something mediocre, or we won't set our best mark on this world, but the truth is actually otherwise. 
Here is what happens when you stop being a perfectionist
You allow yourself to start before you feel you are ready.

The truth is you will never feel ready. By not being a perfectionist, you start anyway. This way you tackle procrastination because one main reason why we procrastinate is also perfectionism. 



You give yourself permission to make mistakes and learn slowly 



You simply focus on getting your work done to the best of your ability at that point in time. 



You start trusting in yourself more 



You become much more flexible 



You become much kinder to yourself 



You stop working to the point of burnout 



You start appreciating yourself for all that you do and how far you have come

 
You stop caring about how others might judge you 



You start to enjoy the process rather than rooting for the end result 
Why I am no longer a perfectionist
I have broken up with perfectionism and am no longer rooting for perfectionism.
This is what has helped me stick with my blogging journey and what has helped me to keep going.
At first even with blogging and writing, I was putting too much pressure and striving to be perfect, but slowly I released myself from this perfectionist tendency, and instead just take this whole thing as an experiment, as a learning process and simply as something I'd like to see as what would happen if I didn't give up.
Now my small blog has grown to over 200k readers every month and I try not to look for perfection but simplicity instead.
Not trying to be too perfect is also what has allowed me to start my own podcast as well.
Here is the link to my podcast, 'Heart of Living'. 
Earlier me would have never started any of it because I would have been too concerned with not knowing enough and not being perfect enough.
Breaking up with perfectionism has been freeing for me and I know it will be for you too. 
I hope that we just continue to do our best of what we know and allow ourselves to move slowly in our journey without attaching to perfection.
You might also love