We all have some level of fear and worries which makes us anxious at times. For some of you, it might be just occasional whereas for many others anxiety might seem like a great mountain to overcome. But no matter the variations, whenever anxiety hits, it feels discomforting and we want to just get rid of it. So the question is how to cope with anxiety and heal ourselves?
The deeper cause of anxiety
It might seem that your anxiety is because of stress from your work, stress because of your partner, because of something you watched in the news, or anything. But you must know that these are just external causes.
The deeper cause of our anxiety almost always lies in our attachments. But attachment to what? Attachment towards our idea of the 'ideal'; attachments towards our expectations of how things 'should be'.
When I was struggling with chronic anxiety a few years ago, I did not know what to do. I was unaware of the deep underlying cause of my anxiety and was trying hard to push it away.
However slowly as I looked deep into the cause I began to notice and realized that I was being too attached to my idea of my 'ideal self- of how I 'should be''.
I was too much attached to my expectations for myself and thus being too hard on myself. Of course, expecting great things is not bad. The problem arises when we have attachments towards our expectations.
And when such attachments take place it expresses itself in negative self-talk and complaints. For me, I came to realize that I was constantly overwhelming myself with the feeling of not being capable enough, not being strong enough, not being mindful enough, not being determined enough.
For others, it might express as not feeling lovable enough, not smart enough, not beautiful enough. It might also happen the other way round where we think that something or someone is not good enough, not caring enough, not loving enough, and all such things.
We are attached to our ideals, to our expectations of how it 'should be' or 'ought to be' instead of simply accepting 'what is' or how 'one is'
Attachments transforming into fear
The attachment then transforms itself into fear. Fear if we'll ever reach our perfect self, fear if we'll ever find a person who loves us, fear if we'll ever find the perfect job, etc.
But from my own experience, the greatest of fear when deep anxiety hits us is the fear of not knowing if we are ever going be okay and completely happy! It feels as if it's even hard to breathe and even harder to live with your mind.
I have fought what felt like the greatest of battle and having overcome it all by myself, I can say that, and not just say, but guarantee that "Yes!! You will certainly be okay and completely happy" but… but… provided you are keen on improving and changing your life. Set this as your greatest intention.
But for now, let us focus on How to cope with anxiety and heal yourself. It is possible to heal yourself. Read carefully and follow these 10 steps that I mention below.
How to cope with anxiety
Pin it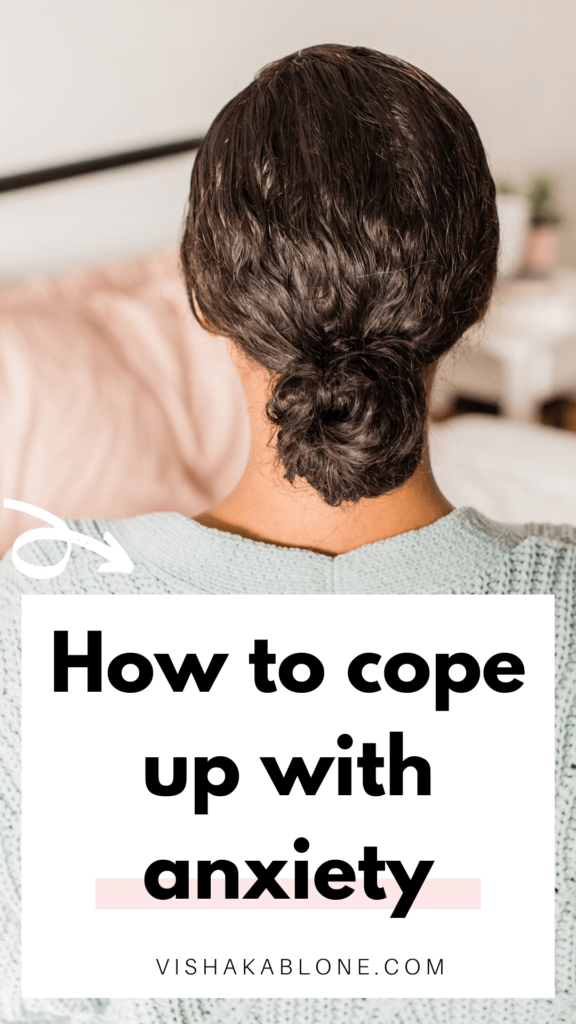 1. Accept your anxiety and do nothing
Once you notice the cause behind your anxiety, once you notice that it is your attachment to something that you think 'should be' that is causing you anxiety, the first step to healing yourself and coping with anxiety is to accept your anxiety.
When your stomach hurts, you are aware that it is hurting. When your tooth is aching, you are aware that it is causing you pain. You don't try to deny it. Neglecting it would seem abnormal and it would cause you even greater pain.
Your anxiety is the same, so why do you treat it in any way differently just because there is no physical pain?
Be aware that you are anxious and don't try to neglect it or deny it. Simply accept it just like any other kind of illness.
There is no discrimination in pain.

Notice your attachment to your expectations. Notice your thoughts and feelings that are making you feel anxious. Simply accept that you are feeling anxious and do nothing.
P.S I know it is hard and you want to run away from your anxieties to your usual escape routes such as checking your phone, watching Netflix, etc and you may as well do that, but sometimes or the other, it will return again. By running away you are making it chase you more. So just stop and face it. Be brave.
2. Your anxiety does not define you
The next step is to understand that your anxiety does not define you. You are NOT your anxiety! Understand for once and for all that you are not your mind!
The thoughts that are overwhelming you and making you anxious are not you. The feelings that you feel are not you. You are not that which is making you anxious. You are something much deeper.
3. Detach yourself from your anxious thoughts
Just as you look out into the wide sea and don't try to control its ebbs and flows, look at the currents of your own thoughts and feelings (whether negative or positive) with the same eyes without the need to control it.
You are not the sea of your thoughts and feelings, you are simply observing the sea. Detach yourself from your thoughts and feelings and just practice observing them.
4. Learn to accept all emotions
Don't discriminate between your thoughts. Don't discriminate between your emotions.
Accept all of your feelings just as the earth accepts both filth and flowers, just as the water accepts anything in its form, just as the fire burns everything in its contact, just as the sun shines everywhere without discriminating, just as the Universe that has embraced both light and darkness within it. You are the earth, water, fire, air, sun and the entire Universe.
There is nothing wrong with feeling sad, angry, annoyed sometimes. You are here to embrace the truth of being human. Accept both light and darkness.
5. Be your own best friend
When your best friend is anxious, nervous, sick, or angry, what do you do? Do you try to console her and give her all your love to make her feel better or do you condemn her/ him saying 'it was your fault', 'you shouldn't have done what you did, 'you are miserable', 'you will remain miserable forever' 'you deserved it!' and things that will make her even more and more anxious?
You will obviously try to give her all your love and support. You know that what she/he's feeling will not last forever. She/he slowly starts to feel better as you try to make her/him laugh and show your friend your affection.
So if you do this with your best friend, why don't you do this with your own self?
[ P.S: One way I have become my own best friend and that which has helped me greatly in gaining clarity over my thoughts and feelings is by writing a journal.
The benefits of writing a journal are so powerful in dealing with anxiety and stress. I want you to give it a try journaling, and if you want to, here is a guide to journaling for 21 days until you make it a habit. ]
Anyway, what I am saying again is that you are not your mind. When your mind thinks negatively that makes you feel anxious, give it all your love.
Speak to your mind as if to a loving friend. It might speak nonsense at times trying to make you feel agitated and nervous. But don't go on rattling with it.
Instead, just observe it and see your mind as a child or as someone who needs a lot of love and discipline.
Your mind cannot harm you if you stop giving its negative tendencies so much importance.
I stopped taking my mind seriously and seeing my mind in this light has been completely freeing for me.
6. Be kindest to yourself
Be kind to yourself at all times and more when anxiety hits you. Kindness to yourself is the healing tonic for all your worries.
I always remember this quote by the Buddha, "You, yourself as much as anybody in the entire Universe, deserve your love and affection"
So be kind to others and be the kindest to your own self. You deserve it. Allow yourself some space to make mistakes. Don't be too harsh on yourself. Don't expect too much from yourself.
You are already that which you want to become. You are learning. Allow yourself to feel sad sometimes. There is nothing wrong with feeling fear or sadness. Simply be kind. Speak to yourself kind words and treat yourself in many ways.
7. Be present
Anxiety always happens when we are thinking about either the past or the future. Notice it for yourself. Our thought almost always runs to past memories or it fears the future.
But at this present moment, absolutely nothing is wrong. In this present moment, everything is alright!
Hence when anxiety hits you, come back to the present and give your mind and self all your love.
Try to focus on your breath or simply focus on what you are doing. Don't remain idle. Come back to the present moment again and again. In being present we can heal ourselves fully.
8. Practice gratitude
One reason we are anxious and are filled with worries is that we have forgotten to be grateful. Notice in yourself how much you complain in a day.
We are always focusing on the problems and complexities. Focus on your gratitude and it will begin to heal our body and mind automatically. Practice the attitude of gratitude.

Think of all the things you are grateful for and have more gratitude and fewer complaints in life. Gratitude is the essence of being human. Gratitude is really the opener of locked-up blessings
9. Affirm the positive
You are not your mind- you are not your thoughts, neither the positive nor the negative. But you have been feeling anxiety and you have been suffering on account of your mind because you believe in your negative thoughts.
You have been affirming all the negative things that your mind speaks to you through your negative self-talk and complaints.
You have to break this pattern and the way to break it is by deliberately affirming the positive. Your mind seems to seamlessly speak negatively making you feel anxious.
You must, therefore, speak the positive into your mind deliberately. Stop believing in the negative that your MIND speaks. Keep on affirming the positive that YOU speak. One way to do this is through prayer.
Affirm that which you are and that which you want to be. Here are
10 positive affirmations for calming your anxiety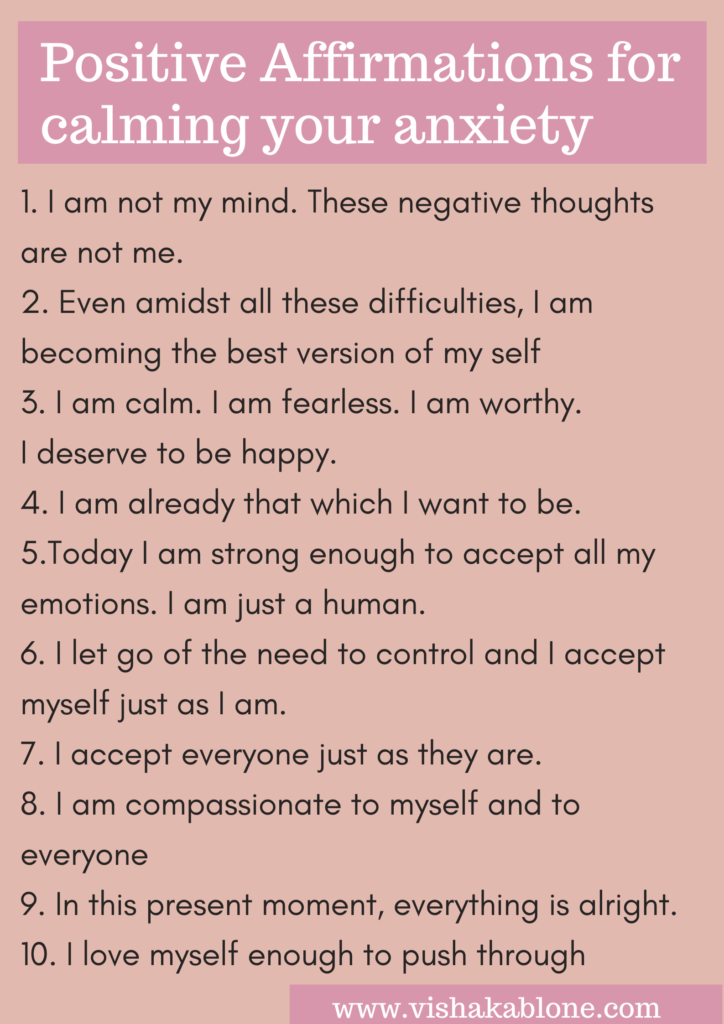 10. Pray
The last and the most important step in order to cope with anxiety and heal ourselves is to pray. Resort to prayer at all times. But most of us have an indifferent attitude with prayer.
You also might think it is useless. But trust me, I too held the same view, but after I started praying myself, I have come to realize how powerful prayers really are!
The common notion of prayer has been such that we ask God/Universe or whatever name you give, to save you and to give you all you want. I too used to think prayers are a pleading to God. But it is really not so.
We have to learn how to pray in order to truly receive its benefits. I pray at least 3 times every day- morning, evening, and night. We must deliberately take out time for prayer even if just 10 minutes every day.
Related post: Why I pray and how to pray
Pray with a firm determination: Pray with the firm determination to win over whatever troubles you. I pray in the morning with the determination to win over my shortcomings and at night I express gratitude for whatever was done in the day.
"Prayers are neither light dreams nor vague wishes. They should be firm pledges of determination. Prayers made with such strong resolve invite clear results just as magnets attract iron." -Daisaku Ikeda
Pray to ask for strength: You are capable of vast things. Pray for the strength to achieve it. Ask for strength and confidence.
Give all your worries and fear to God/ Universe or whatever name you may give it. Trust that you are being protected. You definitely are! Your part is only to share, determine & have faith.
I love what Mother Teresa has shared about prayer,
With these 10 powerful steps, you are on the path to breaking your relationship with anxiety. I am not a therapist but gradually learning to do these things I was able to cope with my anxiety.
Following these 10 steps will help you let go of anxiety and heal yourself. Yes, you may see a doctor, a therapist. There is no harm in that, but become your own doctor, become your own therapist first. It has helped me and I am certain that it will help you too.
Be Happy!
Pin for later