"I don't know what to do with my life"- this will forever be a sentence called out in every generation. This is a good thing that it came up. Because now you will care to find what you do want in your life.
But in the beginning, not knowing what you want to do with life can feel scary, discouraging and frustrating. The more you think about it, the more depressing everything seems to be.
You might feel as though you just want to quit everything and leave. But again, the question is, where?! Where can you run away from your own life?
I felt this in my 20s- not having any clue about my life or how my future is going to look like.
And if on top of that, nobody believes in you and starts questioning you, it can surely drain your self-esteem and confidence.
For this, I am thankful to my mother who always believed in me- even when I dropped out of college losing two years not knowing what I should do next.
A few years after that when I was having a mental breakdown and every tomorrow felt dark and unknown, it was because of her that I carried on.
But at the moment when it's actually happening, the unknown can feel terrifying.
"I don't know what to do with my life" can feel like…
Not having any clue about what you want to do with your career or life as a whole


Just losing interest in everything about life


Feeling scared about the future



Not having any hope for your future


Wanting to have goals, but not knowing what goals or vision you should have

Losing your self-confidence and feeling a deep sense of purposelessness.
Living this way can surely feel like hell like life is an eternal road to meaninglessness and boredom.
If you're feeling like this, I want to say that this is something anybody can feel at ANY age. Whether you're 20, 30, 60 or even 70-nobody is less prone to it.
The quest for wanting to know
As human beings, we have been wired to know- to always stay in the path of the known, to always have a set plan.
It starts right from the moment we're conceived- wanting to know if it's a boy or a girl.
And then life becomes an endless quest of wanting to know- wanting to know the weather, wanting to know which college you get, the subjects you're going to take, the career you need to choose, the person you're going to marry, etc, etc.
And it doesn't end with just our life.
It also extends to wanting to know what other people are going to do with their lives.
It's almost funny- how we are always rushing to want to know.
But it's actually okay- to just stop and not know what we want to do with life.
It's a normal human experience to not know, to not have a clue.
It is only our mind and the urge to satisfy other people that we make a big deal out of it.
We don't always have to figure it out right away.
And if we want to figure it out, the answer comes only when you are relaxed.
Now I think such periods are actually necessary to arise, and that they must arise.
This frustration is necessary for your growth and contrary to whatever everybody says, it's actually the best thing that could ever happen to you if you only allow it to.
And here is why I say so and what I want you to know: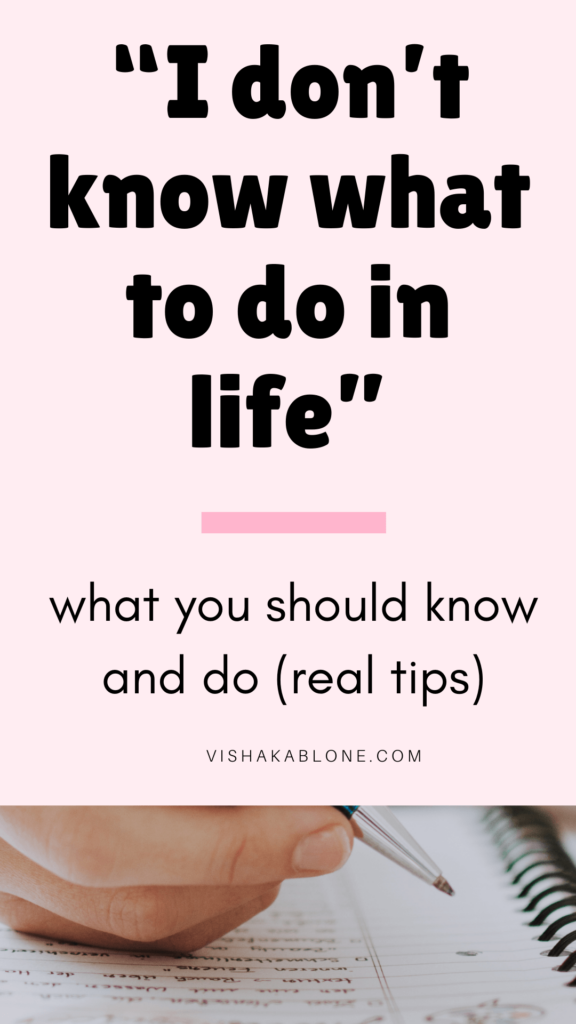 1. Your heart is knocking for change
Your frustration about not knowing what you want to do in life is a calling from your heart demanding that something needs to be addressed and changed.
You wouldn't be getting frustrated and depressed if you were okay living your life the way you're living.
There are millions of others who are okay, who have accepted that there is nothing to do in life, but because you are frustrated, the chances are that you aren't.
You might have left a job or you might not have chosen a career path till now, you might have ended a relationship and your heart is knocking you.
Your heart always wants you to expand, and it hates playing small, so it's knocking you to do something out of your life and take purposeful action.
This frustration is good. This pain is good.
We can only change our lives when our pain of staying the same is greater than the pain of making a change.
So being frustrated and depressed because you don't know what you want to do with your life is actually your heart inside shouting, "I want to do something meaningful with my life"
And this is exactly the first step towards change, so congratulations! You are ready
2. Anything can happen
The society that we live in has trained us to think that knowing is good and not knowing is bad.
But is it really?
Because you don't know, because you have no clue what is going to happen, this means that now anything can happen.
And that anything can be extraordinarily good too.
If you only stopped panicking and being restless, you could allow yourself to open up to excitement and possibilities.
Anything can happen. You can live the life you have imagined. You can end up finding something you love that you didn't know.
You could be travelling the world. You could be working in your dream job.
You can have the love you have always wished for and anything you can think of.
The unknown doesn't always have to be negative.
Even 5 years ago, my life was totally different. 10 years ago even more so.
Me and my mother were living in shortage of money, but we were not in shortage of excitement and possibilities.
I didn't know how my life would be, but I just kept going, excited about my future and taking care of my present.
I didn't even have this blog back then. I didn't even know such a thing as starting a blog. I didn't even know that I would be able to make a website all on my own.
But 5 years forward, now I have, and that which is read over 1,00,000 times every month. But I didn't know it then.
I didn't know that I would be able to take my mother on a trip to Thailand and travel different places in India, but I just knew that someday I would, and this year I did.
When I dropped out of college and nobody believed I could do anything in life, I didn't know that I would someday be teaching sociology in a college, but I am now.
And even now, I don't know if I will forever be teaching in a college or what will happen to my blog.
I don't know what is yet to come, but I do know that I am excited because anything can happen if I look at it that way.
But for now, I will just continue taking care of my present as best as I can.
3. A chance to explore
Not knowing can actually be an exciting journey to see where you land if you keep going and don't give up.
It's a chance to explore what your heart seeks. And not many people in this world get this chance.
Because you don't have a set plan right now, you can now actually explore endless things and sit and think about what you would like to attempt in this phase of your life.
Instead of getting bored and scrolling the internet, allow yourself to get bored and use your boredom for good.
Search for courses that would benefit you. Look for job opportunities in the field of your interest. Read books. Learn new things. Cultivate new habits. Try a new hobby. See what would happen. Find out what you would like to attempt and then stick with it.
If you still say I am too bored and have no enthusiasm to look, it's just your mind playing its trick on you and wanting you to play safe.
Our mind doesn't like discomfort and change, but our hearts are daring.
Stop going with the excuses your mind gives you. Notice it instead.
You are strong. There is no need to be restless. Give yourself time to seek and enjoy the process.
The truth is, we find out what we want to do with life, only after we go about finding it out actively.
Most people are living a life they don't like because they never cared to find it even after their heart's knocking.
They accepted the life others told it would be good for them.
But for you, now is a good time for you to explore.
If you don't seek, you won't find.
But once you seek, and seek patiently, the answer does come.
So use this phase of your life to seek, to find, to grow, to explore, to experiment with what happens instead of being impatient, restless and hopeless.
This is the best time to change your life if you let it.
P.S The spirit of experimenting with life
4. If we always had a plan, life would be more boring
Imagine if you always knew what you wanted to do- you knew exactly what job you wanted to take, what career you wanted to choose and what you wanted from life.
And even after knowing everything, it's not certain that you will always want the same things.
There are kids whose parents are making them prepare for the IAS exams (the toughest exam in India) starting from classes 5 and 6. Isn't that incredibly boring that they are asked to know what exactly they should be when they grow up?
There are many people who quit their once-dream jobs because they found out that they now want to try another thing.
As for me, after dropping economics in the 2nd year of college, I didn't know what subject I should take up next.
I just knew that a subject with numbers was out of my list.
Then, as a matter of fact, I didn't like history, political science, or geography and neither did I want to memorize any poems and study novels, so English too was out of my list.
What remained was sociology and so on a whim, I took sociology up without ever having read any subject matter on it.
But down the years I eventually loved the subject and topped my graduation and even my masters.
I cleared the NET exam, cleared the College Service Commission Interview and then got the job I had dreamed of.
But now, even though I am still so thankful, this doesn't seem like something I would forever want to do, and I still don't know what I will do with life.
Should I quit my 'Government' job? Should I pursue writing? Should I become a full-time blogger? Should I start a business?
I don't know. And I think it's okay.
I will just keep taking care of this present moment.
All I know is that we will always go through phases of 'I don't know what to do with my life' all throughout our lives, but what matters is if you see it as being terrifying or exciting.
I am going to stick with the latter and keep believing in the gift of being alive because as long as we are alive, anything is possible.
5. An opportunity to restart your life
Lastly, not knowing what you want to do with life is a gift because it gives you an opportunity to think about where you want to take your life next.
It gives you an opportunity to restart your life.
If you always knew what you wanted to do, your life will forever remain the same.
We need these breaks of not knowing what we want to do with life so that we can start our life over, again and again.
If you're in your 20s and 30s, you still have a LOT of time left to do whatever and be whoever you want to be.
If you think you're already old and you should have figured it out by now, someday you will be 50 or 60 and you'll be looking back at this time as being young and full of opportunity to have done whatever you wished for.
So do it now. And feel young now.
And even if you're in your 50s, 60s or even 70s, you can still choose and have the life you dream of.
P.S You are as young as your age
No matter how we have lived until now, what matters is how we live by the end of our lives.
Are we kinder? Are we more daring? Are we more mindful? Are we more lively?
If this phase of not knowing hadn't come, you would have never cared to ask what you want to do with your life.
But now it has, and now you have to seek it, find it and use it for your benefit.
Everything is hopeful.
P.S. If you are ready to give a try at working on yourself and changing your life, I have recently created a Special challenge/Guide for you to Change your Life in 7 days.
I think you'll love it if you give it a try for 7 days and see what's possible for you.
So, now if you ask me what should you do if you don't know what to do with life?
Here is my list of things:
What to do when you don't know what to do
Pin to save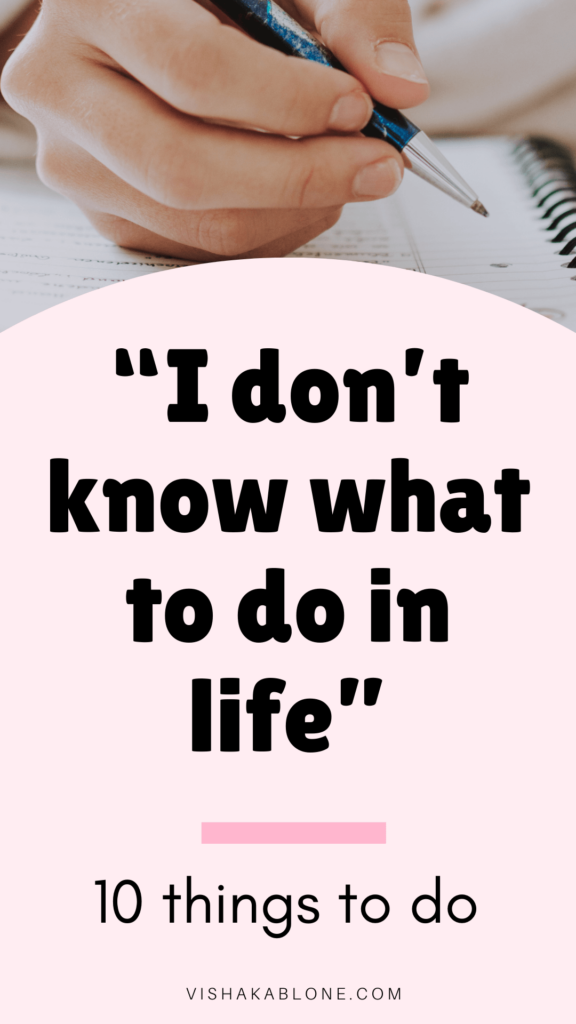 1. Learn how to Relax
The first thing that you need to do is to just be.
You don't always have to do something. Allow yourself to just be.
When you don't know what you want to do with life, and you are impatient about wanting to know, there is a lot of chance of making the wrong decisions.
Rushing makes us make the wrong choices. Being patient always leads us to the right.
This is the reason why overthinkers are usually the ones who make the wrong choices.
Even after thinking over and over, they end up making the wrong choices, because they are too impatient to want to know and don't want to remain in the unknown.
They want to know who they want to marry and to end the suspense, they end up marrying the wrong one.
They want to know when they will reach their goals so they are impatient about the outcome instead of working through the process of hard work.
Learning how to relax can do you more good than anything.
It's a skill and it takes discipline.
Nobody is pushing and punishing you to want to know what your life will be more than you.
Stop with the wanting and just relax and see where you have come in life.
Its okay to even forget your goals for a while
You will see that you have come a long way, and there is still a long way to go.
You can take this journey meaningfully only when you learn how to relax.
Start your mornings peacefully and slowly.
Take care of your mornings and evenings. Allow space in your day. Stop rushing with your body. Move slow. Remember you're breathing. And just relax.
This is the first thing to do.
2. Find good use of your time
When you say, "I don't know what to do with my life", what you're actually saying is "I don't know what to do with my time".
The word life is a bit vague. Life is after all a collection of time.
How you spend your time is how you spend your life.
Identify your time wasters. Reduce your screen time and take action instead.
Here are 25 actual ways to reduce screen time
How you spent your time in the past is what led you to the life you have now.
If you're not satisfied with how your life is now, that means you need to change how you are spending your time.
How you spend your time from now onwards, is what will define your life in the future.
So if you don't know what to do with your life, find out what you can do with your time.
There is always something that we are procrastinating or avoiding with our time.
You know what that is best.
Use your time wisely and you don't have to worry about your life anymore.
P.S Here are some time wasting habits to avoid and
3. Take care of your present
The future is made of nows.
Your present contains the seed of your future.
How you nourish and take care of the present is what will help the flowers of your future to blossom.
When you don't know what you want to do in life, it's easy to look into the future with hopelessness and think how your life is now is how it will always be.
But that's not the whole truth.
Whenever your mind tries to run into the future or past, come back to the now.
Think of what small thing you can take care of today.
If today seems too big, what can you do for the next 20 minutes that you will be thankful for?
And if that seems too big too, what can you do in this present 5 minutes?
Take care of the present by focusing on what you can control.
Here are all the things you can control:
How you spend your free time


The time you go to bed and wake up

how you spend your mornings

your daily routine

your effort

your discipline

The foods you eat

who you choose to surround yourself with

How much time you spend on social media

If you only take care of the present enough and focus on the things you can control, the future will take care of itself.
That's how my life changed and that's the only thing I know.
4. Get out of your comfort zone
If you are just sitting there overthinking what your life has become or how your life is going to be, you have still not come out of your comfort zone.
This phase of not knowing is a gift and an opportunity to come out of your comfort zone.
Do hard things and your life will be easy.
As Seneca says, "Its not because things are difficult that we do not dare, it's because we do not dare that things are difficult"
Push yourself to doing what you have never done before.
It might be starting a new website, taking up a degree you are scared to take, changing your career, starting up freelancing, ending a draining relationship, starting a YouTube channel or even taking up a job that asks long hours to support you for some time.
Whatever it is, get out of your comfort zone.
It can be uncomfortable, but if you want to know what you want to do with life, it is necessary.
In comfort we get questions, in discomfort, we get our answers.
Every time you feel it's getting hard and you're getting discouraged, know that it is a good sign.
5. Set small goals and reach them
Even if you have no clue what you want to do with life, you must have some clue about what you DON'T want in your life.
That itself can help you set small goals.
And even if still you are clueless about what to do, the rule of thumb is always to come back to 'YOU'
Whenever you are confused, drained, or directionless, come back home to yourself.
Make yourself the centre of your life and give yourself all the nourishment you need.
Work on making a better you and you will automatically make your life better.
Know that you are the most powerful tool in your life and you must use you wisely.
So set small goals- as small as drinking 4 glasses of water daily or as small as deciding not to use your phone waking up in the morning.
Reach these small goals and you will know what goals you must set next on your own.
6. Start Journaling
I have found journaling to be the most helpful tool in finding clarity.
In writing down in a diary, our heart starts speaking and we come to know what exactly we are missing and what we must do.
It is as if God is guiding you through the pen and paper.
If you have never experienced it, start journaling.
The questions will come as well as the answers as you write.
P.S. I have recently created a 21-Day Journaling Guide for Self-discovery, growth and healing.
If you haven't taken any other challenge of mine, you can join this challenge.
You will receive journal prompts and guidance from me for the next 21 days to inspire you every day.
7. Be curious
This life as a human being is precious. Being born on this Earth is the magic of a lifetime.
There are trees, there are stars, there are mountains and water, music, pets and everything else. What has this Earth not got to make us feel alive and happy?!
Isn't it so kind for us to be giving everything till now in abundance?
The lack that we have is only created by us, human beings. Nature is abundant.
And on top of that, being born as a human being!
We've got a face, two eyes, a nose, two hands, fingers that help us hold things easily, two legs to walk on this earth, and a thinking mind that's capable of visualizing and deciding what our life can be.
There are endless things to do and be curious about. One lifetime isn't even enough to try all the things we would want to try if we really start to think of it.
There are so many things to be curious about.
Ask yourself, "What would happen if I allowed myself to try this?"
"How much stronger can I be?"
"What will happen if I take this solo trip?" (Here are 5 lessons from my first solo travel)
"How do people become successful and rich? What are the habits of these people?"
"What books are they reading? What knowledge would I gain if I read them?"
"How would I feel if I tried waking up early?"
Start being curious about things and dig things up.
Learn deeper and take notes. Your life will slowly change and you will know what to do.
P.S Give yourself the gift of curiosity
8. Nurture good habits
When you don't know what to do with life, just nurture good habits in your life.
When you start nurturing good habits, you will start feeling good about your life and it is only when you start feeling good and relaxed about your life, that you will know your answers and you can find them.
Cut off those toxic habits. There is a great possibility that it is those toxic habits that are making you more anxious about your future than the future itself.
To take care of your habits is to take care of your present.
Nurture your good habits and you nurture your life.
9. Pray for guidance
There is a power in prayer, not many people realise.
Prayer is an opportunity to go inwards instead of outwardly asking for God's help.
Prayer is a vow to keep doing better in life despite everything.
In your prayer, be relaxed and ask for strength more than asking for things to get right.
Ask for guidance and the path you must take to open up more than asking for YOUR plan to work out.
Ask for clarity and wisdom for why something is happening more than doubting why something is happening.
Pray and have faith.
And if you're lacking in faith, ask for your faith to be restored.
God/Universe is kind. Sincere prayers are always answered if you are patient and willing to listen and look.
P.S Why I pray everyday and how to pray
10. Be kind to yourself
Lastly, be kind to yourself and allow yourself and your life to unfold like new leaves.
This is the moment to show your kindness to yourself.
This is the time when your life needs your biggest support.
You need to trust yourself and trust that your life is going to be great if you want it. Because it will and it can.
Final thoughts
Take it easy on yourself. Allow yourself to feel the discomfort of the unknown.
Allow yourself to not know and still have faith in yourself. Your future depends on your faith in yourself.
Life is uncertain. We don't always know what we're here for. Allow yourself to take your time in finding out what you're here to do.
And even after finding it out, it's not certain that you will always be finding your purpose in that one thing.
We are always evolving. Our purposes can evolve too. So allow yourself to evolve and get to know yourself better in this phase.
Allow yourself to explore and be curious.
Once you stop wanting to know desperately, and instead just become patient, and kind and take care of the present and yourself, life will slowly unfold and it will unfold in beautiful ways if you allow it to.
Do what you have to, Do what you can do, and the rest will take care of its own.
You might also like: