Ready to manifest using a vision board? Have a look at this vision board checklist and make sure all of it is ticked for you.
Making a vision board is always exciting, but we often get many things wrong and think just making one will be enough for us to manifest it.
No, you have to do the work and get into the 'feeling' of really being able to make all your vision come true.
It requires you to have hope for your dreams and future and a lot of excitement and enthusiasm.
If there's anything I've come to know about manifestation, then it is that- thoughts don't manifest, feelings do.
You cannot want for something good in your life and then feel lack, jealousy and be full of complaints. 
You have to get into the feeling of joy, happiness, gratitude and abundance everyday and make it your way of life.
But I know, it's hard to get into that kind of hopefulness and enthusiasm, and that is where a vision board comes in.
What is a vision board?
A Vision board is not a manifestation technique but simply an aid in helping us manifest. It is a board depicting your future goals and aspirations that you'd like to achieve in order to inspire you to believe that you can and get you the feeling of living the life you dream of.
A vision board helps manifest because looking at our vision board makes it easy for us to visualise our dream life and make us believe that it is all possible. 
It keeps our enthusiasm up and going.
What should a vision board include?
A vision board should include anything that will help in representing your goals, dreams and aspirations you have for yourself so that whenever you look up to your vision board it reminds you of your vision, your purpose and your potential.
Thus a vision board can include quotes, affirmations and pictures of your goals which you can get from magazine cutouts or online, or you can also draw one yourself.
Whatever you include in your vision board make sure that it is very close to your heart and something that truly resonates with who you want to be and what you want to be doing in the future.
Whenever you look up at your vision board, it should remind your heart get imagining all the possibilities you hold for your life.
Vision board material checklist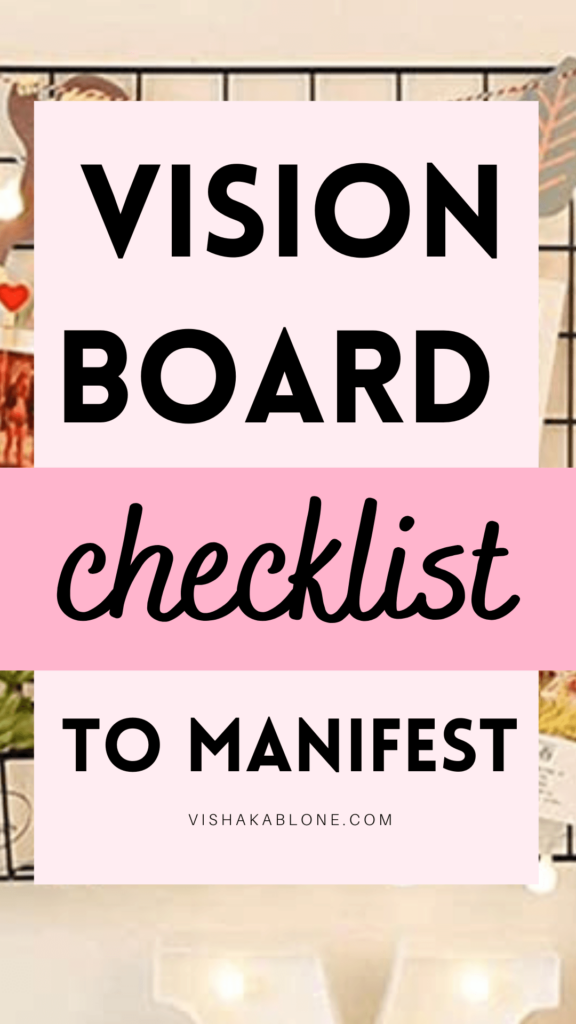 1. Board
You can use a cork board, a chart sheet, or you can also get a wall grid for putting up pictures and quotes beside your table or your bedside.
My vision board is made out of a cork board like this one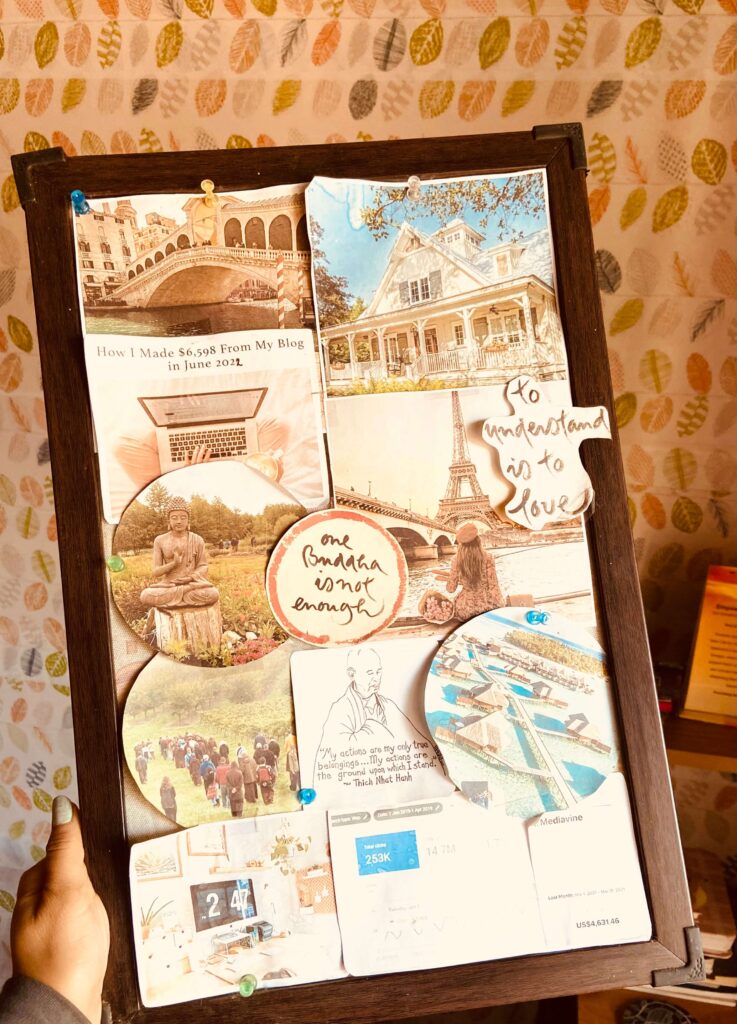 Or you can also make a vision board out of this wall grid display board
Or you can also use this grid art photo display for your vision board
2. Pictures:
You obviously need pictures for your vision board. The traditional way is to look up in magazines, or online and make a collage out of it.
But if you're finding it difficult to find your pictures in magazines or online, you can get this vision board book by Lamare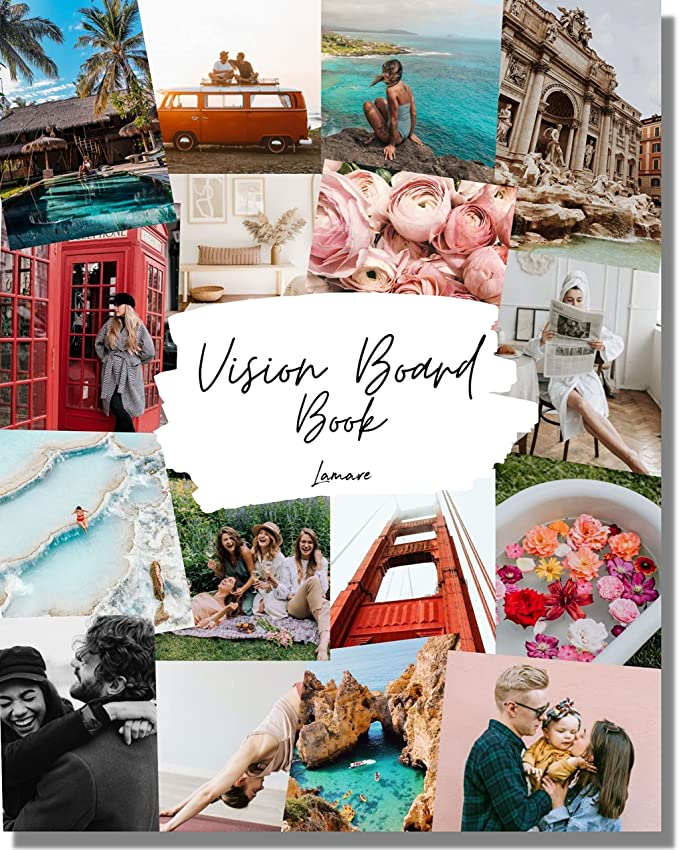 This vision board book has pictures, quotes and everything you need for your vision board, and you can easily rip the pictures from the book so that you can put them up on your vision board.
3. Stickers
For accessories, you can also put up stickers on your vision board.
Here are some fun motivational stickers you can put up on your vision board that are available on Amazon.
4. Scissors
You probably already have scissors, but if you can't find one, make sure you get one because you'll be needing it when you are making your vision board.
5. Pens and markers
You need pens and markers to write out any affirmations or quotes which you cannot find a picture of anywhere.
You can also draw your goals and dreams if you cannot like a picture that really depicts your goals and put it on your vision board.
6. Glue and pins
You will need those glues if you're making your vision board on chart paper.
If you're using a cork board or a wall grid for your vision board, then you will need some push pins and wooden clips to get your vision board together.
And finally, now comes the main part
Vision board checklist for manifestation
Pin to save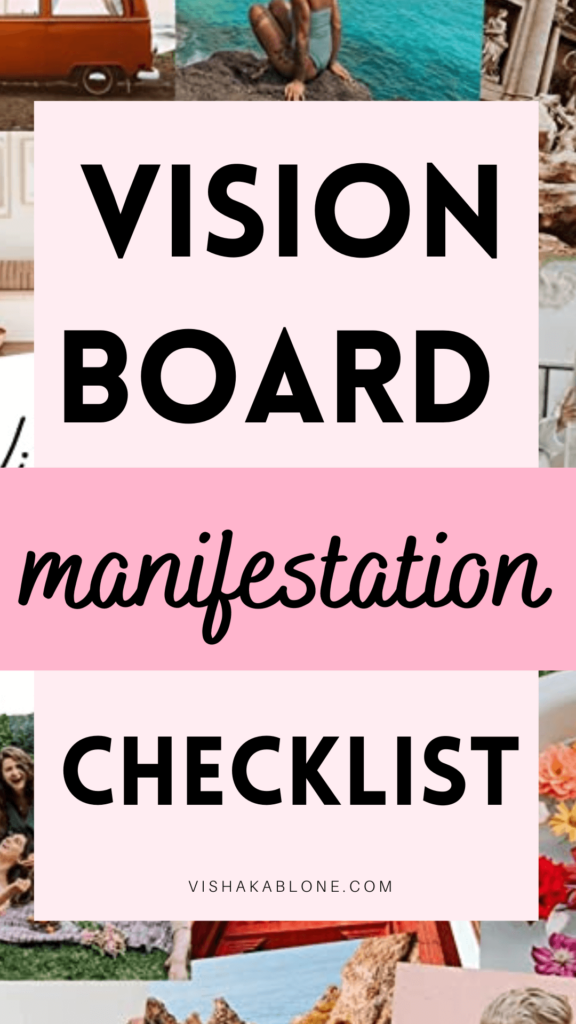 Follow this vision board manifestation checklist to make sure you're creating and using your vision board the right way in order to manifest your goals and dreams:
1.My vision board includes goals and dreams that are really close to my heart 
2. All the pictures on my vision board truly represent who I want to be and what I want to attract
3. My vision board includes affirmations, words and quotes that truly resonate and inspires me
4. Only words that I truly feel are there on my board
5. My Vision Board is neat and not cluttered
6. The vision board is placed somewhere I can easily see
7. I am creating my vision board joyfully and knowing fully that they will come true
8. I see myself living my vision board dreams
9. I have hope for the visions I hold in my life
10. I look at my vision board every morning and before bed
11. Create a new vision board every year
12. I read and live out the affirmations in my Vision Board 
13. I am living my life gratefully and joyfully
Vision board checklist printable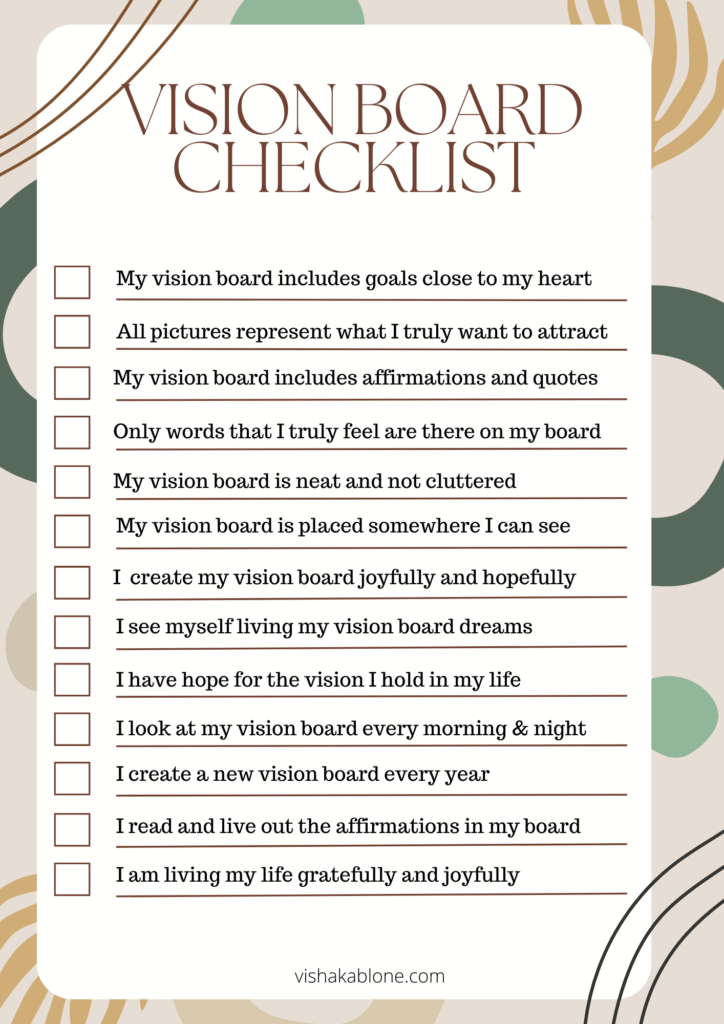 So this is how you can manifest using your vision board.
I hope you have fun making it and trust the process and trust your visions.
Anything is possible as long as you're alive.
You might also like: