Ready to get serious with blogging and reach your blogging goals?
Hi there!
I'm so glad that you are here checking out this page.
I'm Vishaka and I started this blog to share my personal growth journey, and be of help with practical tips and inspiration to people who are looking to change their habits and simplify their life.
But as my small blog started to grow, and I came to learn the ins and outs of blogging, I decided to share blogging tips as well to be of help to new bloggers out there.
Over time I have started to receive so many messages and emails with questions and blogging help.
I am happy to answer them all and wish to guide you more on your blogging journey.
Because I have been through that phase myself, I know how much help it would have been to have one blogging friend and mentor.
So this makes me start this 'Work with me' Page.
But before you decide to invest in your blog here is……
A little about me
Like you, I was a complete beginner and I started it knowing nothing about blogging.
One year into blogging, and because I had no one to guide me, and I was too skeptical to start investing in my blog, I didn't see any traction on the blog.
It was disheartening and lonesome at times.
But then… given my nature of 'not giving up', I decided to finally get serious with blogging and give it one last try.
Here is my blogging timeline and milestones so far
I'm sharing this because I want to be fully transparent with you before you decide to take me as your blogging friend + mentor 🙂
Jan 2020– I started this blog on my birthday. This is my first blog post: 27 years of my life so far


Jan- December 2020– I hardly have even 5000 page views for the whole of this year


March 2021– I decide to take a break from blogging


June 2021– I think of coming back to blogging because I actually miss blogging, and have so much free time. (Time passes anyway!)


July 2021– I am back with blogging and set my blogging goals for the first time. I set out a goal of 10k page views for this month.

And I actually reached 12k page views– The most that I had ever received!! that too in just one month of being serious! I was elated.


August 2021– Went up from 12k to 30k in two months. Here's a post I wrote about it. How I reached 30k page views in 2 months
I also get accepted to Ezoic, my first ad network


December 2021– My traffic gradually gets better and I am able to reach my blog traffic goals for each month
Here's my graph from July 2021 to December.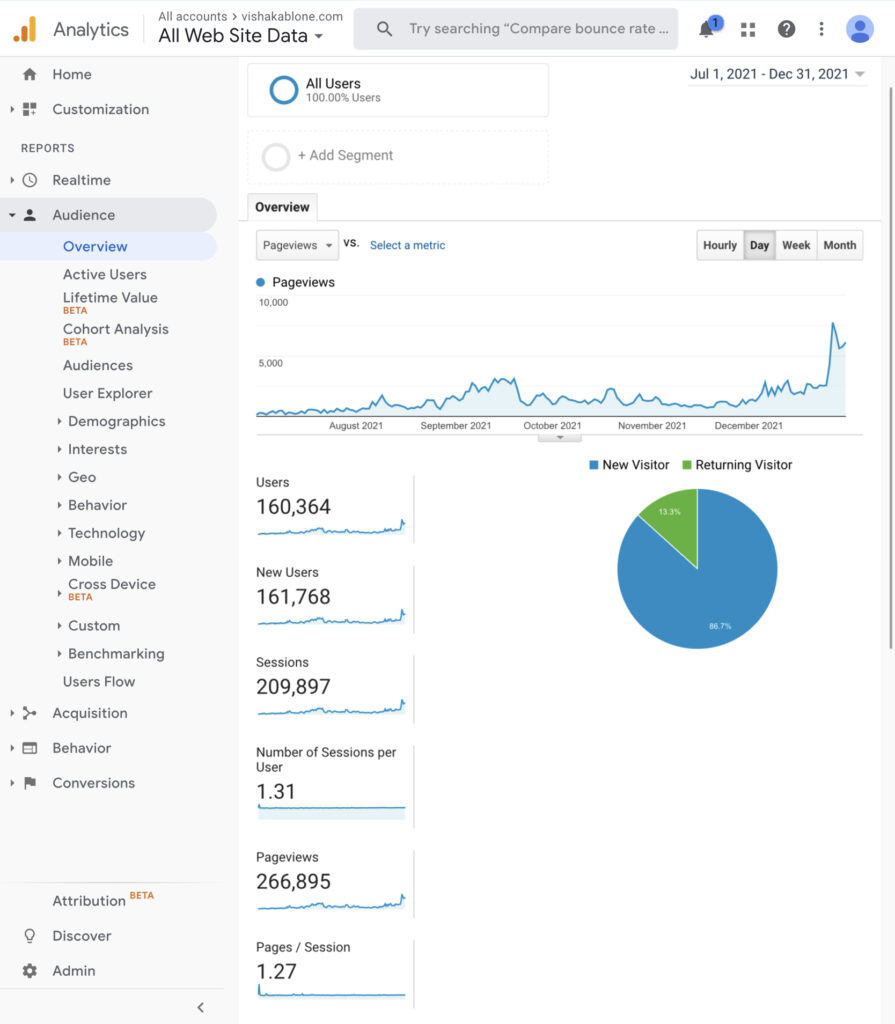 January 2022– I reach my first 100k page views and also get accepted by Mediavine (which was a big goal of mine)


Feb- March 2022– I continue to get more than 50k sessions to my blog.
March was my first full month with Mediavine which made me earn my first $1000+ blogging


And here is my latest:
April 2022– I cross 100k sessions yet again and also reach my blog income goal of $2000+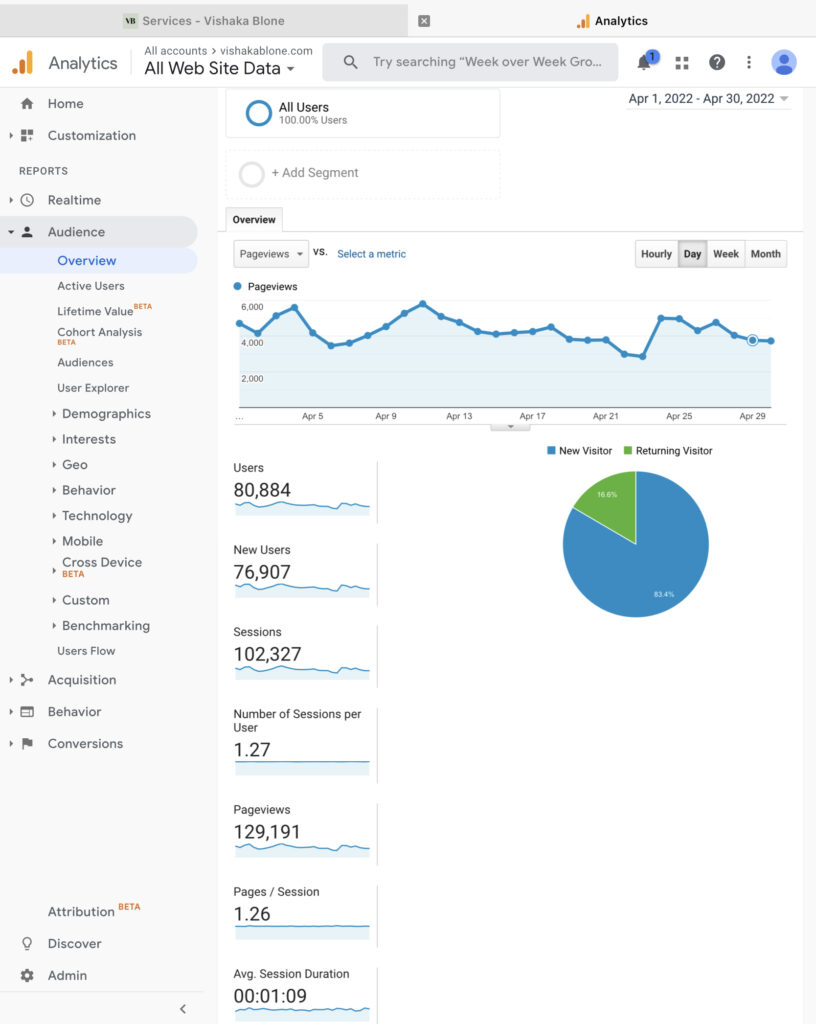 P.S this is all with Pinterest and a little bit of Google Traffic.
Yes, Pinterest is still working in 2022!!
So this was about me
Tell me about you!
Where are you in your blogging journey?
Let me guess…………
You're just thinking to start a blog, but don't know how to get ahead with it


Or you've started a blog but just don't know how to improve your blog


Your blog is unorganized and you can't find blog content ideas.


You want to start making money from your blog, but you don't know how you can monetize your blog


You have heard about Pinterest, but you have not yet started it, and are kind of blank about it


Or you've started with Pinterest, but just aren't getting any clicks!


Or you've been with Pinterest for a long time, but you don't get traffic like you used to, and you just can't figure out why!

I know it is frustrating.
And here is where I come in……..
I can help you get started with blogging if you're just thinking to start a blog, demystifying blogging, and giving you a content strategy to attract the right kind of audience.


I can teach you how to find unlimited blog content ideas so that you never run out of blog post ideas


I can teach you how to keep your blog organized, and how you can be consistent with blogging


I can help you organize your blog and not feel your blogging journey is as messed up as it is.


I can help you with setting blogging goals and how you can reach the same


I can give you a monetization strategy to focus on so that you can finally get clear on how to start earning that passive income.


I can do a complete Pinterest audit for your blog and help you with understanding what type of content you should post on Pinterest based on your niche.


I can show you my Pinterest workflow and how I keep my Pins organized which helps me put out 10+ fresh pins every day!


I can teach you the latest Pinterest Strategy that is working in 2022 which gives me more than 100k page views every month.

Plus… answer any questions you may have.
So are you ready to get started?
My coaching packages
One Call Package

$60
60 mins
Google meet call
Blog + Pinterest help
Q & A
book >
2 Call Package

$120
2 * 60 mins call
Google meet call
Blog + Pinterest help
Q & A
Book >
3 Month Blog Coaching

$150 per month
3* 60 mins call per month
Google Meet Call
Blog + Pinterest coaching
Q & A
Follow up tasks
Book >
---
Here is how it works
Fill in this google form- https://forms.gle/GmiT4h6YQw9WQEHp6


If you are not sure about which coaching package to choose or have some other plans to work out, simply fill in this form and we can come back to it later.


Once you fill out the form, please also email me at [email protected] as I don't get notifications for it.


I will look into your main struggles and niche in order to know better how I can help you.


For those of you who stay outside India, I will send you a PayPal Invoice. Upon clearing the invoice, we can fix a date and time that works for you.

(For people residing within India, other modes of payment can be used)


Once this is done, we will start with our call(s) via Google meet. Thank you 🙂