It's never too late to transform your life; there's no big event or new year needed.
If you haven't kept up with your New Year's resolutions, don't be discouraged. You can still achieve an inner and outer glow-up.
What Does A Glow-Up Mean?
The term "glow up" is slang for a positive personal transformation. It usually refers to changes in appearance and personal style, but it can also refer to personal growth and confidence.
Essentially, it's the process of transforming into a better version of yourself!
However, glowing up can mean something different to each of us. This means your transformation journey might not look the same as the next person's. Your glow-up may be physical or it may be mental—or both.
How To Glow Up Physically
A physical glow-up involves a physical transformation. This could be losing weight, investing in your skincare and hair, finding your personal style, or doing anything else that enhances your appearance.
How To Glow Up Mentally
If you make positive changes to your physical appearance, you'll feel more confident and you'll enjoy a self-esteem boost too.
But a mental glow-up can be a glow-up all on its own.
It may involve going to therapy to overcome specific issues, learning new ways to relieve stress and relax, or focusing on an area of personal growth.
Glowing up mentally will involve nurturing and transforming your mental health and well-being for the better, and to be the best, most positive version of yourself.
How Long Does It Take To Glow Up?
The time it takes to glow up depends on what type of transformation you choose. I think that an average of three months is a good timeline to work with, as you can make significant changes that will show.
When people start to notice a difference in you, it's a sure sign that your glow-up is in progress.
It's also up to you when you decide your glow-up is done. You can work on yourself for as long as you like, or aim for quick results if that's what you want.
How to glow up inside and out
While some people think a glow-up is what happens when a teen ends their awkward phase, the truth is, you can glow up at any age!
The first step to any glow-up should be identifying specific areas of your life you would like to change or improve.
P.S. If you are ready to give a try at working on yourself and changing your life, I have recently created a Special challenge/Guide for you to Change your Life in 7 days.
I think you'll love it if you give it a try for 7 days and see what's possible for you.
Anyway, these specifics will be unique to you, but luckily, there are some general tips to guide you for your glow up and I'm going to share them!
Pin to save 🙂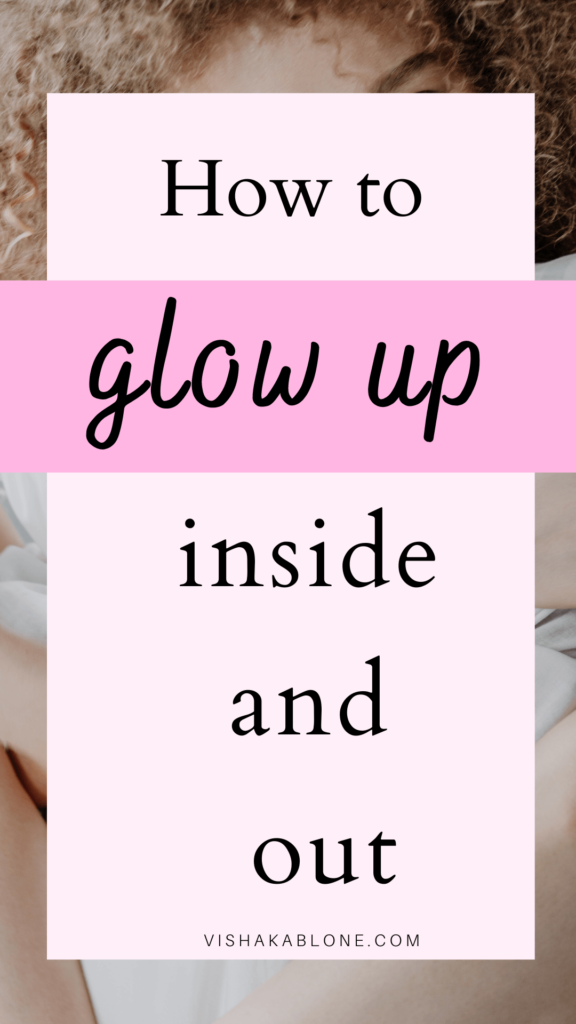 1. Put Your Best Foot Forward
A glow-up is most often associated with a physical transformation. This isn't the only change to consider, but it is one of the most noticeable changes you can make.
Investing in your appearance fosters a good relationship with your self-image, and most importantly, boosts your confidence.
2. Put effort into your personal style
Some of us are too simple and are always wearing basic clothes. We tend to think, "Nobody will notice" or "Who cares!", but we must remember to dress up well for our own selves because it makes us feel good.
And when we feel good from within, we look good from outside.
Putting a bit of effort into our personal style and exploring our personal style is a great way to engage in self-expression.
Don't be afraid to step outside your comfort zone to explore new styles and find out what works best for your body. This includes the colour palette you wear.
You ‌know your body shape, but do you know which colours suit you best?
Consider taking a look at seasonal color analysis—are you a winter, spring, summer or autumn?
Should you be dressing for a cool or warm hue? This largely influences whether your clothes are flattering or not.
Learn which colours make your features pop, and which cuts suit your body best.
3. Makeup
We know the power of makeup can't be underestimated.
If you've been applying your makeup the same way for years, consider changing the placement of some of your products and trying out new techniques.
This way, you can learn how to do your makeup in a way that best compliments your features.
For a more dramatic change, visit your local beauty salon and browse their list of treatments—you can try brow tints, threading, lash lifts or extensions, and even permanent makeup.
4. Healthy Hair
Hair is often the first thing that jumps to mind when you're looking to make a big change to your appearance.
There are many options for hair transformation—colours, cuts, and even straightening or perming treatments.
Creating a routine to prioritize hair health may not be as exciting, but it shouldn't be overlooked.
Investing in your hair care makes a huge impact on your overall appearance. Making a change to your hair care routine depends on your hair's specific needs, but make sure to invest in quality products and give your hair the attention it deserves.
5. Skincare
Investing in your appearance means tending to your natural beauty as well. If you don't already know, find out your skin type and which products work best for it.
Make sure you're keeping up with your skincare routine, and if needed, consider trying new products and adding new steps.
Not only does this help with your appearance, but it is also a valuable form of self-care.
Be mindful in the way you cleanse and massage your face. You can make your routine more exciting by incorporating weekly face masks and investing in skincare tools, such as gua shas and face rollers.
6. Look After Your Body
Looking and feeling good is an important part of your glow-up. Make sure you're nourishing your body with food that allows you to feel your best day-to-day. Eat plenty of vegetables, ensure your diet includes foods full of natural antioxidants, and drink lots of water.
It is also good to incorporate some form of movement into your day. This could be a daily stroll, a Pilates class, yoga, or going to the gym a few times a week. Maintaining fitness is important to your health and your overall quality of life.
7. Dedicate Time to Self-Care
You should be mindful of how you relax and what you do during your time off. This means being present in your self-care, and not allowing the anxieties of everyday life to interfere with your downtime.
Be intentional in setting time aside for yourself each day. Remember that allowing yourself time to relax is productive. You'll fare better with your day-to-day tasks if you're rested and haven't neglected your needs.
Self-care allows you to nurture your self-love and self-esteem. This is essential to your inner glow-up.
Self-care can be treating yourself to a good meal or spoiling yourself with a day at the spa.
It can also be small acts you do for yourself within the comfort of your home, like taking a long bath, lighting some candles, burning incense, playing your favourite music, and even setting time aside to watch your favourite show.
Self-care is whatever you make it, as long as you are dedicating a portion of your time to looking after your needs.
8. Follow Your Purpose
One way to keep your glow-up journey going is to strive for self-improvement.
Figure out what drives the 'new you'. Is there a hobby you'd like to try?
You could look into teaching yourself a new skill or even signing up for a class.
This could be a great way to enrich your life and meet new people. The 'new you' could also find purpose in professional or educational ambitions.
Aim high and encourage yourself through positive self-talk.
A true glow-up means pushing yourself to be your best possible version. Determine your goals for the future and be consistent and intentional in the steps you take to achieve them.
9. Prioritize Your Mental Well-Being
Caring for your mental health is essential to your inner glow-up. Always acknowledge your feelings and make sure you have a healthy means of processing them. This could be journaling, talking to a loved one, and checking in with a therapist, amongst other things.
A good way to nurture your mental health is by practicing mindfulness. Repeat a few positive affirmations daily, learn to be present in what you're doing, and practice gratitude.
Not only will you glow up, but it will seem that the world around you has as well.
So this was about how to glow up
You might also like: