Do you hate housework and think what a nuisance it is? Do you hate cleaning and have no motivation to clean the house? Well, today I want to share something you might be surprised to hear- I actually enjoy cleaning! 😛 Yes, I do.
And in this post I want to share why I enjoy cleaning and not dread it, and how you too can actually start enjoying cleaning and hopefully get the motivation to clean and tidy your house if right now it's something you really hate.
But please don't think I have always enjoyed cleaning.
Growing up, I had always been a careless kid and would keep my things lying everywhere here and there every time I wore them or used them.
I still do. But now I pick them up.
My mother would do most of the housework and get angry and scold me saying I don't have manners and don't know cleanliness and how to keep things in their place.
I wouldn't even make my bed. It didn't make sense to me. I would think, "I am going to sleep anyway, so what's the use of making my bed".
I didn't understand how my mother got the motivation to clean and what made her want to keep the house clean so much.
But now fast forward many years,
I live alone now, but you will always find my home neat and tidy. Now I actually enjoy cleaning.
But how and why?
Well here are all the reasons
Reasons why I enjoy cleaning my home and not dread it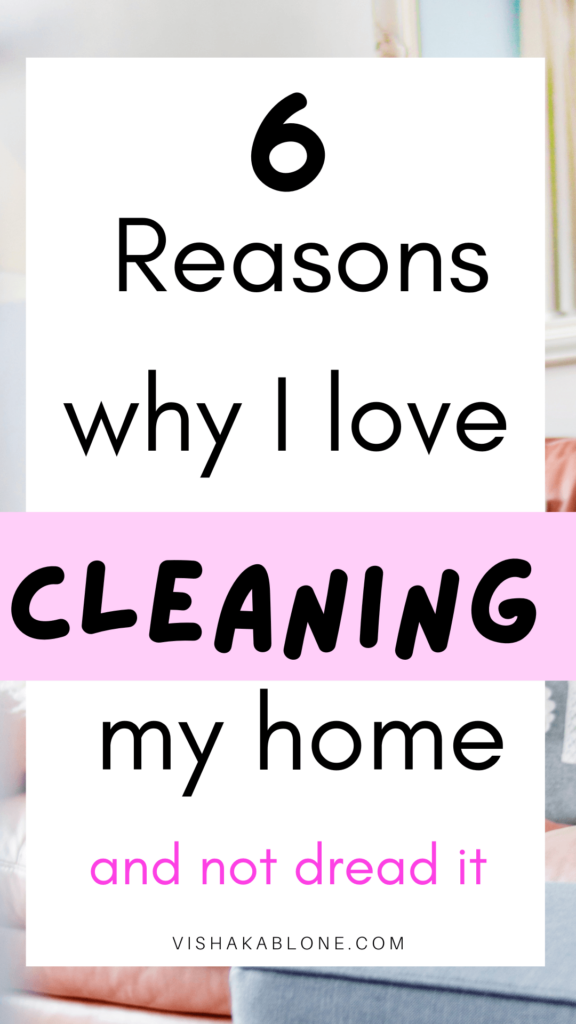 1. A clean home makes me feel good
My life was really messy at one point in time. And it reflected on my surroundings too, or rather that my surrounding impacted my life state.
My room was as messy and full of clutter as a room can get. Really really messy.
But one fine day something came to me that this had to change and I couldn't go on living like this forever. Thankfully, this realization hit early in my 20s.
The first thing I did the next day was clean my room. I still remember it took an ENTIRE day to clean my one small room!
I think I've written about it in my first ever post – 27 years of my life so far
I decluttered so many things.
That was the first time I did a deep decluttering and it felt like I was decluttering my life too. All the unnecessary stuff from my mind was also getting cleaned simultaneously.
My cheeks had gone red with sweat and my whole room had turned upside down.
But in the end when I finally arranged my room and saw my room changed- all spacious, neat and tidy- the FEELING was amazing!
It felt as if my mind became more spacious and I got more room to breathe.
I felt like I didn't just clean and tidy my room and my surrounding, but I also cleaned and tidied my mind and my life.
I didn't only make my room lighter, but also my mind felt lighter.
I always say that our FEELINGS are our greatest motivator. You don't even need discipline. Just how strong our feeling is is what will make you want to act or not want to act.
We always want to feel good and neglect feeling bad.
That day I came to know the feeling that having a clean and tidy room gave me, and that feeling has stuck with me throughout.
So I love cleaning because the end result always makes me feel good. I love feeling lighter. I love feeling clean. I love feeling tidy and how it has such a huge impact on my mind.
Also, I enjoy the process of cleaning too.
2. Cleaning has become a me-time moment 
While we may think that doing house chores is separate from our time for ourselves, now I'm coming to realize that actually, every moment can be a me-time moment if we let it and don't do it begrudgingly.
Earlier I used to regard cooking, washing the clothes, washing the dishes, cleaning and doing other home chores as work and not a time for self, but now I try to see all of these things as also very much a part of me-time.
When I clean my house, I open music and sing along and dance in between some moments as I sweep or mop the floor and it becomes an enjoyable me-time moment (little perks of living alone)
I get to take my mind off work and just be with these things.
Even though mundane, these are very much a part of being alive.
While cleaning the house I listen to some podcasts sometimes and it's another way it becomes enjoyable.
The house gets cleaned and at the same time, I get the time to learn something new and listen to some wonderful people.
Here are some podcasts I listen to
3. Cleaning can be a mindfulness practice
Practising meditation is not only the time when we sit on a cushion and close our eyes. It needs to be practised all throughout the day.
Of course, it's difficult, but we can still try to have snippets of mindfulness in some specific activities that we do during the day.
It can be while doing specific things like drinking tea, eating, cooking, or anything else.
On days (specifically Sundays) when I have to do deep cleaning of the house and it takes a longer time, cleaning becomes an opportunity to practice mindfulness.
I like to slow down my pace and walk gently as I walk about here and there in my apartment.
I do slow dance as I mop the floor and it becomes a mindfulness practice.
On other days, it doesn't take much time to keep the house tidy as it's only about maintaining things as they are and I do them as I go.
4. A clean house calms my mind

I've been staying alone for many months now, and still, keep my house clean.
'Earlier Me' would have not cared thinking there is no one and I can do whatever I want to do.
But now I know it's not for anyone, but for myself. I like to clean my house because I love how it makes me feel.
Mess adds not just physical clutter but also mental clutter.
When I clean my room, I clean my mind. I don't feel agitated, anxious, or messed up.
Having a clean house makes me feel more spacious and I feel there is more room to breathe.
I stay in a rented apartment, but still I like to decorate it and make it nice because I love to feel good.
A clean home calms and eases my mind. I feel good and soothing. My home inspires me too.
I like my house, my room, and my surrounding also to support me in living a healthy lifestyle, being well and feeling good about myself.
5. A clean house helps me be productive 
Having a clean house and environment supports me in being productive too.
I wouldn't have been able to write my blogs early morning sitting in a messy room.
I wouldn't have gotten inspired or motivated to write or follow my other daily habits.
So I love to clean my home because being in a clean environment when I wake up in the morning puts me in a feel-good mood and I am much more capable of doing the things I love to do.
6. Cleaning is good exercise
Also, I love cleaning because it's good exercise too.
Giving time to cleaning the house and doing your home chores yourself also means that you are fit enough to do them. We just need to clean without being overwhelmed.
If right now your room is too messed up and there is too much clutter, start slowly.
Clean one room at a time. If that seems big, then one corner or space at a time. Maybe its your desk that needs a clean-up. Maybe it's your closet, your side table or your shoe rack.
Start one item at a time every day. When you finish, you will feel good.
Here is my simple step-by-step guide on how to organize your life.
And if you really want to exercise, here is my experience on how I made myself love working out.
So these were all the reasons why I love cleaning my home.
Our home should inspire us to feel grateful, feel happy and live the life we dream of. Our home should support us in our dreams and in our well-being.
And it's all in our hands in letting how our homes make us feel.
I hope you feel the joy of living in a home that brings you joy and uplifts you when you enter your home from anywhere no matter how small or big it is.
You don't have to wait till you have your own home. Just make the space where you spend most time your happy place.
Let your home be your own sacred abode every day.
You might also love,