I have always been a lover of books- the feeling of having a book in hand and being able to turn pages physically, so I was a bit apprehensive about whether I should buy a kindle or not. After much thought, I decided to purchase it.
I bought Kindle paperwhite last year and now if you ask me the same question 'should I buy a kindle?' My answer is 'yes, go for it'. 
Kindle is easy to use, it has long battery life, doesn't cause any strain in the eyes, it is affordable and best of all, it makes you read more.
And In this post, I want to tell you all about why I love kindle and the reasons you should buy a kindle (even if you're not a book lover)
** This post contains affiliate links which means that if you make a purchase, I will get a small commission at no extra cost to you. However, the review here is from my personal experience as I will never promote anything which I haven't personally loved. Read the Full disclaimer here. **
This is the kindle I have (link to Amazon India)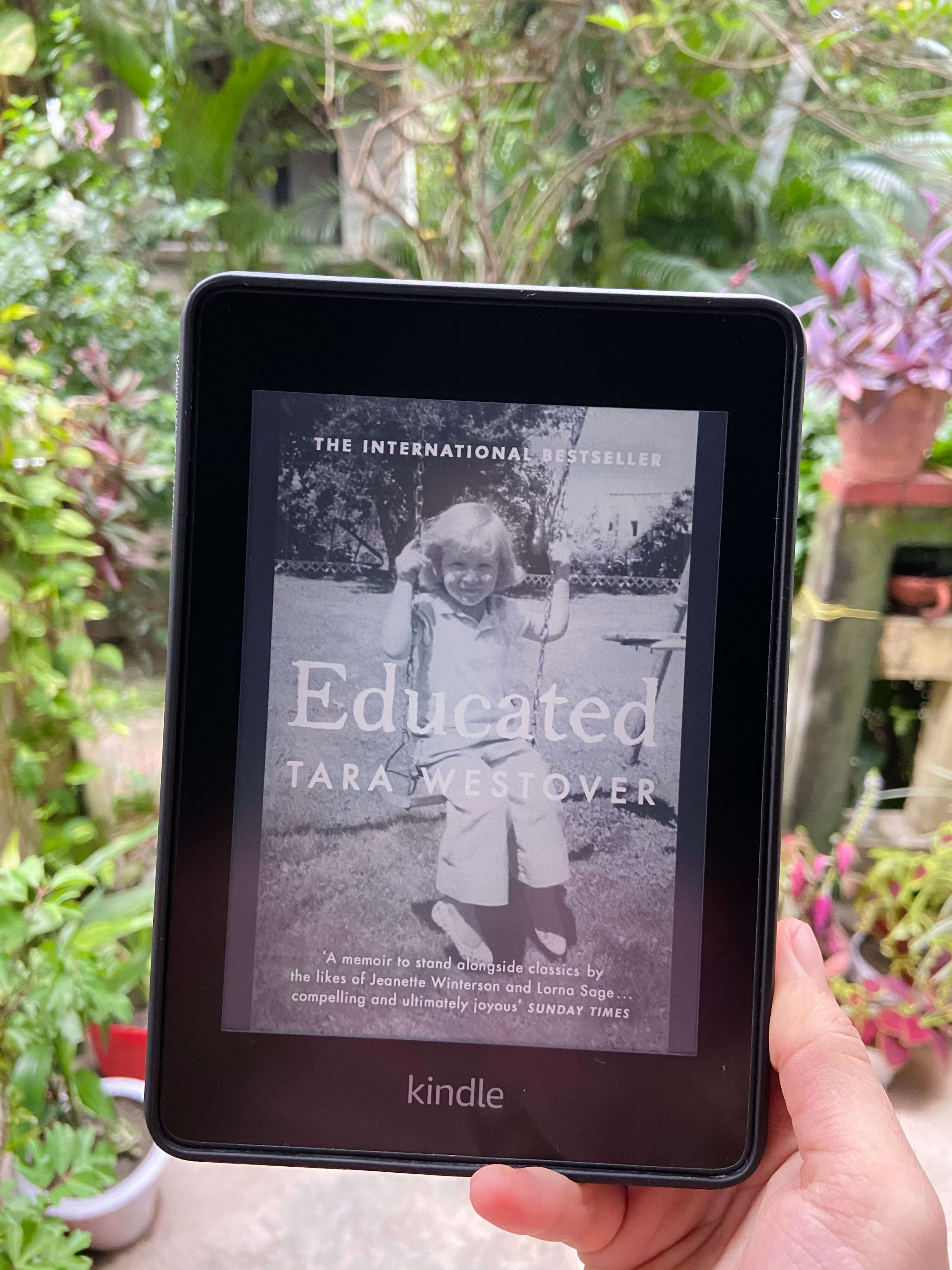 Here is the link to it:
7 Reasons why you should buy Kindle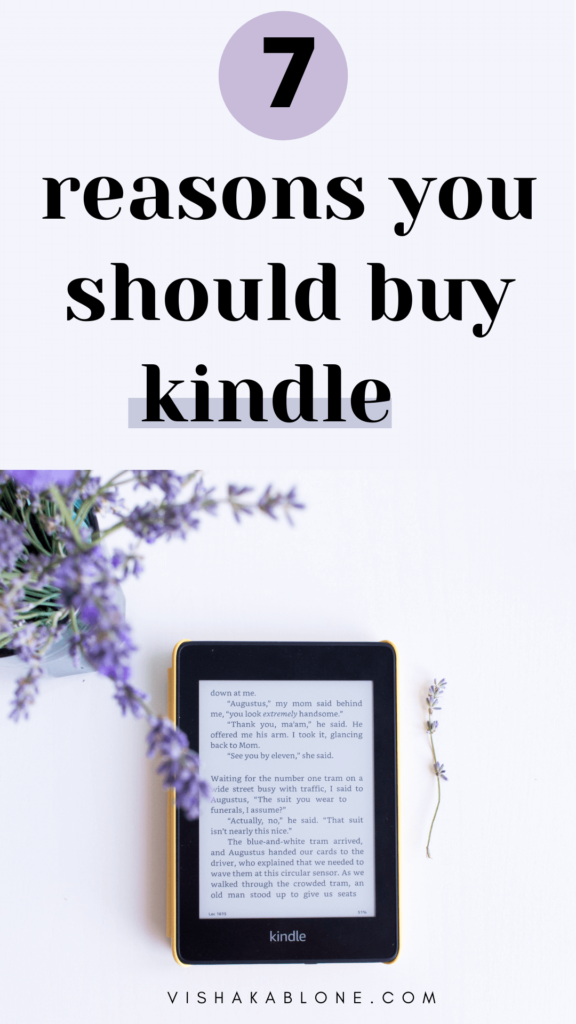 1. Kindle will actually make you read more:
We all love physical books and I know the first apprehension we have about whether you should buy a kindle is whether it will replace the feeling of a real book.

Well, I won't say that it will because you know, a book is a book. But the feeling with Kindle is also just as amazing.

The Kindle screen is not like the ones we have on our phone or iPad. It has a paper-like quality just as with physical books.
That is why even though I have an iPad I don't like reading there. I tried. I noticed the difference. Kindle is for reading. It doesn't cause any strain in the eye.
Also, because of the time given at the bottom, 'time left in the chapter- 15 mins' I tend to read more because once I see it, I am like- oh! Just 15 minutes and this chapter is over and so I go on and on reading!

Most of the time we don't read books because we just don't open them and keep procrastinating reading.
But with kindle you just open it as easy as you check your phone, but instead, you start reading! It's just a device and there are zero distractions.

I think kindle would be great even for someone who isn't into reading. Kindle can actually help you get into the reading habit because its just so easy and will get the reading fear out of you.
2. With kindle you can read just anywhere:
I don't know about you, but for me, I have always found reading physical books hard to read and hard to concentrate whenever I am on a train or bus or anywhere else other than my home.
Plus there are these stares from other people.

So my waiting time used to get wasted mindlessly scrolling my phone. But now with kindle, whenever I am traveling or anywhere else, I just open it and can start reading.

I don't know what it is about kindle, but it is easy to concentrate on kindle. I just open my kindle and can start reading anywhere!
It is just like you being hooked on your phone, but now, you're not wasting your time but you are reading.
I also don't have to worry about the lights because with kindle I can easily read at night or if the lights are off without causing any strain in my eye or disrupting sleep patterns.

Plus kindle also works great in bright light too. It doesn't reflect.
3. It is portable
Another reason why I love Kindle so much is that it is so portable and light. It just slips inside my small bag too, and I can carry my book anywhere.

Earlier whenever I used to travel, mum and I had to carry each of our books and our bags would be heavy, but now we just need to carry kindle and our books are with us.
Related post: How I make time to read every day
4. It is easy to use
There is nothing you need to learn about using kindle. It is easy to use.
You can also transfer your docs and pdf easily to your Kindle by sending it to your Kindle email id which you get and it will be there in your Kindle instantly.

You don't have to wait for books to get delivered and get instant access to whichever book you want to read that too at a lower price.

It is easy to navigate between chapters and the built-in dictionary makes it easier.

You can search your highlights and it won't get lost anyway.
5. Kindle helps you retain more of what you read
Another thing I love about Kindle and why you should buy a kindle is that it helps you retain more of what you read because of the highlight option.
I can easily go through the highlights of each chapter and find the quotes which I loved. 

This isn't possible in physical books. In my older books, I have found that the highlighter which I used faded, and there are none of the highlights present. 
It is hard for me to go through what I read and so I hardly used to do that. But now with kindle, I can easily go through what I read.
Also, I use an app called Readwise and this makes it even easier.

Readwise syncs your kindle highlights from each book into one place and gives you a daily review of what you highlighted.

This has helped me retain more of what I read.
6. Kindle can help you with mindless scrolling:
We are actually always reading, but what matters is what we are reading.
With all the content, statuses that we see and read on Instagram, Facebook by mindlessly scrolling, if we had used that time to read an actual book instead, we would be reading more than 30 books a year!

Here is where kindle comes in. With kindle, there are zero distractions. It is actually only meant for reading and nothing else.
Keep your phone far away and keep a kindle close to you so that when you wake up or before you go to sleep, instead of scrolling your phone first thing in the morning or last thing at night, you read instead.
I already have the habit of reading which is there in my morning routine but after I wake up from my afternoon nap, I generally used to scroll my phone and it would go on for more than an hour.

Now whenever I go to sleep for my afternoon nap, I keep my phone far away and keep my kindle close to me. When I wake up, instead of using my phone I open kindle instead.
This has helped a great deal and I have been reading more instead of scrolling.
7. It is cost efficient:
Kindle with all its benefits is really cost-efficient. It is a one-time investment and I can guarantee that it gives more. At its price, I think it is pretty affordable.
If you are a bit low on price, you can go for the 4Gb memory and that too will be pretty sufficient.
You can find unlimited books and at a lower price and have an amazing experience.
So these are the reasons why I love my kindle and why you should totally get a kindle for yourself.