Fall is the season of change and slowing down. There is something about the season that makes us appreciate nature more and makes us fall in love with our surroundings.
The days become shorter and the temperature starts cooling down. It's time to cozy up and enjoy light, fluffy blankets, candlelights and warm things.
The season also says that the end of the year is approaching. If you have been feeling rushed and busy with all that has happened in the year, fall is the perfect time to unwind, slow down and be intentional with your life.
When we slow down, we automatically become more relaxed and tune in to appreciation and delight.
When we rush, we forget to stop and look at the wonderful things around us- the leaves falling, the colour changing, the kids smiling and appreciating all that we have.
So slowing down is a wonderful thing you can do for yourself this autumn season, and here in this post I share with you 22 ways you can slow down this fall.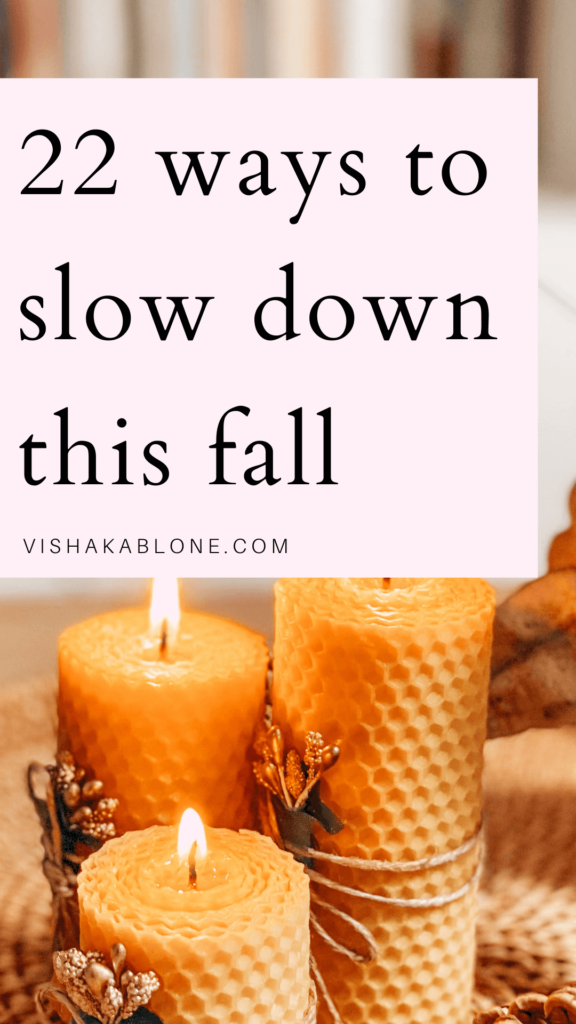 I hope it inspires you. 
P.S some of these links are affiliate links. If you purchase from my link, I'll earn a small commission at no extra cost to you.
1. Go for walks in nature
Go out for walks or evening strolls by yourself or with your loved ones. Walk slowly and intentionally. Be mindful of your environment and notice your breath as you walk.
With every breath, you can be mindful of the number of steps you take.
Walk as if you have a rhythm that only you can hear. Walk without rushing and without wanting to reach anywhere. Just be wherever you are in the present moment.
"Walk as if you are kissing the earth with your feet" as the Zen Master Thich Nhat Hanh says. When you walk this way it is freeing and you will how much you truly enjoy long walks.
2. Do less
If all through the year, you have been doing a lot and it has been a frantic year, allow yourself to do less this season.
Most of us say we want to do less, but even when we have free time, we end up doing work and checking off some more things from our to-do list.
This fall, if you want to slow down, truly be intentional and make it into your commitment that you are going to do less and allow yourself to rest and relax.
It's helpful to write down what are the things that truly matter to you and do only that.
Ask yourself, 'How do you truly want to spend your days?'
Most of the time we spend more time and energy doing the things that aren't really important and are just filling up time.
Find out what 20% of your efforts will give you 80% of the results and focus only on those.
To know more on this you can read this post on 'How to simplify life with the 80/20 principle'
Note down the 1-2 important things you want to do in the day and leave the rest.
3. Drive slowly
Allow yourself to drive slowly. See how it feels when you are not always rushing for work or anywhere.
There is no need to rush through the traffic. Let others pass you. You drive slowly and feel the wind as you keep your car window open.
4. Disconnect
Choose to disconnect from the world outside for a weekend or even a few hours in the morning or evening.
There is no need to reply to emails and messages instantly. You won't lose anything by disconnecting for a few days, you will only gain a better connection with yourself.
If you want to slowly reduce your screen time, here are 25 helpful ways to reduce screen time for adults.
P.S Screen free hobbies to try this fall
5. Enjoy slow fall mornings
Make your mornings slow and intentional. Open up the blinds, and windows and let in the fresh air of the season.
Have a slow morning routine.
Get up without rushing. Be thankful for waking up to another beautiful day. Drink water slowly. Then make yourself a warm cup of tea. Read a book or meditate. Stretch for 10 minutes and do your morning chores slowly.
Just slow down the pace with which you do your morning chores and see what a difference it makes.
6. Enjoy a slow breakfast
True luxury is being able to do things slowly and enjoying it. When we slow down, we are able to savour each moment better. When we rush we are unable to enjoy ourselves.
This fall to slow down, enjoy a slow breakfast. If you might need to wake up a little earlier, do so in order to enjoy slow mornings and slow breakfast.
Eat without rushing and eat in a relaxed manner. True luxury is in enjoying these little everyday moments.
7. Unwind in the evening
In the evening have some unwinding rituals.
Leave your work obligations and allow yourself to unwind. Drink a cup of tea with your loved ones and catch up on the events of the day, go for an evening stroll or stay at home reading a book, cooking a delicious meal, talking with your loved ones, taking a nap or engaging in a hobby.
8. Liven up your home with fall decor
Declutter your home this fall. Take it slowly and then further liven up your home with fall decor.
Add comfort and warmth by decorating your home for fall.
Making your home align with the season will inspire you to live more intentionally and love being in your home space.
Autumn is also known as the cosy season, so cosying up your home will also help you to slow down and enjoy cosy times much more.
Here are some home decor ideas you can easily try this fall
9. Fill your home with fall scents and fragrances
Buy fall-scented candles, air fresheners and fragrances and fill your home with it.
Every time you enter your home, let the scent remind you to come back to yourself, walk gently and ask you to slow down and be with yourself and your loved ones fully.
10. Read books on a cosy blanket
Cosy up in a warm fluffy blanket in your bed or in your favourite sofa and read books in peace.
Add warm lights to your room and enjoy time spent reading and immersing yourself in another world.
Here are some books may I suggest you read for fall and enjoy:
11 . Meditate under candlelight
Tidy your room, create a sacred space, turn off your lights, get some scented candles and meditate under it.
Just keep noticing your in-breath and out-breath and when thoughts come and you forget that you were noticing your breath, come back to your breath again without judgement.
Meditation is simply observing with non-judgement.
If you want to try some guided meditation, here is one you can try. I love this channel- 'Great meditation' on Youtube
Another app that I use which is free is the Plum Village app.
12. Make soups
Fall is the season to be warm and enjoy warm things.
Make soups for dinner and enjoy slurping it slowly with your loved ones at home.
Here are some fall soups recipes that will warm you right up.
13. Look at the changing colours of nature
Go for a walk in nature and look at the changing colour of nature around you.
Hold a leaf and look at the intricate details, the shade, the colour and bring wonder into the moment. The capacity for delight is the capacity to bring joy into our lives.
14. Walk slowly and gently
Walk slowly and gently even when you're walking inside your home from one room to another. When going to work or anywhere, slow down your pace and walk in a relaxed manner.
You will notice how much stress and anxiety you carry in your walk too and just by choosing to slow down your pace and intentionally walking slowly and in a relaxed manner, you ease your mind and body.
I have written more here about the power of graceful movement in life on our wellbeing
P.S how to truly enjoy long walks
15. Try a fall DIY project
If you want to try something fun and get creative, take some time in the evening or at the weekends to try a DIY fall project.
You can paint the room, upcycle furniture, make a bookmark or anything.
Here are some DIY fall crafts and projects you can make.
16. Make a fall playlist
Choose a playlist for this fall to play in the mornings to have peaceful happy mornings and relaxing evenings.
Music helps us choose our emotions. Bring in some soothing, peaceful music into your home, which you can listen to and let it be a reminder to be slow, intentional and mindful when the music plays.
17. Enjoy fall produce
Visit the local farmers market and bring the autumn harvest into your home.
Eat fresh foods and enjoy the fall produce.
18. Bake more
Slow down this season by doing things for yourself and doing things with joy.
Doing things for ourselves and doing things from scratch also helps us to slow down and appreciate and enjoy the end product much more.
Bake more. Make cookies and cakes and evening the evening with tea and your own baked stuff.
Here are some fall baking recipes for some inspiration
19. Write 10 things you are grateful for
In the evening before going to bed or before you start your day, write 10 things you are grateful for.
P.S If you want to feel more grateful and positive in life, take my free 21-day Gratitude Challenge that so many have loved.
20. Watch fall sunrises and sunsets
Don't miss out on watching the beautiful fall sunrises and sunsets.
Let it remind you of the wonders of nature and let your heart shine with its warmth and glory.
21. Write in a journal
Get a diary for yourself and journal your thoughts.
Write about anything that comes to mind, but if you need some guidance, here are some journal prompts for you.
22. Go for a weekend getaway to the countryside
Book a cabin in Airbnb and go for a weekend getaway to the countryside. Take a break from the hustle and bustle, let the countryside slow you down and let you enjoy the breath of fresh air.
So these were some ways you can slow down this fall.
Pin to save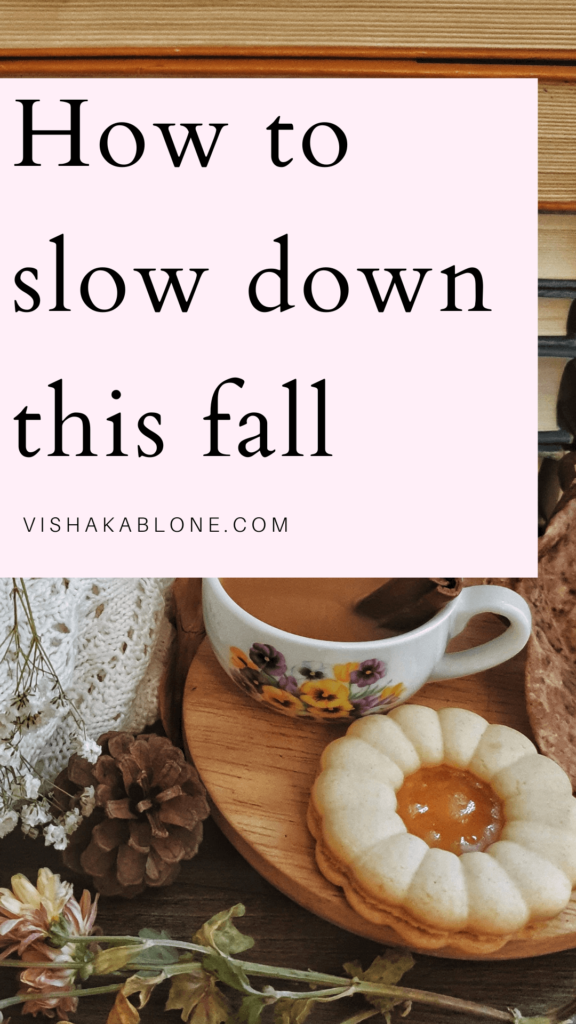 I hope you enjoy yourself and allow the magic of slowness to touch you. Let nature inspire you to go within yourself and enjoy the world in a way that makes your heart smile simply for being alive and getting to do all of these in the slow moments of your life.
You might also like: