How do you create and design a more restful home? A home that as you approach your front door, you pause and take a deep breath before turning the key in the lock. And then it happens – the feeling you've been craving all day.
The soothing balm of your personal sanctuary wrapping itself around you in a giant hug. A space intentionally created to nurture you in body and spirit.
In this post, I'll share some simple tips for turning your home into that kind of personal sanctuary. A place designed not just for functionality or aesthetics, but intentionally created with your mental and emotional well-being in mind.
My hope is that you'll feel inspired to make small tweaks to your living environment that help you walk through the door feeling a wave of peace.
Let your home be a cocoon of tranquillity where you can truly recharge, unwind, and nurture yourself in both body and spirit.
Now let's see how you can make your home a more restful place.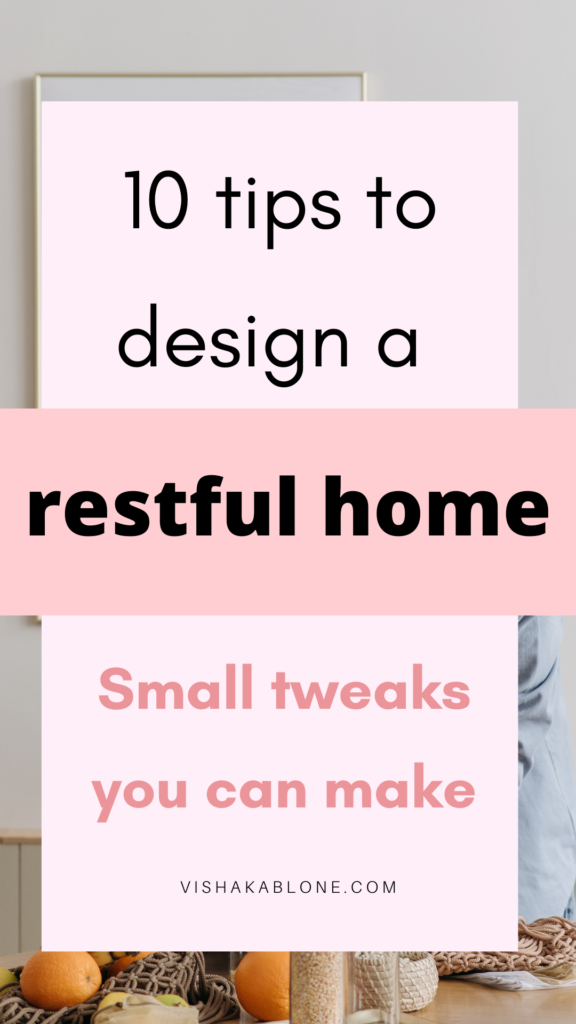 1. Identify Your Personal Stress-Triggers
With self-compassion, observe which areas or elements in your home may be draining your energy.
To make a home a true sanctuary requires looking inward to identify which disruptions bother you specifically. The process of finding stressors is deeply personal and variable for each one of us.
For me, clutter is one of the top trainers of my energy. When possessions and papers pile up, I feel a subtle sense of being overwhelmed. Maintaining clear surfaces and an organized system helps me feel centred.
For you, the stressors may be entirely different. Reflect on which disruptions, no matter how minor, nag at your attention throughout the day.
Here is how to do it:
Observe Mindfully
Does visual clutter distract you? Or do appliances with buzzing, humming, or loud tones increase tension in your shoulders?
Consider noise, clutter, poor lighting, or lack of ventilation.
Walk slowly through your home, noticing any subtle drains.
For instance, I once had a reading lamp in my office that had a burnt-out bulb.
Even though I didn't need the light, just seeing the dead bulb every day drained my energy and disrupted the calm I was seeking to cultivate.
Locating Low-Vibe Areas
Make a list of these stressors without judgment, viewing them simply as opportunities to create more peace.
Remember, clearing the physical clutter is just the first step. You'll also want to eliminate sources of visual, auditory, and environmental stressors, inviting in a cocoon of calm.
With care and patience, you can transform your home into a personal sanctuary by identifying and eliminating the subtle drains on your energy and attention.
This process requires self-compassion, reflection, and a view toward possibility.
2. Simplify, Organize, Harmonize
Once you've reflected on the stressors in your environment, it's time to optimize your physical space for harmony.
This process requires patience and a willingness to adopt new habits over time. Remember – creating a mindful home is a journey, not a single overhaul.
I've found that clutter and crowding are two of the top culprits that disrupt the calm I want my home to provide.
P.S Reasons why I enjoy cleaning my home and not dread it
Let's walk through some simple, gradual steps to open up your space energetically.
3. Decluttering and Organizing
Physical clutter competes for our attention in subtle ways. Set aside 15 minutes each week to sort through your belongings with care.
Donate, recycle, or sell what no longer brings you joy.
Adopt the mindset that "less is more" to help keep your space tranquil and sparse.
For instance, I realized I was holding on to books I'd already read and would likely never reference again. Once I adopted the habit of passing them on to others who could enjoy them, my shelves opened up with new breathing room.
Start small and be patient with yourself in this process.
4. Open Spaces and Minimalistic Design
Assess the layout and contents of each room, noticing areas that could benefit from more openness and breathing room.
Remove non-essential furniture and decor to open up the flow of energy. Adopt a minimalist approach that helps reduce overwhelm, keeping the focus on simplicity and space.
I recently moved an extra chair out of my reading nook, and the small change made a surprising difference in lightness.
Experiment with gradually removing excess items and see how your body responds with more room to breathe.
5. Welcome Nature In
A simple yet profound way to cultivate a soothing environment is to infuse your home with the calming essence of nature.
Studies validate the benefits of keeping plants in our homes. Exposure to natural elements like sunlight and greenery can uplift our mood and reduce stress.
When designing a tranquil home, consider how you can harmonize indoor spaces with nature's healing wisdom.
Plants and Other Natural Elements
Incorporating organic textures elevates a home with tranquil life-force energy. Living plants infuse spaces with revitalizing negative ions.
The simple act of watering plants can be a meditative ritual.
Stones, water features, and flowers add depth through natural variation. Surround yourself with nature's nuanced beauty and witness the calming ambience it evokes.
6. Let Natural Light in
Natural light is a treasure that deserves to be maximized. Opening your blinds, positioning your desk near windows, and amplifying sunlight in your home nurtures our inherent connection to the sun's energy.
If your home lacks ample windows, notice how sitting near a sunlight therapy lamp makes you feel brighter and restored.
Our circadian rhythms respond on a biological level to the sun's grounding rhythms.
7. Choose Soothing Colors and Textures
Now, we get to the fun part—selecting colours and textures that enliven your spirit!
While earthy hues and natural materials are commonly considered peaceful, don't be afraid to embrace colours that speak to your unique spirit.
Surround yourself with tones and textures that feel comforting and "just right" to you.
For me, white and light greys create a soothing, minimalist refuge. Yet a splash of light pink or photos of ocean waves makes my soul dance and infuse my home with cosiness.
You deserve to be surrounded by colours and materials that make you smile each day.
Our homes should celebrate our distinctive energies.
Neutrals and raw woods do create a grounded vibe. Yet, don't be confined by assumptions of what's "tranquil." Let your inner child play with hues and textures that infuse lightness into your personal sanctuary.
8. Select Mindful Decor
When it comes to home decor, I firmly believe that the items we choose to surround ourselves with shapes our mood and mindset in subtle yet powerful ways.
With that in mind, I intentionally curate pieces that spark inspiration, joy, and tranquillity in my space.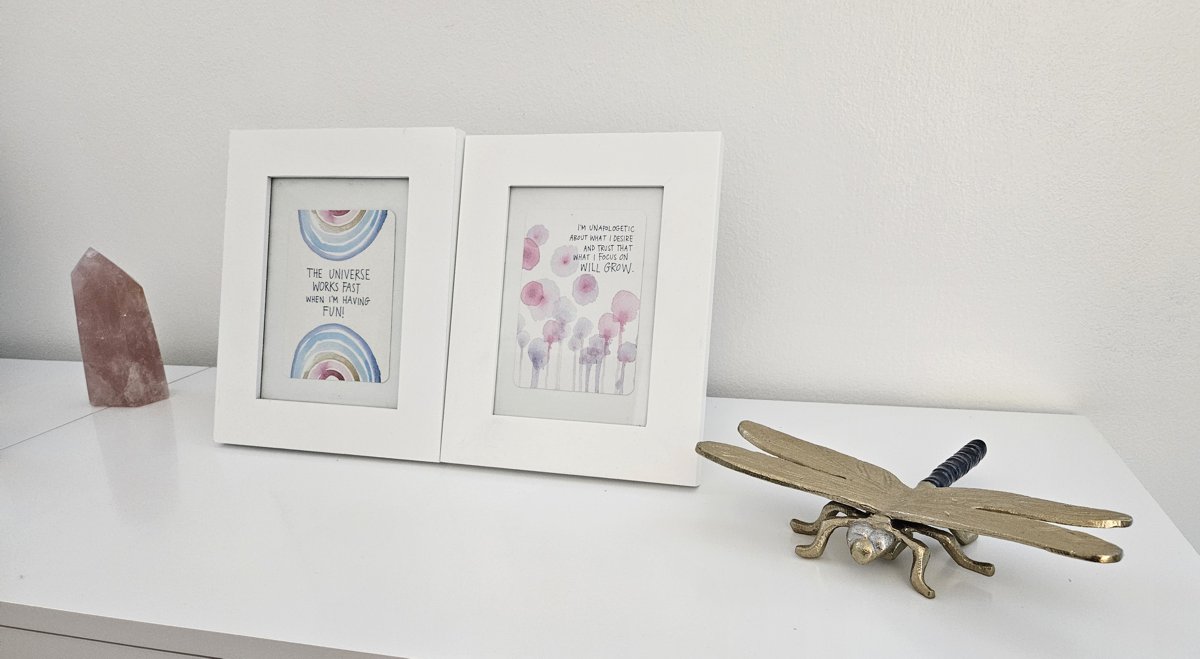 The Psychology Behind Uplifting Decor
Certain decor elicits positive emotions because it taps into memories, passions, or values we hold dear.
For me, displaying photos of family beach vacations and my collection of colourful ceramic vases elicits feelings of joy whenever I see them.
Meaningful pieces like these become touchpoints of positivity as we move through our homes.
Some other ideas for uplifting decor:
Nature objects like stones, shells, or houseplants can cultivate a sense of inner calm.


Spiritual symbols, motivational quotes, or artwork in healing colours like blue and green foster peace.


Souvenirs from favourite travel destinations or family heirlooms inspire nostalgia.
The Impact of Mindful Placement
Be selective about where you place meaningful decor in your home.
I like to follow feng shui principles and position pieces at eye level in high-traffic spaces.
For example, hanging an inspiration piece in your entryway where you'll see it often. Or placing photos on a console table, you walk by daily.
Mindfully grouping coordinating decor items together also creates visual impact.
Try collecting seashells on a coffee table, arranging photo collages on a gallery wall, or displaying crystals on a bedroom dresser. Refresh these curated vignettes seasonally for renewed positive energy.
9. Create a Relaxation Zone at home
You don't need a lot of space to create a relaxing oasis in your home. Get creative with carving out a quiet area specifically for relaxing, reading, or meditating.
Even a corner or repurposed closet can become a tranquil retreat.
I turned a former closet in my home office into a cosy relaxation nook. Adding a comfy sofa, lamp, pillows, and throws, I transformed the unused space into a mini sanctuary perfect for reading.
Armchairs, blankets, soft lighting, journals, books, or special items that soothe your spirit can help design a relaxation zone.
Spending just 10-15 minutes in this serene space, away from digital devices, can dramatically lower stress.
Look around your home with fresh eyes, noticing any potential areas to reclaim for quiet rejuvenation. With a little imagination, you can create an inviting oasis even in a small home.
10. Maintain a Calm Vibe
Once you've designed a tranquil environment, adopt habits to preserve harmony.
Keep surfaces clutter-free, play relaxing music, light candles, diffuse essential oils, and display fresh flowers.
A restful sanctuary takes deliberate nurturing, but pays dividends for your overall well-being.
Here are some ideas for maintaining tranquillity:
Stick to a regular decluttering schedule to prevent the buildup of clutter.



Refresh decor seasonally to breathe new life into your space.



Keep relaxation zones free of electronic devices to prevent distraction.


Diffuse calming essential oils like lavender and eucalyptus



Play serene background music to set a peaceful tone.



Open windows regularly for fresh air circulation.



Water plants and replace dead foliage to maintain a vibrant environment.
Your Home, Your Sanctuary- How to create a restful home
pin to save
As Lao Tzu said, "A well-kept space clears the mind and lifts the spirit."
Our homes can provide an invaluable shelter from the stresses of life when mindfully designed. I hope these tips help you craft a personal sanctuary that restores and uplifts you daily.
The journey of self-care starts at home. But ultimately, our most powerful sanctuary is the inner refuge we cultivate through self-acceptance, compassion, and embracing the possibilities before us.
Author Bio
Mona Kirstein, Ph.D., is a certified holistic coach and consultant who empowers ambitious women to cultivate fulfilling, conscious lives. Leveraging her background in natural language processing, which provides a unique lens for understanding human cognition, she employs evidence-based techniques to help women understand their emotional patterns, triggers, and behaviors. This self-knowledge lays the foundation for meaningful personal growth. Her methodology integrates ancient wisdom and modern psychology to guide women through mindfulness, emotional intelligence, and purposeful living. Passionate about blending proven methodologies with a holistic lens, Mona helps successful women transform all areas of their lives through the transformative power of self-awareness and mind-body practices.