Self-Care won't fix your problems. If you've just lost your job and you feel bad, a face mask won't erase your worries. Instead, self-care can give you the strength to tackle them or soften the blow.
Engaging in self-care activities must be made a priority. You must deliberately set out time for it and do them with full awareness and mindfulness.
When you do so, you will feel so much better, your stress will go away and put you at so much ease. Overall, It will make you a happy, confident and more nurturing woman. 
Also, there is no bar to self-care. You can practice self-care at any age, and in this post you will get to know more than 30 self-care ideas specially written for women of all ages.
What does self-care mean? 
To me, self-care means you are being kind to yourself. Often we are our harshest critics. Or we take care of others but end up neglecting ourselves.
But only when we take care of ourselves, can we take care of others better.
Self-Care means you take the time to care for yourself. Anything you do that makes you feel good or better than how you were feeling before doing that thing is self-care.
It doesn't mean you have to spend tons of money or that you overindulge. 
Most of the ways I practice self-care are totally free and they put me at so much ease.
Today I'd like to share our best self-care ideas for women, that has nothing to do with Netflix.
P.S this is a guest post written by Carina from projectgirl2woman.com 
I hope you enjoy reading the post and find many wonderful ideas to try! 
30 Unique self-care ideas for women 
Pin to your board 🙂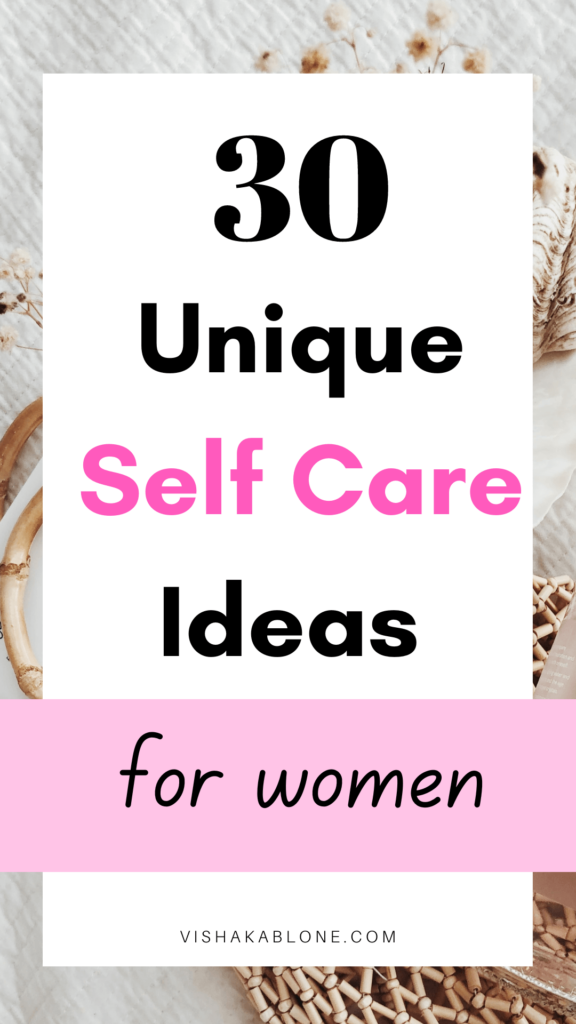 1. Apply Face masks with Friends
To be honest, when the cold sheet touches my face I get the shivers, and not in a good way. But I love to do face masks with my sister. The giggles, when we apply face masks to each other and when we take funny selfies are worth the shivers. And as an extra plus, when you use face masks you get a nice skin.
2. Self-Care Walks 
Do you remember how fun it was as a kid to spend time outside? Pack a thermos of hot chai, or coffee, bring a book and take a walk. Preferably in the woods. Listen to the sound of the leaves rustling.
Can you see how the leaves are changing colours already?
The smell of the trees and the sun on your face will give you an extra boost. The extra Vitamin D that you'll get from the sun will help lift your mood. 
Find a cozy place, unpack your thermos and the book and relax. 
When's the perfect time to take a walk? Well, I enjoy morning walks when no one is out and about. Or evening walks to see the sunset.
3. Stress-free Painting
Painting is yet another creative self-care hobby. Don't stress about creating a masterpiece. Instead, doodle or splash paint for fun.
4. Stretches & Yoga
Another great way to relieve tension is to do some light stretches or yoga. Usually adding some breathing exercises can help loosen your muscles and help with relaxation.
Did you know that stretching and yoga can help with constipation and tightness in your chest area? 
Here is a lovely 10-minute morning stretch session to do.
5. Bubble Baths
Many countries have a bathing culture. Try going to a public bathhouse once in a while to relax. If that's not an option take a bath at home. Start by lighting a few candles.
You can add your favourite essential oils. Dermatologist Dr Chimento suggests you mix your essential oils with oatmeal and toss the mixture into the bathtub since essential oils don't dilute in water and can potentially harm your skin.
Or you can use bath salts, bubble baths, or bath bombs. Do you still remember bath beads? Those jelly-like balls, melted in the tub. Are they still a thing?
6. Try Candle Making
Have you ever thought about making your own scented candles?
Candle making is a creative hobby that can really help you destress.
A beginner set isn't that expensive. You can play with your favourite scents and colours. Maybe you want to add petals, dried lemon, or other decorations. 
You can also use molds to give your candles interesting shapes, or you can go really fancy and try candle art
On the plus side, you'll always have a handmade gift at hand.
7. Mix your own Tea
Do you enjoy collecting herbs? In that case, you can mix and create your own tea flavours. Experiment with different petals and herbs to create your ideal tea blend.
8. Cross Stitching
Cross stitching is another creative self-care hobby. It's similar to painting by numbers but with a thread. You don't have to be awesome at Stichting to create something beautiful. The repetitive movements are very relaxing.
9. Dance Until Your Legs Hurt
I have to tell you a secret when no one is watching I like to dance. It doesn't look good, but it feels good. It's one of my secret weapons when I am in a bad mood.
Turn up the music and dance. Try the weirdest moves you can think of. Even if it looks bad and you feel awkward at first. Sometimes being silly is the best medicine for your soul. 
10. Star Gazing
Are you in dire need of a shooting star? Star gazing is another self-care idea for women.
Get comfortable with your favourite cozy blanket and enjoy the stars.
Isn't it just magical to look at the stars? They are the same stars that our ancestors have been looking at.
All our problems seem so tiny when compared to the universe. Taking out time to watch the stars can be called self-care too. 
11. Write a gratitude journal
I write a list of things I am grateful for when I go to bed at night. I note down anything that happened in my day that made me happy or smile.
Get into the habit of writing a gratitude journal and it will change your life. When you look back in the pages, you will see so many good things in your life. 
Also as you focus on seeing the good, more good moments and more happy moments keep happening and you won't ever run out of things to be grateful for.
12. Create a Rant Journal
Sometimes you need to let all your emotions out.
Yes, sometimes you just want to scream and it is a great way to calm down. But it's not the best idea if you are stuck in a city apartment – so why not dump all those emotions in a journal?
Just don't let anyone snatch your journal from you.
13. Gardening
Get your hands dirty. From planting to pruning taking care of plants brings happiness and joy. 
To see the little seedling grow brings a sense of accomplishment and you'll use all your senses in the process.
14. Get dressed up
How you make yourself look matters in how you make yourself feel. Wearing good clothes is such a mood booster, isn't it?
It makes you feel good and confident.
But, I know many of us when we stay at home hardly give any attention to how we look when at home. We're most of the time dressed as some homeless person and our hair is hardly combed. 
But make some effort and dress nice house clothes even while at home. Tidy yourself up and take care of yourself. Do this deliberately and see how it makes you feel.
15. Give time to your body
Give time to your body too. Take a mindful elaborate bath. Feel the touch of water and thank the water. Engage in a body care routine. Apply some nail polish if you haven't in some time, and nourish your face, your body, and your foot with cream and moisturizer.
Do this as a sacred ritual and be mindful when doing it. It feels good to give time to our bodies. 
Here is a post: New ritual and not hurrying with my body. 
16. Get a Haircut
Getting your hair cut can symbolize the end of something and the beginning of something new. Has it been ages, since you've gotten your hair cut?
Book yourself a haircut to pamper yourself. Or if that's a little too much learn to create a new hairstyle or learn how to braid your hair. Pinterest can be a great inspiration for that. 
17. Get A Massage
Generally, I think self-care doesn't have to be about spending money. But a massage once in a while to relieve all that tension in your back is ..yum.
Massages are just so soothing. You can give yourself a foot massage too once in a while. You'd be surprised how much tension we have in our feet.
18. Cook
Do you enjoy cooking? Many people destress while cooking.
Try something fancy or prepare some comfort food like self-made hot chocolate with marshmallows or healthy sandwiches and finger food.
Just don't stress your significant other by leaving mountains of dishes lying around
19. Cleaning
Don't get upset with me. I don't want you to work more. 
But we've to admit a cleaning session can feel amazing. And sometimes self-care means you do something that makes you feel bad for a short period so you'll feel amazing in the future.
20. Create a Comfortable Environment
The mess of your home shows the state of your mind.
Take care of your mess to take care of your mind. Try creating a cozy home with plants, lights and colours, where you feel comfortable. 
No matter how much self-care you do, when your home is uncomfortable, you'll not feel your best.
21. Upcycle something
Do you have an old piece of furniture that could use a little revamp? When I do something with my hands it takes my mind off all the daily problems. And you can bring your personal touch into your living environment!
Here are some upcycling ideas
22. Rest
Simply rest and do nothing. Rest without guilt. You deserve it. You can wear a face mask and just rest for 20 mins. Or you can listen to soothing music and rest. 
While you rest, focus on your breath flowing in and out and notice how you feel in your body. Notice every in-breath and out-breath.
Or you can give your attention to every note and tune of the music and really listen to it.
If you wander, simply come back to it again.
23. Board Games
Can't stop thinking about work in the evening? Invite your friends or family to a game night. Just imagine how much fun it will be to beat your sister in a round of Ludo! A great way to make some good memories – so get your camera ready.
24. Paintball
Sometimes self-care means letting go. Paintball is a great chance to relieve some pent-up stress and anger. Plus you'll spend some time with your friends
25. Read a Webtoon
Have you ever read a webtoon? They are a type of digital comic. Try reading one on Webtoons they have many different categories.
26. Try Felting
Felting is literally poking a needle into wool over and over again and making it look cute. I love felting. It's therapeutic, therefore I can only recommend it. You can create cute key chains or you can even felt hats.
27. Play Healing Mobile Games
This is controversial. Most people say spend less time on your phone. Truth is from time to time online games are really great to destress and meeting new people. Here are some of my recommendations:
Animal Crossing
Sims
Empire Earth
28. Crossword Puzzles
Crossword puzzles aren't just for old people. Create a cozy and sunny breakfast space and bring your favourite crossword puzzle.
29. Listen to Anime Music from your Childhood. 
Did you enjoy watching Anime when you were small? Those old soundtracks can really lift your heart. Try listening and singing to your favourite opening soundtracks. Here are some animes that I used to watch when small:
Digimon
Pokemon
Ranma ½
InuYasha
Dragon Ball
Sailor Moon
Detective Conan
Maybe it's time to rewatch some of those shows.
30. Go to a Petting Zoo/ Cafe
Could you use a cuddle, but you don't have anyone or you don't want to talk to your friends or family? Try a petting zoo or cafe and pet some cute animals.
Cuddle with a fluffy bunny or a puppy to feel good. The love of a pet is really heartwarming. 
Wrapping Up
Save for later 🙂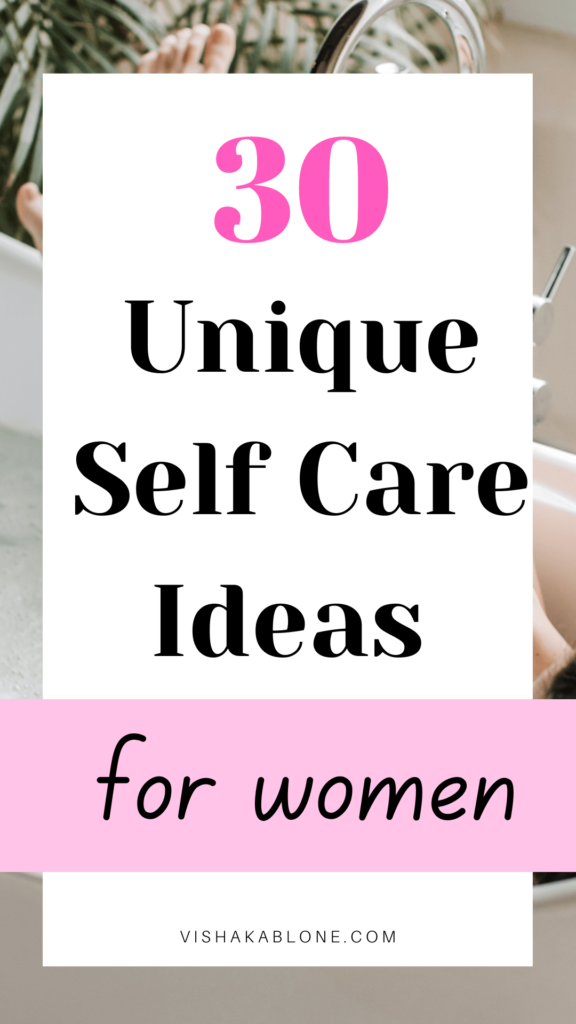 When you have an overwhelming day, and you feel drained and exhausted and not in the present moment, try one of these 27 self-care ideas for women.
Start making self-care a priority and something you actually do. Self-care is a verb. Engage in activities that make you feel good. 
Keep exploring and be curious about what makes you really happy!
You'll learn to find strength in the little moments.
Self Care posts
About Me
Hey 🙂 I am Carina. Two years ago I was a little lost, not sure what I really wanted, so I decided to go on a journey with my sister Julia and we started our blog. After weeks of hardships, guilt trips, and struggles we finally wake up each morning happy with how things are going. New home. New job. New life. On our blog, we share with you our stories and self-improvement strategies.
Homepage: projectgirl2woman.com
Social Media Links: