Today I'm going to share with you how to plan your blog content for a whole year in an easy step-by-step guide.
Since you have stepped into the blogging world, there's one thing I want you to always remember- as a blogger your entire success will depend on how solid your blog content strategy is.
Planning blog content and that too for a whole year can seem daunting, but let me assure you that there's nothing to fret and it is actually very achievable.
Once you devote your time to create a solid blog content plan, half of your work is done and you're set up for making a successful blog.
But before I give you the steps to plan your blog content, I want to share why having a blog content plan is so important.
Why you must absolutely plan your blog content
1. It allows you to be a consistent blogger
Consistency is so crucial for you to turn into a successful blogger.
When I had started blogging it was a hard struggle to come up with blog post ideas every week.
I didn't set up when I was going to post and neither did I have any blog plan so I ended up being inconsistent for the longest time.
We think it's too hard or we're too lazy, but the truth is that we don't make it easy for us to stay consistent.
If we provided a strategy (for anything we want to be consistent in), everybody could be consistent. It is not a matter of laziness, I tell you.
Now that I have a blog content plan, it has become so much easier because I know exactly what to post and when to post.
This has made me stay consistent easily and reach my blog post goals.
When earlier I used to publish 3-4 posts a month, since creating a blogging strategy I am now posting 9-10 posts a month.
Yes it is doable if you have a blog content strategy
2. It is a huge time saving hack
The biggest part of blogging is writing blog content. But even before that, it is knowing what you want to write about.
I used to take the longest time coming up with what I wanted to write about each week, and then again those posts didn't do well because I didn't write the right posts.
Having a blog content plan has saved me so much time and energy. Once you devote your time to creating it, you're all set up for months and you can use that time for other important things.
3. Allows you to write the right blog posts
Another thing bloggers don't get, or at least I didn't get when I was first starting out was that it's not just writing just any blog post.
For too long I was writing blog posts that weren't gaining any traction. Apart from not knowing what to write about, I also didn't know what kind of blog posts to write for my niche.
Planning my blog content and having a blog content strategy has saved me from all these.
Having a blog content plan has/ is now helping me write exactly those posts that I know will do well according to my niche with the right keywords.
So if you find that your blog posts are not doing well, it might be because you need a solid blog content plan.
P.S Also check,
Anyway, now that I have told you the 'why', let's get to the 'how to plan blog content' part. Trust me, it's easy. So let us get started.
How to plan your blog content
From the steps that I give here, you can easily create your own blog content plan for a whole year in a day or maximum, in a week. But I would suggest you just take it slow and create a blog content strategy taking 3 months at a time.
1. Create a realistic blogging goal and schedule
The very first step to take to create your blog content strategy is to decide how many blog posts you want to publish in a month and when you plan to publish them.
Set this according to what you think is doable for you and according to how much time you can set aside for blogging.
Many bloggers worry about how many blog posts to publish in a week.
When I first started it was one post a week on Sundays. Now I have increased to writing 9-10 posts a month by taking a gap of 3-4 days. For me, this now seems doable.
But even one post a week is fine as long as you're consistent with it.
But don't just keep it in your mind. Write them down. Writing down goals makes them more achievable. Trust me in this.
So just setting a realistic blog post goal and schedule has allowed me to be accountable to myself and has made me consistent.
2. Always keep a blogging notebook/ software to organise your blog
I use the app 'Notion' to organize my blog. You can use any other software such as Evernote, one-note, google docs, or a simple notebook if you're more of a pen and paper person.
I use 'Notion' to organize my blog because it is free and has so many features.
Many find Notion complicated. Even I find it a bit complicated till now, but I use notion in the simplest way for my blog which anybody can use. I will show you exactly how.
This is how my notion looks
One thing I like about Notion is that I can easily add categories and pages upon pages, or to-dos or anything within it, and have everything in one place.
If you want to use Notion for your blog too, you can find the download page here
3. Organize your blog categories and blog content
Whether you use a software application or a notebook, to plan your blog content easily you need to first organize your blog.
To begin with it, just write down how many categories you have on your blog. What are the different topics you write or would want to write about? Those are your categories.
For example, I have three main categories in my blog- Self Improvement, Living, and Blogging.
Under each of these categories, you can have various sub-categories too. For example, under self-improvement I have subcategories-
Habits, Productivity, Wellness, Finance
Decide on your categories first to organize your blog.
4. Make Pages/ folders according to your categories
Once you have decided or if you already have categories on your blog, make pages or folders according to your blog categories. For example, mine looks like this.
If you decide to use Notion, follow these steps which are the simplest and most manageable way to organize your blog.
Just go to notion> add page > Write down your title according to your Category
Hit enter and press the + icon that's down below.
If you don't have subcategories you can choose the 'To-do list' option and straightway start putting your blog post ideas for that category there.
If you do have subcategories, then you would need to select the 'Page' option again for your separate subcategories.
So For example, If you were to make a new for your Category 'Personal Finance' which had subcategories such as -Make money, Save money, Budgeting tips, Work from home, then it would be like this:
Whatever software or app or planner you use, you can organize your blog content this way.
5. Come up with blog post Ideas for each category
Once you have separated the various categories of your blog and made separate folders/pages for each of them, the next thing to do is to come up with blog post ideas for each of these categories.
So Like I showed you under my Page Self Improvement, I have habits, productivity, finance, wellness as subcategories.
It is under each of these that I have kept my blog post ideas.
As you come up with blog post ideas for each category, add them to your list. I do this and this has helped me so much.
Again, this isn't hard at all.
There are many ways you can come up with blog post ideas so that you can have blog content for a whole year.
Some of these ways are through:
Pinterest -Choose your category with a specific keyword and search. What results come up? What are other relevant searches? Note them down.
For example, if you want to write about saving money, then you could use various keywords such as 'Personal finance tips, how to save money, money saving tips' etc and search on Pinterest.
See what the search automatically suggests.
Those are the keywords people are searching for.
For example, if you search specifically about Personal finance tips, Pinterest suggests these
Also, look into what posts show up at the top and you can write on those topics too and give your personal touch. There's no harm
Google– Do the same with a google search. See what Google suggests and see other relevant searches. You can write blog posts answering those questions.
Plus there are so many ways. I have written a detailed guide about how to come up with endless blog post ideas in this post. Do check it out.
6. Come up with Holiday Blog content Ideas
Blog Posts on Holidays, festivals, or events such as New Year, Christmas, Thanksgiving, etc bring lots of traffic. So plan your holiday blog content too.
Search for holiday Blog post ideas and come up with holiday blog Content creating a separate page for all the holidays and festivals which you think you can write about.
Once you know what you want to write about then it is just writing them and schedule when you want to post them.
Post these holiday blog posts 3 months in advance for your traffic to pick up at the right time. So if you want to write about Christmas then you need to write your post around September and start posting.
7. Create a blog content calendar
Once you have come up with your blog post ideas, creating a blog content calendar is only about 3 things:
deciding how many posts you want to write in a month
which posts you want to write in that month and
Fixing when you want to post it.
Because you will have your blog post ideas ready at hand, you don't have to think hard about this. You can just choose posts easily from your categories.
Since I write 8-9 posts each month, I try to write 3 posts about Self Improvement, 3 lifestyle posts which are light-hearted posts, and 3 blogging posts. Then I fix the date when I want to publish them.
For creating a content calendar, create a separate page again and add titles as the month like this.
Then choose from your categories which posts you want to write about and add them to your content calendar.
Here is how it looks.
So this is it. In this post itself, you have come to know how simply I keep my blog organized, how I come up with blog post ideas, and how to make a content calendar.
I hope you have found this helpful. Happy Blogging!
Pin for later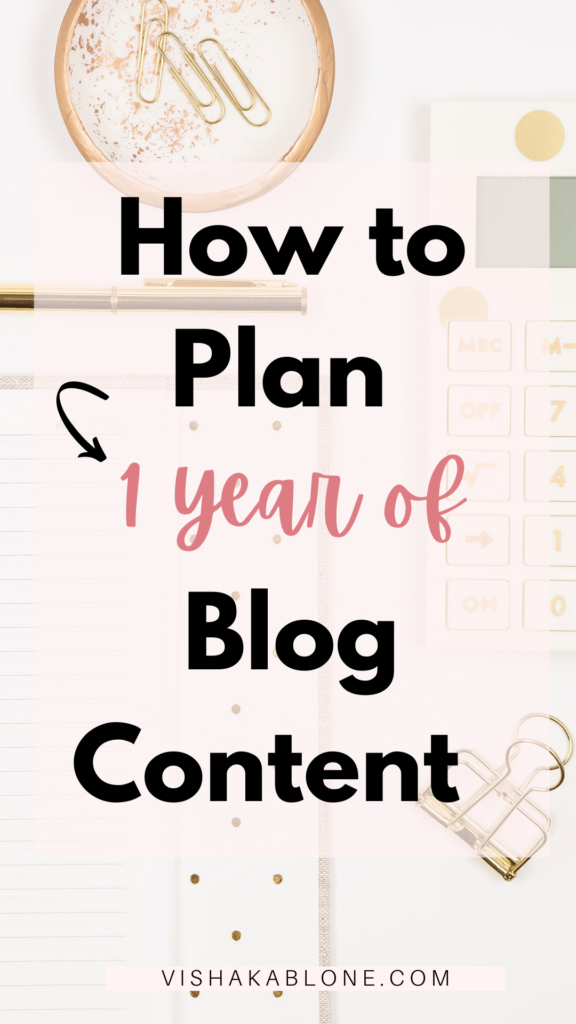 P.S 12 Beginner blogging mistakes I made which you can avoid