n life you need some mottos to live by. As old-fashioned as it may sound, having a personal motto and keeping it your centre of focus and practice can help you a lot in moving forward to a better version of yourself. 
In this post I have made a list of more than 100 life mottos with great care and effort for you to choose from that can install courage, love, hope and kindness.
These mottos are very short, so you will be able to easily remember them and implement them in your daily life. 
Even if you choose just one life motto and decide to implement it in your daily life, you will see that it will give you a lot of courage.
For example, a simple life motto 'Will this matter a year from now?', can help you to not sweat the small stuff. It can help you to stop making a mountain out of a molehill and reduce your worries and anxiety. 
One of my personal life mottos is 'What one can be, one must be' and 'Surrender'. 
It gives me hope. It lets me come back to who I am when I lose track of myself and just the simple word, 'Surrender' eases me and lets me let go and not try to control things. 
I hope you will love these mottos and find inspiration from them.
What is a life motto? 
A life motto is a personal phrase, a short sentence or a quote to help you live your life the way you want to. It can serve as a wonderful reminder for you to become a better version and give your courage, hope and confidence when you need it. 
A life motto is a mantra for life which you can say to yourself when things are going tough and they give you the necessary direction to move in.
A life motto is like a tattoo for your life that is not inked. 
Why you should have a life motto
Everybody should have a life motto. And here are a few reasons why
To Have a personal mantra for life 
To navigate through life better
To be consistent in reaching your goals 
To handle difficult situations with grace 
To gain hope, courage and confidence 
To not be directionless in life 
And lastly, to practice living life properly  
How to Use a good life motto 
Personally, here is how I would like you to use a life motto: 
Choose a life motto and make it your everything. Remember this motto by heart and practice it in your daily life. You can start by practising a life motto for a week or a month or a year or your entire life. 
Yes, a whole life can go by practising a simple life motto. 
You could practice a motto such as Nothing to "Get right" your whole life, or you could practice "Fall seven times, stand up eight" all your life, and it could be the reason why you never quit, why you never gave up and the reason why you succeeded. 
So find a good life motto to practice for a week or a month. Plant it in your heart and make it your centre of being.
You could even write it out somewhere and stick it on the wall by your bedside so you see it every time you wake up. 
I have printed a few myself and have pinned them on my vision board and they help me a lot in staying in track. 
So with this, let's start with the life mottos. 
100+ Life mottos to live by
Below is a list of life mottos that will fit any of your life situations perfectly. They are meant to inspire practices for success, courage, kindness, love, hope, mindfulness and gratitude.
I hope you find your own personal motto to move through life.
So let's begin and pin for later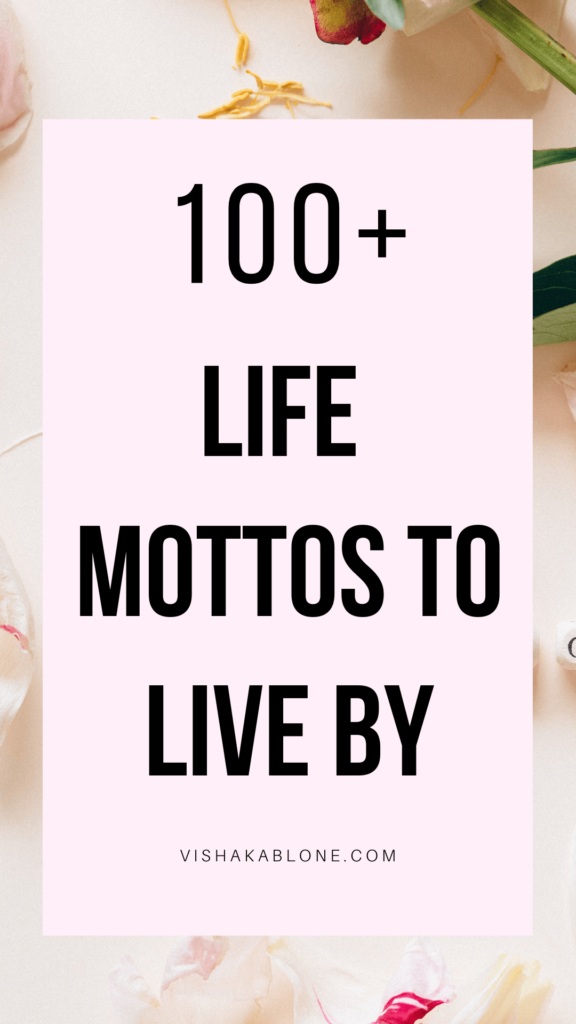 Life motto for success
1.Fall Sven times, stand up eight 
2. Little by little, a little becomes a lot 
3. 80% of success is showing up
4. Will this matter a year from now?
5. Have more than you show, speak less than you know
6. Try not to become a man of success, but rather to become a man of value
7. Don't quit. Suffer now and live the rest of your life as a champion 
8. Make your life your message 
9. Stop acting so small. You are the universe in ecstatic motion 
10. My motto is to try again 
11. Don't wait for opportunity, create it 
12. What seems so hard now will one day be your warm-up
13. He who is not courageous enough to take risks will accomplish nothing in life 
14. Allow yourself to be a beginner 
15. Be the change you wish to see in the world 
16. If you want the rainbow, you gotta put up with the rain 
17. If you can't beat fear, do it scared
18. Great things never come from comfort zones
Life mottos about love 
19. Spread love wherever you go. Let no one come to you without leaving happier 
20. Connect with Compassion  
21. Breathe in and bring love to the places that need it 
22. One loving step at a time 
23. Don't plant anything but love
24. Let love bloom
25. Let Love love you 
26. Move with love 
27. Send love to all who cross your path
28. Love and let go
29. We are put on Earth to Love
30. Surrender to love 
31. Let love in
32. Preach the Gospel at all times and when necessary use words 
Life mottos for happiness 
33. No mud, no lotus
34. Let go and let God 
35. Forgive like its the end of the world 
36. If it costs you your peace, it's too expensive 
37. Less is more 
38. You are not your thoughts 
39. This too shall pass 
40. Treasure others
41. Drop the story 
42. Let go. Let go. Let go. 
43. If it comes let it, if it goes let it 
44. If you are irritated by every rub, how will your mirror be polished?
45. Be grateful for triggers. They point where you are not free 
46. Not everyone you lose is a loss
47. Solitude over toxicity 
48. Make prayer your dwelling place 
49. Remember to ask, what's the gift in this? 
50. True change is within. Leave the outside as it is 
Life mottos to bring mindfulness 
51. Pause and breathe
52. Be present 
53. Nothing to "get right"
54. Take 5 mindful breaths
55. Nothing is wrong in the present moment 
56. Embrace suffering, and let it reveal to you the way to peace 
57. Walk as if you are kissing the earth with your feet 
58. Keep it light 
59. Come back to the present moment 
59. Buddha is inside you
60. Let it pass
61. Let each breath cleanse your inner chaos
62. A cup of tea is a cup of peace
Life mottos to be your best version 
63. Our greatest glory is not in never falling, but in rising every time we fall
64. Go confidently in the direction of your dreams. Live the life you have imagined
65. Be brave. Take risks. Nothing can substitute experience 
66. Discover your gift and then give it away
67. Don't judge each day by the harvest you reap, but by the seeds you plant 
68. If I have the belief that I can do it, I shall surely acquire the capacity to do it even if I may not have it in the beginning
69. Do the Earth a favour, don't hide your magic 
70. Make your own path 
71. Your time is limited, so don't waste it living someone else's life.
72. Old ways don't open new doors.
73. The way to do a great deal is to keep on doing a little 
Life mottos for courage 
74. You are enough 
75. Grow through what you go through
76. They tried to bury us. They didn't know we were seeds
77. I bend, but I do not break 
78. Trust your true nature 
79. You are a blessed being, so act like a blessed being
80. Live as if you were to die tomorrow. Learn as if you were to live forever.
81. Who else but us? 
82. 0% of me is competing with you
83. Have courage. Be kind. 
84. I am not afraid to be seen trying 
85. The best way to find yourself is to lose yourself in the service of people 
86. Alone we can do so little, together we can do so much 
87. The only thing worse than being blind is having sight, but no vision 
88. Because you are alive, everything is possible
Life mottos about kindness
89. Those who bring sunshine to the lives of others cannot keep it from themselves
90. Be kind whenever possible. Its always possible 
91. Ask yourself: have you been kind today?
92. Nurture the garden of loving kindness 
93. Real generosity is doing something nice for someone who will never find out 
94. You can accomplish by kindness what you cannot by force 
95. Be the reason someone believes in kindness
96. Make kindness the norm
97. Always be a little kinder than necessary
98. All love eventually becomes help 
99. Wherever there is a human being, there is an opportunity for kindness
100. Be kind to every kind, not just mankind 
101. Be someone's sunshine when their skies are grey.  
102. If you're helping someone and expecting something in return, you're doing business, not kindness
103. There's no such thing as a small act of kindness
104. Your inner wise self loves you unconditionally 
Which life mottos will you practice?
I hope they inspired you and gave you a boost in wanting to live life courageously. Plant them in your heart, whichever resonated with you the most and practice them throughout your daily life. 
You may also like: