Being at ease and enjoying a life that is stress-free, calm and relaxed needn't be something only the monks get to enjoy living in the mountains, or for a few days when you're out on a vacation.
Living a stress-free life can seem very far and unachievable, especially for those who have unintentionally got into the habit of worrying about what next would go wrong, or for those who feel constantly burdened by their everyday tasks.
But a stress-free life is a birthright for all. To enjoy life, and even enjoy some amount of suffering is what we are here for.
It may take some time to change, but it is possible to turn it around and enjoy a life of ease, peace, happiness and gratitude by only being a little mindful.
If you are keen on enjoying a life that is 'stress-free', here are 10 mindful habits of people who don't take stress.
I have compiled this list of habits based on my own habits, my mother's habits (who is another stress-free person), and learnings from the people I know who are living a mindful and stress-free life.
So here it goes
10 mindful Habits of people who don't take stress
Save for later 🙂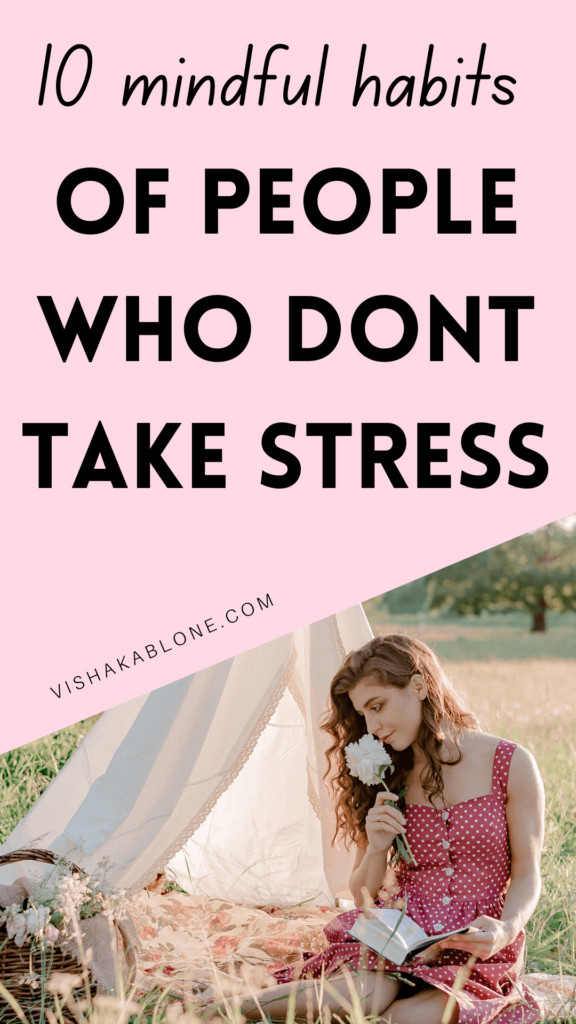 1. They come back to the present moment
Much of our stress in this modern-day life comes because of anxiety.
'What if this bad thing happens?'
'This might lead me to some trouble'
'What if this doesn't work out'
'What will happen if I lose this'
All such thoughts are enough to get us stressed out.
But notice how these thoughts are all pointing towards the future, making us anxious.
All these thoughts are filled with something that hasn't even happened in the first place.
And we must remember that these aren't facts, but just fiction stories that our mind likes to create.
When these thoughts arise, stress-free people simply become mindful of these fictional thoughts and come back to the present.
They ask, 'Is there anything wrong actually happening IN the present moment?'
'Is there any trouble actually befalling me IN this present moment?'
And the answer they always come to find is 'no'.
I always find that nothing bad is happening or can happen to me 'IN' the present moment (unless I am kidnapped or something)
I'm breathing. I'm alive. People are okay. I am okay, and everything around me is okay 'IN' the present moment.
This immediately centres me helping me come back to the present moment, and the stress always goes away, or never even reaches me.
P.S Here is how I let go of anxiety naturally
2. They come back to mindful breathing
People who don't get stressed make use of the wonderful tool that each one of us has, but fails to use ~ and that is our own breath.
They come back to mindful breathing whenever a stressful situation arises.
They take 3-5 mindful breaths and then get anchored in acceptance before they let their minds project the tension, and start stressing over the 'what ifs' and 'whys'
Some of them even resort to mindful walking~ the awareness of walking and mindful breathing to relieve stress and anxiety.
3. They have a positive perspective
A common among all stress-free people is that they have a positive perspective in life.
They look for meaning in every situation, even the bad ones and strive to create value out of it.
They don't feel burdened with the things they 'have to do' in their day-to-day life, instead, they look at it as all the things they 'Get to do' in their day-to-day life ~
They get to wake up to another magically filled 24 hours

They get to get ready for work

They get to cook meals for their loved ones

They get to wash the dishes because there is enough water

They get to pay rent because they have money

They get to be alive!

P.S If you want to feel more grateful and positive in life, take my free 21-day Gratitude Challenge that so many have loved.
4. They know when to stop
In one of the podcast episodes of 'The way out is in', Brother Phap Phu mentions how Thay (Thich Nhat Hann, a Zen Buddhist monk) even if he was deeply engrossed in writing his book or in any other work, would immediately stop when it was time for dinner.
He wouldn't rush. He wouldn't say later, or dismiss the other person.
He would simply stop what he was doing, and mindfully go to have dinner with his fellow students and monks.
Then he would mindfully have his dinner without rushing to finish his dinner.
This requires a huge amount of power and patience, and it's something I feel all stress-free people apply in their life.
They know when to stop. They know when to stop working when to stop spending money, when to stop the fun and go home, when to turn off social media, when to stop scrolling phone and simply go to bed.
This is a great power to cultivate to stop stressing.
5. They take life as a play
People who don't take stress in life take life as a play. They see life's bigger picture instead of stressing over every minor thing.
When problems and tension arise, they see it as part of the play and don't forget to look at the bigger picture.
This lets them know that the problem they are stressing over is just a minor act in the entire scene- something that would be forgotten in less than a week, so they don't take stress.
They enjoy life as a play- enjoying even the little climaxes as an audience would.
6. They have rituals to come back to themselves
People who don't take stress, don't take stress because they have rituals to come back to themselves.
And anyone who regularly comes back to themselves and nourishes themselves will remain stress-free.
For me my ritual for coming back to myself that proves fruitful for me is
Meditating
Going for a walk
Painting
Mindful relaxing and
Praying
It is because I engage in it regularly, I could say that I am a fairly stress-free person who enjoys life.
7. They take care of their body
People who live stress-free take care of their bodies by exercising, drinking enough water and eating healthy.
Being one stress-free person, I can say that exercise even for 10 minutes is what uplifts my mood and makes me feel better.
I move my body in the morning with Pamela Reif's workouts, and just doing this helps me be stress-free throughout the day.
I drink water throughout the day and always keep my water bottle close to me and try to avoid junk as much as possible.
Here is how I made myself love working out and you can too!
8. They say No
One of the main habits of people who don't get stressed is that they are ready to say 'No'.
This is because they know that a lot of stress comes from things we say 'yes' to when we just don't want to take the burden. So they say no in order to do less and have more mental and physical space.
So if you want to ease yourself, simply say no to everything you are not obliged to say yes to.
Here is what I gained and what I lost by learning to say No.
9. They follow a daily routine
A lot of stress comes simply because we are unorganised, directionless and living a messy meaningless life.
I've found that the natural antidote to stress is simply following a daily routine.
Creating just a simple daily routine immediately structures our day and helps us move in the direction we decide, instead of frantically going about our day with no sense of time and grounding.
Following my daily routine is what helps me live stress-free and I bet that all people who are living a stress-free life would agree with me on this.
Just experiment following a daily routine and you will see. Here is my simple guide on creating a daily routine
It doesn't matter if you keep failing at it. Even if you can stick with it for just the first half of the day, it is progress.
Something is better than nothing. Slowly you will progress.
10. They accept things as they are
Stressful people go about their day complaining about how everything that is happening is not happening how it should be.
They wish for things to be something else all the time.
But thoughts and words are energy. The thoughts that we think and the words that we say can energise us or drain us.
People who are mindful don't like to bother with thinking the 'what ifs' or 'why– is this happening'. They simply accept things as it is and voila! There is no stress.
They know that whatever situation arises at any moment is what the Universe wants for him/her to experience right there and then.
So they accept it with grace. They don't resist, and they simply surrender.
This not only keeps them stress-free but gives them the power to change what they can and accept what they can't.
Habits of stress-free people – final thoughts
Save for later 🙂
Finally, I just want to say that if you want to live stress-free- just come back to the present moment. Take things slow and take everything as a play.
Be light. Be grateful and turn your perspective around. More than anything, catch your thoughts, and just give them kindness and navigate your mind kindly to the present moment.
Sending Happiness and ease to you!
Related Posts